Being home for the holidays means a lot of wonderful things–lots of time with family, sleeping in, relaxing, reality tv watching, cooking, and catching up with old friends. When it comes to friendships, I am one lucky gal. I have a group of girlfriends from home I've known almost my entire life (the oldest friendship dating back to first grade, and the newest middle school) and while I don't see them as often as I'd like, it's always a treat to pick up where we left off and catch up, especially around the holidays. My friend Lesley and I decided to have a catch up sesh over dinner near her new digs in Arlington, and Cava Mezze was the perfect spot.
map & more
score: 7.5
spending: $$
neighborhood: arlington, va

official website
[googlemaps https://maps.google.com/maps?f=q&source=s_q&hl=en&geocode=+&q=cava+mezze+arlington,+va&ie=UTF8&hq=cava+mezze&hnear=Arlington,+Virginia&t=m&ll=38.887425,-77.093682&spn=0.006681,0.008583&z=15&iwloc=A&output=embed&w=200&h=200]
Cava Mezze is a Greek inspired tapas concept, which opened in 2006 by the sons of Greek immigrants. We were originally drawn to Cava Mezze because of the happy hour special (cheap drinks, cheap food, I'm all in).  However, when we arrived, the bar area was full, loud and crowded, and we weren't in the mood for standing room only. Not to fear, there were a ton of tables open, so we just decided to sit down and relax for the full dining experience.We each started with a cocktail to sip on while perusing the menu. Lesley got the punch, which was a gorgeous silky pink (the color can best be described as cotton candy Pepto Bismal esque, but it didn't taste like Pepto!). I went with the cucumber gin–which screams summer to me, but I love a good, strong gin cocktail. It tasted how you would imagine a cucumber gin cocktail to taste; punch you in the face fresh. Yum, it was tasty and pretty.
Our waiter was very attentive and knowledgable; it was clear he knew about the food, liked the food and enjoyed his job.  He explained small plate concept, making sure that we knew the food would come out in no particular order, just when it was ready. He also recommended that order about 2 dishes a person, as with portion size and all, we would probably be full (the benefits of tapas restaurants is that if you don't want to gorge yourself, start small and you can always get more!). He was totally right about portion size–we split four things and I was pleasantly stuffed at the end of our meal (but I would have ordered a few more things because I'm a lush and gorger and love trying different food). Our fiery cheese (my affectionate name for saganaki) came out first. The saganaki was the star of the show; Lesley was to hesitant to order it because our last saganaki experience together at Soul was less than stellar. I convinced Lesley to give the Greek cheese dish a second chance (which I've since learned saganaki is named after the frying pan the cheese is cooked in, not the cheese itself, and you can have other kinds of saganaki, such as shrimp and mussels); cheese is always something that strikes my fancy, and I assumed at a Greek restaurant they would do saganaki right. They sure did, with all of the bells and whistles. There was a table side fire show–our waiter drenched the hard, slightly fried, goat cheese (Kefalograviera to be specific) in brandy, stuck his alcohol soaked finger in our table candle (which I feel that some people would find offputting, but I thought it was neat. Lighter doesn't work? Whatevs! The table candle will do!) and extinguished the flame with some squeezes of lemon.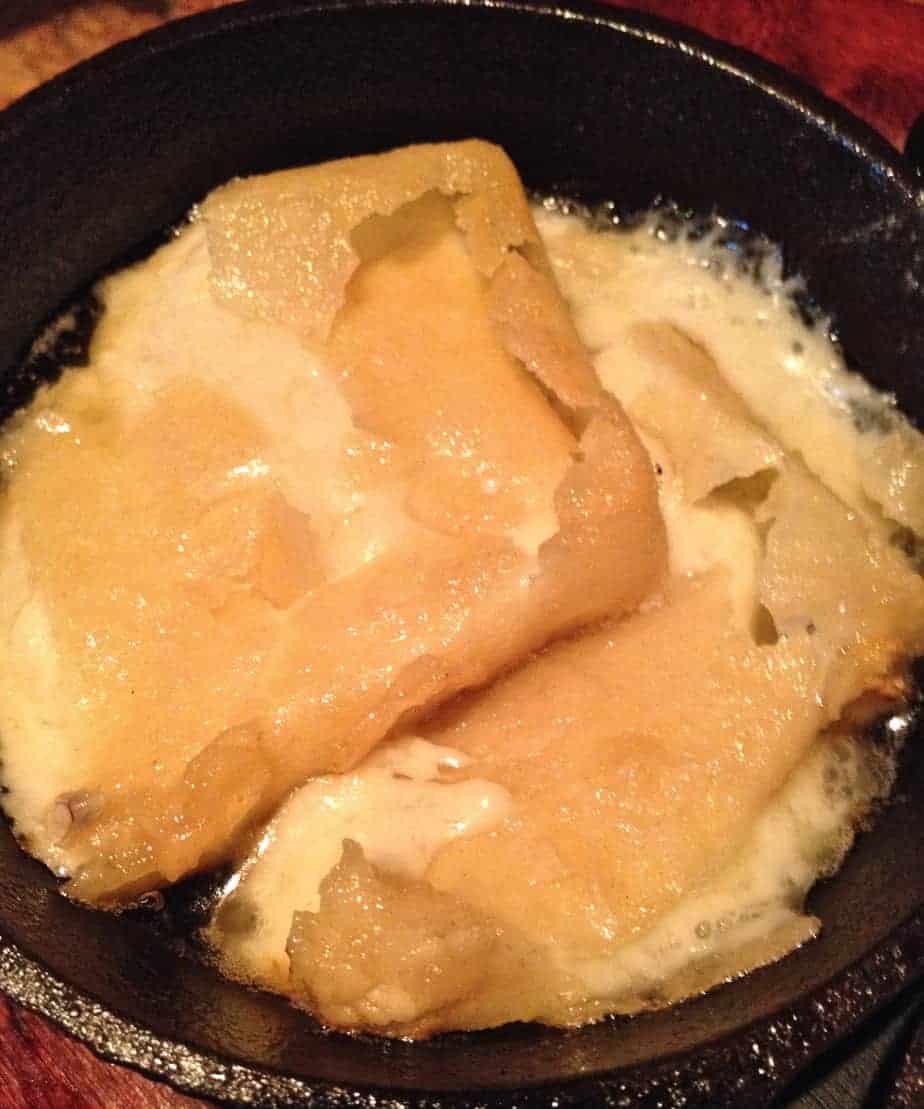 The lamb kapama, I'm sad to say, was biggest regret of the evening. Don't get me wrong, the lamb stew over orzo was tasty, but it just wasn't what I was in the mood for. We thought we should order lamb because after all, we were in a Greek restaurant. We didn't read the menu closely enough (rookie mistake!) and ended up with the tomato based lamb stew reminicisnt of an Italian pasta dish (duh, orzo was listed next to it on the menu, and that's pasta like, duh. Also maybe asking our waiter would have been helpful). If I had a do over, I would have gone for the mini gyro or the lamb meatballs (because I was looking for spicy, flavorful lamb, but we were into trying new things and being exotic. Woops). The dish was still very tasty, with hints of cinnamon and allspice; it was quite warming to the soul. And the good news is that the lamb was prevalent, with chunks throughout the dish.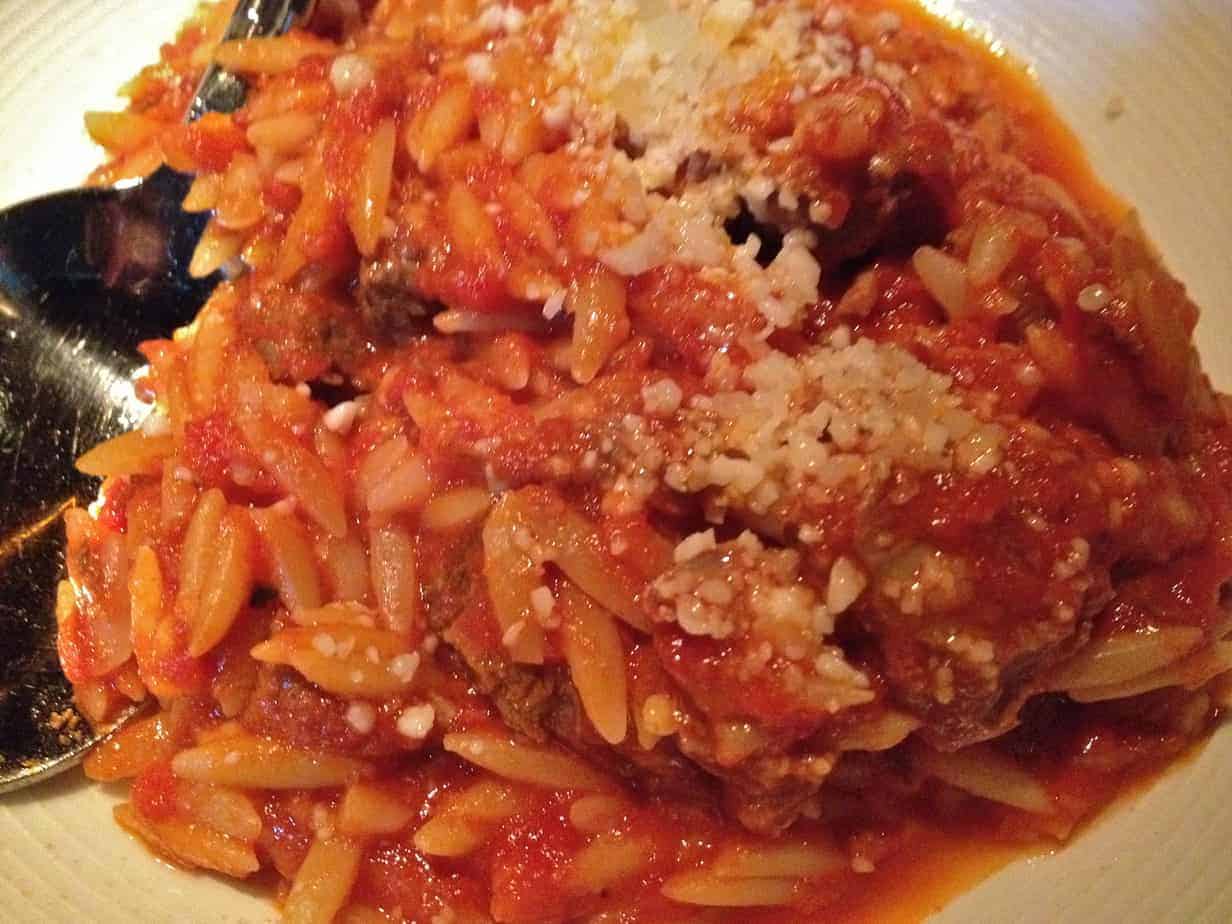 I loved the crispy pork belly; pork belly is something that has jumped out to me on menus recently, and the idea of pork belly crisped up with honey and thyme got my mouth watering. It was quite simple; the skin was nice and crispy and the meat was tender.  The honey and thyme were complimentary yet muted flavors. It was sweet, sticky and delicious.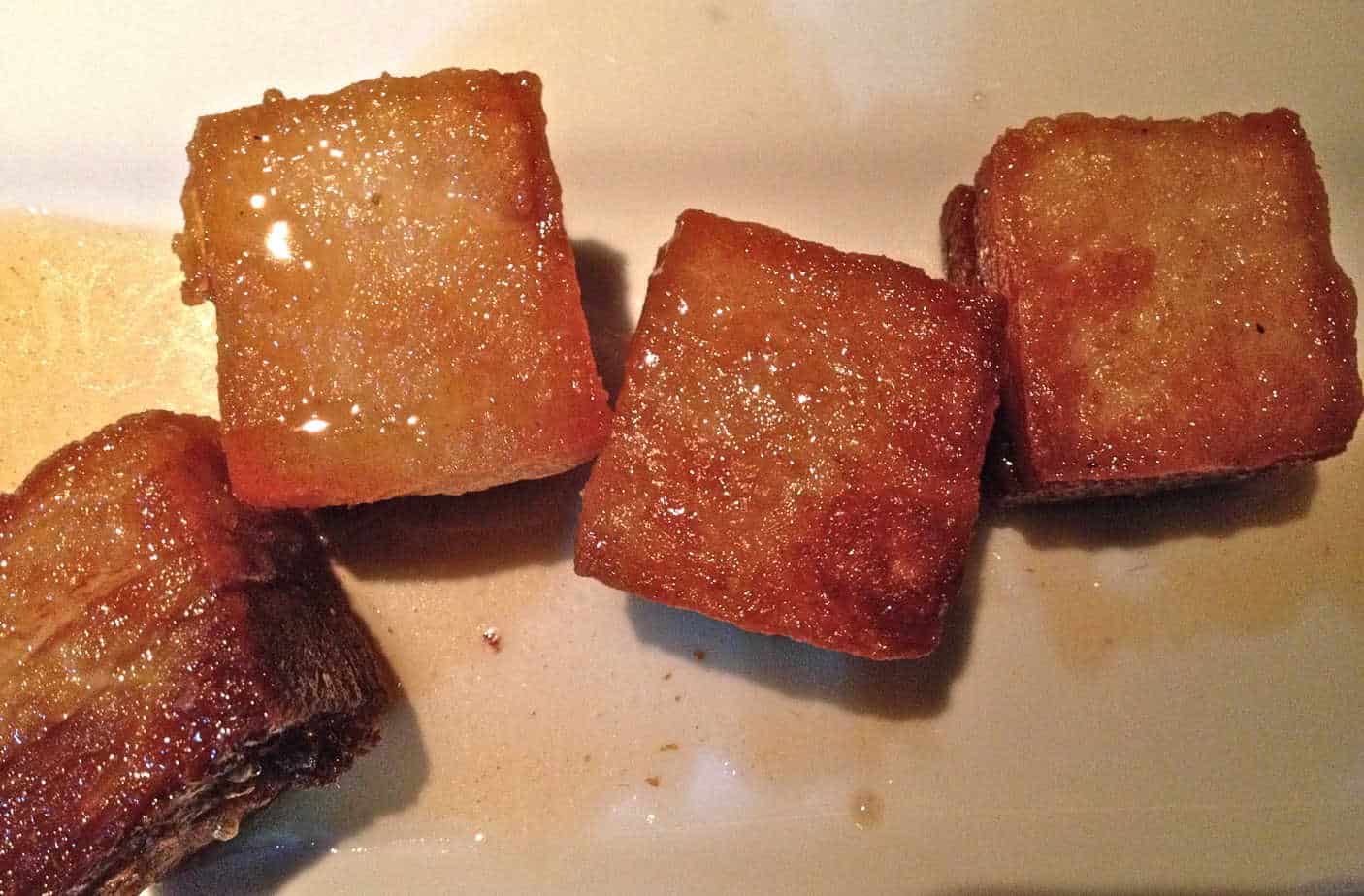 We also got a butternut squash pie with phyllo, butternut squash and feta. This isn't something that would normally stick out to me on a menu, but I was happy that Lesley is on a butternut squash kick because it was delicious. The little pies resembled spanakopita and were chock full of creamy, flavorful butternut squash. The phyllo was crispy and flaky, and made a little crinkling sound with each slice of a knife. The butternut squash was the clear highlight and the dish tasted like fall. Mmm.
Cava Mezze seems like the go to place in the Clarendon area–families were conversing over shared plates, dates were cozying up to each other and groups of girlfriends were sharing laughs. It was the perfect spot for old friends to catch up–we took advantage of getting to Cava Mezze early and had a nice, relaxing dinner with a few cocktails.