Looking for things to do, where to eat and drink, or places to stay in Asheville, NC? Check out Off the Eaten Path's Asheville Travel Guide!
In early December, we headed to Asheville to spend a magical Christmas day at the Biltmore. A day of grounds walking, ice cream eating, wine tasting, and animal petting works up an appetite, and we popped into Asheville before our evening tour of the home to get some grub.
map & more
score: 7.5
spending: $$
neighborhood: asheville, nc

official website
[googlemaps https://maps.google.com/maps?f=q&source=s_q&hl=en&geocode=&q=Asheville+Brewing+Company,+Coxe+Avenue,+Asheville,+NC&aq=0&oq=ashe&sll=35.565467,-82.552986&sspn=0.082107,0.144711&ie=UTF8&hq=Asheville+Brewing+Company,&hnear=Coxe+Ave,+Asheville,+North+Carolina&t=m&ll=35.59175,-82.555346&spn=0.00349,0.00427&z=16&iwloc=A&output=embed&w=200&h=200]
A brewery with food was at the top of our list; Asheville is known for their microbreweries, so we thought it would be fun to taste some beers and eat dinner–a one stop kind of place. As we made our way into Asheville, Asheville Brewing Company quickly appeared to our left. It looked warm and inviting inside, was pretty busy (always a good sign) and we were able to snag a parking space only half a block away. It was meant to be.
We snagged two bar stools and I immediately started reading beer descriptions on their chalk board menu. I am a fan of dark beers (stouts, porters, smoky goodness) so I ordered the Ninja Porter. It was so good–it had a rich, rounded, deep flavor with hints of chocolate, caramel and a little bit of coffee. My friend is an fan of all the hops, and he ended up with the Shiva IPA because there was a photo of it on the menu (so that's how he picked between the several IPAs featured). I had a taste–too bitter for me (but I'm not an IPA fan), and he seemed to really enjoy it, noting notes of citrus and a bit of sweetness.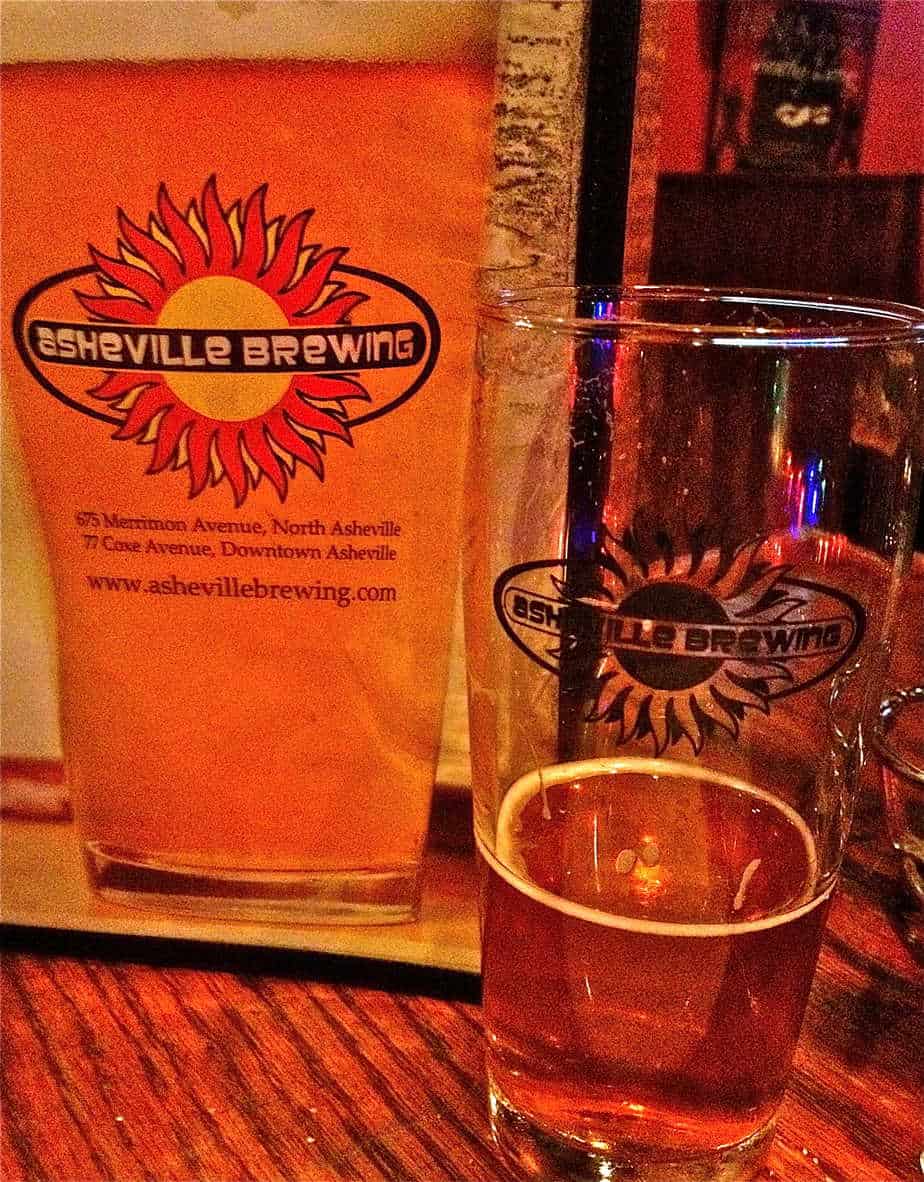 On to the food; I was starving, so everything sounded amazing to me. Asheville Brewing Company offers all different kinds of pub fare–burgers, pizza, fries, onion rings, wings, fish and chips, salads, nachos and it goes on and on. I was jonesing for a pizza and was able to persuade friend boy to go halfsies on one (though the burgers were so creative and tempting, when you have a craving you just need to satisfy it). The menu showcased a variety of speciality pizzas as well as a build your own option. A little about me–I'm not the easiest to work with when it comes to build your own pizzas; nobody else seems to be a fan of pepperoni and pineapple (sometimes with a little spinach thrown in there). I do like to negotiate, and sometimes will budge, but I like what I like and I'm not sorry for that. So instead of a lengthy discussion entailing me trying to get my way, I suggested we spring for a specialty pizza and friend boy agreed.
Sometimes I wish I was a bit more adventurous when it comes to food; I'm not picky my any means but I like what I like and am a creature of habit (as most of us are! boo change!) but a lot of times when I branch out of my culinary box I am generally pleased as punch (my first bone marrow experience?! amazing!). Yet, while I'm occassionally willing to branch out and eat bone morrow (which I now love), or raw fish (also love), I am a total traditionalist when it comes to pizza. Not a huge fan of chicken, or Alfredo sauce, or cheeseburger on pizza. These options were not offerred all on the same pie, but Asheville Brewing Company offers a ton of creative specialty pies including the Funky Chicken (BBQ sauce, bacon, chicken, red onion), Piazzi Blanco (Alfredo sauce, broccoli, Portobello mushrooms & roma tomatoes) and Cheeseburger in Paradise (rumbled hamburger, bacon, red onion and diced pickles with a 3 cheese blend topped with lettuce & tomato). I know, I should really branch out because in retrospect, these sound delicious. I'm just a red sauce, mozzerlla kinda gal. But I do love toppings; so we went for a fun topping filled pie, The Biltmore (which is funny because that was our adventure of the day, so it was appropriate!). The Biltmore pie delighted my meat eater side (with ham, beef, sausage, pepperoni) and was also chock full of veggies (mushrooms, green peppers, onions, banana peppers, black olives and green olives). While it had a lot going on, the ingredients worked in harmony and did not overwhelm my palate at all. The crust was crispy and thick enough to hold up all of the ingredients. The cheese was melted and a plenty, and the sauce flavorful. And lets talk about how fabulous banana peppers are on pizza; they are a little sweet, a little spicy, and add a sassy kick to your pie. Definitely one of my new go to ingredients. It was a good, hearty pizza.
With Asheville only 2 hours away from Charlotte, I hope to visit more in the new year and really explore and experience the totally cool mountain city. While I will check out some different restaurants and breweries on my next visit (coming later in January I think!) I definitely want to come back to Asheville Brewing Company. The beer was tasty, the atmosphere was relaxed, and they did not skimp on the food quality just because they're a brewery!