One time when Emily Maynard was The Bachelorette and they were filming in Charlotte, she came on a date here.
I know this because reality TV is my guilty pleasure (you can judge me if you want. My mom does. My boyfriend does. Some of my friends do. But my friend Danielle, who is a fellow Bravo fan herself puts it best. "It's a good break. It's hard to do smart things all the time. We're smart during the day so we should get to watch reality TV .")
I watched that episode of The Bachelorette with a good friend, Emily, in my living room in Madison, Wisconsin. It was a few weeks after I graduated from law school. I was studying for the bar and planning on packing my life up and moving to Charlotte in the fall. Emily suggested we write down all the places that Emily Maynard went on the show so I could go there once I moved.
The only place I remembered was Osso (I know at some point there was some rappelling down the side of the Mint Museum in Uptown, but no thank you). I finally made it to Osso two and a half years after I moved to Charlotte.
Osso is in the Music Factory, a place I don't find myself too often (aside from the occasional live show at the Fillmore, a few comedy nights and some beers at VBGB. Ok, so I may be at the Music Factory a few more times than I think I am, but you won't catch me at Label anytime soon). The thing I like about the Music Factory is its industrial rawness. My heart goes pitter patter at some exposed brick. The thing I don't like about the Music Factory is its trendiness; like I'm not cool enough to hang there. We decided to go to Osso on a Thursday, so we could avoid looking like we didn't belong in such a trendy place (also our Groupon was going to expire). Speaking of trendy, truly the only reason I wear heels is so I can be taken seriously at work. We can save the rant about ladies being taken seriously at work only when wearing heels for another day.
The space is nice; it's big and very modern. Sexy even. It's hard for me to tell the true goal of the vibe but it's probably because I'm not trendy enough. There's some up lighting, some footrests that look like cows, some really neat, artsy lighting with fans and the chairs are very fancy.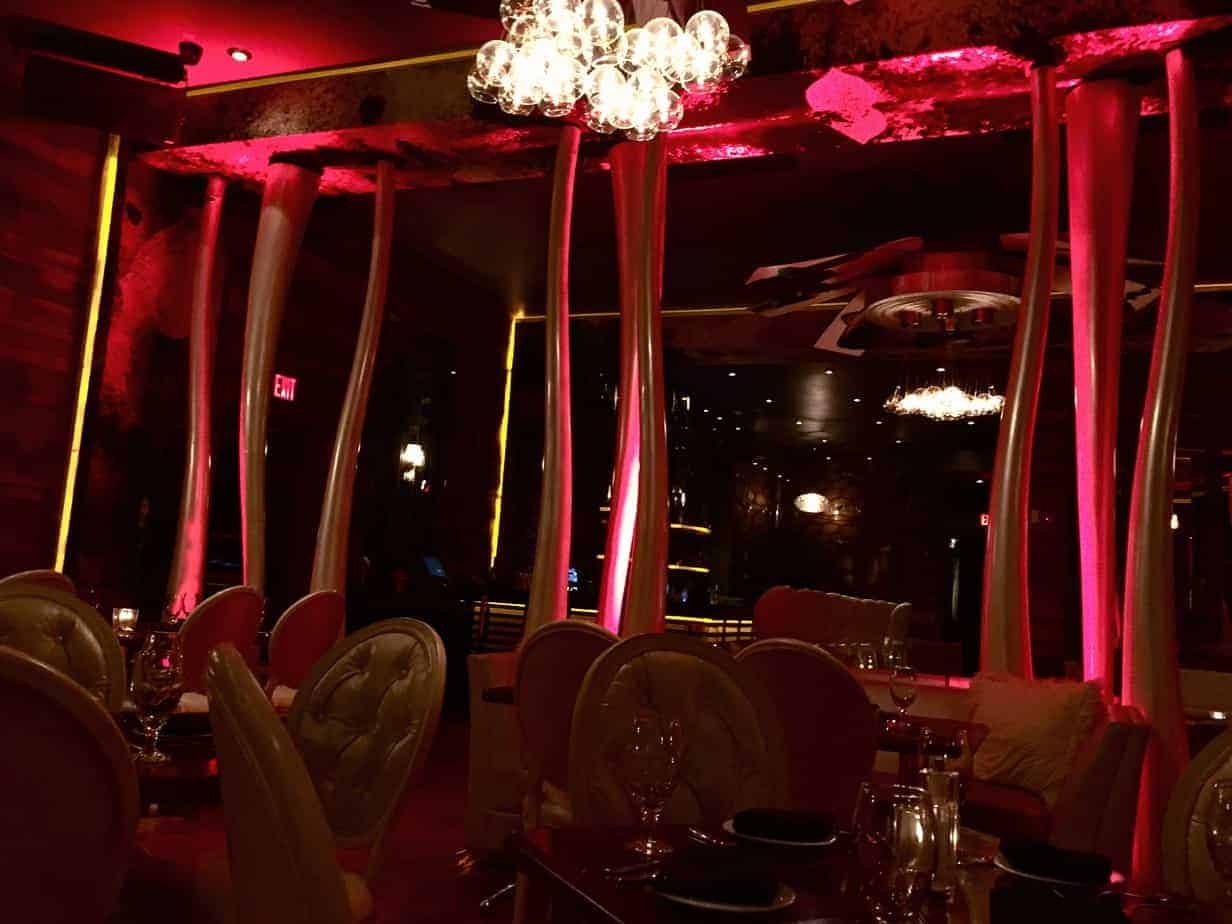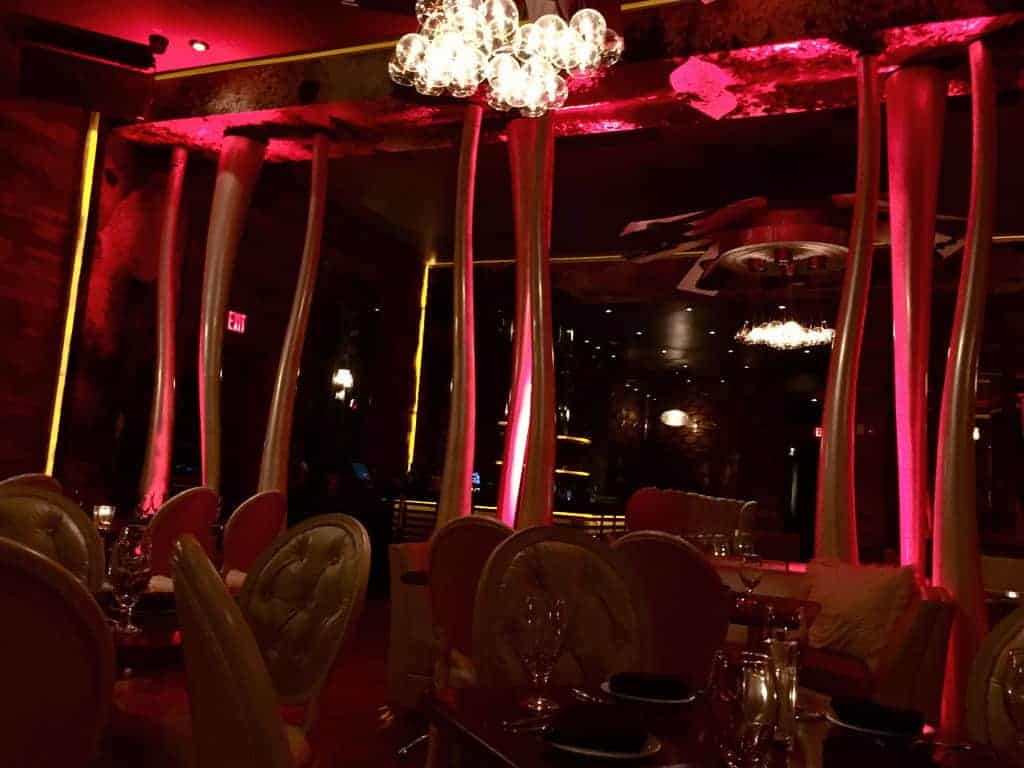 Let's talk food. Osso is a modern take on classic Italian using fresh ingredients and we were excited to check it out because their executive chef is Gene Briggs (of Blue) and we loved Blue's food so much (according to AJ, Blue is the best "nice place" we've gone to, but Evoke may have dethroned it). At Osso, they make a lot of things in house, which I am a fan of, including their sauces, pasta, pizza dough and mozzarella.
We started by sharing the mussels, per usual. Mussels and broth for bread dipping are my jam. These were tasty but nothing super unique.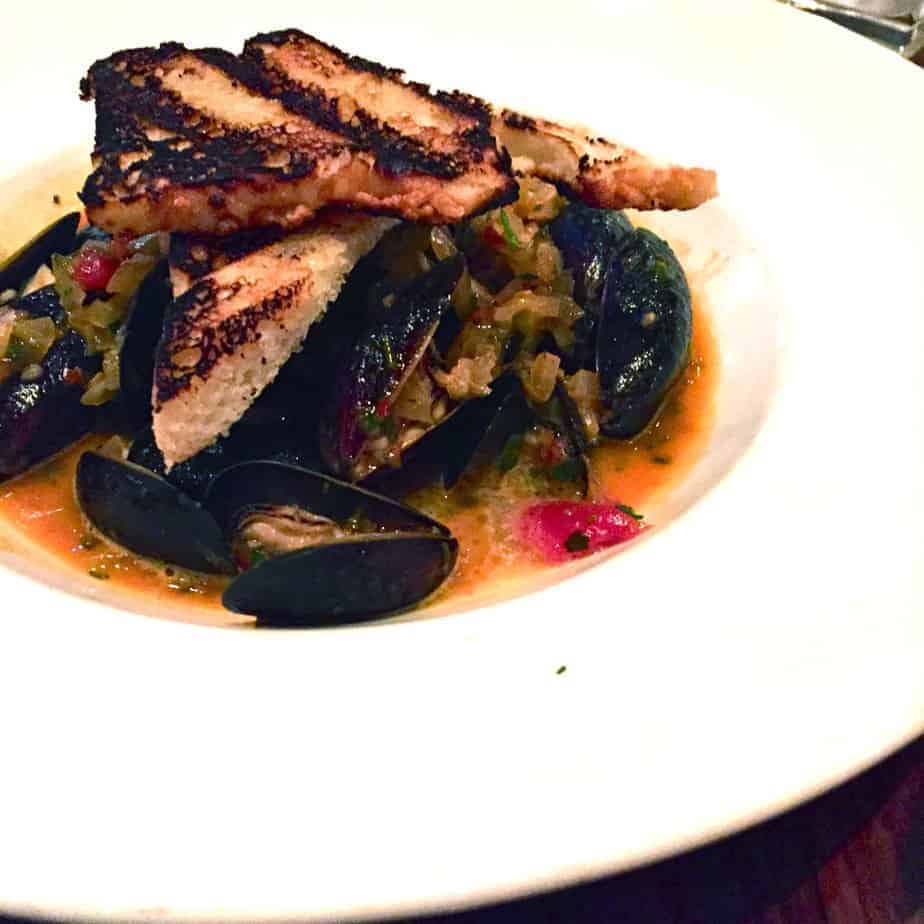 The cast iron sea scallop spoke to me and it was right on the money. The sweet potato fettucini was incredible, and anything with bacon and brown butter and I'm sold. The scallops were seared well and tender, but there was a hint of too much salt going on (to be fair, I'm salt sensitive).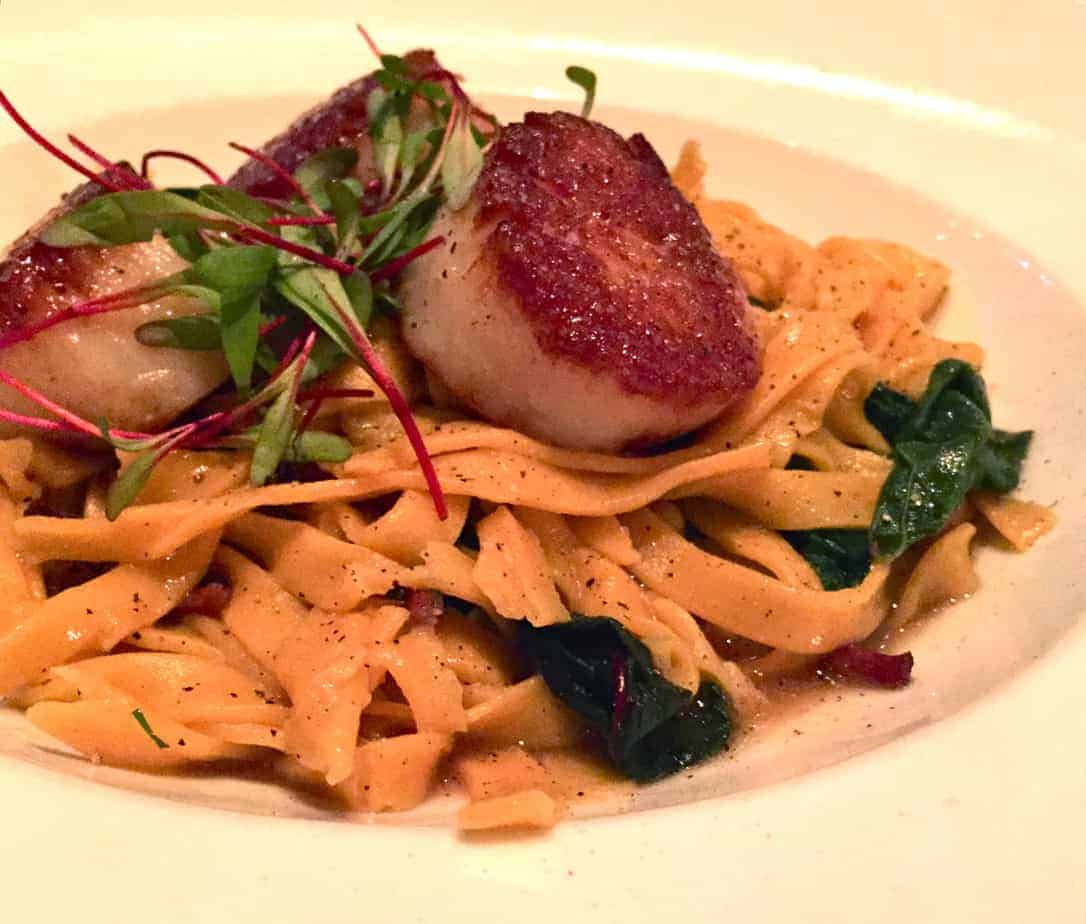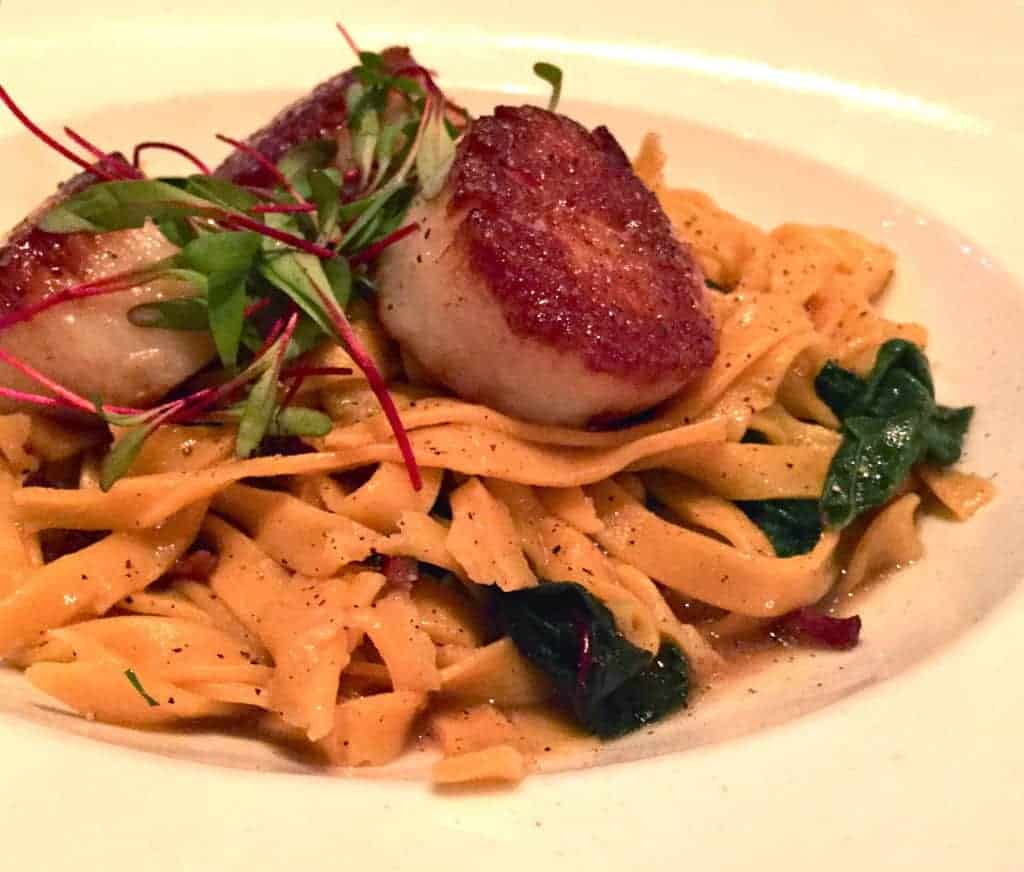 AJ had the braised short rib with porcini polenta, which comforting choice. You could tell it had been braised for ages; his fork glazed through the short rib like a knife through butter.
I have a major sweet tooth (which is apparently one of my most annoying habits), so I convinced AJ to split dessert at the end of our meal. I prefer fruity desserts over chocolate, but the molten lava cake was something we couldn't resist. It was the right choice, warm, melty, chocolate really hits the spot on a cold, rainy night.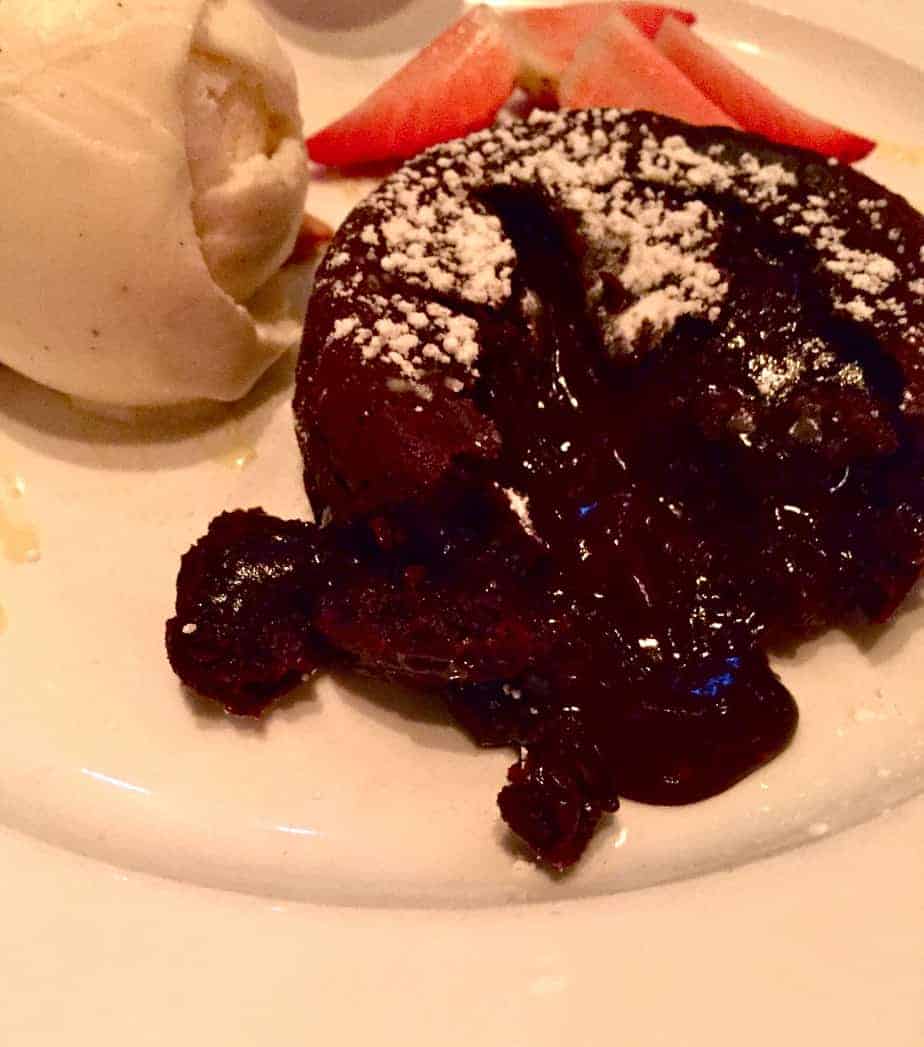 My experience at Osso came full circle. By the time we finished dessert, we were the only ones left in the restaurant. Our waitress brought us the check, and made a Bachelorette reference (something like you have the place to yourself, it's like you're on The Bachelorette!). She probably heard me nattering on a some point about The Bacherlorette.
It took me almost three years, but I finally checked off that first item on my "When I Move to Charlotte To-Do List."
ossocharlotte.com / 1000 north carolina music factory blvd., nc music factory
tues. & thurs. 5pm-10pm
weds. 11am-2pm, 5pm-10pm
fri. & sat. 5pm-11pm