On the Side is a series I started to talk about non food related things. You'll see On the Side posts pop up in this space every once in a while.
**Throughout this post there are a few sneak peeks for Katie's film, Being Atticus Finch. There's a community engagement event for Being Atticus Finch this Friday, April 24 from 5:30pm to 8:30 pm at Kickstand. The film will be premiering that evening (with three separate showings). Come learn more about the project, meet Charlotte's public defenders, and eat some free cheese fries. You know you want to. More info here.**
"There can be no equal justice where the kind of trial a man gets depends on the amount of money he has." Gideon v. Wainwright (1963)
I'm a public defender.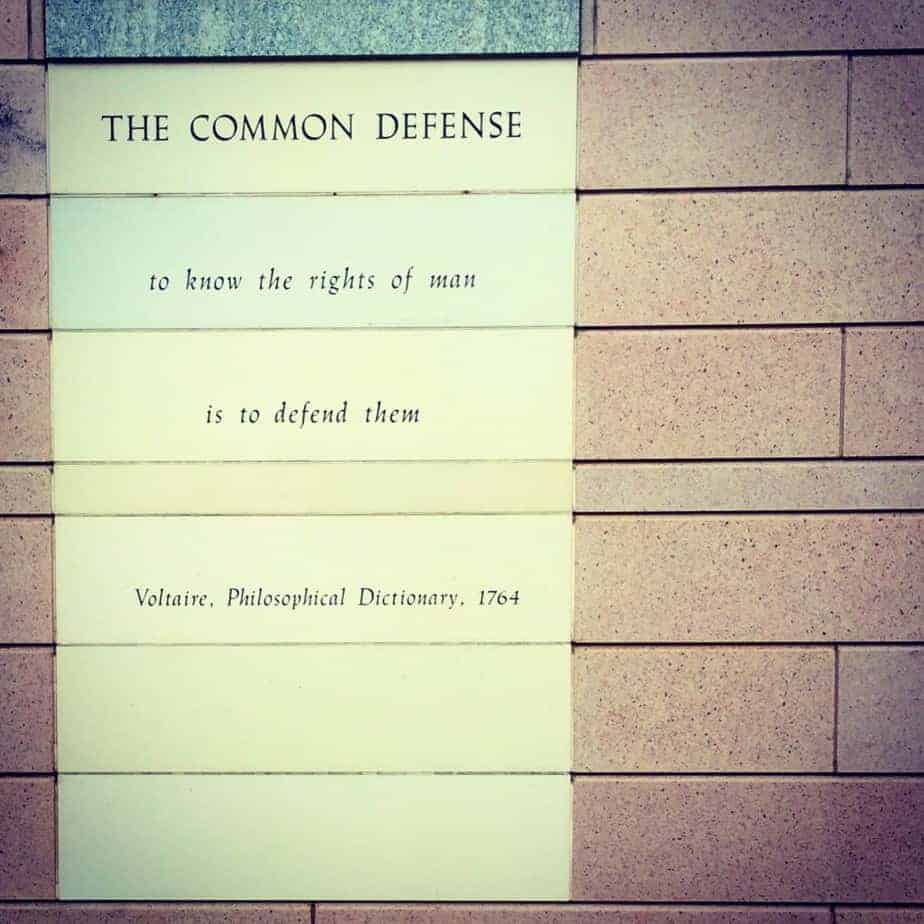 I don't talk about work in this space that much. I talk about work enough when I'm at work, with my friends (all of my best friends in Charlotte are PDs too and I love it) and at home (AJ could tell you that. He listens to a lot of "law talk" as he calls it. He recently had the good fortune of being selected to help me practice my closing argument in my first felony trial. This involved listening to my closing argument no less than three times into the wee hours of the morning. Followed by questions of "What do you think?" "Would you vote for me?" "Not guilty?" He's so patient). So I don't need to talk about work in this space. But whatever, today we're talking about work.
I love my job. I get to wake up every morning and go help people. I'm on my feet all day running around. I shake hands. Clients give me hugs. They also leave me angry voicemails. I argue with DAs. I speak in front of judges. I win trials. I lose trials. I help people navigate this complex thing we call the criminal justice system.
Why Public Defenders are important from Katie on Vimeo.
I've been called a public pretender (also a public offender). I get asked when I'm going to be a "real lawyer." Or if I'm working my way up to becoming a prosecutor. Or if I had to go to law school like private attorneys did. A few weeks ago, someone thanked me for defending the public against criminals. I get asked why I don't want to make money. Why I'm wasting my 3 years of legal education and a doctorate degree on poor people and criminals. People ask how I can defend someone I know who is guilty. Or even, how do I sleep at night keeping criminals on our streets.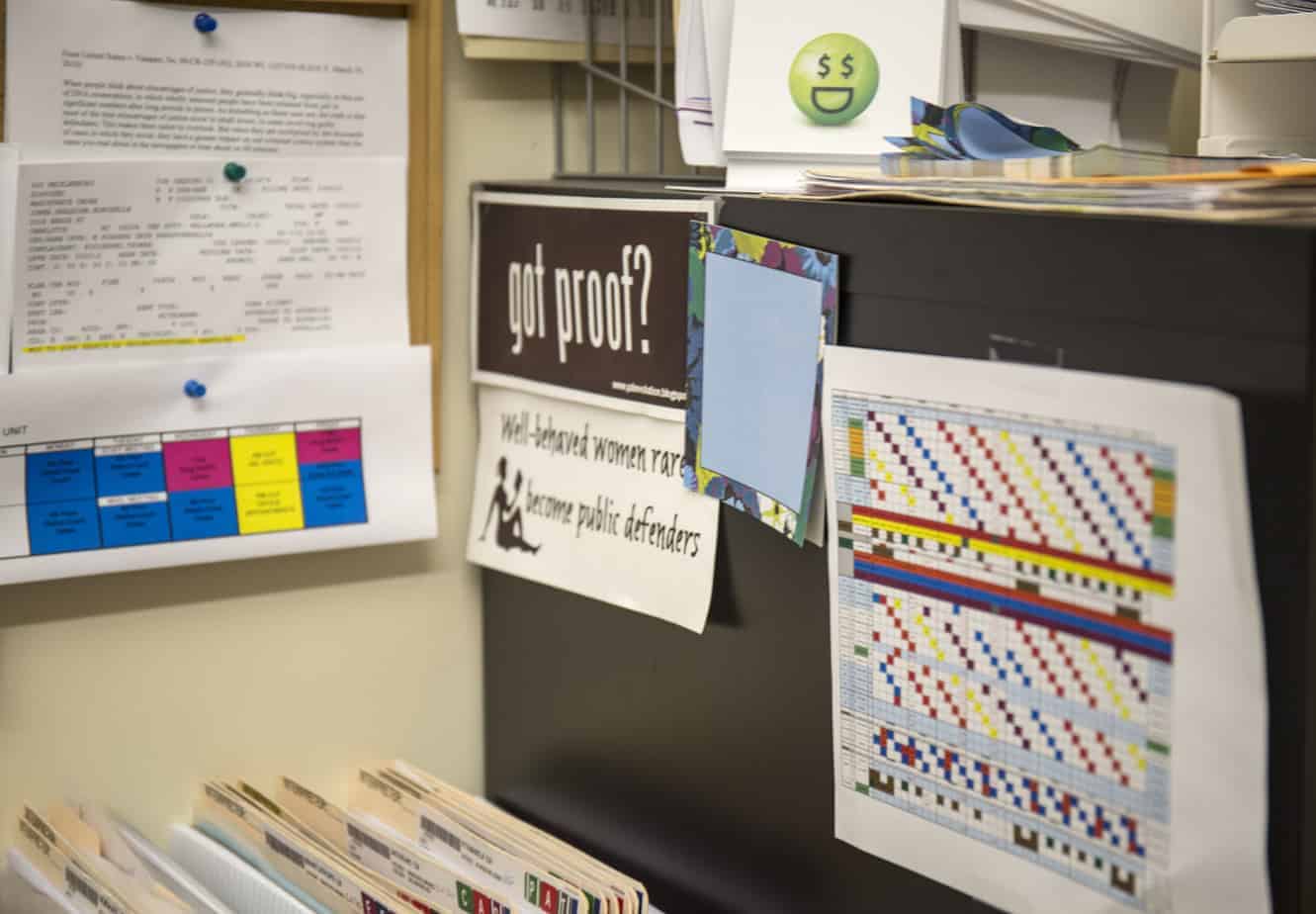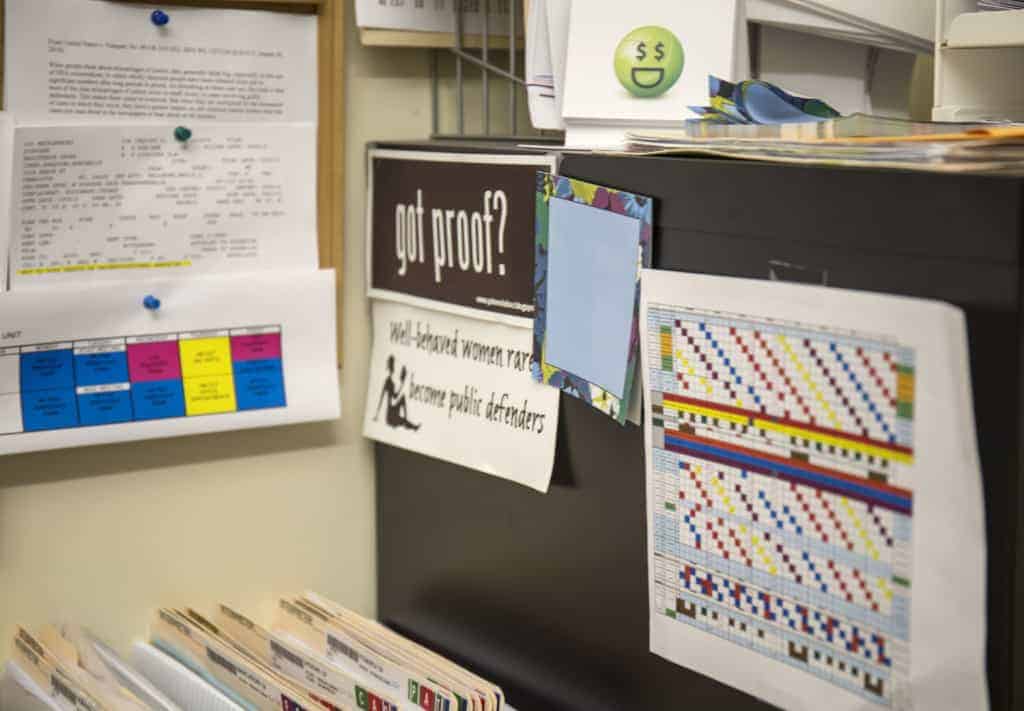 (photo courtesy of Katie R. Nelson)
For the record: while I do appreciate the creative things people (and my clients) can come up with to rhyme with my job title, there's no pretending going on here. I'm going to fight hard for each and every one of my clients. Also, I am a real lawyer. I went to the University of Wisconsin Law School and it took me three years to graduate (just like all of my other friends from law school who are all also lawyers doing lawyerly things). I'm not working on becoming a prosecutor, nor do I think I will ever be a prosecutor (and I have no desire to be a prosecutor). I'm not defending anyone against criminals; I'm helping people who are charged with crimes. Money can't buy everything. I don't feel like I wasted my time at law school; my law degree helps people on a daily basis (it's the best money I ever spent and my student loans remind me of that once a month). I can get up every morning because I usually wake up well rested after a great night's sleep and head to work to be a person's (a person with a family, and a job. yes a person! not just a case number, or a crime) advocate. Because the Constitution is not a technicality. To make sure those rights our founding fathers gave all of us in the Constitution are being honored and upheld. To be someone to listen to. To make sure they have someone on their team to stand up for them.
We're not immune to it from Katie on Vimeo.
I work with an incredible group of passionate, intelligent, caring people. I am so lucky that I get to work side by side with them on a daily basis. They are my Charlotte family.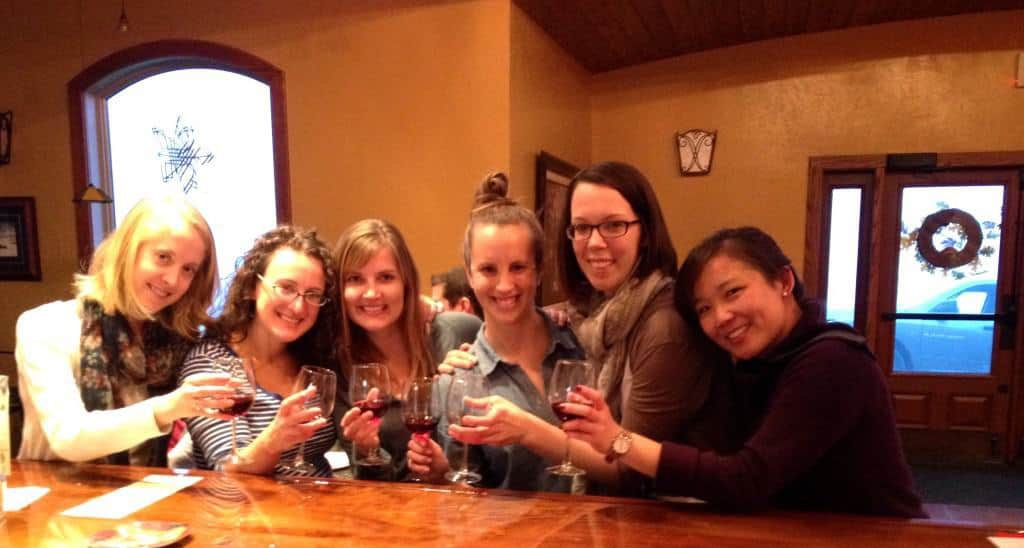 (some of my girlfriends and me enjoying a ladies' weekend at Linville Falls Winery).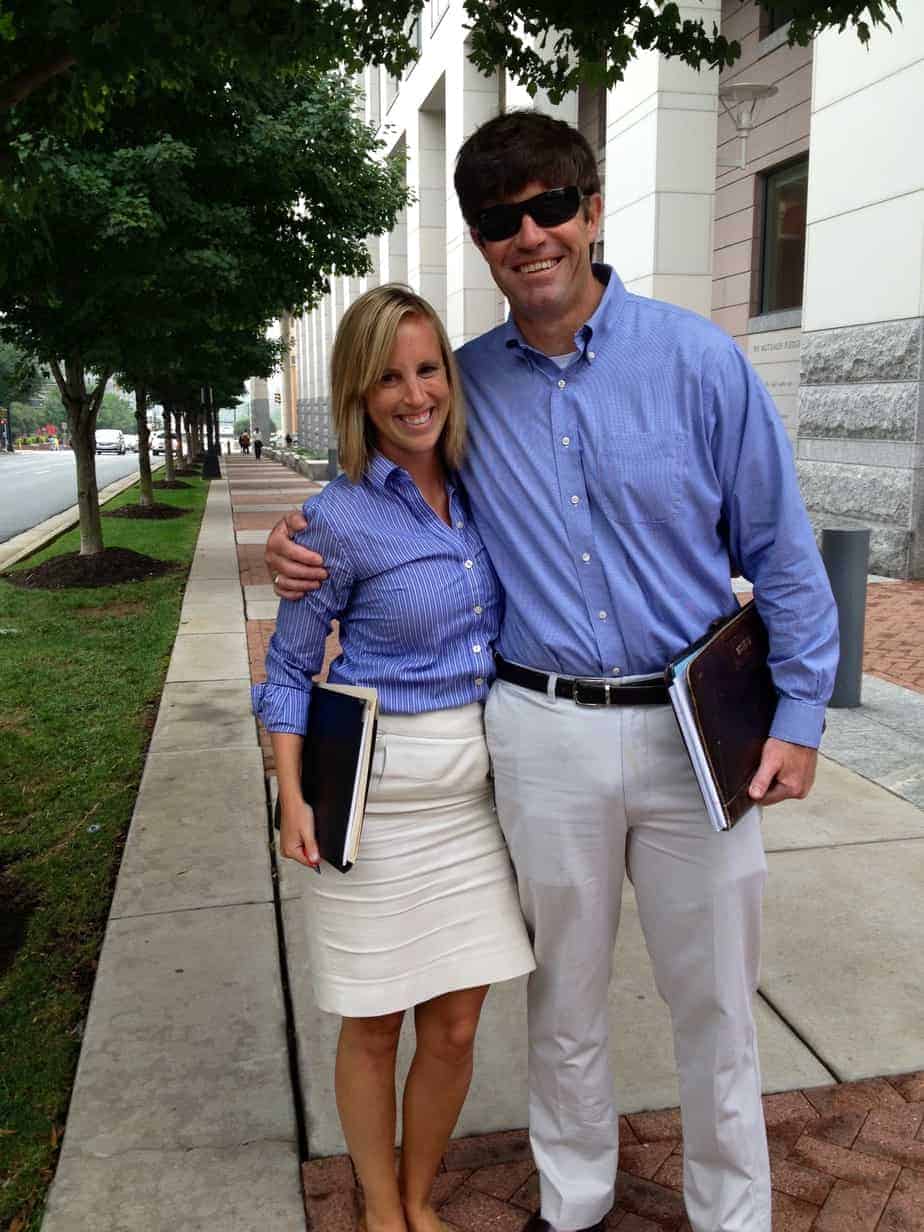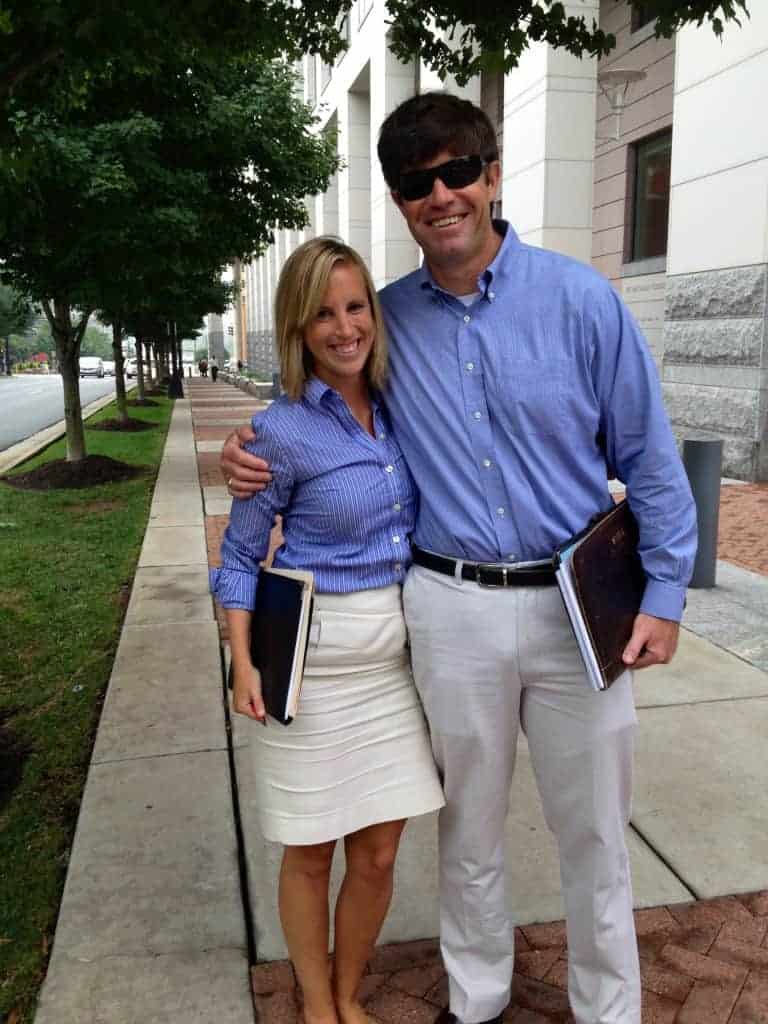 (my supervisor when I was an intern, mentor and friend, Peter. we sometimes dress like twins).
Some of my clients live in the poorest neighborhoods in Charlotte. They work minimum wage jobs at places like Taco Bell and third shift at warehouses in order to support their families. They are the single mother with two daughters who can't afford to pay a speeding ticket. They are the black teenager who was pulled out of his car and searched by police even though they didn't have the probable cause to do that. They are the single dad who took deli meat and cheese from the grocery store so his kids could have a nicer Thanksgiving. My job is to help them through their trying times; no matter what happened, no matter what they allegedly did, or didn't do. To be a voice for them in this complex thing we call a criminal justice system. My clients shouldn't be defined by the crime they are charged with; they are individuals with families and with stories. I love getting to know my clients and hearing what they have to say. I love being able to stand in front of a judge and tell him about the person I represent. These people aren't a case number or a mugshot or a news article or something that we should just shuffle through a system; they are human.
In my short two and a half years, I have a lot of good stories (some bad stories too). Here are a few of my favorite snippets:
After a trial about 4 months after I started working, "You were good at that. You should think about going to law school and becoming a real lawyer."
After getting a case dismissed, "In my whole criminal career, you are by far the best attorney (not just public defender) that has ever represented me."
While waiting on a judge, "Ms. Nelson you do look like a cat person."
After an emotional trial we lost, "It's ok. you've done more for me than anyone ever has."
After my first felony trial the jury came back not guilty. My client and I held hands and smiled at each other and I said to him, "You should keep those pants. They're you're lucky pants."
After representing someone on a traffic infraction, "Chrissie, you are an inspiring young career lady."
After a trial we won, "People who look like you don't usually help people that look like us. Thank you."
A client talking to me after watching me in court, "You're a bad ass."
This list could go on for ages if I let it.
What's the point of me rambling on about great things my clients have said and the great people I work with? Well partly to give you an idea of what I do and why I like it. To let you peek into my profession and humanize the people I work for. But mostly, because my sister just made an incredible multimedia project about public defenders in Charlotte and I want to share it with you.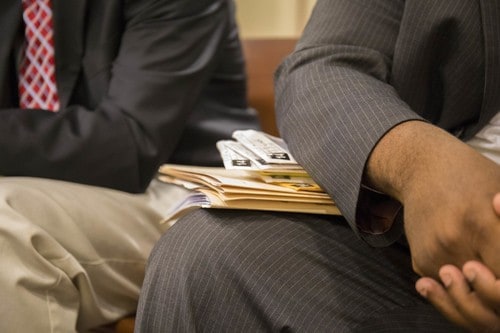 (photo courtesy of Katie R. Nelson)
"Being Atticus Finch" illustrates how public defenders protect the constitutional rights of indigents accused of crimes. The project includes a short film, narrative essays and photographs, all housed together on a website, www.beingatticusfinch.com. The film follows three of my colleagues and focuses on their daily work and interactions with clients. In speaking about the motivation for her project and what she wanted to achieve, Katie says, "I wanted to portray the passion that public defenders everywhere have for helping people in their community, regardless of social or economic situation. Public defense work is about dedication, but it's also about fairness. It's about giving everyone in the criminal justice system a fair shake. It's about a passion for upholding the supreme law of the land, no matter the case or client in every courtroom. That's what my project shows."
Look at police statistics from Katie on Vimeo.
I highly recommend starting with her narrative essay "Protecting Rights, Ignoring Critics: An Essay on the Stigma Public Defenders Face Every Day." It's beautifully written, incredibly moving and extremely educational, especially for those who know little about public defense. Her website also highlights her research and some facts about issues plaguing our criminal justice system and the reasons why people in the Mecklenburg County Public Defender's office love their work. Once she releases her film, it will be posted to the website as well (right now, it's just the trailer, which you can see here.)
Faith in the system from Katie on Vimeo.
So if you're in Charlotte this Friday (April 24), I hope that we will see you at the Being Atticus Finch community engagement event. Public defenders play an important role in our community and in the adversarial criminal justice system. We are dedicated and passionate and love what we do. I think my friend Eddie puts it best, "This shit is dope. And I love this shit."