Grant Wood's inspiration for his painting, American Gothic, came from a farm house in Iowa and "the kind of people I fancied should live in that house."  In turn, Wood's painting and Wood's somber looking models, inspired South End's farmhouse chic establishment, Nan and Byron's.  Serving up elevated comfort food, the rustic, warm restaurant was anything but somber on a recent Thursday night; Nan and Byron's was a welcome retreat from the cold bit of weather we've been having in Charlotte and was lively with young couples and families.
My first visit to Nan and Byron's was a few weeks earlier, I was doing some "research" (truly, the best research project of my life) for an article about Charlotte's craft cocktails. I sat at the bar on a sunny Saturday sipping a few of Nan and Byron's signature cocktails and chatting with Alejandro, Nan and Byron's co-owner and marketing director, and a few of the bartenders. With my first sip of Nan and Byron's most popular cocktail, the Farmhouse Lemonade, I was transported instantly to a fronch port rocking chair as the sun set of a lazy, summer day.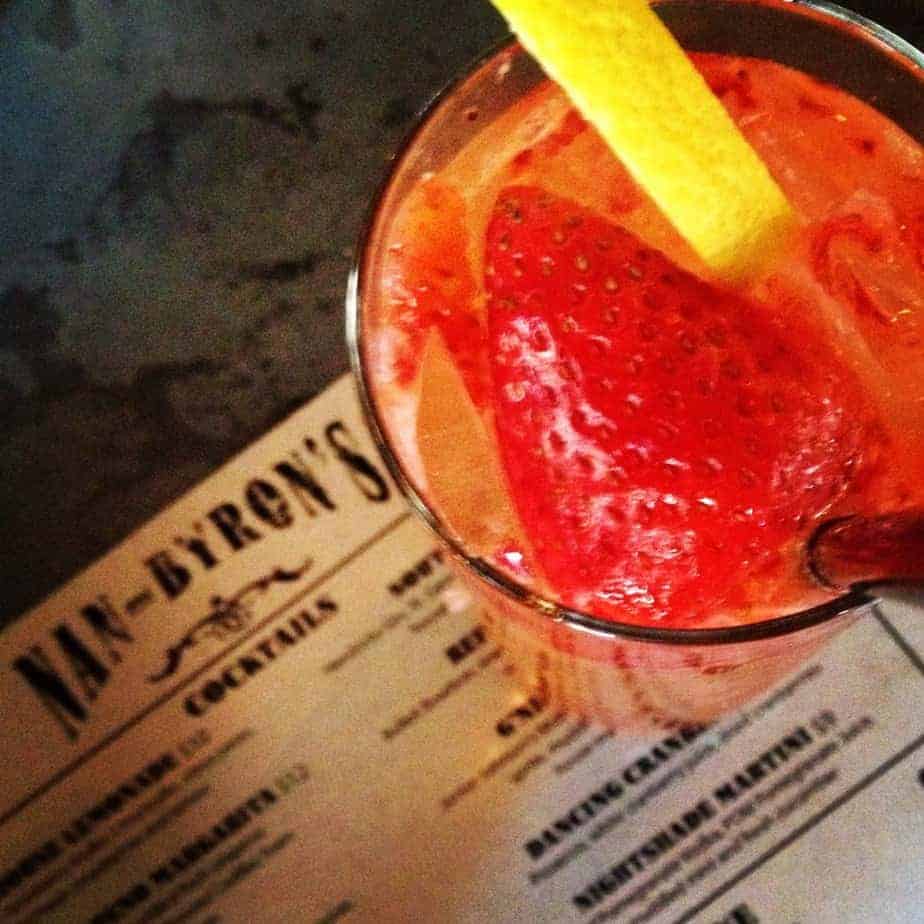 The Farmhouse Lemonade was refreshing and sweet, and didn't taste of a hint of alcohol (which could definitely be dangerous). I also sampled Nan and Byron's Cadaliac Jalapeno Margarita and snacked on a brunch plate of potatoes, eggs, and some fresh fruit that I grabbed from their all-you-can-eat-buffet (offered on weekends for $21, they have oysters and crab legs too!).
I've been meaning to go to Nan and Byron's for dinner since they opened last year (I say that about a lot of places, it's like I have a neverending list of new spots in Charlotte I need to check out) so I was excited when AJ and I set some plans in stone for a date a few weeks later. We perused the drink menu while munching on a basket of Nan and Byron's signature popcorn.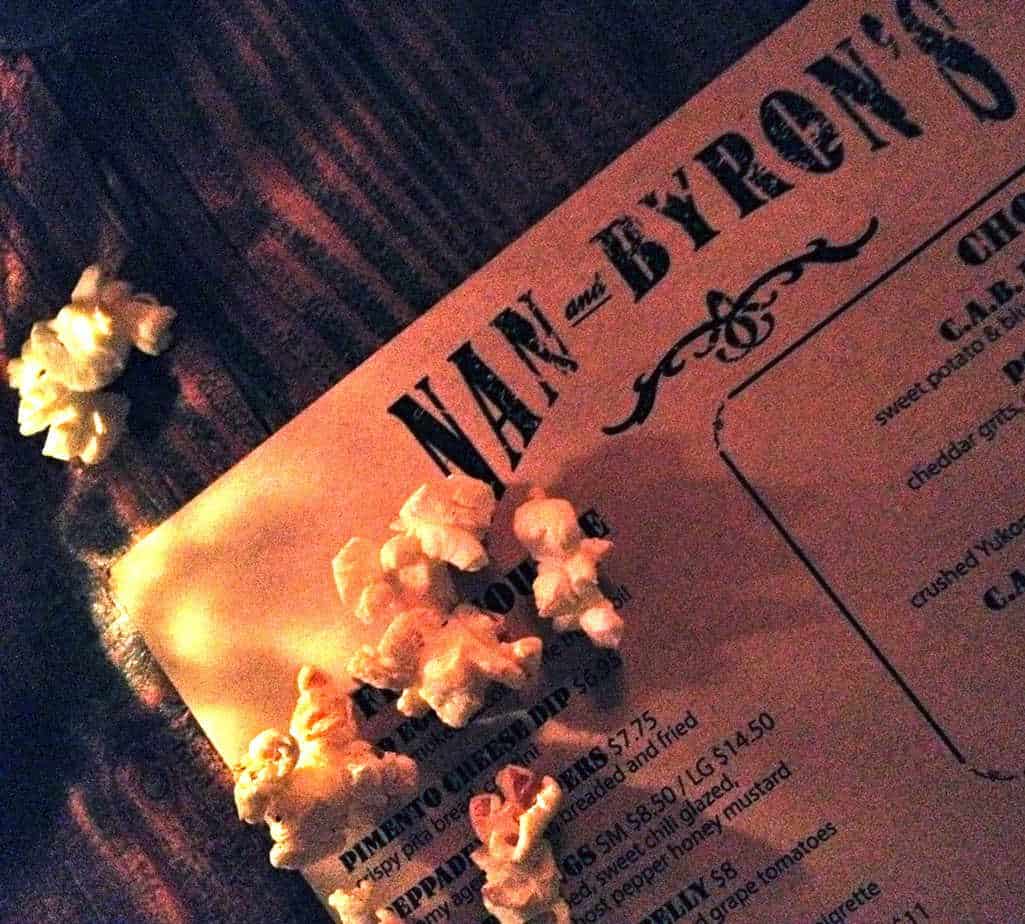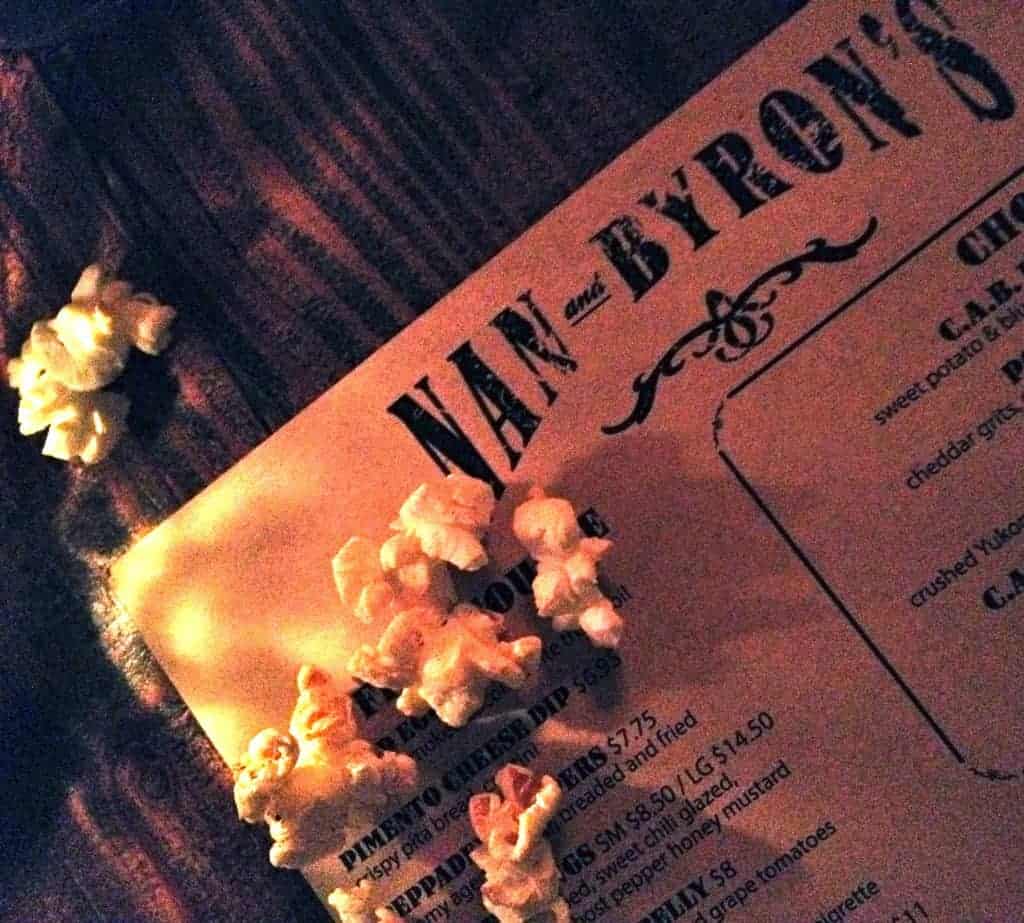 We each started with a cocktail: the Dancing Cranberries for me, with prossecco, white cranberry juice and dried cranberries, and Refashioned for AJ. The Refashioned Nan and Byron's take on an Old Fashioned with Bulleit Rye Bourbon, orange bitters, peach bitters, muddled fresh strawberry, orange, and cherries.
Nan and Byron's menu is a healthy mix of classic comfort food dishes like pimento cheese and meatloaf, mixed with some more elegant options like tartare, charcuterie and cheese boards, a chop menu (with a selection of steaks and other cuts) and scallops. There was so much to choose from, so we settled on two appetizers recommended by our waiter to start: The braised pork belly and tuna tartare. We enjoyed the pork belly, which was tender and flavorful, but the tuna won the appetizer round. The flavors were refreshing and bright, with a little kick of spice from the crushed wasabi peas, and I couldn't stop eating it.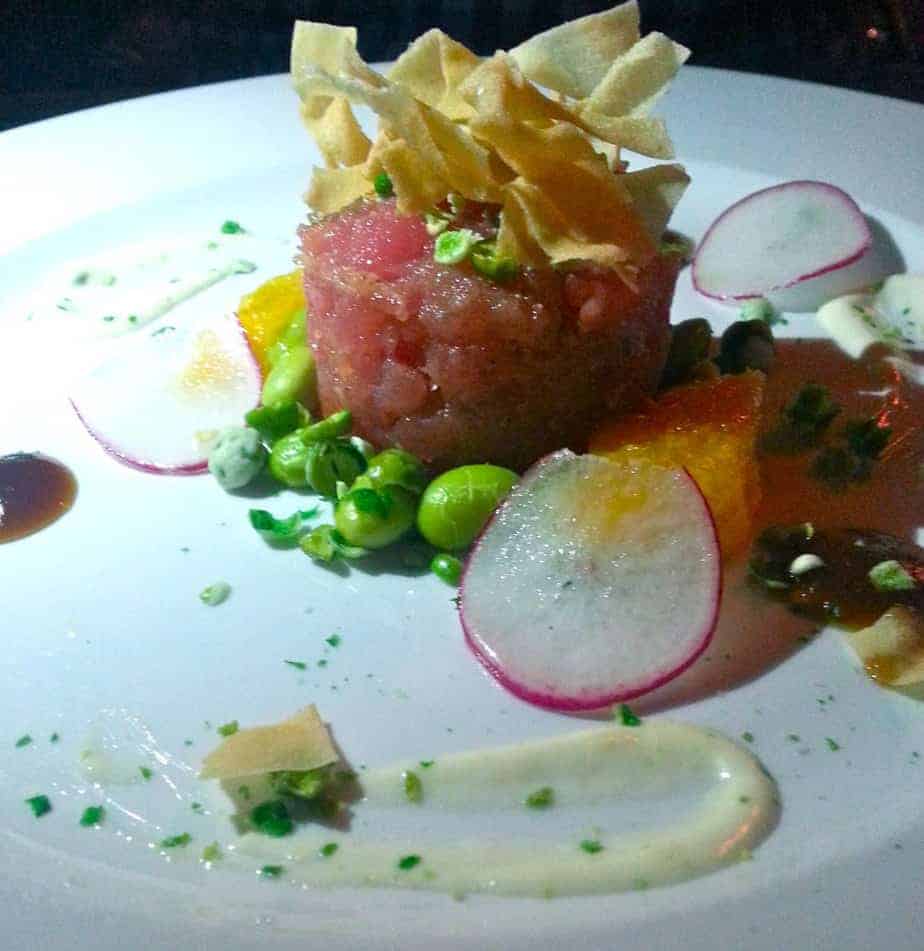 At this point I have to stop and talk to you about the photo situation. I currently take all photos for my blog on my iPhone, and then edit them as I see fit (one day I will save up for a DSLR, but for now, my iPhone is easy to travel with and pull out in restaurants so I don't look like a total weirdo). We were sitting at a great table in the corner and Nan and Byron's but the lighting, while great for the mood and our dinner, was not great for food photos (which are the stars of this post, no?). I kindly asked AJ if he would help my by lighting his phone up on the food so I could get better lighting and a better photo, and after rolling his eyes, he obliged (thanks for putting up with me!). Well, the restaurant staff saw us being all awkward in the corner and after asking what we were doing, also lit up their phones for me so I could get the perfect shot. I really wish I could give you a picture of me taking pictures, with two to three men with lit up cell phones surrounding me, but your mental image will have to do. Don't worry, this happened for all three courses.
AJ ordered off the chops menu for his entrée and decided on the spicy New York strip with crushed Yukon potatoes, crispy onions, garlic confit and red wine sauce. The chefs were not shy on the garlic and the steak was delicious (the crunch of the onions was a nice textural addition).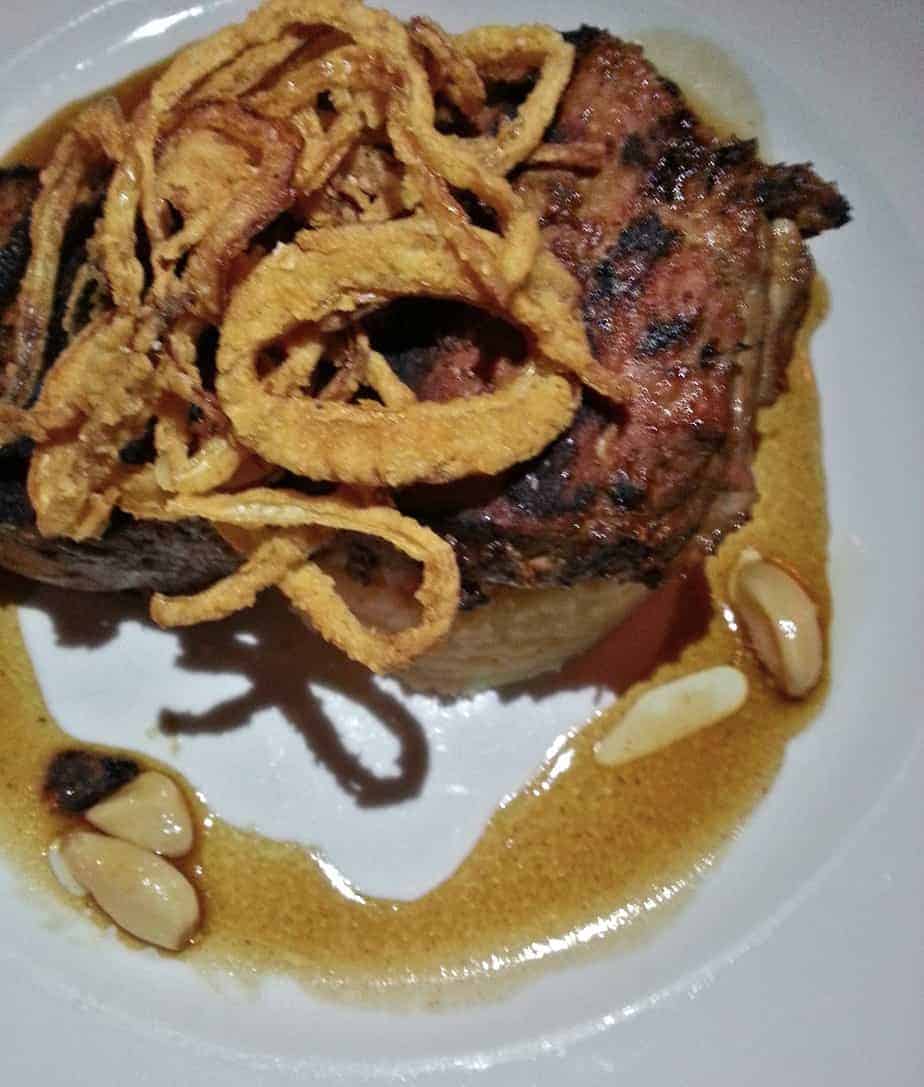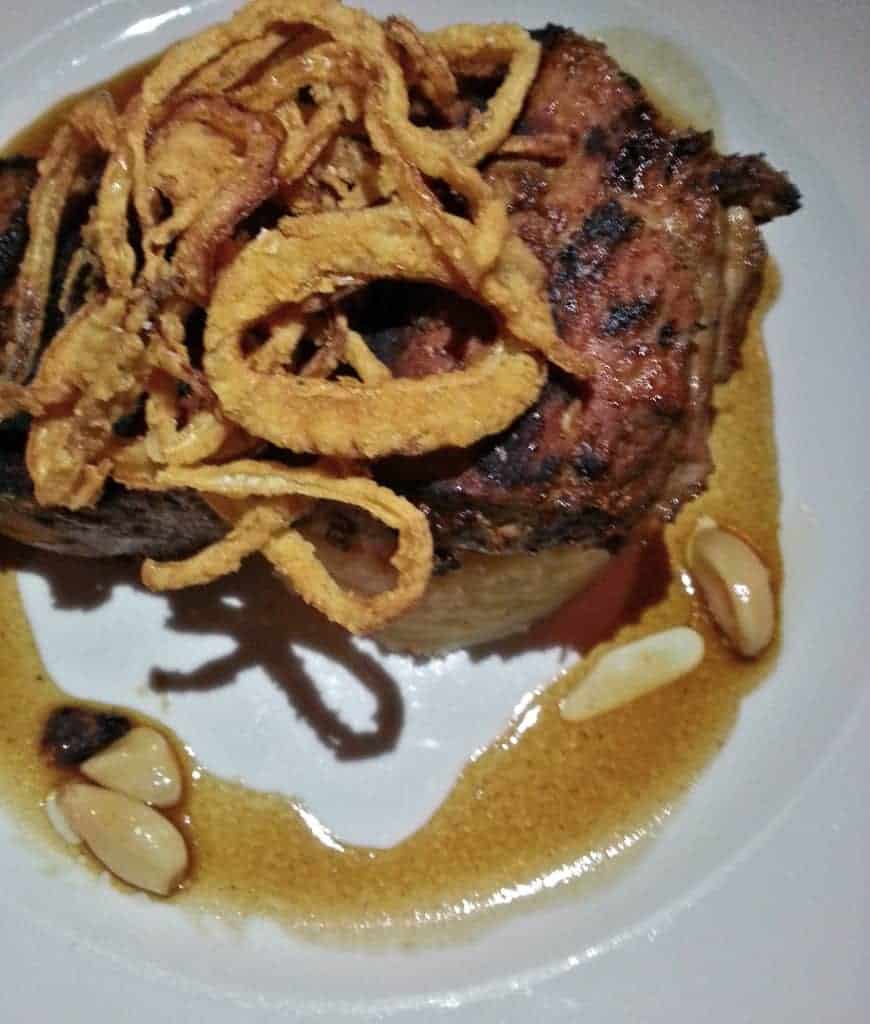 I tried one of Nan and Byron's new entrees, the pan seared scallops, and I hope that this dish stays on the menu because it was incredible. I don't make a lot of seafood at home (I think I've only made scallops once when they were on sale at Harris Teeter) and I love scallops, so its such a treat when restaurants have scallops on their menu. And scallops are easy to mess up; they can become rubbery in an instant, so its even better when restaurants cook them well and pair them with great flavors. The scallop dish seemed a little busy, oven roasted sweet potatoes, caramelized Brussels sprouts, red wine bloomed cranberries, spiced candied walnuts, and brown butter, but everything worked together and the dish was chock full of flavor. The scallops melted in my mouth and I couldn't get enough of the crispy Brussels sprouts. If you go to Nan and Byron's, you should order the scallops.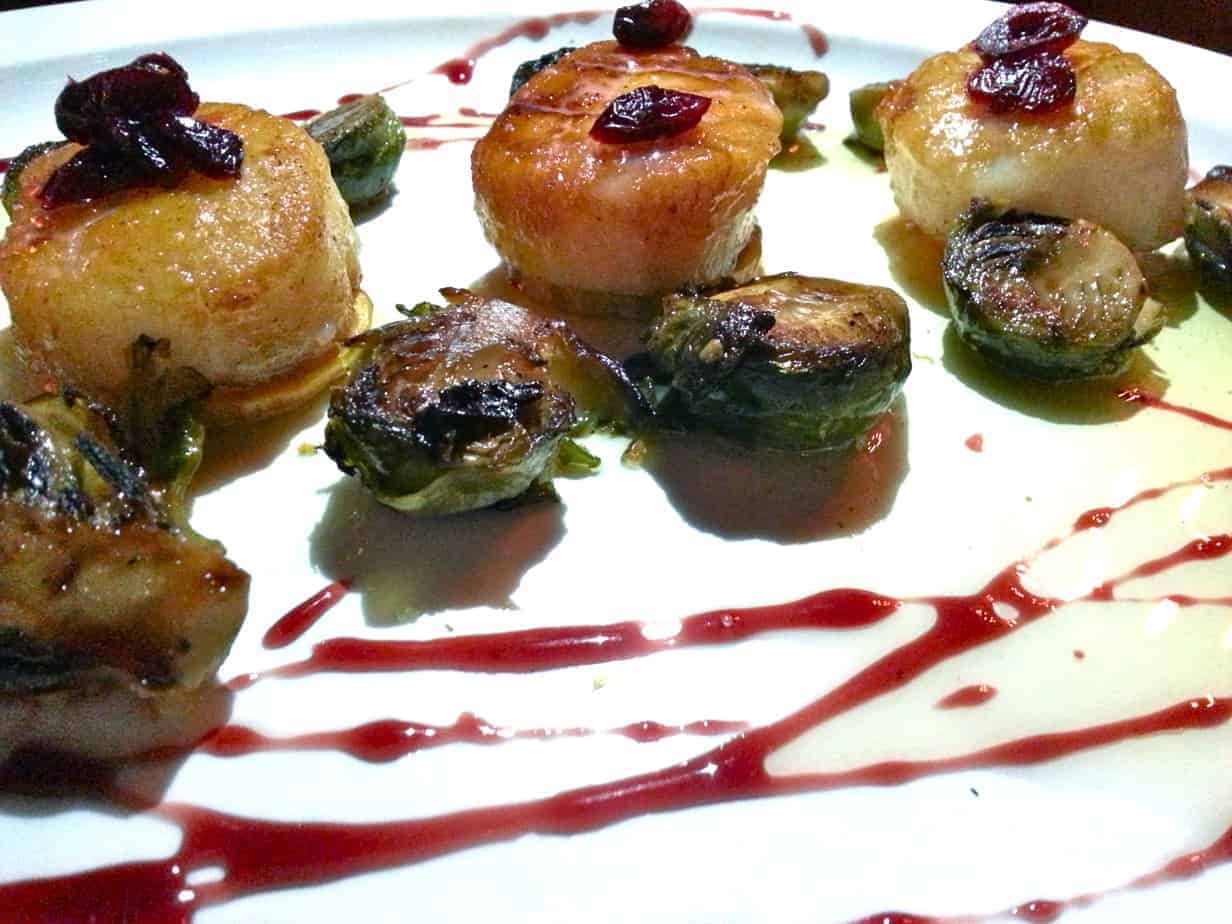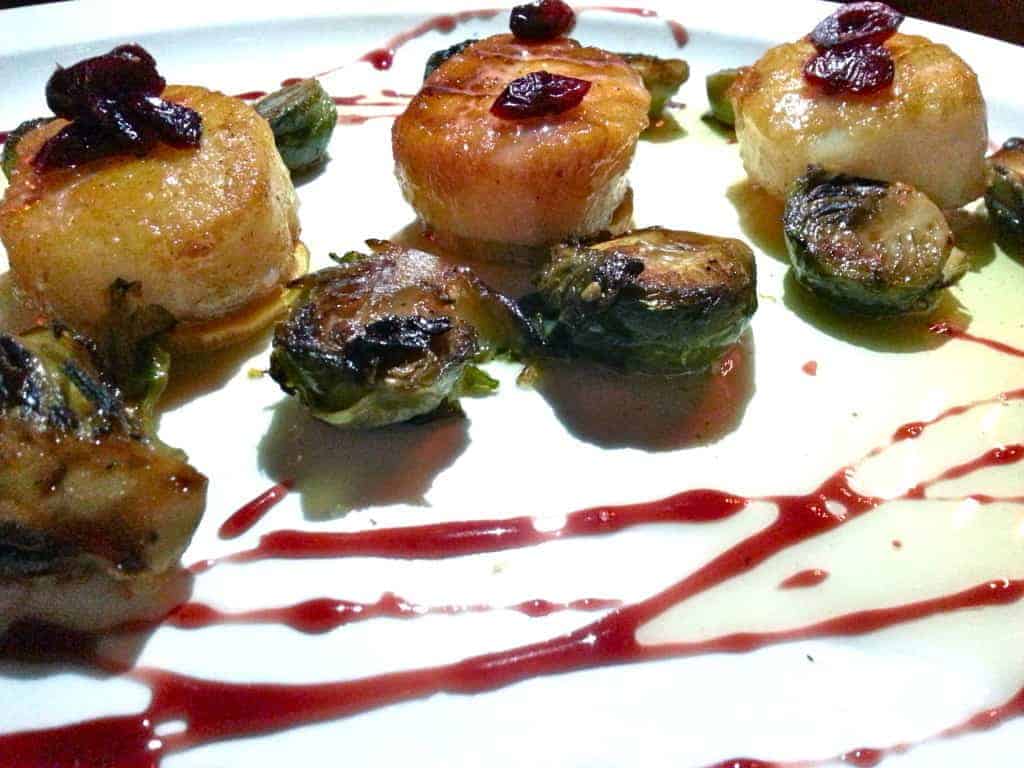 I tried to save some of my scallops for lunch the next day, but they were just too good I ate them all. After two appetizers and an entrée, I couldn't even fathom dessert, but my sweet tooth got the best of us (AJ is easy to convince) and we shared the turtle cheesecake for dessert. The cheesecake was creamy and sweet and anything turtle inspired (with chocolate, caramel and walnuts) is great by me. It was the perfect way to wrap up a meal.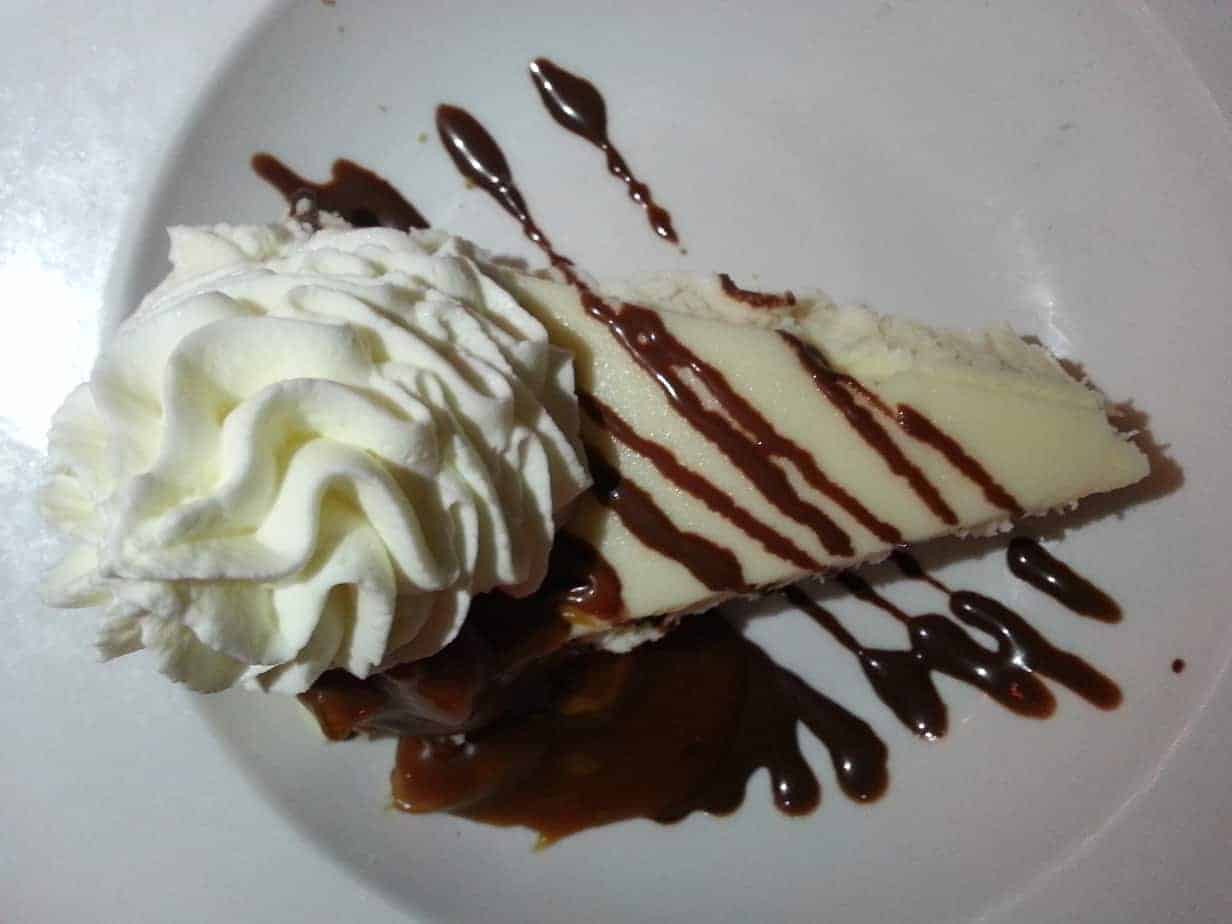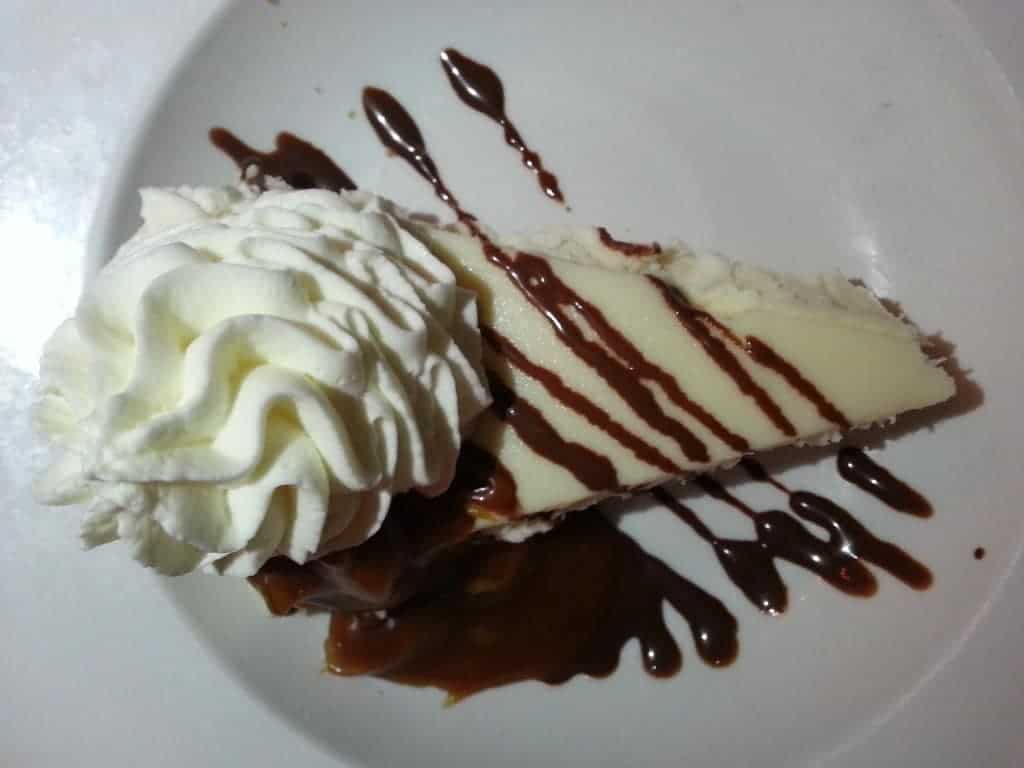 Besides great cocktails and scallops, Nan and Byron's also boasts a fantastic patio for warmer weather, and transitions to a late night hot spot on the weekends with food and drink specials, a DJ and dancing.
When the cold weather is getting me down this winter, I'm going to pop over to Nan and Byron's (maybe even take the light rail? I've never done it!) to sip on a Farmhouse Lemonade, feast on some scallops, and think about Spring.
 nanandbyrons.com / 1714 south blvd., south end
lunch: mon.-fri 11am-5pm
dinner: everday 5pm-until
brunch: sat. & sun. 10am-3pm
**Thank you to Nan and Byron's for treating AJ and me to dinner. All opinions are my own and no one asked me to write anything in return.