I know there's a big debate over restaurant week–some people love it, others hate it, probably a lot of people are indifferent (so maybe it's not that big of a debate). I totally get folks' qualms with restaurant week–smaller menus, less choices, poor quality of ingredients and dishes, bad service. While those issues are real, I can't help but love restaurant week. As I've shared with you before, I fell in love with restaurant week while living in Madison during law school–at a time when I had a stringent, puny, student budget and spent a lot of time cooped up in a library and eating pizza and bar food. Restaurant Week was a time for me to get out and explore and eat tasty things in the process.  Now as an adult (I'm not sure if I'm really an adult but we'll go with it, and I still have a puny budget), I look forward Restaurant Week week because it gives me a chance to eat at restaurants that are not necessarily in my price range, and even sometimes branch out of my comfort zone and explore new flavors and cuisines.  January marked my third Queen's Feast since moving to Charlotte (time flies when you're having fun), and I was so excited for our meal at Mimosa Grill.
map & more
score: 8.5
spending: $$-$$$
neighborhood: uptown
cuisine: southern, american
official website
[googlemaps https://maps.google.com/maps?f=q&source=s_q&hl=en&geocode=&q=Mimosa+Grill,+South+Tryon+Street,+Charlotte,+NC&aq=0&oq=mimosa+grill&sll=35.203154,-80.839829&sspn=0.659814,1.157684&ie=UTF8&hq=Mimosa+Grill,+South+Tryon+Street,+Charlotte,+NC&t=m&ll=35.224991,-80.845921&spn=0.003506,0.00427&z=16&iwloc=A&output=embed&w=200&h=200]
What I love more than just plain old restaurant week, is restaurants that offer their full menu as part of the restaurant week deal. Restaurant's that offer their full menu (or close to it) give their customers so many more choices, as well as a true experience of the restaurant, and the range and quality of dishes offered. I think it encourages customers to come back when their isn't a deal going on (or at least, it encourages me to come back) because of the range of choices, I can't ever settle on one thing and always want more. I also find it reasonable that if a restaurant is offerring the full menu, that some appetizers or entrees have an additional surcharge because those foods are usually worth it, and with a surcharge, the meal is still is a deal. Mimosa Grill did just this–they offerred their full menu, with some $4 and $6 surcharges here and there. It was worth it–my experience at Mimosa Grill in Uptown was the best restaurant week experience I've ever had (yes I'm getting dramatic with the sweeping statements).
Our waitress was amazing, and I'm so mad at myself for forgetting her name so I can't give her the shout out she deserves. She was friendly, talkative, knowledgable, poised and professional. Her friendliness and warmth started our dinner off on the right foot. We dined at Mimosa Grill on a Sunday night, the last night of Restaurant Week (I can't even imagine how drained the wait staff must feel after a full week of Restaurant Week diners).
Our fabulous waitress explained that Mimosa Grill was offerring their full menu for restaurant week (which is why it was so extensive, no apologies there!) and that we could pair the three courses in a few different ways–salad, entree, dessert, appetizer entree dessert, or salad entree appetizer. Some the appetizers and entrees had surcharges ($4 and $6 respectively) so the three courses could range from $30 to $40, depending on our selections. AJ and I developed a game plan while our waitress went to get our drinks (a glass of Malbec for me, a beer for him). We settled on him ordering a salad, appetizer, entree and me ordering a salad, entree and dessert. And then we could share the appetizer and dessert. Boom, genius. It got a little bit harder when we couldn't come to an agreement on which dessert to get (the appetizer was easy, mussels, duh)–I told AJ I had three in mind and he said he had two, so we thought we would cross paths somewhere. Nope. The debate was narrowed down to the Southern apple cheesecake and the banana creme brulee. We finally left it up to our waitress, and she broke the tie with the cheesecake (sorry AJ).
I started with the Carolina Mixed Greens salad which was super fresh and bright thanks to the lemon vinegarette. At this point in the week my body was craving veggies (which happens every so often) and so this salad popped out to me because of the light dressing, assortment of fall veggies, greens, and then little treats of pecans and smoked cheddar (I definitely cannot say no to smoked cheddar). It came out perfectly dressed (one of my biggest pet peeves is an over dressed salad) and I happily munched away.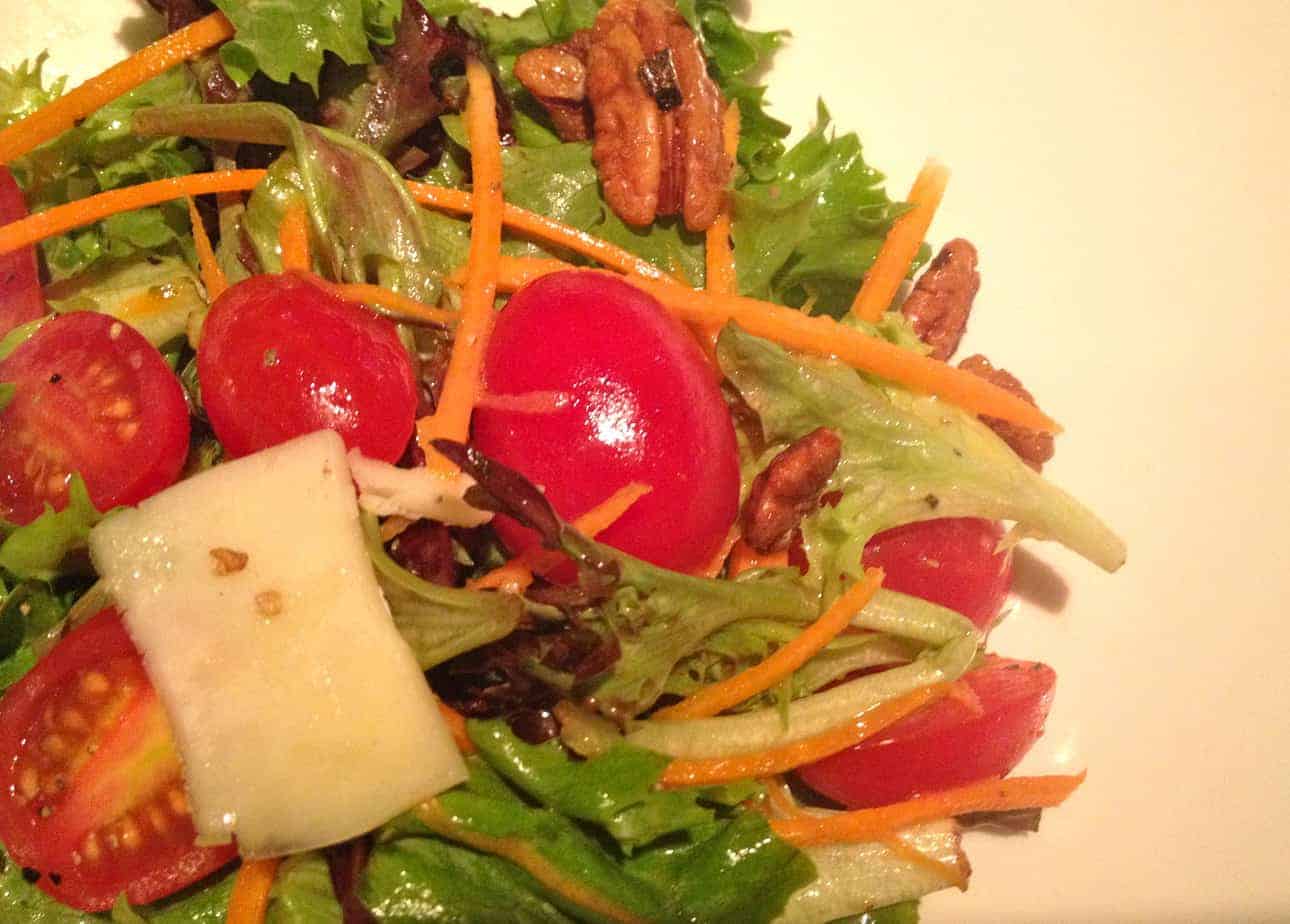 AJ got the kale ceasar (he is a huge anchovy fan) and he let me steal a few bites; it was also delicious! It was a little heavier than my mixed greens, but I love, love, love the idea of using kale in a ceasar. The best part was the fried egg on top and getting a little eggsplosion action over the bed of kale.
Next up was the mussels. Man I love mussels in a good broth, I always want to slurp it up. Mimosa Grill's mussel broth was definitely slurp worthy–it had a little kick with the roasted garlic, and smoked tomatoes bathed in white wine and olive oil. The mussels were a plenty and succulent; both AJ and I were happy that we decided to split the appetizer and weren't gluttonous enough to eat it on our own. The flavorful broth was perfect for mussel drowning and crusty bread dunking–a toasted baguette coated with parmesean cheese. We had some leftover biscuits from our bread basket delivery (which were fluffy and delightful and oh so tasty with the accompanying honey butter) so they got some broth dunking action too. I did everything in my power to resist grabbing the bowl when we were done and slurping it all up (but that wouldn't be polite to do on a date). Yum.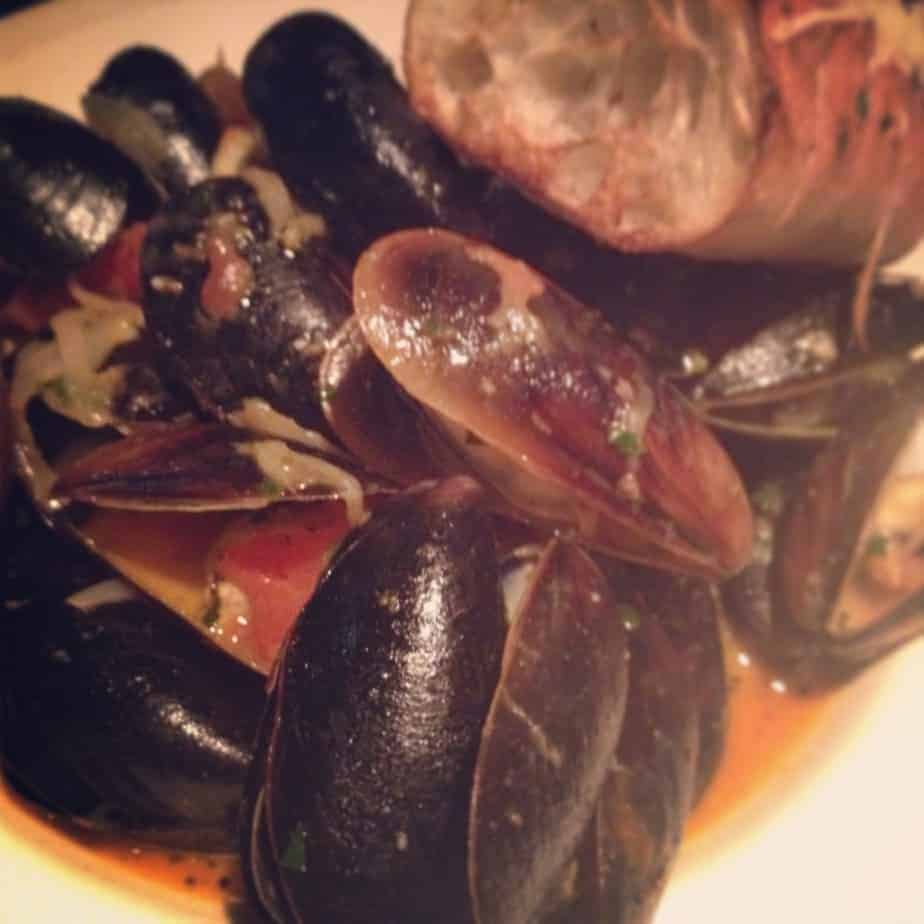 Rumor is that Mimosa Grill's most bangin appetizer is the stuffed Georgia hushpuppies. Hushpuppies stuffed with cajun shrimp and crawfish served with creole sauce? Yes, please. I will have to go back to try those out ASAP.
Up next was the main course and more delicious, rich, flavorful, tasty food. I had been dreaming about seafood all week (I tend to do that when it's cold and I have summer on the brain) so the scallops were a no brainer. I enjoyed three perfectly seared scallops, so tender that they my fork sliced through them like butter. My scallops were served overtop a creamy celery root puree and glazed mushrooms, as well as some dressed greens for color and acidity. The mushrooms packed a punch and their deep smokiness offset the salty scallops. It was such a delightful, melt in your mouth meal.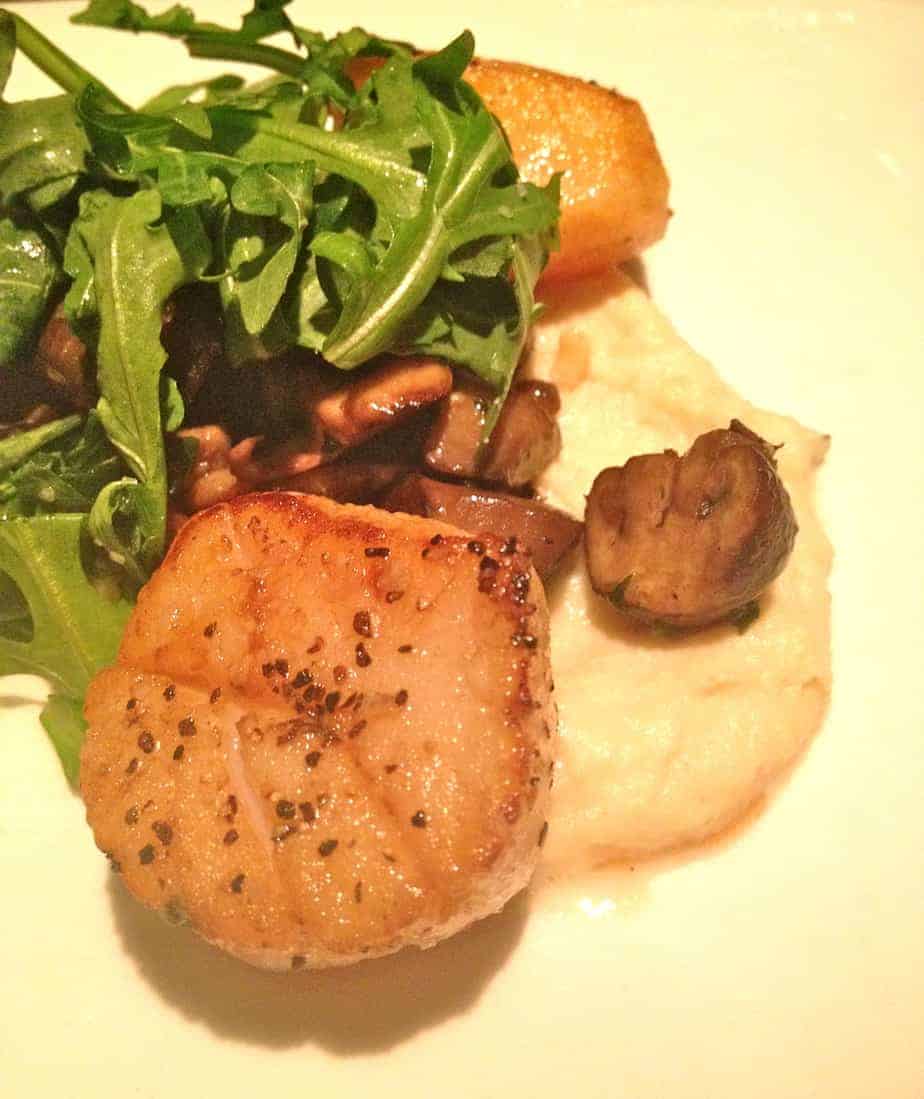 My scallops came with a side of the sorghum glazed Brussels sprouts. After a heavy, creamy dinner the night before at Bernadin's, I definitely counted the sprouts as a veggie (but as a note from my later self to my veggie eating justifying self, these Brussels sprouts are farther from a veggie–) let's talk crispy, and chock full of bacon (whatever, Brussels sprouts are in the dish and it's a veggie, so take that).
AJ got the pork trio; (to be specific, the Rock House Farm Artisan Pork Trio–Mimosa Grill operates in a farm to fork fashion and sources ingredients from local farms and artisans to bring high quality, fresh ingredients into their dishes) which was grilled pork loin over southern greens, the daily ground sausage with mac n cheese, and braised smoky mountain bacon atop applesauce. The trio was great–any time that you can see and taste one ingredient in a variety of delicious ways is wonderful. AJ let me sneak a few tastes of his meal–my favorite was the mac n cheese because it was totally gluttonous; rich and creamy with a little kick of fresh sausage. But not to undercut the bacon, which was completely harmonious with the sweet applesauce, and the pork loin and the kick ass greens (since moving to Charlotte I've become a huge fan of greens, and a bigger fan when their served with meat!).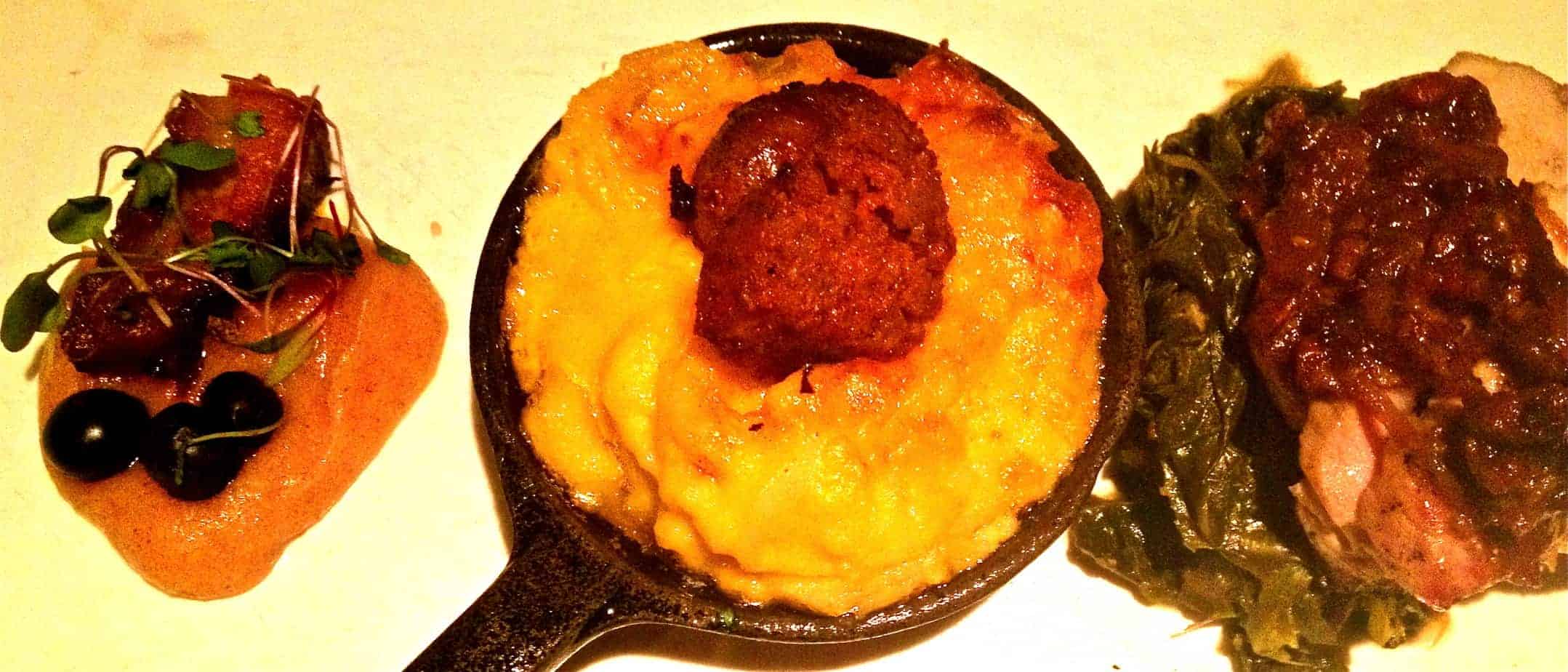 You could have probably rolled me home after our entrees, but it's always nice to end a meal on a sweet note so I obviously save a tiny bit of room for dessert (to be fair, I was banking on sharing a dessert with AJ). But to add to her fabulousness, our waitress brought out two desserts–the apple cheesecake that we ordered, and the banana creme brulee that got put on the back burner (she said she knew we had difficulty deciding between the two so she brought out both and gave us the creme brulee on the house–how delightful!). We dug into both immediately. The apple cheesecake was the clear frontrunner, as our waitress told us; it had the right amount of sweetness, a creamy, heavenly texture, and packed a good apple punch with the Arkansas black apples.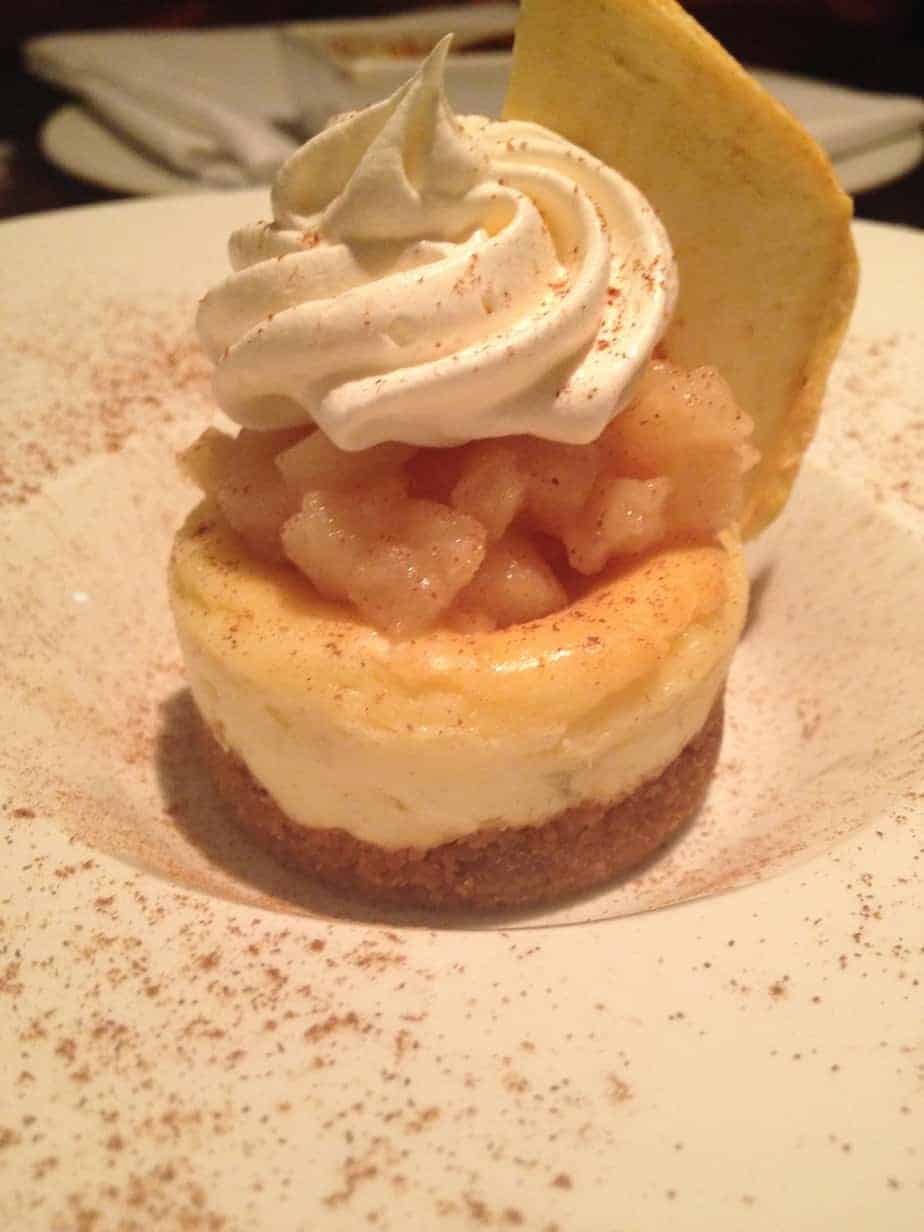 The salted caramel was an added bonus, and was a healthy balance with the sweet cake (also salted caramel is divine). The banana creme brulee was what you could expect–the banana flavor was definitely there (creme brulee is the perfect vehicle for any flavor, it really lets flavors sing). I was thrown off guard by the bittersweet chocolate, but I definitely understand the concept; bananas are so naturally sweet that the bittersweet chocolate balanced that all out. It was a good dessert, and while banana desserts are growing on me (yum, banana pudding) I'm definitely more of a straightforward, vanilla, creme brulee kinda gal.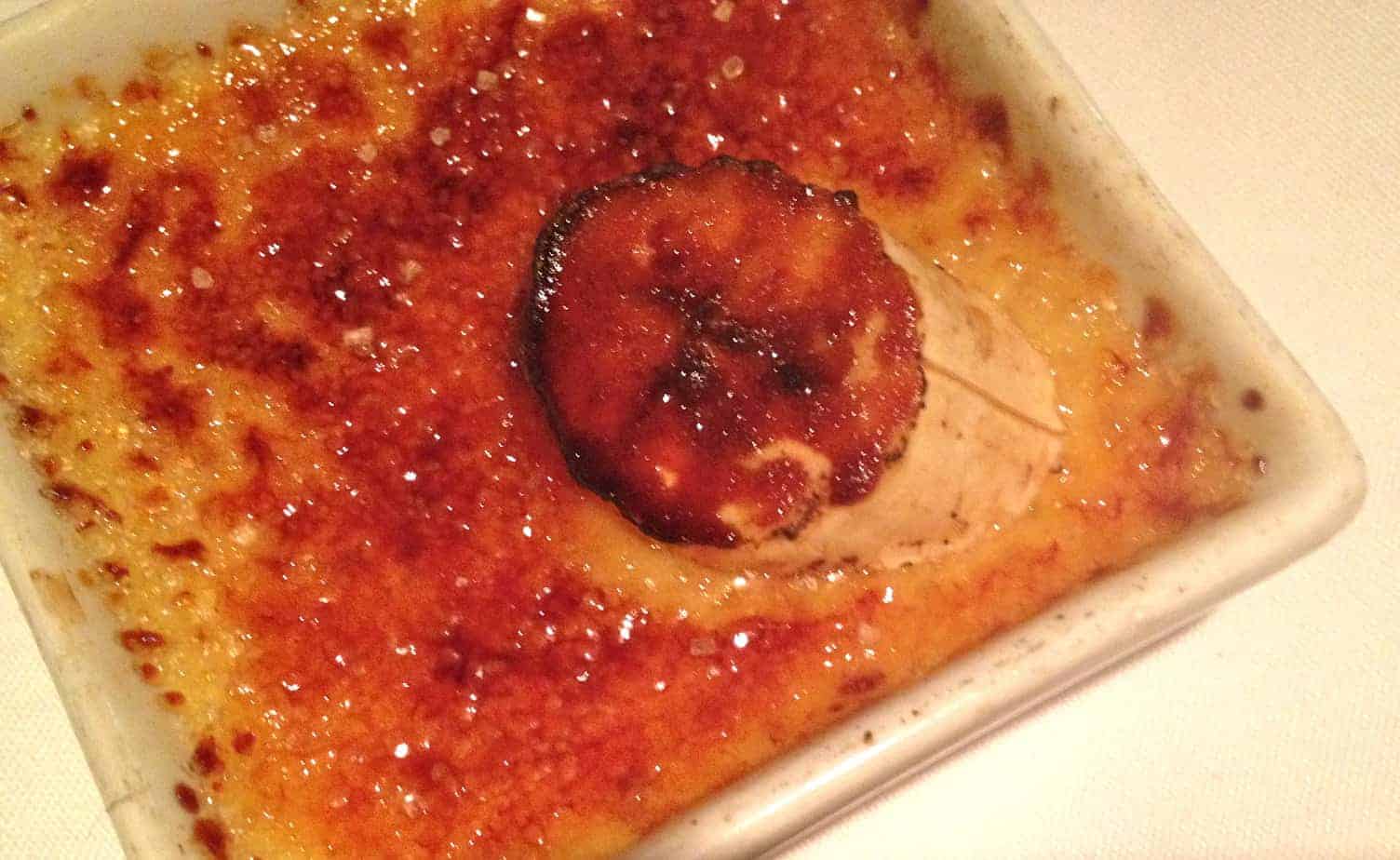 I've said it before and I'll say it again, I had the best restaurant week experience at Mimosa Grill. That's why I love restaurant week–a good experience makes me love the restaurant, and want to go back in "real life." Mimosa Grill's food is diverse, tasty and affordable, and I can't wait to go back and have some Georgia hushpuppies!