First things first. Can we talk about the breaking news in the Charlotte area?!? The Hornets are coming back to Charlotte! Twitter is a buzz with the exciting news!
Moving on to our Saturday review…
I had no idea this place was here! Lola's is tucked into the basement of an office building in Uptown right across from the NASCAR Hall of Fame and next to the Megabus bus stop.  I went on a lunch date with two coworkers as a send off for one who is leaving our office for a new adventure. I will really, really miss her, she was one of my mentors during my internship program, but exciting things await her around the corner.  And she is staying in Charlotte, so we will definitely keep in touch. Lola's was the perfect spot to catch up, say preliminary goodbyes, and indulge in southern comfort food.
One of the blessings/advantages/benefits to living in the south is definitely southern comfort food. And what is even better is a place that cooks southern comfort food like your momma would do on a Sunday after church. Lola's is one of those places for sure. Not only is the food delicious and on point, but the folks are super friendly and warm, and that is what will keep me coming back.
Lola's is cafeteria style, but the food is much higher quality than what you get when you think "cafeteria."
It's quite popular! There was a long line when we got there, but it moved quickly. The line diverges into two: specials of the day (traditional southern food) or a sandwiches, wraps, salads line. You grab your tray, pick your line, your lunch comes out hot and quick and you pay before finding a table.
For lunch I got the special, which was a choice of baked chicken, barbecue chicken, meatloaf, and maybe one other thing (which I can't remember because I was entranced by the other three choices). The guy behind the counter was pushing for the meatloaf (he says it's the best in town) but I decided on barbecue chicken.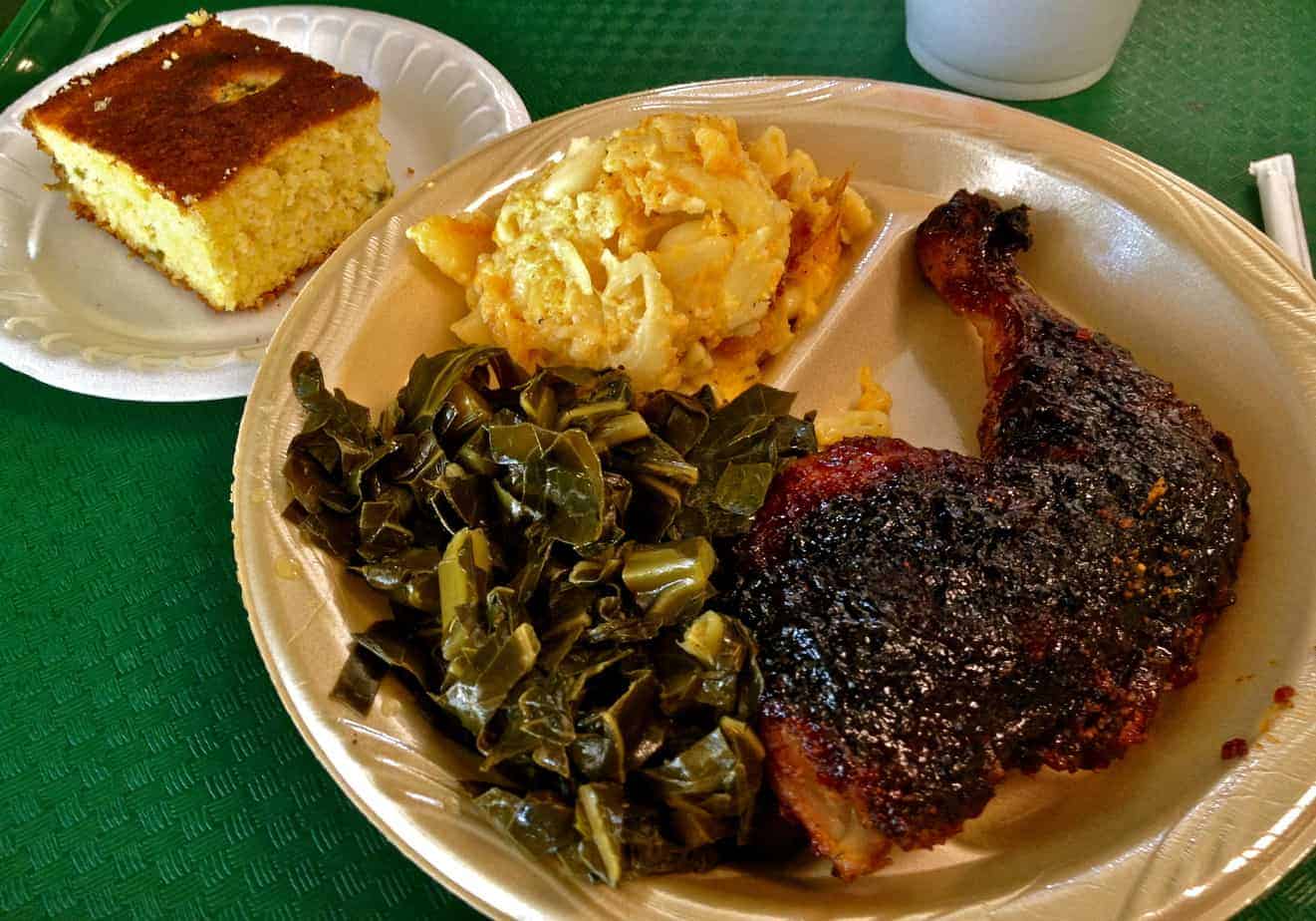 I have to say my mom makes a mean batch of barbecue chicken, and the chicken at Lola's definitely rivals hers. It was sticky, sweet, tangy, and finger licking good. I got a side of mac and cheese and collard greens, as well as some jalapeno cornbread. I am a huge fan of homemade mac and cheese, and Lola's really hit the spot–creamy, cheesy, melty goodness. Their greens were fantastic as well. But let me tell you, the true star of the show was the jalapeno cornbread. Holy crap, I could eat a whole pan if my pants would let me. If you go to Lola's you HAVE to get the jalapeno cornbread.
Lola's a scores high in my book because it is a convenient, quick and friendly place to grab lunch, and the food is yummy. While I am not a huge fan of the cafeteria style (grab your tray, move through the serving line); Lola's pulled it off (maybe it was all the servers southern charm).  I will be back, especially for that cornbread.
map & more

score: 6.5
spending: $
neighborhood: uptown
cuisine: american, southern
official website
[googlemaps https://maps.google.com/maps?f=q&source=s_q&hl=en&geocode=&q=Lola's+Restaurant,+300+South+Brevard+Street,+Charlotte,+NC&aq=0&oq=Lola's+Restaurant,+300+South+Brevard+Street,+Charlotte,+NC&sll=35.222829,-80.842778&sspn=0.019913,0.034504&ie=UTF8&hq=Lola's+Restaurant,&hnear=300+S+Brevard+St,+Charlotte,+Mecklenburg,+North+Carolina+28202&t=m&ll=35.222834,-80.842788&spn=0.003068,0.003734&z=16&iwloc=A&output=embed&w=250&h=250]