I love Charlotte because there is so much to explore; each little neighborhood is so unique and offers something different, there are always a variety of new places popping up all over the place; and of course there are always Charlotte institutions that are on my must see list or that I happen to just stumble upon.
map & more
score: 9
spending: $
neighborhood: uptown
cuisine: sandwiches, bakery
official website
[googlemaps https://maps.google.com/maps?f=q&source=s_q&hl=en&geocode=&q=Local+Loaf:+Bakery+%26+Restaurant,+East+7th+Street,+Charlotte,+NC&aq=0&oq=local+loaf+cha&sll=38.003386,-79.420925&sspn=5.089531,9.261475&ie=UTF8&hq=Local+Loaf:+Bakery+%26+Restaurant,&hnear=E+7th+St,+Charlotte,+North+Carolina&t=m&ll=35.227742,-80.838003&spn=0.014022,0.01708&z=14&iwloc=A&output=embed&w=200&h=200]
I discovered 7th Street Public Market on a snowy February day last year when looking for a lunch spot before hitting up the Levine Museum of the New South (ok, yes I am a history nerd, I was a history major, and the history of places and people fascinates me and I wanted to learn more about the city I live in! As a side note, the Levine Museum is totally awesome and informative and I highly recommend it).
Anyways, 7th Street Public Market has since become one of my favorite places in Uptown. It reminds me of Eastern Market in DC or Chelsea Market in New York, but on a much smaller, more intimate scale (and it's still growing!). 7th Street Public Market offers so much–fresh produce, cuts of beef, artisan cheeses, raw juices, creamy lattes, sushi, pizza, sweets, and a ton more. Local Loaf is one of the newer stalls and has quickly grown in popularity. It's totally one of my favorites. Local Loaf is a sandwich, soup and salad place, all about signature, fresh, artisan breads, made in front of customers daily (which smells amazing!). Local Loaf–you had me at fresh, hand rolled baguette.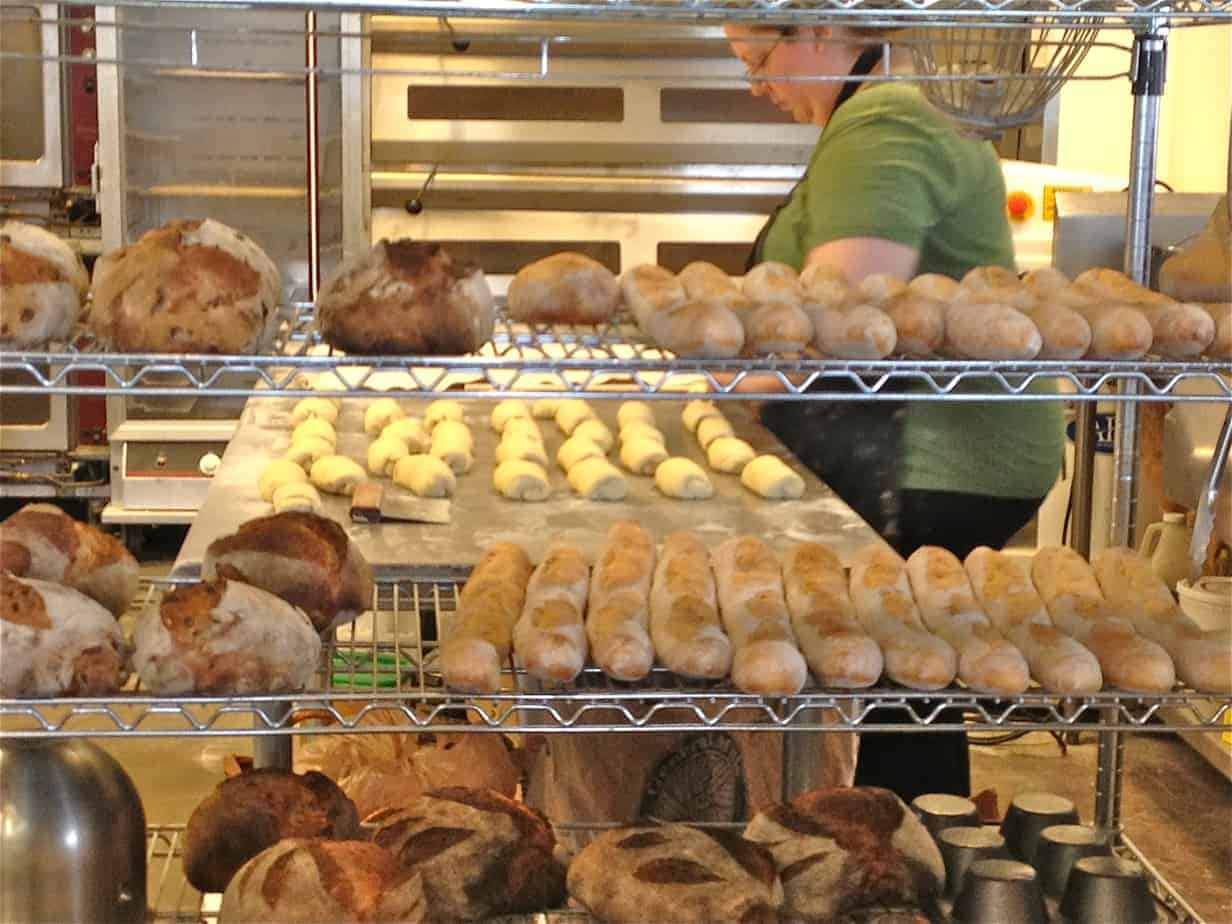 I've stopped in to Local Loaf a few times for lunch and had two of their signature sandwiches (and cannot wait to go back for more). The first time I stopped in, I ordered the Hot Steak Sandwich. I love steak, and the flavor profile on this sandwich sounded amazing–marinated skirt steak, horseradish jalapeno aioli, red onion jam, white cheddar and micro greens on a baguette. I die. The steak was cooked really well and was tender enough to bite right through. The horseradish jalapeno gave a little kick and the red onion jam was sweet (and I'll admit, I was a little skeptical of a red onion jam but Local Loaf you have converted me). The hot steak delicately melted the white cheddar overtop; and the greens gave the whole sandwich a little freshness and crunch. And I can't even begin to describe how amazing the fresh baguette was; crunchy with each bite, but still soft on the inside.
I munched on the the cucumber salad as my side.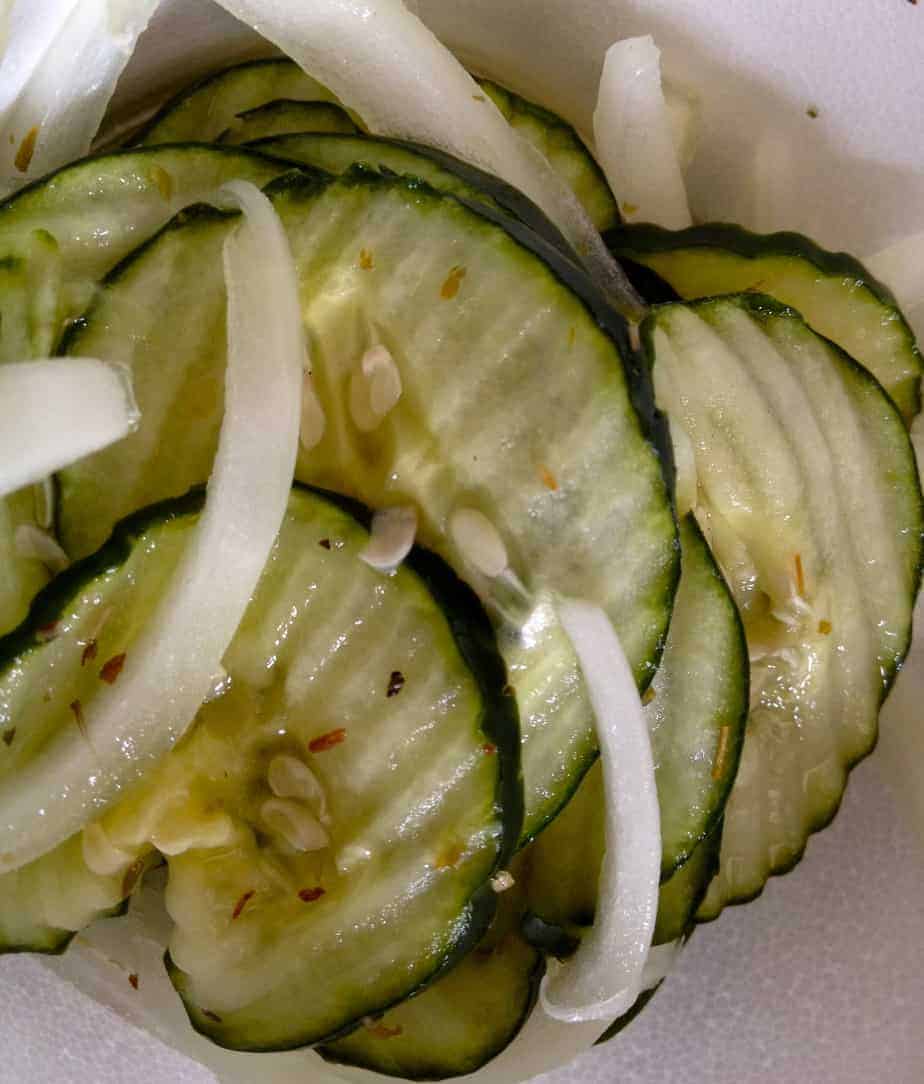 On my next visit, I had some difficulty deciding, but after a lot of thought and question asking I ordered the Ham and Brie. The cook behind the counter was very helpful and knowledgeable about the flavor profile and ingredients of every single sandwich on the menu, and his advice helped me narrow down my sandwich choices (he also highly recommended the Local Loaf Dip, which I flirted with, but it was a warmer day, so I want to save the dip for more chilly weather). The Ham and Brie was also delicious; I'm not a huge ham fan but I'm so happy I branched out (part of the reason I did was because he told me it wouldn't be piled high with ham, and he was right). It was the first time I've enjoyed ham in a while. The melted brie was tucked into a reasonable amount of ham, and the soft cheese was the perfect compliment to the salty ham.  The sweet mango chutney added sweetness and also complimented the honey baked ham; the pickled cucumbers and radish greens brightened it up and added a little crunch; and the dijon gave everything a little zing.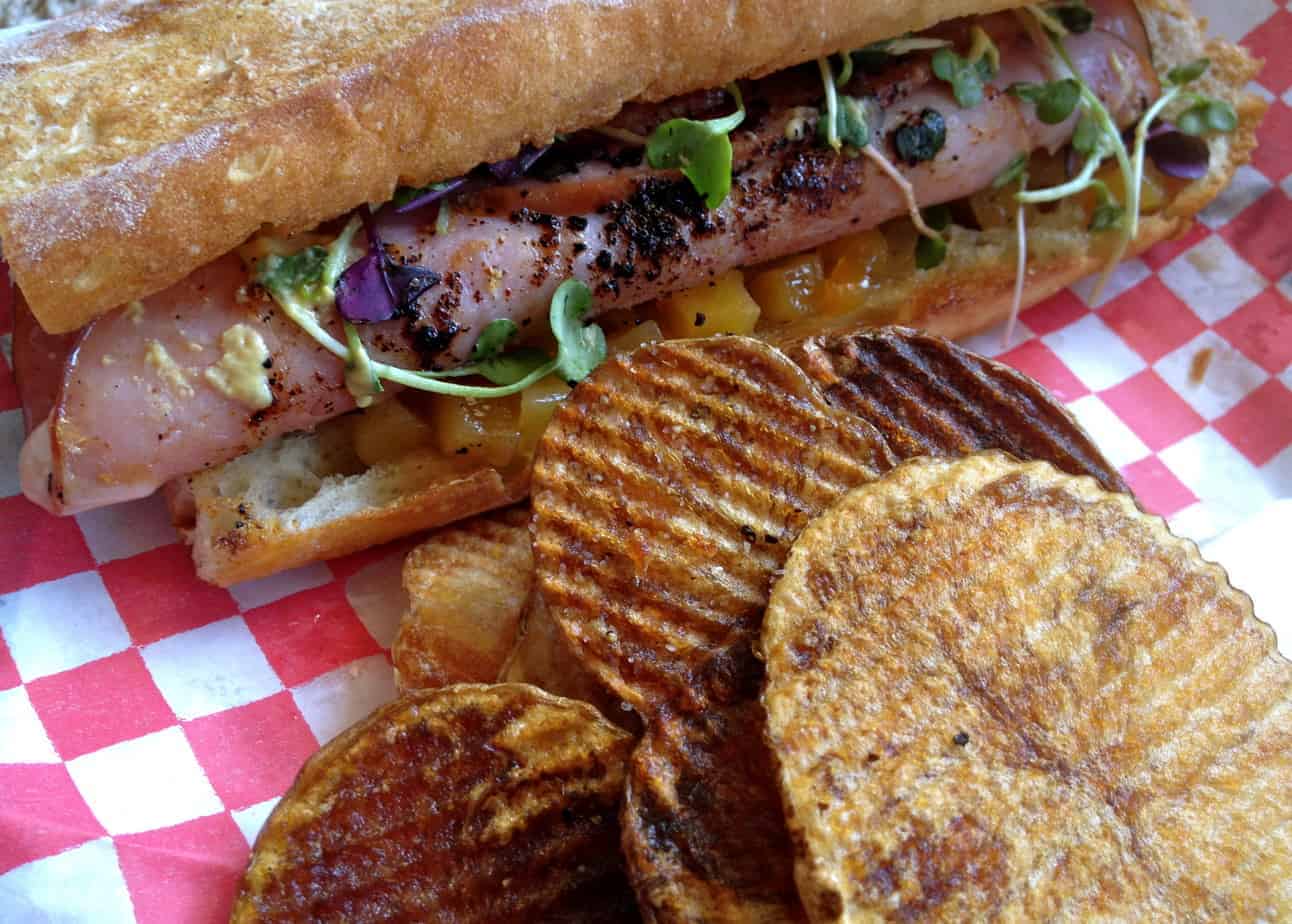 I wanted to try out one of Local Loaf's soups, but the soup of the day just wasn't striking my fancy (I hear the tomato soup is to die for and I am a sucker for good tomato soup so I can't wait to try it!). The cucumber salad is delicious, but I had a bit of pickled cucumbers on my sammie. So I went with the homemade potato chips.
Besides sammies, Local Loaf serves up homemade soups and salads; as well as loaves of bread and baked goods that you can take home and enjoy. They also offer weekend brunch that is also on my list to check out.  I've since signed up for a Local Loaf customer card, so I can get credit for each sandwich I eat and get my 10th one free. Go get yourself a sandwich from Local Loaf, and never go to Subway again!