On a recent Sunday, I got to combine two of my all time favorite things, brunch and patios. I have a lot of favorite things, but brunch and patios are at the top of the list. If I could, I would brunch all the time. Unfortunately, my glamourous life as a government employee does not give me the means to go to brunch every weekend, and I think my friends would be sick of entertaining my endless desire to brunch (there was a stretch last year where my boyfriend cut me off from brunch because we had gone brunching too many weekends in a row). So if anyone is looking for a buddy to go brunching with, I'm your gal.
I don't think I need to explain my love of patios to y'all. What part about sunshine, good company and relaxing with a cold drink does not sound delightful? That's what I thought.
The bonus of southern living, as I mentioned yesterday, is the warm weather in early April (after living in Wisconsin for several years, I welcome spring time). However, a draw back is totally the  no booze until noon on Sunday law. This law is steeped in North Carolina and Charlotte's history:  it wasn't until 1978 that restaurants in Charlotte could serve mixed drinks (Mecklenburg County voters were the first in North Carolina to vote to pass the mixed drink referendum). But enough about history (I am a history nerd), I suppose I could brunch without a cocktail, but how could you brunch without a Bloody Mary or mimosa?
So I've sucked it up and have just started brunching post noon. I this particular Sunday, we decided on Leroy Fox because of a (dirty) amazing rumor of a Bloody Mary bar. Bloody Marys go to the top of the favorite things list as well (up there with brunch and patios).  Unfortunately when we showed up, there was no such bar,  (maybe there used to be one), so our dreams were dashed. Until we learned about the four dollar bloody mary special and $12 bottomless mimosas (not too shabby, but when it comes to bottomless mimosas, Vivace has my heart at only $10).
Leroy Fox is (for lack of a better word) interestingly positioned at the end of a busy shopping center off of Sharon Amity Road. The restaurant stands out like a sore thumb at the end of an undistinguished, run of the mill strip mall. I will admit that I was skeptical at first, especially with adding a patio into the mix; but I must say, once you are inside, you don't even remember your surroundings. Well done, Leroy Fox.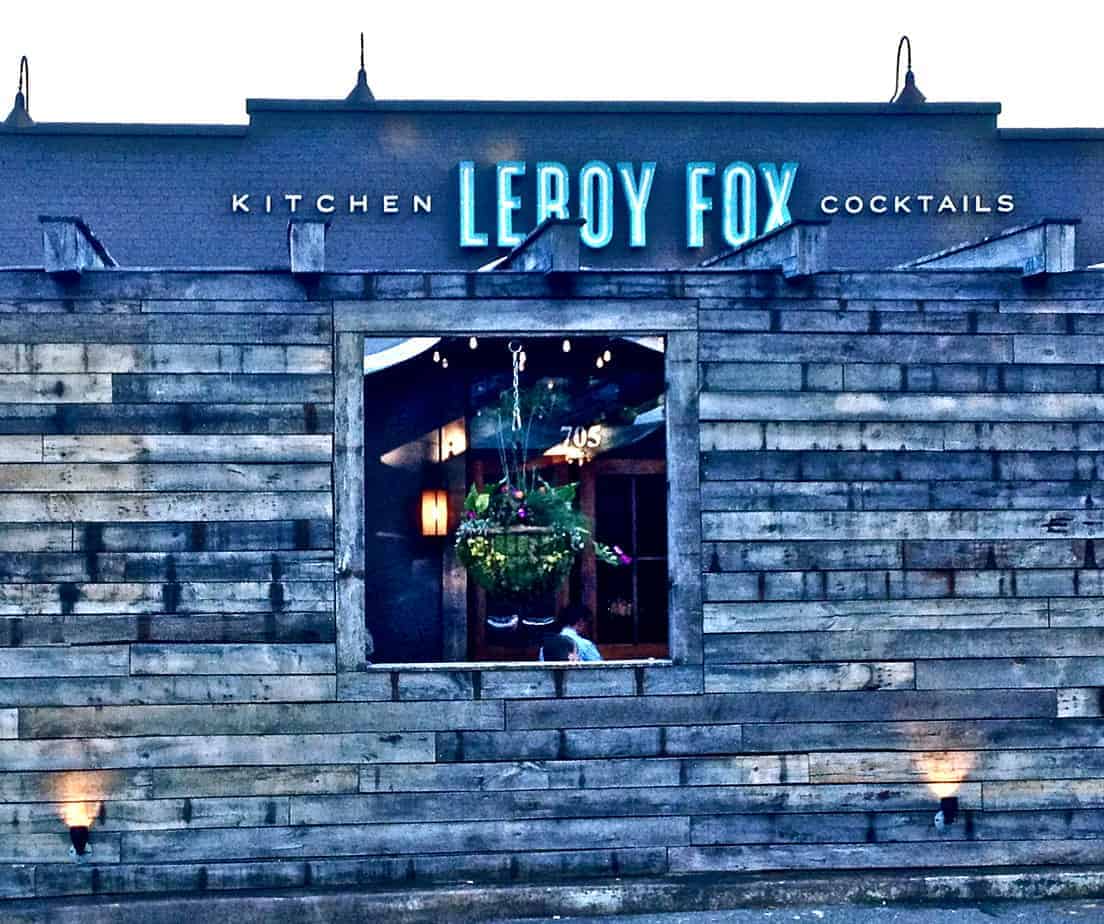 We started on the patio with drinks, while we waited for an outside table. I had a Bloody Mary, which was extra spicy and extremely satisfying. I would say the one downfall is that the "salad" (the veggies that come with a Bloody Mary) was underwhelming, just two olives and a lime. I much prefer a little salad snack with my Bloody Mary, and have had such treats as celery, pickles, olives, onions, Brussels sprouts, cheese sticks, beef sticks, bacon, shrimp and a mini hamburger garnish my cocktail. Nonetheless, the Bloody Mary was well spiced and yummy.
We got carried away in conversation, and eventually realized an hour and a half had passed, we were all starving, and there were still no open outside tables (damn hoarders).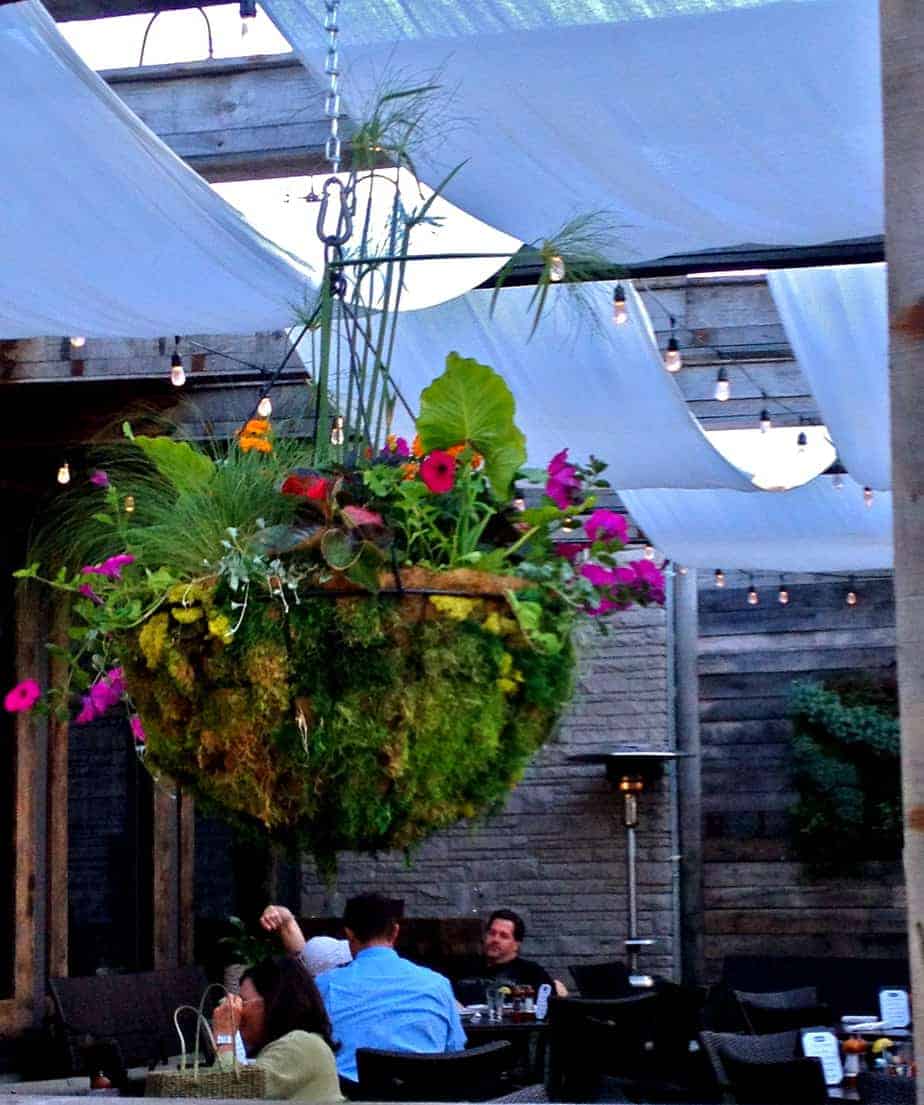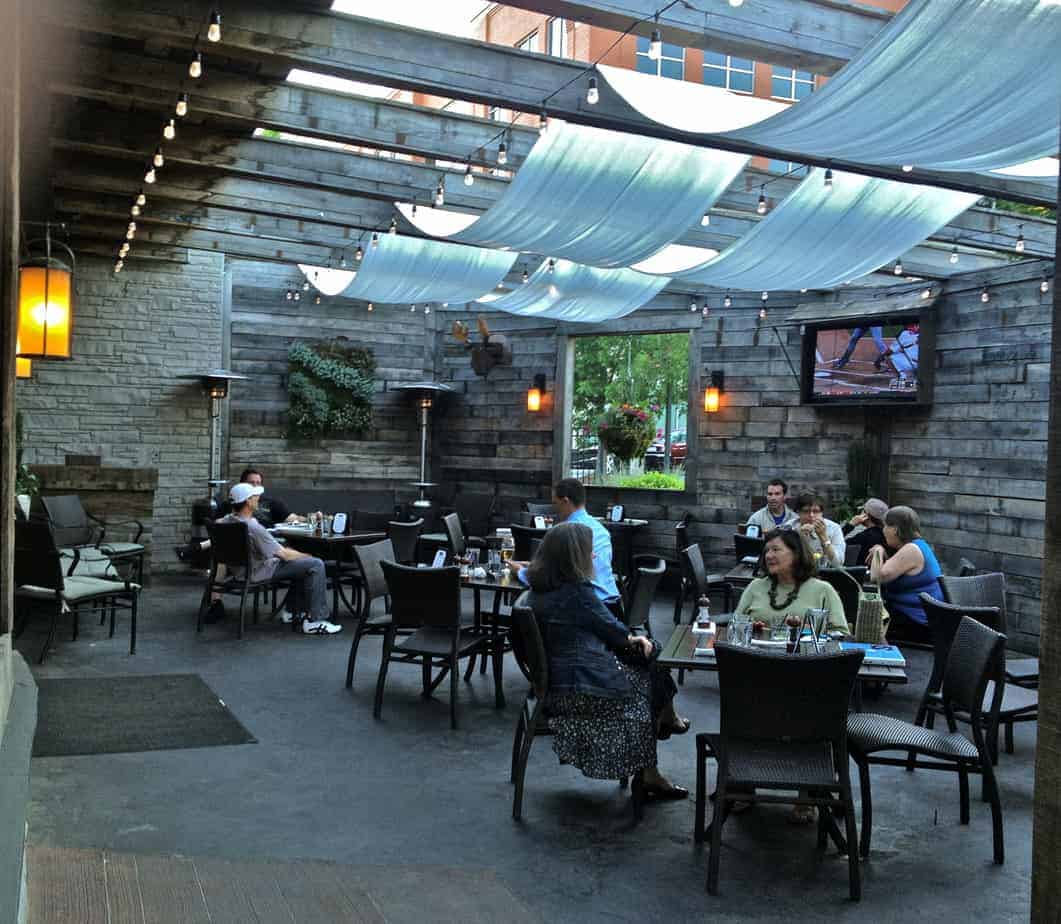 (Disclaimer: because I had such a good time the first time, I had to go back to take photos of Leroy Fox's awesome patio. It was not as crowded as it was the Sunday we went. But doesn't it look relaxing and great?!)
We  moved inside for our meal, and the check was transferred with no problem. The brunch menu is pretty extensive, with both sweet and savory items, and breakfast and lunch items. I had a hankering for an omelet (there is an omelet bar shindig going on during brunch) but because we had enjoyed a long conversation on the patio, it was close to 3pm and the omelet bar was not an option (it ends at 230pm). Womp. So instead of getting my savory fix with eggs, I got what Leroy Fox is known for: fried chicken. I ordered my chicken in the form of a sandwich with bbq sauce and pickles. Yum. The chicken was crispy and juicy, with a slightly spicy kick, and the bun was toasted to perfection. The one downside was the chicken was a tad salty. I went all out and ordered the mac and cheese as a side, which was hot and creamy (which was an excellent, choice, who needs vegetables?). Plus I had already gotten my daily serving of vegetables with the tomato juice in my Bloody Mary. Because I was ravished (or greedy, you decide) I split the hot pretzel bites with my friend as a starter, which was a life changing choice. The warm, soft (with a nice crust) pretzels came with ranch and mustard, and queso dip upon request, which was worth the extra $1. My friend, S, ordered French toast which looked to die for. Everyone at our table ordered something different and everyone was satisfied.
Overall, my meal hit the spot (as you can tell from the lack of photos of what I ate, because I scarfed it up). I'd like to go back to Leroy Fox for some breakfast food (based on S's french toast and because I missed out on an omelet). And I would go back for chicken again. Leroy Fox was worth the visit, but I would like to explore some other places throughout Charlotte first (so many places to brunch, so little time!).
map & more
score: 7
spending: $$
neighborhood: cotswold
cuisine: american, southern, brunch
official website
[googlemaps https://maps.google.com/maps?f=q&source=s_q&hl=en&geocode=&q=Leroy+Fox,+705+South+Sharon+Amity+Road,+Charlotte,+NC&aq=0&oq=Leroy+Fox,+705+South+Sharon+Amity+Road,+Charlotte,+NC&sll=35.171804,-80.807202&sspn=0.079702,0.138016&ie=UTF8&hq=Leroy+Fox,+705+South+Sharon+Amity+Road,+Charlotte,+NC&hnear=&radius=15000&t=m&ll=35.171844,-80.80719&spn=0.024556,0.029869&z=13&iwloc=A&output=embed&w=250&h=250]