I love , love, love, sushi (but y'all already know that, I just wanted to remind you).  My first experience with sushi was with my mom my junior year of high school in the Cayman Islands. I was a little hesitant at first, but as she explained, I already loved fish, so what was there to worry about? Ever since, my love for sushi has grown (I've eaten sushi in San Francisco, DC, Wisconsin, Chicago, New York, anywhere!) and I can't get enough. Even though I've only been in Charlotte a few months, I have checked out a ton of sushi places (probably more sushi restaurants than any other type of restaurant), trying to find my favorite one. So far in Charlotte, I've been to Yama, AZN, The Cowfish, and Ru San's in search of my favorite (I know there are a lot more to check out, but I have tons of time!). But so far, nothing has beaten the taste or price of KO Sushi in Uptown.
KO is my go to lunch spot in Uptown, especially on days I forget to pack a lunch or am unhappy with what I brought to work. It's a small place next to Jimmy Johns on 3rd, between Church and Tryon, and from the outside (and inside) you wouldn't expect much. It's an express sushi place, but just because it's fast, they definitely don't skimp on flavor and quality. Because it's express, there is no seating inside, but it makes it the perfect place to go grab lunch and bring it back to the office; wander over to Two Wells Fargo and eat in the lobby and feel fancy (my favorite thing to do); or to call ahead and swing by for a quick dinner pick up on your way home after a long day at the office. I also like KO not only for their food, but because they offer a variety of specials and deals to make it even cheaper! I definitely take advantage of their lunch box special (one and a half rolls plus a free soda) as well as up to $20 off food half price on your birthday (I definitely took advantage of that one).
On to the sushi! As I've already said, it's fresh and delicious. Every roll is made to order, and I think their flavors are spot on. I usually order the spicy tuna roll and I love it; there is a generous portion of fresh tuna and the spicy mayo is not overwhelming (at some places, the spicy mayo overpowers the actual fish, or in one case, I picked a piece up and the mayo was dripping off the roll…gross). The spicy mayo is mixed in in KO's rolls, which creates a spicy tuna collaboration where the tuna is still the star.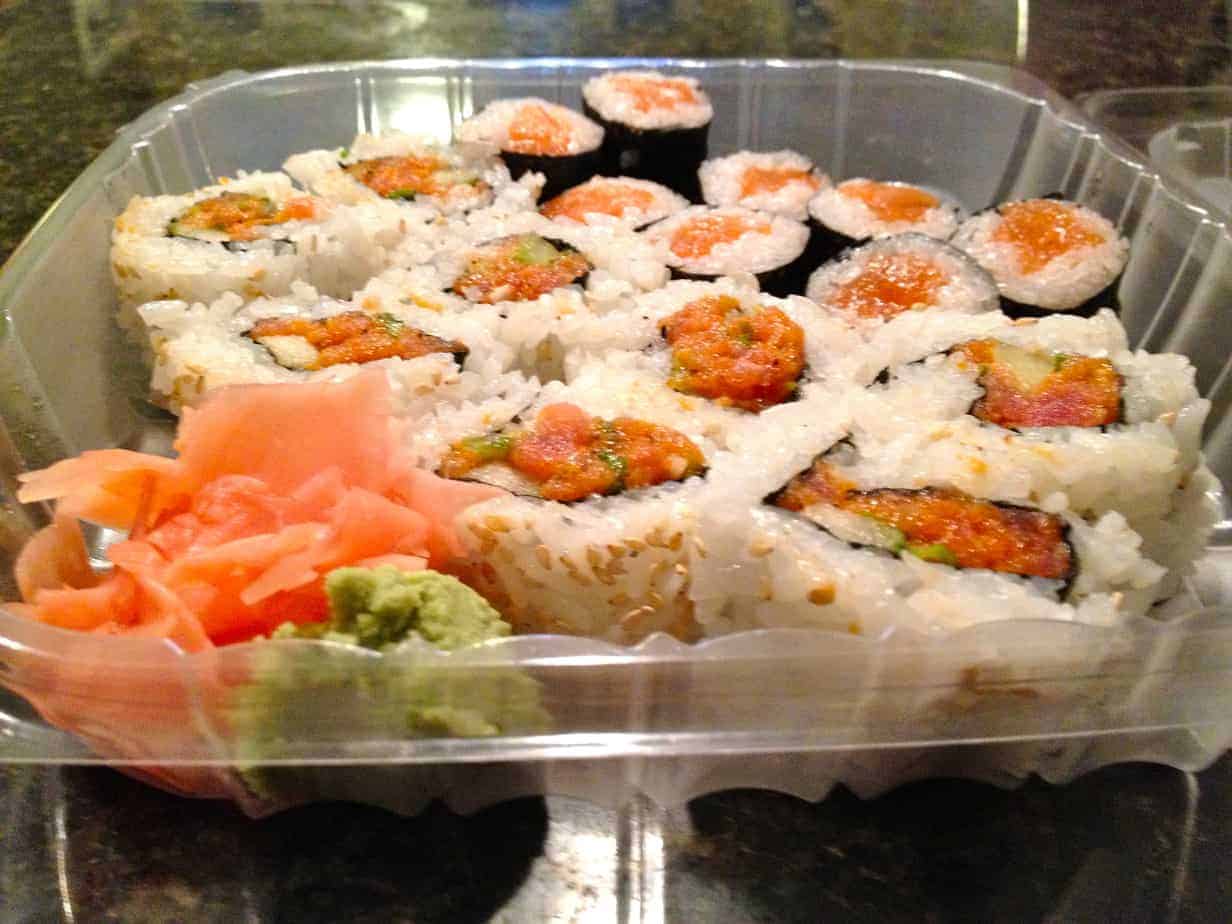 Their salmon roll is also excellent; it is basic and simple with a perfect salmon to rice ratio. And the salmon is always flavorful and fresh! I've also tasted the eel roll and Philly roll; not my go to orders when ordering sushi, but these were also excellent as well.
I also really like their miso soup and seaweed salad. Some sushi restaurants skimp on the quality of their miso, but not KO. There is a hearty amount of tofu and scallions in the miso broth, and the broth has never been too salty. The seaweed salad is always a vibrant green, crunchy, and well dressed; I never think I'm eating seaweed (well, aside from the name).
If you're into sushi and looking for a good quality place in Uptown, you need to go to KO sushi ASAP. It's fresh, quick, and affordable (they serve both lunch and dinner, but check out their lunch specials, you won't be disappointed!).
map & more
score: 8.5
spending: $
neighborhood: uptown
cuisine: sushi
official website
[googlemaps https://maps.google.com/maps?client=safari&oe=UTF-8&ie=UTF8&q=ko+sushi&fb=1&gl=us&hq=ko+sushi&hnear=0x88541fc4fc381a81:0x884650e6bf43d164,Charlotte,+NC&cid=0,0,366798990627823161&t=m&ll=35.22599,-80.845599&spn=0.004382,0.005343&z=16&iwloc=A&output=embed&w=250&h=250]