So I've been looking for a "where everybody knows you name" kinda place since I moved to Charlotte last year (break out into Cheers theme song now…and Charlotte, it's been a year! Happy Anniversary to us!). Lucky for me, Plaza Midwood has so many diverse, local dining and bar options, it has been hard for me to pick just one place to call mine.
Enter Kickstand. Of course, it helps that it is spitting distance from my place (okay, okay I can't spit that far, but I can see it from my living room window) so it's super easy and convenient to grab a beer and a bite to eat. It also helps that they have a buncha tvs for football watching, a great beer list, and tater tots (among other delicious delights).
map & more
score: 9
spending: $$
neighborhood: plaza midwood
cuisine: american, burgers
official website
[googlemaps https://maps.google.com/maps?f=q&source=s_q&hl=en&geocode=&q=Kickstand+Charlotte+Burgers+-n-+Bar,+Central+Avenue,+Charlotte,+NC&aq=0&oq=kicks&sll=35.203153,-80.839829&sspn=0.684501,1.082153&ie=UTF8&hq=&hnear=&t=m&ll=35.221625,-80.819335&spn=0.003506,0.00427&z=16&output=embed&w=200&h=200]
As a Charlotte transplant who is a diehard Green Bay Packers fan (born and raised as the daughter of a cheese head) I was looking for a spot this year to watch the games (I'm too poor and cheap to get NFL Sunday ticket or some fancy shmancy cable option, and while I did enjoy listening to the Packers on the radio while doing housework, it was feeling a bit stone age and I'll stop making excuses as to why I need to go to a bar by myself on a Sunday because I really don't need an excuse, I do what I want). I had been to Kickstand a couple times in the spring and summer, and their copious amounts of televisions plus my laziness landed me there the first Sunday of football season. Kickstand is a fabulous place to watch a game of sports ball–while it is a Redskins bar through and through (as a side note, watching the Packers cream the Redskins at a Redskins bar was amazing), Kickstand is super accomodating and attentive to those non Redskins, non Panthers fans and puts a different game on all of the TVs (and if it's busy, labels the TVs so you can sit by your team's game, and if not busy, will change the TV you're sitting by to your game). It's great. So first, Kickstand gets an A+ for excellent use of their TVs and excellent accommodation of non Carolina fans.
Kickstand also gets good grades in the libations department. Beer list? Superb. They have so many choices, many of their featured brews are  local . Their list also rotates (I'm not sure as to the method of their rotation madness but I go their enough to know it does), so you get a good variety and flavor of the up and coming brew city Charlotte really is. And $3 pints on Tuesdays. I don't need to say anything else. Craft beer for $3 is a steal–I'm surprised (yet proud of my self control) that I am not at Kickstand every single Tuesday.
Kickstand also offers other libations –what I can speak to is the spicy Bloody Mary's served up on Sundays (well, Bloody Marys are probably served any day if you ask them, but they have a Sunday special). My one complaint? Lack of a pickle (Southerners just don't get the Bloody Mary garnish techniques that Wisconsinites do) and the meager size (I continually promise I am not an alcoholic). However, what lacks in size makes up for in flavor; Kickstand's Bloodys have a good zing and the right amount of spice.
Kickstand is going for straight A's here but lets get to the star of the show–it's even in their name, burgers. The burgers are excellent. They are cooked to order (as a rare meat eater I'm a fan), to the temperature you actually want–melt in your mouth medium rare? Oh yeahhh. There are a variety of burger options–from gourmet choices (topped with fried eggs, guacamole, or in between two grilled cheese sandwiches!), beef alternatives (veggie burger, turkey burger or shrimp burger), and my favorite, the build your own option, with an array of bread, patty, and topping choices. My go to is a beef burger, medium rare, with some combination of tasty, melted cheese (pepper jack or cheddar–but brie is always enticing), a zesty sauce (the chipotle ranch is amazing), lettuce, tomato, pickles, mushrooms, crispy onion straws and bacon if I'm really going for a heart attack. While the build your own burger option can get pricey if you add, and add and add toppings, I'm a fully loaded burger kinda gal, so I give myself what I want. Kickstand has never once messed up my order, nor judged me (I hope) for the copious amount of toppings I try to cram between two buns. Two visits ago, I opted for an English muffin, which was a wise choice, but the even wiser choice was the ciabatta my burger came on last time I ate. I am now going to order a burger on a ciabatta all the time.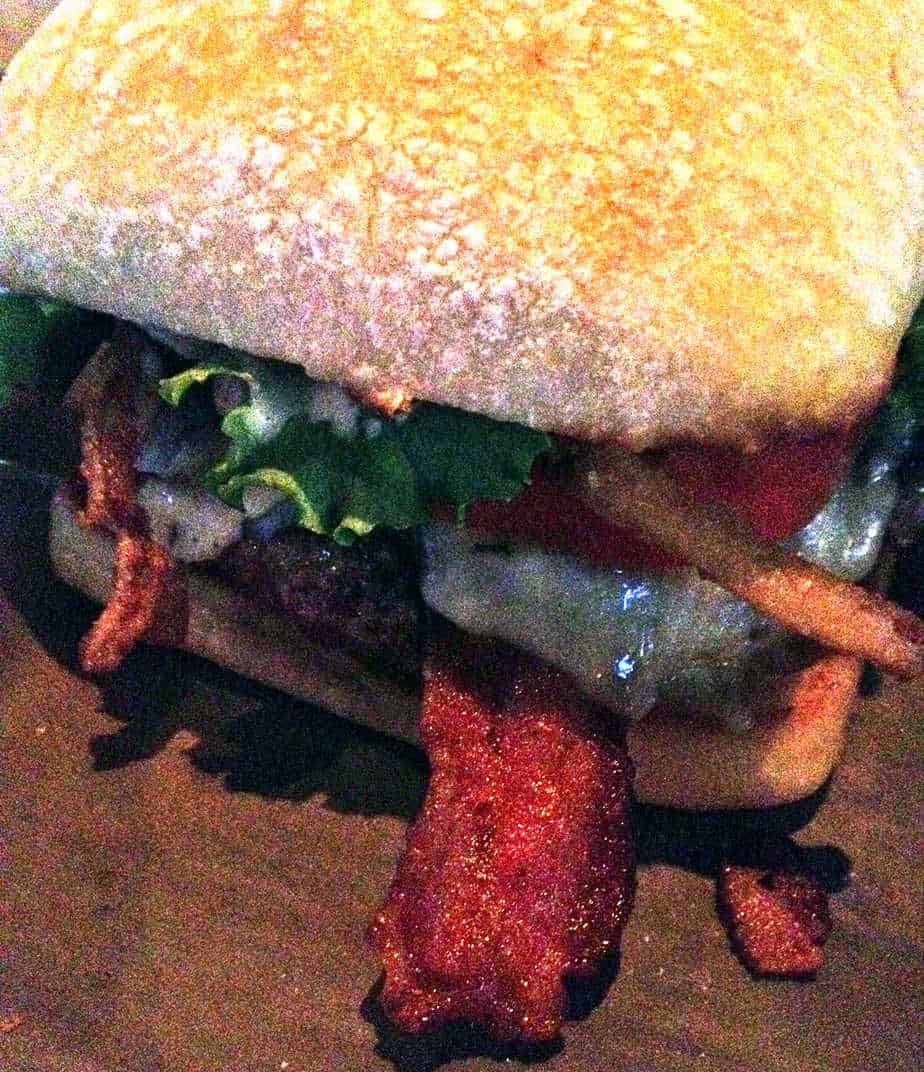 My friend Emily loves Kickstand's booty burger, created by some of the folks behind 24 Hours of Booty (very apprapo considering that Kickstand is a bike themed bar, in the in sense of cyclist and not Harley Davidsons). A turkey burger with pimento cheese, avocado, and jalapeno cilantro spread. I've never tried it (I can't get away from my fully loaded beef burger) but she swears by it.
Luckily, if a burger wasn't enough, all burgers come with a side. I do have a confession–I have never ordered another side besides the tater tots, but the tater tots are irresistible (I keep trying to branch out and get sweet potato tots, which I know is not really branching out, but still). Kickstand has some good tots; and I'm starting to sound like Napoleon Dynamite. Kickstand knows how to cook the perfect tot to achieve the perfect harmony of crispy, crunchy, and soft all in one tot sized bite–golden brown crunchy on the outsides, warm and full of potatoey goodness on the inside.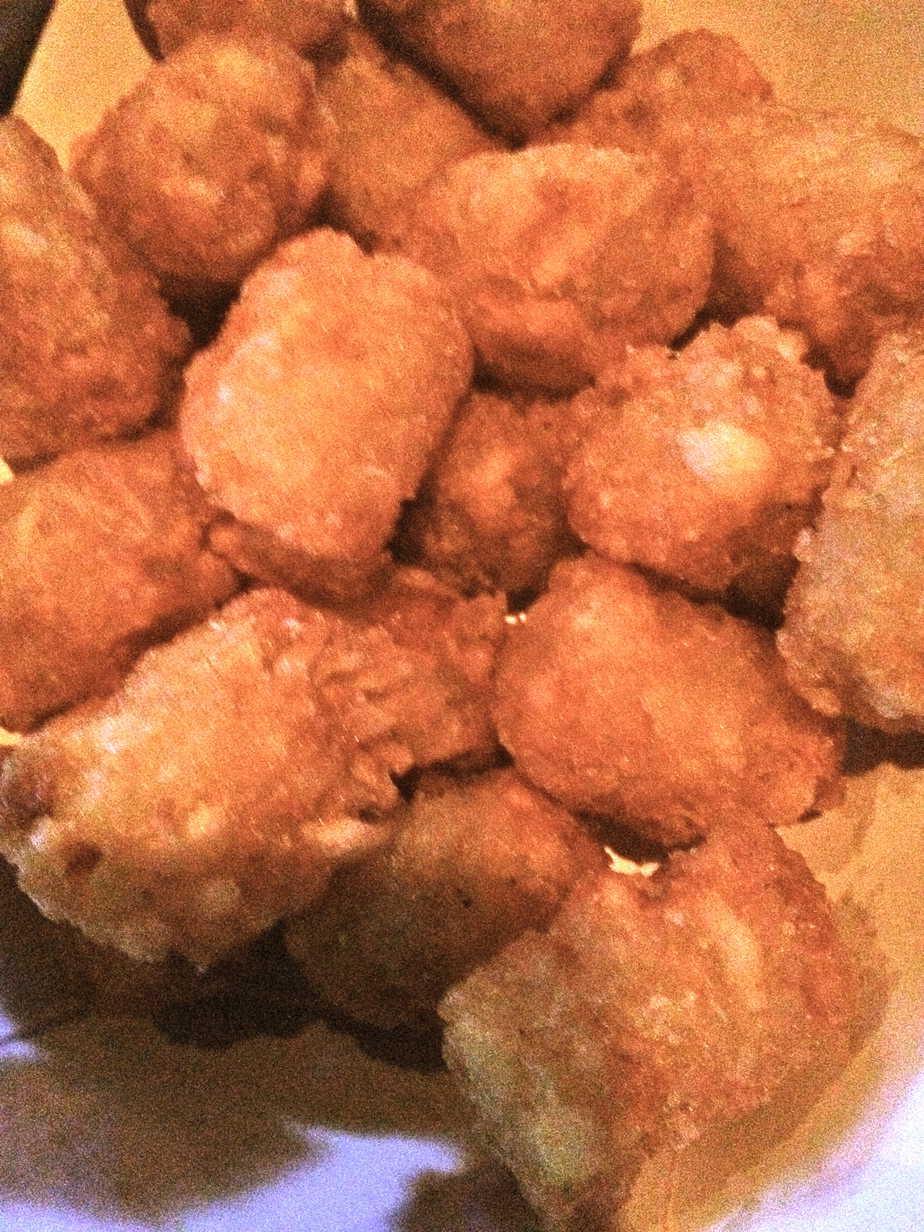 Kickstand also serves up a variety of other bar food and snacks if you're not in a burger kind of mood. Their nachos are the bomb (make sure to get beef and chicken, and you'll thank my inner fatty later). Their wings are also tasty (I've never ordered them at Kickstand, but they've been served up a few time at my building's resident events, and my friends and I definitely chowed down during the Super Bowl last year). I've also had the onion tanglers (both on and off my burger) and fried pickles. Kickstand has good deep frying skills and both deep fried dishes were hot and crispy (I can't stand soggy fried food). Also they have salads. Kate had a salad and she liked it (to be fair, she had a ton of onion tanglers pre-salad and had eaten dinner beforehand). I have never had a salad because I love burgers.
On top of all the great things I've already said about Kickstand, if you can't already tell I'm a fan, their service is top notch as well. Everyone from the hostesses to the managers are friendly, attentive and warm. It makes me want to keep going back. On our last visit, Thomas was our waiter, and he was great–he checked on us like 8 zillion times to make sure we had full drinks and everything we needed. On top of that, Josh, who is in charge of something and is a familiar face behind the bar, also checked on us 8 zillion times, was super nice, and chatted with us a lot. And then gave us some ice cream, which was delicious and delightful. Josh–let's be friends.
If you haven't been to Kickstand, please go. At least for a beer, if not for some tots. And if you're there on a Sunday, we'll probably run into each other. I'm the one in the youth large Reggie White Green Bay Packers jersey (Reggie White was a Panther for a while so Charlotteans should like that). Go Pack Go.