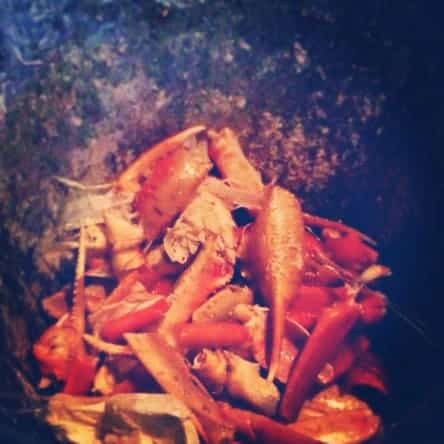 This photo doesn't do our giant shell pile any justice (our waiter was diligent, and to his credit, he emptied our bucket when it got full). We went through about two buckets worth of discards.
Two weeks ago, we had a snow day. For one inch of snow. And while everyone in the Midwest and north of the Mason Dixon line laughed at us, I was overjoyed (it was clearly the highlight of my January). By the time I went to yoga and was headed for my snow day Mexican and margarita feast at Paco's, the roads were completely clear. It was a much needed (and well deserved in my opinion) Wednesday off. And it just made me want summer, so, so bad (but as the weather continues to torture us with 60 degree, sunny, beautiful weekends, and then impending snow/ice storms, I am definitely begging for another "snow day" tomorrow or Wednesday).
map & more
score: 7
spending: $$$
neighborhood: elizabeth
cuisine: american
official website
[googlemaps https://maps.google.com/maps?f=q&source=s_q&hl=en&geocode=&q=Kennedy's+Premium+Bar+%26+Grill,+North+Caswell+Road,+Charlotte,+NC&aq=0&oq=kennedy's&sll=35.203154,-80.839829&sspn=0.659814,1.157684&ie=UTF8&hq=&hnear=&t=m&ll=35.212176,-80.818455&spn=0.003506,0.00427&z=16&output=embed&w=200&h=200]
I'm not sure about you, but I'm ready for summer. Yes, a hot, sticky, humid, sweaty Charlotte summer. I'm ready for cold beer, sunny days by the pool, patio drinking (which is one of my hobbies if you didn't know), and the roar of the ocean and sand between my toes. I want to leave work and have it still be light outside. And I'm sick of the chill in the air (I know, I've become a sissy baby since moving down South, after all, I did survive seven Wisconsin winters after all). We've been getting pounded (okay, it was 60 degrees last weekend I should quit my complaining) but I'm dreaming of bathing suit weather and itching to get to the beach.
Nothing reminds me more of the beach (ok, except the ocean and hot sand) than crab. Crab has been one of my favorite foods as long as I can remember; and no trip to the beach is complete without tons of shellfish–blue crab in Old Bay seasoning and Alaskan Snow Crab legs from Awful Arthurs leading the pack. To me, crab legs=summer. So if the weather in Charlotte won't cooperate, at least there's a local restaurant serving up my favorite beach food, in all you can eat fashion.
To be honest, Kennedy's hasn't wildly impressed me (but really, does anyone have any recommendations as to what I should order off of their regular menu? I have a gift card I need to use soon!). They have a fabulous, expansive patio and I have spent many a summer and fall evening (even one balmy January evening where the Packers blew it in the playoffs) enjoying a cheap beer and maybe some mediocre bar food. I think that's why I haven't been impressed–the beer selection is fine (nothing unique or amazing), the bar fare is expected and ok (the food is not terrible but not fantastic; there's nothing I crave or would turn my nose up at) and the crowd is standard (while it skews on the younger side, I've never been there when it's too full, nor too empty). It's a good place to hang out (did I mention the patio?) but isn't near the top of my list when looking for a place to grab a beer or watch a game.
But my tune has definitely changed, thanks to Kennedy's Monday night special. All you can eat crab legs for $24.95. Yes. All you can eat crab legs under $25. This is an event I had to partake in, and did so with such enthusiasm I essentially starved myself most of Monday so I could get my full twenty five dollars' worth. We walked up and over from my place in Plaza Midwood, and while the weather was patio tolerant, we sprang for a table inside as the chill was quickly increasing. We both got a pint of the beer on special (I'm thinking it was Olde Mecklenburg Brewery beers, but clearly the beers were not at the forefront of my evening) and didn't even need to look at the menu. Crab special, for two.
AJ easily caught Kennedy's sneaky attempts to save money and fill us up prior to the crab feast, but we could not be fooled. Our waiter first brought out our beers and hushpuppies. I love a good hushpuppy, but AJ reminded me not to be distracted by the fried cornbread in front of us (I did nibble on a few because I was starving and it took a while for a crab to come out). Next up was a standard house salad (mine with balsamic vinegarette) which I took a few nibbles of and then set aside (more distraction techniques!!). And then we waited. And waited. And waited a bit more, and considered eating more hushpuppies or salad (how long does it take to steam crab legs? Not long, but they totally wanted us to fill up on the salad and hushpuppies. Don't worry Kennedy's, we're on to your games).
Then the main even arrived–crab leg clusters!! Our waiter delivered two platters of clusters with two clusters for each of us and a giant bucket for our shells. We got to work.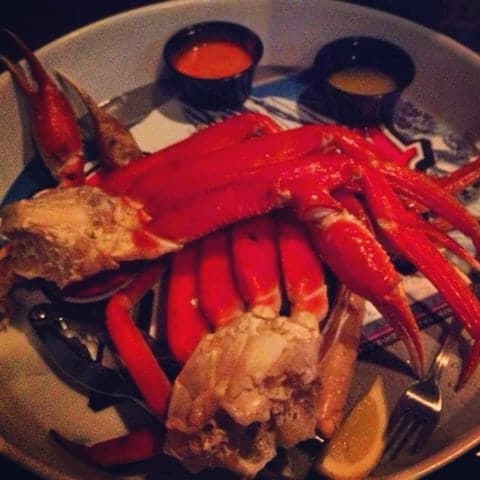 Our crab was warm and salty–it's definitely key to steam the crab with water that is salty like the sea to balance the crab meat's natural sweetness. I usually start with the little bits of body attached to the long, glamorous legs, and pick my way through before enjoying the luscious leg meat. Once I make my way to the legs and split them open, I do a bit of melted butter dipping to make a truly succulent treat. Our crab at Kennedy's came with melted butter and something that resembled thousand island dressing (which I tasted with my finger but didn't dunk my crab into…I didn't prefer the flavor profile). I generally am a fan of simple when it comes to crab legs, and let the crab speak for itself (simple means real butter, melted, nothing fancy). Kennedy's took a twist on simple and gave us a garlic butter, which was good and different, but I'm still a fan of simple (but not picky enough to have requested regular melted butter from our waiter). So I alternated with some melted garlic butter and eating the crab meat plain (y'all, crab is so sweet and succulent it is just oh so tasty plain and needs nothing else). I always leave my claws for last, I've done that ever since I was a kid, I happily cracked away on those suckers as the waiter rotated our platters. Our meal went on and on, with a lot of serious focus on picking and cracking, for at least 5 platters worth (I had to bow out around 5, I think AJ hung tight until at least number 7). It was all so delicious, but I got super stuffed (another time when a high waisted dress comes in handy), and eventually my taste buds got tired (I could never get sick of crab, but sometimes you just get full and tired when you eat a lot of the same thing).
With the temperatures wildly fluctuating 30 degrees depending on the day of the week, nothing will get you more in a summer mood than crab legs. The Monday night special at Kennedy's is definitely worth it and I cannot wait to go back (the best will be when I can enjoy my crab legs on a mild spring evening on their fabulous patio).
What dish gives you warm, fuzzy, beach dreaming, summer feelings?