I've been blogging for a little over a year now, and my recent blogiversary has helped my reflect on my little space on the Internet. Recently, I've been thinking about blogging benefits (many of which you can read on my new, revamped, about me page). Some of those benefits include immersing myself in the Charlotte foodie scene, exploring and learning my (not so new anymore) city and getting to try some tasty food in the process.
map & more
score: 9
spending: $$$
neighborhood: coulwood
cuisine: american
official website
[googlemaps https://www.google.com/maps/embed?pb=!1m18!1m12!1m3!1d3256.03442870318!2d-80.93729099999999!3d35.30512600000001!2m3!1f0!2f0!3f0!3m2!1i1024!2i768!4f13.1!3m3!1m2!1s0x8856a3847f694bbd%3A0xa8a5180e949541b2!2sHeirloom+Restaurant!5e0!3m2!1sen!2sus!4v1407796455776&w=200&h=200]
Another benefit of blogging that I didn't realize would be a benefit when I started out was connecting with fellow foodies in Charlotte. I started blogging because I was looking for a hobby, a creative outlet. While I love blogging for those reasons, I also love blogging because it helped me make friends over the Internet! (sometimes the Internet can be a magical place). Through my blog, I've built relationships with other local bloggers–friends who also love food, flavors, adventures and trying new things.
Recently, a group of Charlotte food bloggers (don't worry, you can follow our adventures on Twitter and Instagram with #cltfoodbloggers) has started meeting up (a eatup if you will, isn't that punny?) about once a month for dinner at a Charlotte restaurant. Last month, we indulged in a Wednesday night dinner at local farm to fork restaurant, Heirloom.
Immediately when we walked in I felt Heirloom's warm ambiance. While it is a large space, the restaurant is welcoming with touches that remind me of an old, cozy farmhouse. Heirloom's great ambiance was coupled with excellent service from our waiter, Chase–I loved that Heirloom's focus was not just on the food (which was excellent), but also on the experience (also excellent).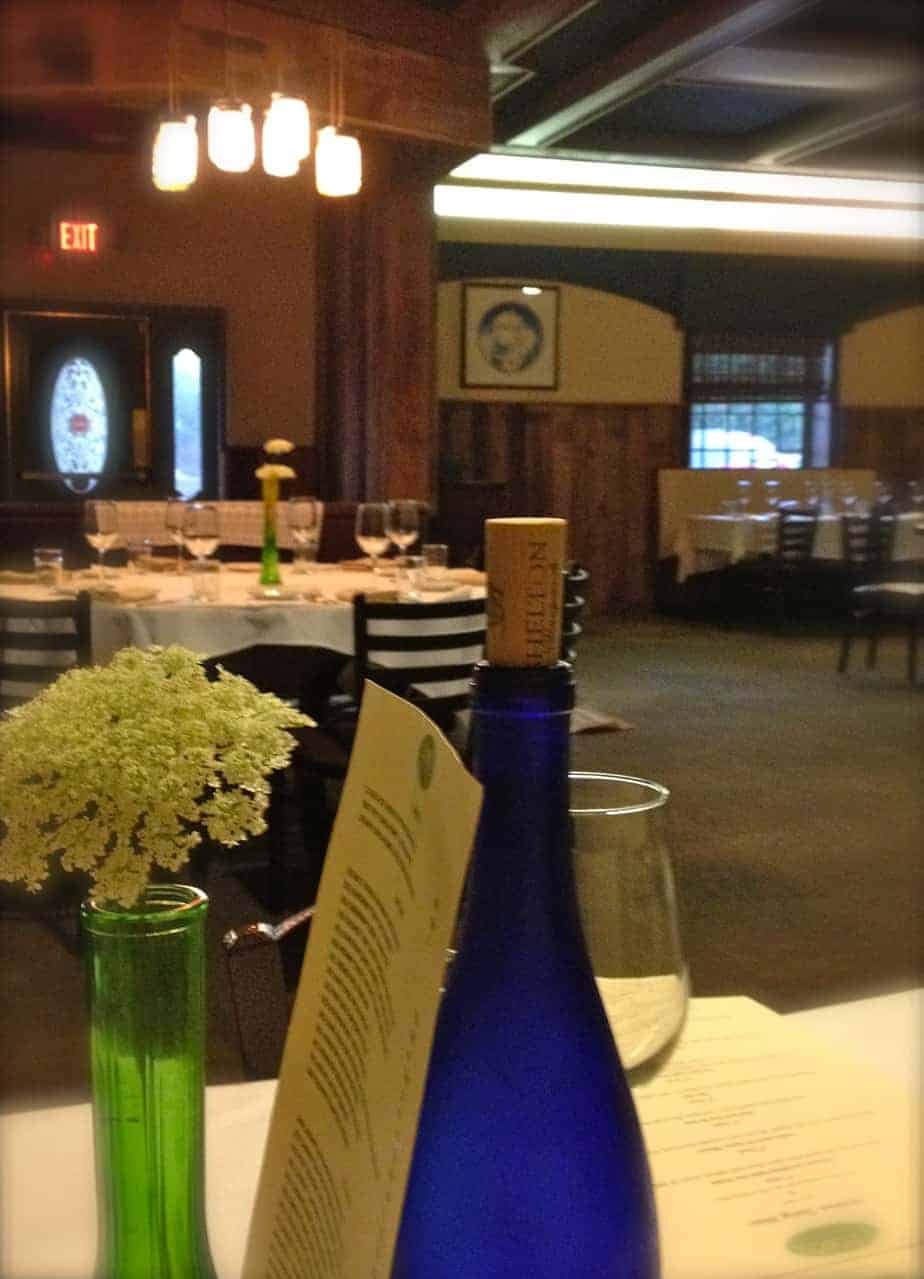 Heirloom chef and owner Clark Barlowe has an impressive resume and his menu and dishes definitely reflect his wide range of travels and training. Chef Clark is originally from Lenoir, NC, and his North Carolina roots combined with his experience reflect Heirloom's mission, "globally inspired, locally sourced." Everything served at Heirloom is from North Carolina–the vegetables, meat, seafood, fruit are all from North Carolina Even the beverages–the wine is from North Carolina wineries, the liquor is distilled in North Carolina, and the beers are all local to Charlotte (except for the coffee, which is ground in North Carolina, but the North Carolina climate isn't the best for growing coffee). On top of sourcing everything locally, everything that can be baked is baked in house–bread, pasta, gnocchi, pastries. At Heirloom, the emphasis is definitely fresh, local and delicious.
Chef Clark's connections with local growers and producers (along with his own affinity for foraging North Carolina's forests and fields for ingredients), creates a unique dining experience for Heriloom's guests. No two visits to Heirloom will be the same; Heirloom's menu changes daily based on local and fresh ingredients (check out the daily menu on Twitter before your visit).
When I dine at new restaurants, I like to try to get out of my culinary comfort zone and try something new. Maybe it's an entirely new dish or something that I've never eaten before, or maybe it's just a creative, unique spin on something I love. The tasting menu at Heirloom gave me the perfect opportunity to try something new–every night, they offer a seven course tasting menu for $65, and on certain weekdays, they offer a 3 course tasting menu and a glass of wine for $30. All three of us opted for the three course menu (plus an extra course for shared dessert, but more on that later); which gave us three savory choices to devour. Chase was kind enough to give us a little extra special treat, and instead of one glass of wine, he paired three tasting portions of wine with each of our courses.
Before our meal arrived, Chase brought out bread–homemade garlic rolls with tarragon infused olive oil and fresh herbs. My motto is always carbs, carbs and more carbs. The garlic roll was delicious–soft, pillowy and warm with just the right amount of garlic. I also  need to get to more tarragon olive oil in my life.
All three of us ordered the Harkers Island NC Oysters "Biltmore" for our first course. The oysters "Biltmore" is Heirloom's local spin on Oysters Rockefeller–broiled local oysters, arugala, bernaise sauce, breadcrumbs and house made tesa. Tesa is Italian bacon (similar to pancetta) and Heirloom's is cured in house for two weeks with 16 different spices.  I have to admit, I still prefer raw oysters to cooked (which may be a weird quirk I have), but I really don't discriminate and love oysters, and these were delicious. The oysters were flavorful and the tesa was very tasty. On top of the flavor, I love that Heirloom is not only using North Carolina ingredients for their dishes but also North Carolina names.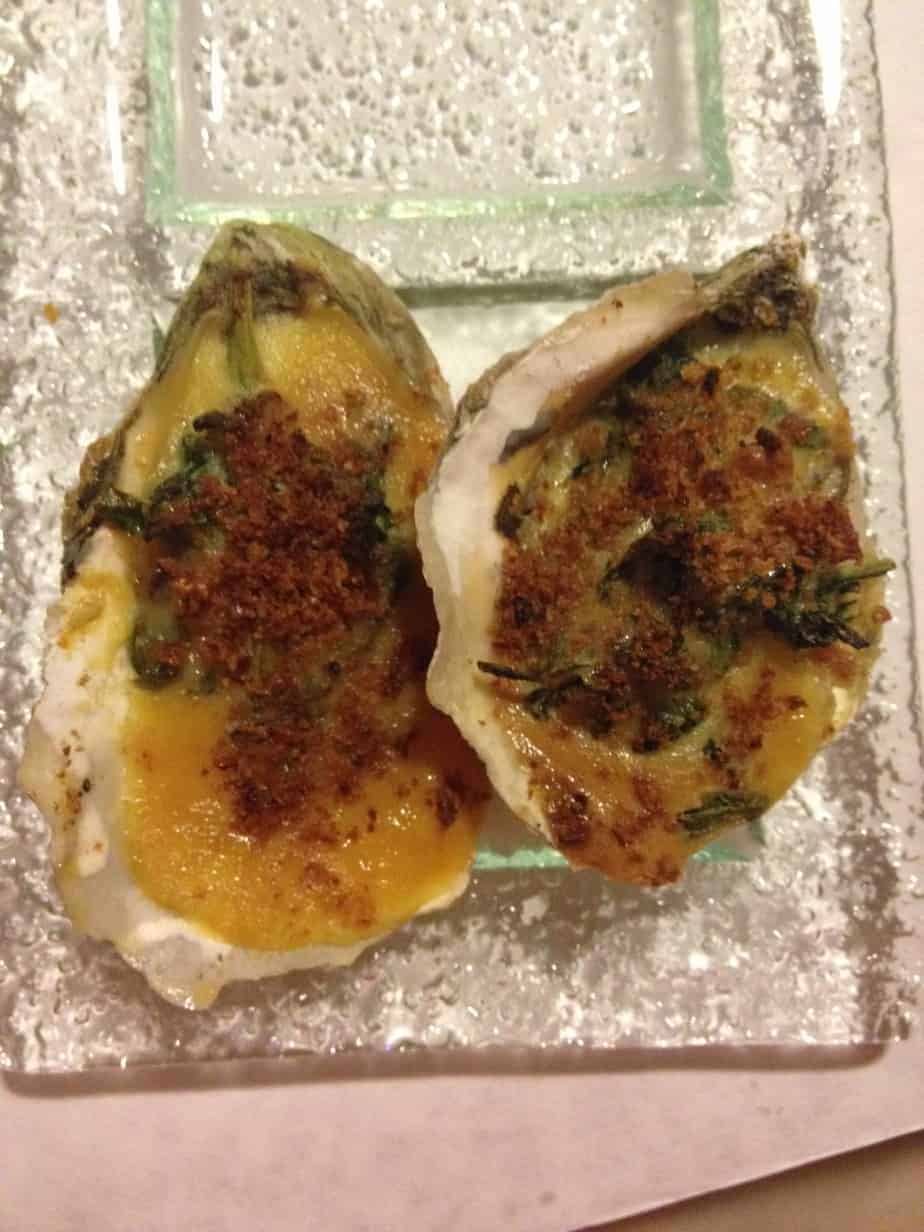 For my second course I decided to branch outside of my comfort zone and ordered the Mountain Top Rabbitry Rabbit Liver Timbale–rabbit liver pate with micro shisho, house made flatbread, fennel oil and rabbit jus. I've never had rabbit before, let alone rabbit liver, so I thought a restaurant that focuses on local, quality, delicious food would be a great place to try something new.  The pate was creamy and packed a bunch of flavor, and the flatbread provided the perfect crunch and texture to balance the dish. I am definitely salt sensitive, so this was a tad salty for me, but it was certainly a very delicious first rabbit experience and I was happy I decided to branch out and try something new. While the rabbit was good, I had complete food envy because Mary and Vanessa both ordered the Clam Stew, which looked and smelled amazing. I was totally jealous of their succulent, flavorful clam broth, which was perfect for some extra bread dipping. We all agreed that the clams were one of the stars of the night.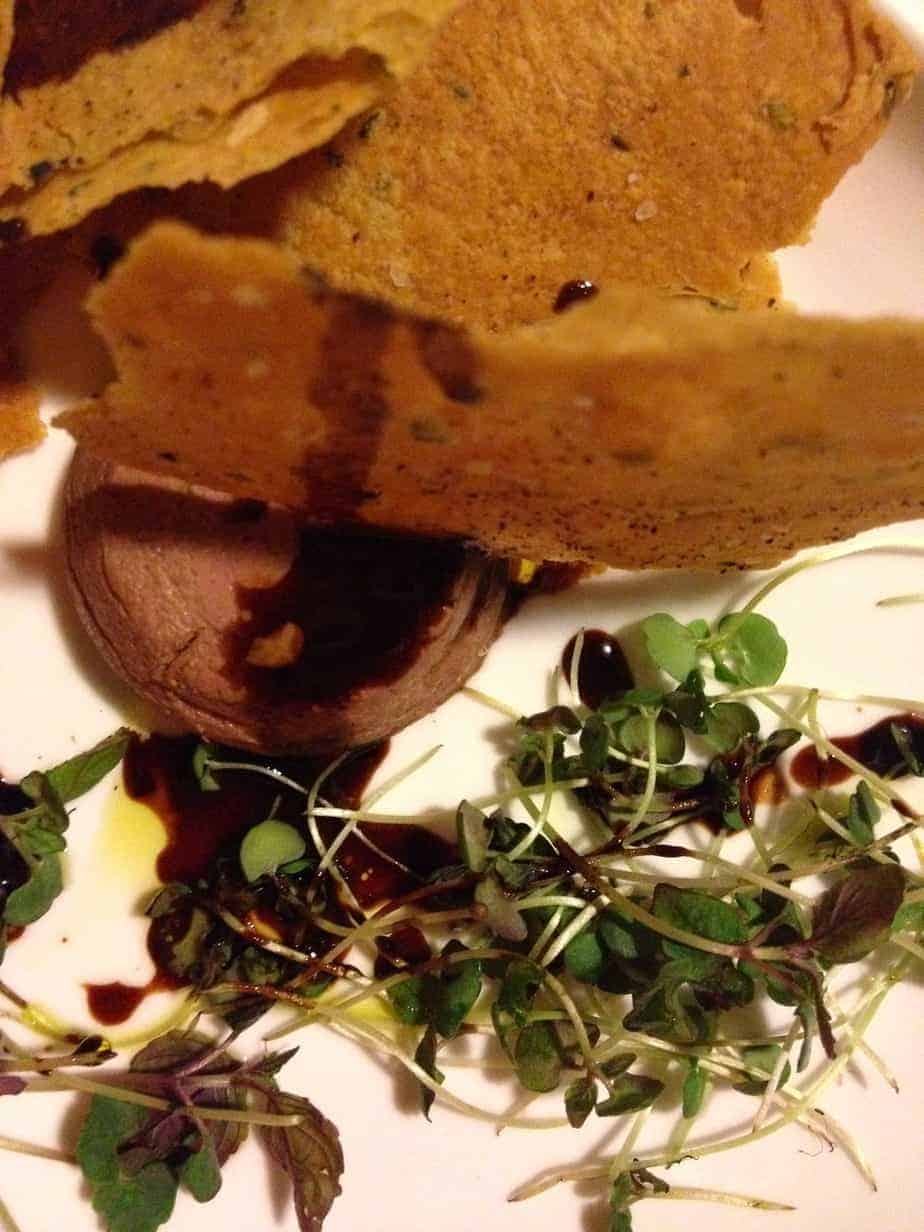 For my third choice, I ordered the Salem Hills Farm Coulotte Steak–a local fed black angus steak, green beans peanutine, kohlrabi puree and beef juice. My steak was cooked perfectly rare, just how I like it. It was tender and sliced just like butter. The green beans were crisp, the puree smooth, and I really liked the extra crunch of peanuts. The flavor balance was incredible and I devoured the whole plate.
Mary and Vanessa both ordered the grouper, and I traded Mary a piece of steak for a piece of fish, and one of her shishito pepper and chèvre poppers. Both were tasty, and I loved the balance of the slightly spicy pepper and creamy goat cheese.
After our three savory courses, we decided to split dessert to give our sweet tooth a little satisfaction. We chose the cherry clafoutis; a spongy, sweet, light, classic French dessert. The clafoutis was the other star of the evening–it was light, airy, sweet and certainly hit the spot. I really enjoyed the fresh cherries and the ice cream!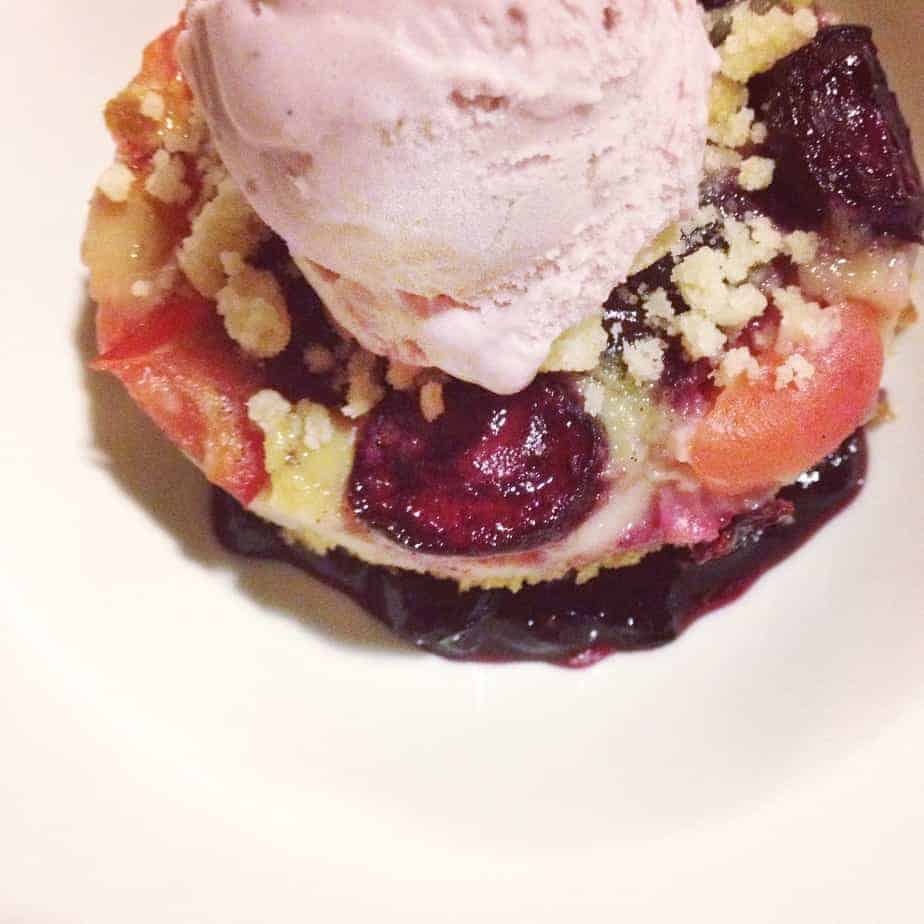 Chase brought us the other featured dessert, just because. A tasty chocolate mint cake with a mint gelee and mint chocolate chip ice cream. This cake was a chocolate lovers dream, with a very strong mint presence. The ice cream was incredible. While I definitely prefer fruit over chocolate (most of my family and close friends think I'm a weirdo), I still ate a lot of the chocolate cake, too. But cherry clafoutis for the win in the dessert category.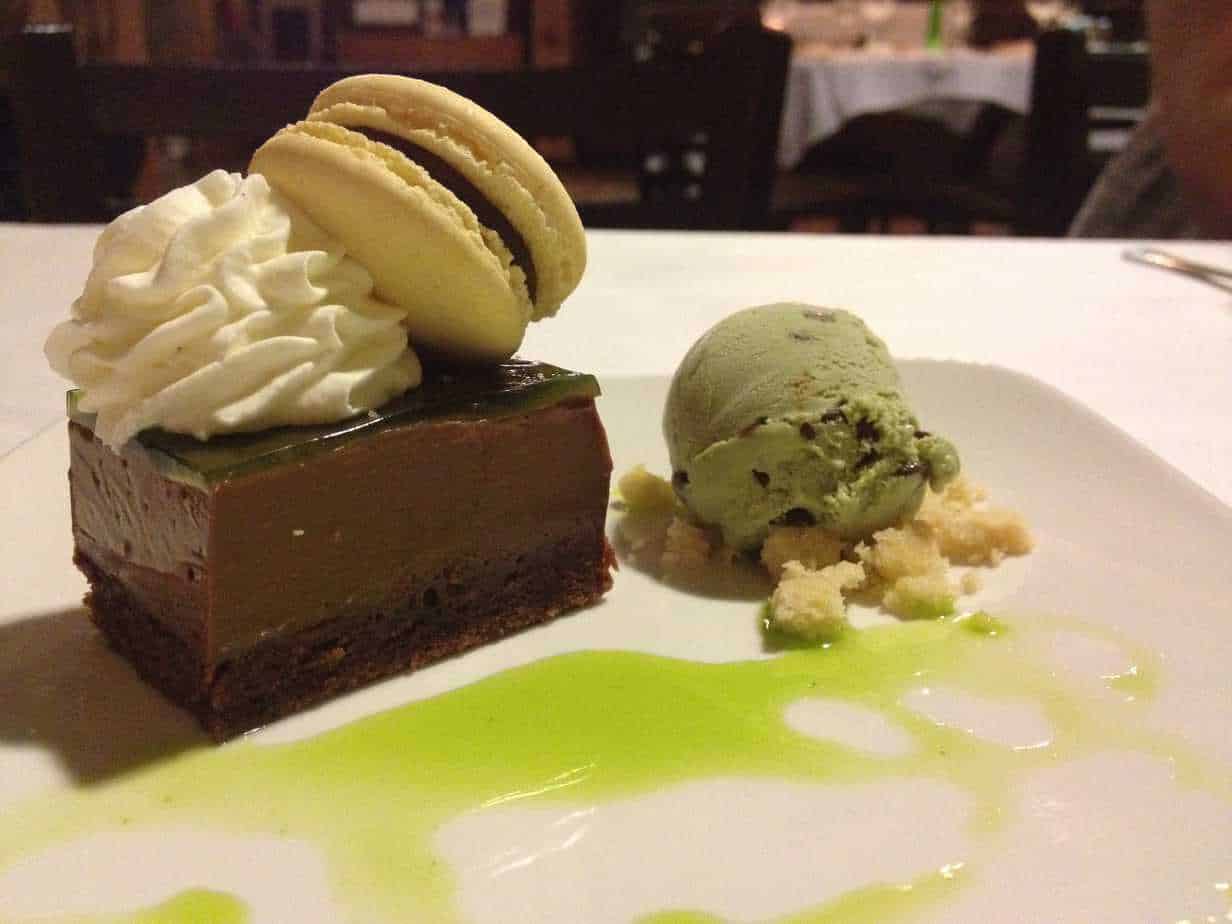 The tasting menu was tasty and fun–it was great to try smaller portions of several different things. But, next time around I'm going to spring for an entree and probably order a dessert again. Heirloom has great ambiance, great service, and great food and I can't wait to go back.