My coworkers and I stumbled (seriously, I tripped in front) upon Hazelnuts Creperie in Uptown on one of those days where we all brought lunch and didn't like what we brought, so then decided to go out to eat, and couldn't pick a place. As I caught myself before flashing the entire lunch crowd on Tryon Street, I said, "Why not crepes?" Everyone seemed to agree until I had an "oh shit" moment–one of my friends is gluten free. But the buttery goodness wafted into the air, and I crossed my fingers that Hazelnuts could make D a salad.
Success…the guy behind the counter was super friendly and accommodating and offered to make D any crepe she wanted, in salad form. The rest of us stared at the extensive menu; I was still having trouble overcoming the delicious butter smell and couldn't make up my mind…how was I going to choose between 30 different options? Did I want savory? (probably yes because it was lunch time). But I also really wanted sweet. Why not both?
We (barely) beat the lunch rush (I guess the convenience of being at the bottom of an office building attracts the lunch crowd) and so were able to get our orders in and get a table before being trampled. I ordered the Basil Pesto Chicken crepe for my savory choice, and a build your own (strawberries, whipped cream and some powdered sugar) for my sweet. (I like to keep things fresh and light and hello! it's strawberry season!) The folks behind the counter got right to work on our orders and our crepes were ready in no time.
All I have to say is crepes are totally underrated and I really need to eat them more often. My crepe was buttery, soft and paper thin; easy enough for me to slice through it with the side of my fork but sturdy enough to hold all the yummy insides. The crepe was like a security blanket protecting my basil pesto, chicken and creamy goat cheese from spilling everywhere. The filling was incredibly well seasoned. The ingredients–chicken, basil pesto, mozzarella, tomato, onion and goat cheese–worked in harmony and there was a bit of each in every bite. To say that my crepe was filling and satisfying is an understatement; in fact, it hit the spot and it was much better than a heavy sandwich I often find myself ordering when I go out to lunch in Uptown.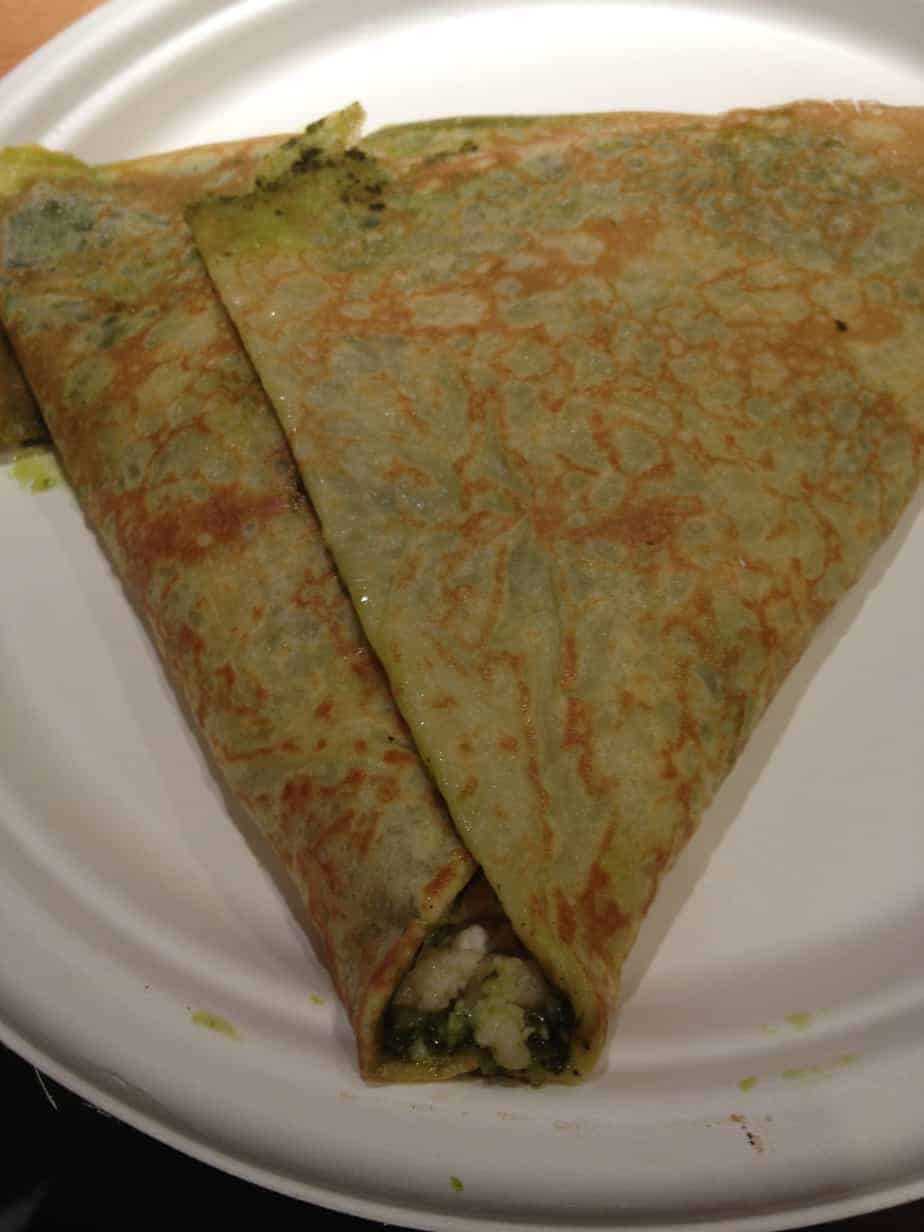 Luckily, I made some room for dessert, and the strawberries with whipped cream was sweet, light and refreshing. There was an equal balance between the strawberries and the whipped cream, and I really liked that it was not over sweet, and instead, relied on the natural flavor of the strawberries. The buttery crepe was the perfect compliment to the filling. I shared some with my friends, but hogged most to myself.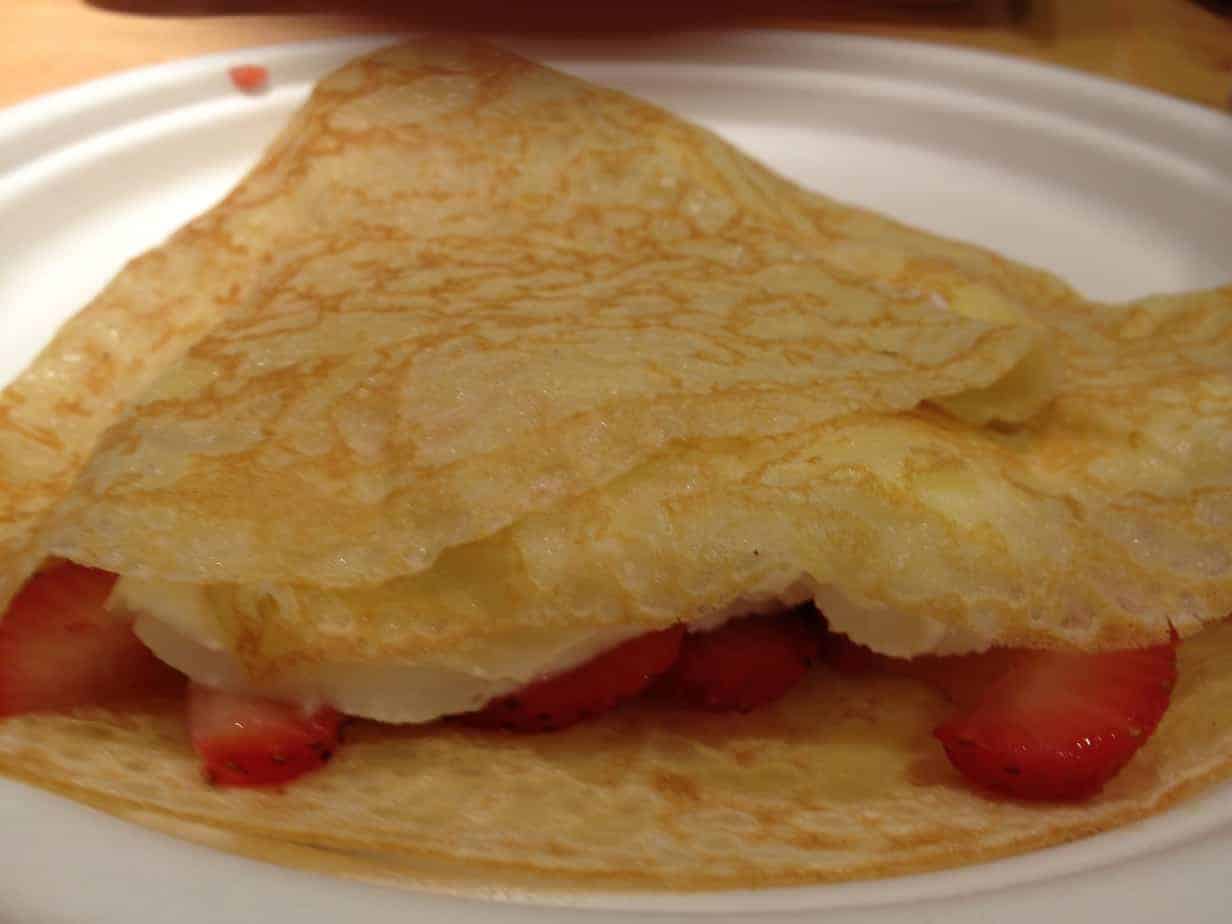 I have added Hazelnuts to my weekly lunch rotation and if you work in Uptown, I suggest you do too. Hazelnuts is quick, convenient and not too hard to find (especially when you aren't tripping down Tryon). I think next on my list is something with nutella.
map & more
score: 8
spending: $
neighborhood: uptown
cuisine: crepes, desserts
official website
[googlemaps https://maps.google.com/maps?f=q&source=s_q&hl=en&geocode=&q=Hazelnuts+Creperie+Charlotte,+NC&aq=&sll=35.226313,-80.8446&sspn=0.159298,0.275002&ie=UTF8&hq=Hazelnuts+Creperie&hnear=Charlotte,+Mecklenburg,+North+Carolina&t=m&ll=35.226305,-80.844591&spn=0.004382,0.005343&z=16&iwloc=A&output=embed&w=250&h=250]