This shop has been compensated by Collective Bias, Inc. and its advertiser. All opinions are mine alone. #BeenBooed #HalloWINE #CollectiveBias The following content is intended for readers who are 21 or older.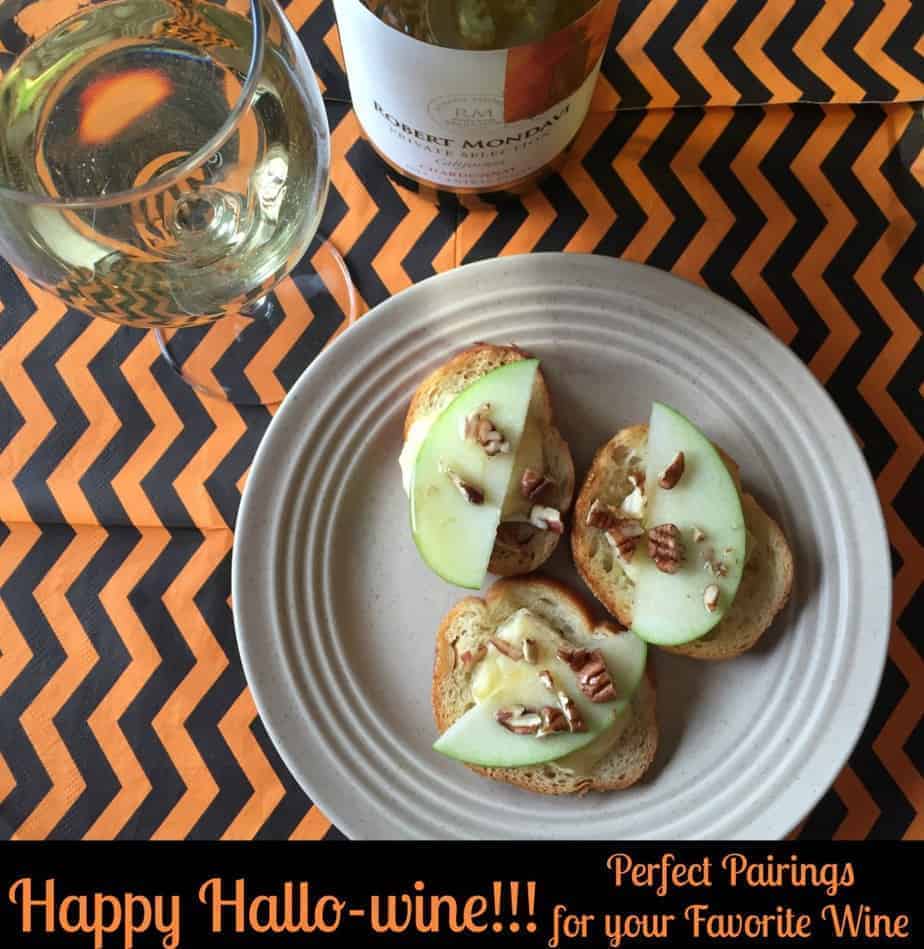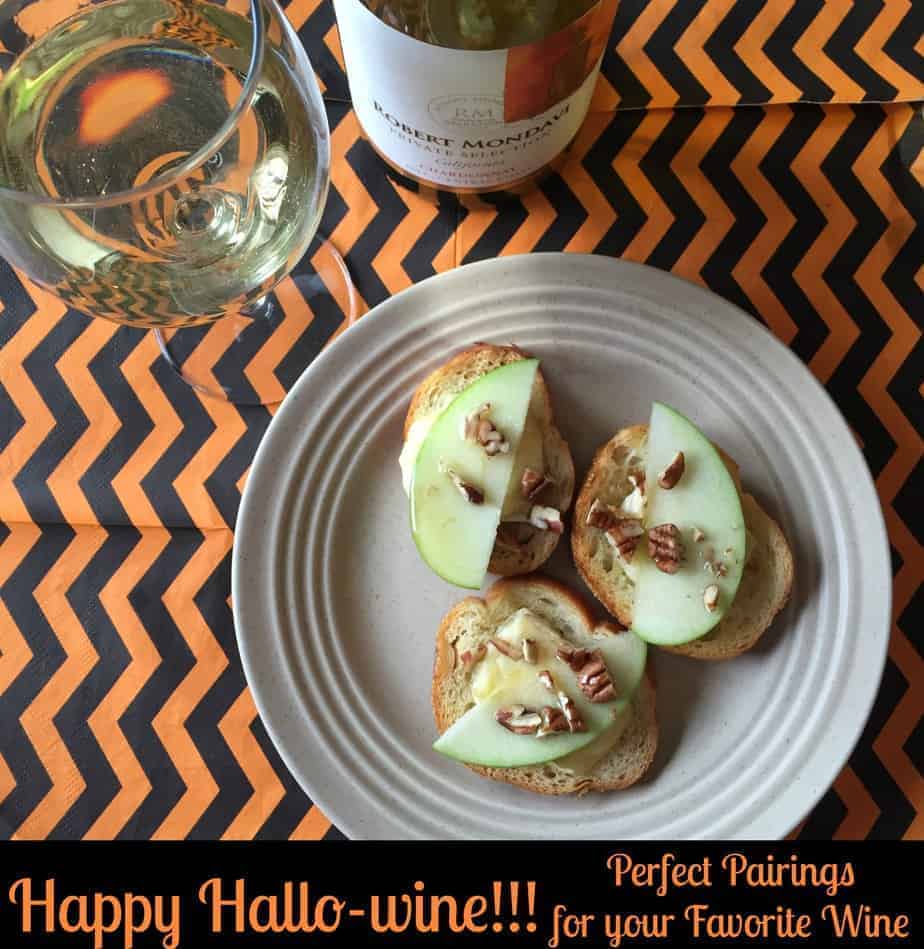 Guys, Halloween is not just for kids.
Sure, with the costumes, the trick or treating, and the little minions running around on a sugar high for weeks later, Halloween is a pretty kid-centric holiday. But those of us without mini-mes and who haven't been trick or treating in 15 years can celebrate too. And it's ok if you're not in the mood to enter the costume contest at your local bar's Halloween spooktacular (although the year I went as a unicorn I was pretty popular among my fellow bar patrons).
Instead of dealing with sticky floors and trying to figure out how to go to the bathroom in my costume this year, I decided to spread a little holiday cheer among my gal pals by BOO-ing them and hosting a "Ghouls' Night In." (are you digging my girls' night in pun?) BOO-ing is a popular Halloween tradition where you leave a little anonymous gift basket to surprise your neighbors or friends. With your gift, you leave a little note, encouraging them to pass it on and BOO someone else.
This year instead of giving friends the usual sweets, I thought I'd give them a little extra treat and included a bottle of Robert Mondavi Private Selection wine (now through November 30, 2015, specially marked themed "You've Been Hallo-wined" bottles of Robert Mondavi Private Selection wine have instant redeemable coupons and mail-in rebates). This wine seemed perfect for my hallo-wine gift because some of the bottles had special gift tags with a poem about "You've Been Hallo-wined" and a recipe for Mummy's Mulled Wine on the back.   Plus, I love wine and love getting together with my girlfriends for wine nights, so a bottle of wine just made sense!
After picking up a bottle of Robert Mondavi Private Selection Chardonnay and Robert Mondavi Private Selection Cabernet Sauvignon, I swung by the candy aisle to get the perfect sweet treat to pair with my hallo-wine gift. For the bottle of Robert Mondavi Private Selection Chardonnay, I selected some candy corn (can't have Halloween without a handful of candy corn! And chardonnay's robust, buttery flavor balances out candy corn's sweetness) and for the bottle of Robert Mondavi Private Selection Cabernet Sauvignon I bought a mixed bag of chocolate (red wine and chocolate is a classic pairing). I also threw some cute gift bags, boo tags and spider rings into my basket.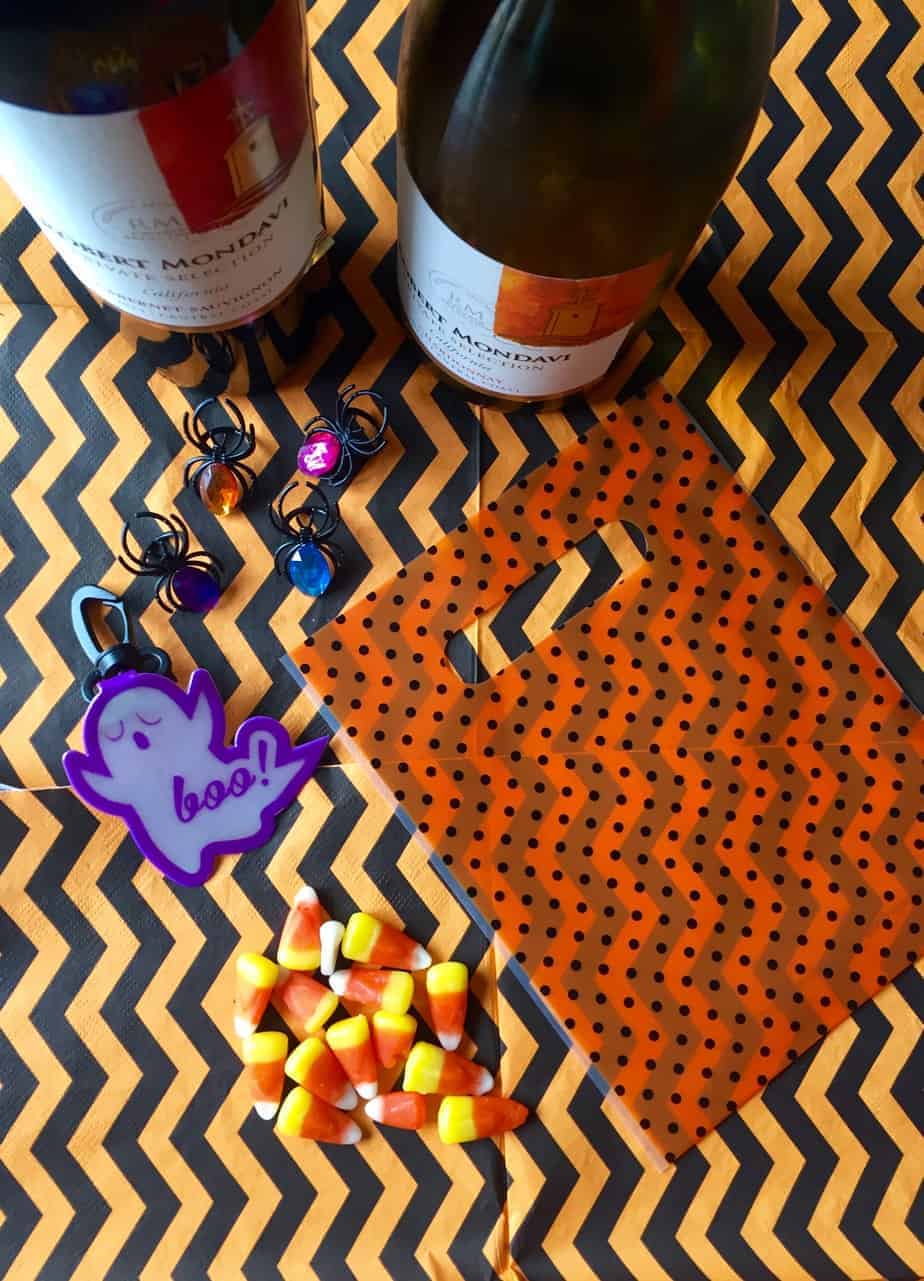 These Happy Hallo-wine gifts were super easy to put together; I filled up my gift bags with candy and a cute poem to wish them a Happy Hallo-wine!
Last night we left you a grown up treat,
The tradition is fun, one you should repeat!
Enjoy this wine, just for you,
Nothing says halloween like witches' brew!
Now it's your duty to pass on the surprise,
To two more friends, we must advise.
Gather some treats and deliver them soon,
Within two nights in the light of the moon.
Since my gals and I love wine, Ghouls' Night In with wine, snacks and a few scary movies (to be clear, I hate scary movies, so the film of choice definitely was Hocus Pocus) was the perfect grown up way to celebrate the spooky holiday. My friends like red and white wine, so I had both varieties on hand (I just bought a couple extra bottles of Robert Mondavi Private Selection wine at the store!). You can't host a proper girls night without wine and snacks, so I made two different snacks to pair perfectly with each variety of wine.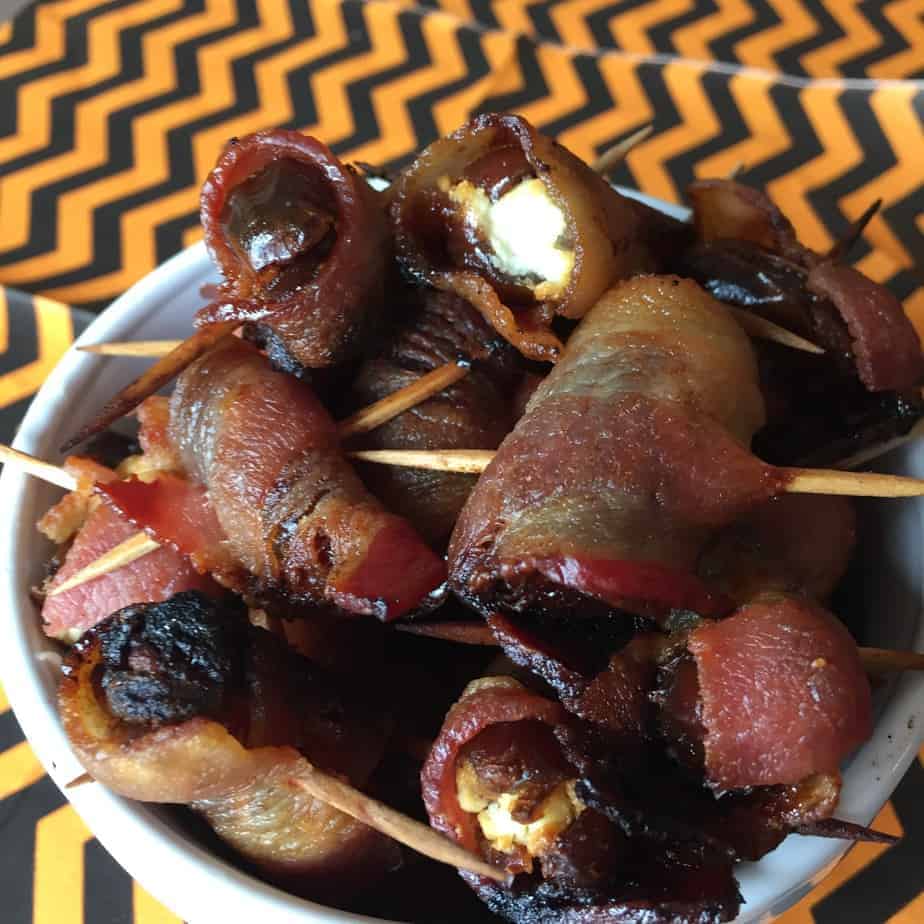 The sweet and salty flavors of devils on horseback marry perfectly with the rich flavors of Robert Mondavi Private Selection Cabernet Sauvignon. These bacon wrapped dates are a total crowd pleaser (they are so delicious and are my go-to hors d'oeuvre for any party), they look really fancy but are so easy to make (fun fact: the name devils on horseback come from some English history in the 1800s). Slice the dates lengthwise about 3/4 through, stuff them with some creamy goat cheese,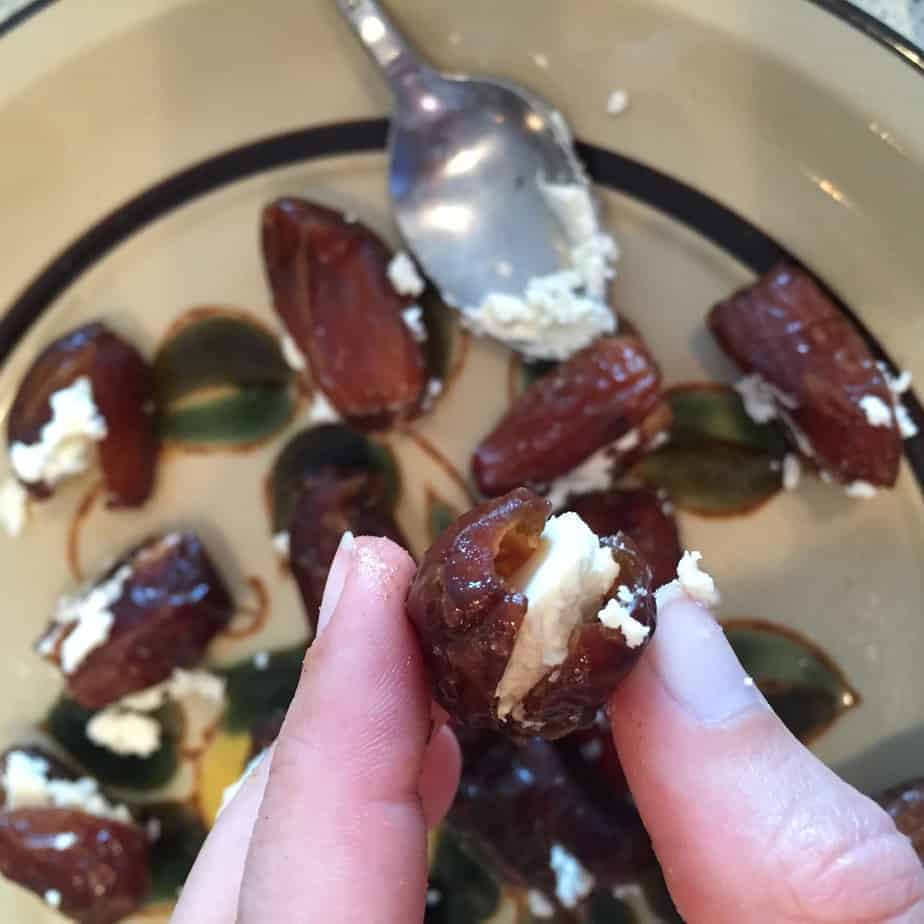 wrap with bacon and secure with a toothpick.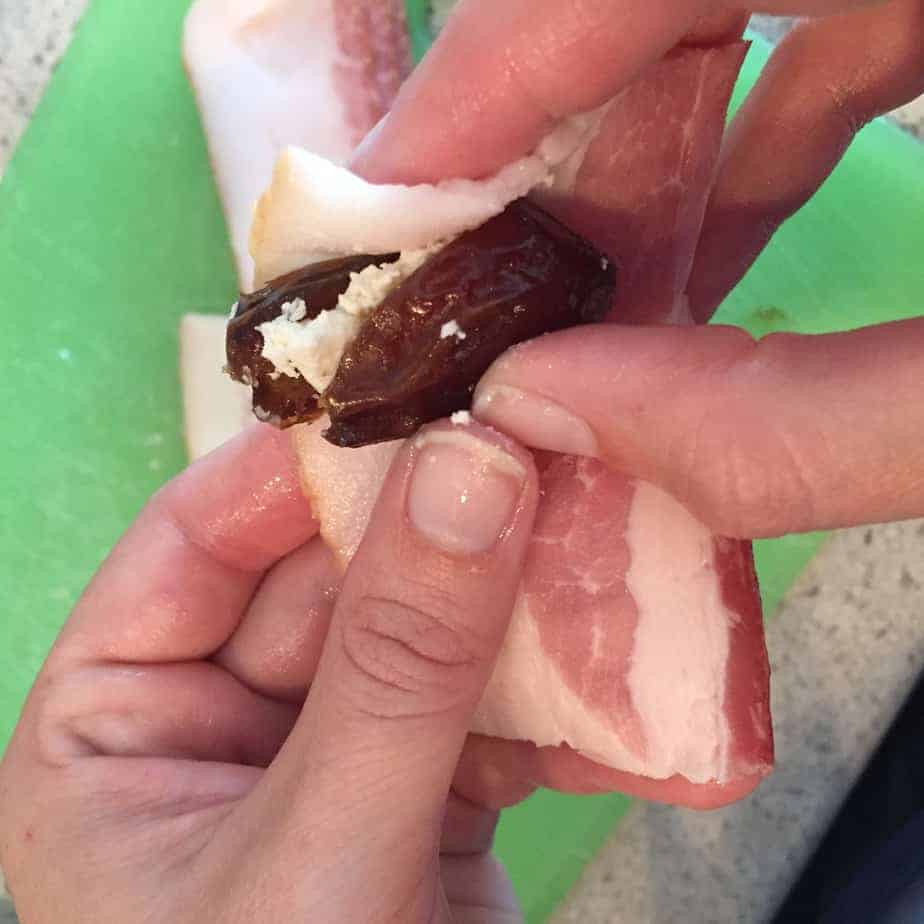 Prep these ahead of time, and pop them in the oven just before your guests arrive; they are better when served warm!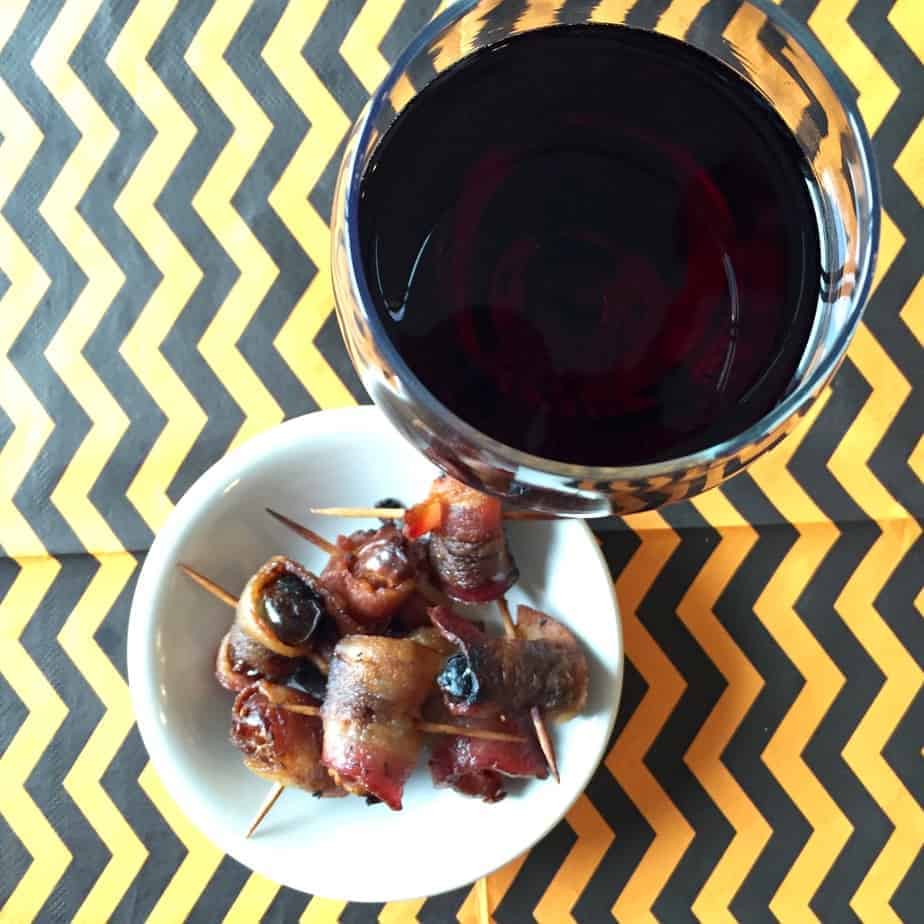 For my white wine loving friends, I made a fall inspired crostini (tis the season after all) to pair with the round, buttery flavors of the Robert Mondavi Private Selection Chardonnay.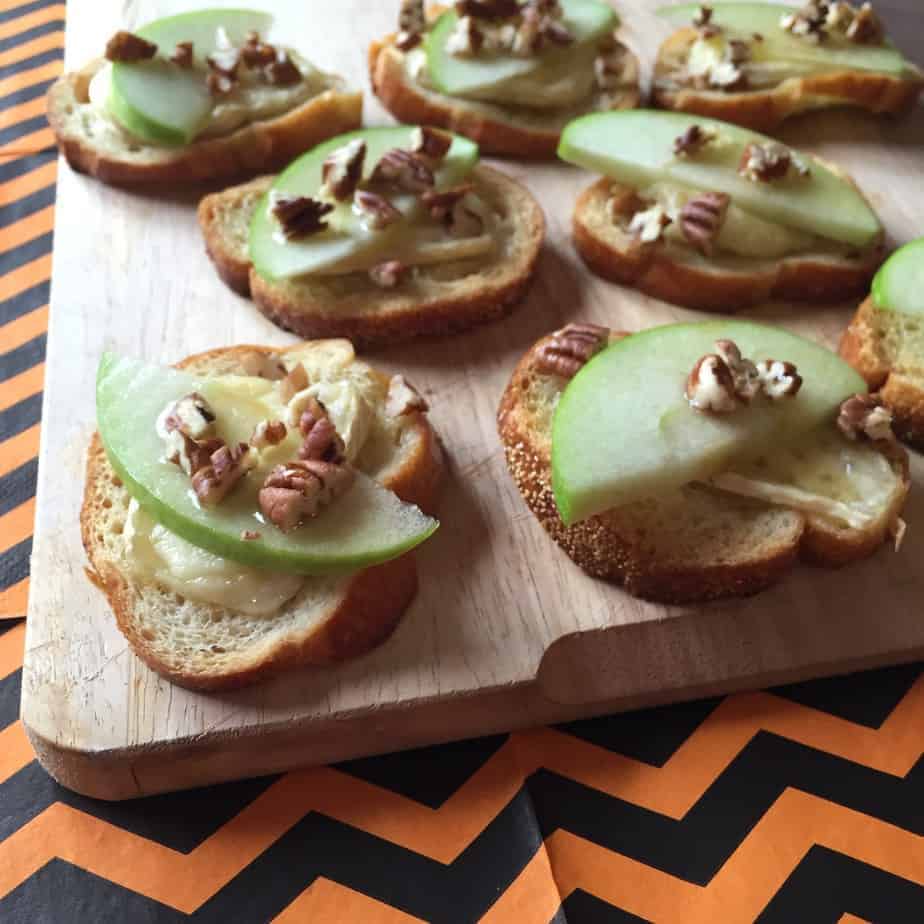 The hardest part of the apple and brie crostini is just chopping and slicing ahead of time (again so easy). Toast your crostini ahead of time and then melt the brie and pile the apples, pecans and honey on top right before your guests arrive so the cheese is bubbly and warm!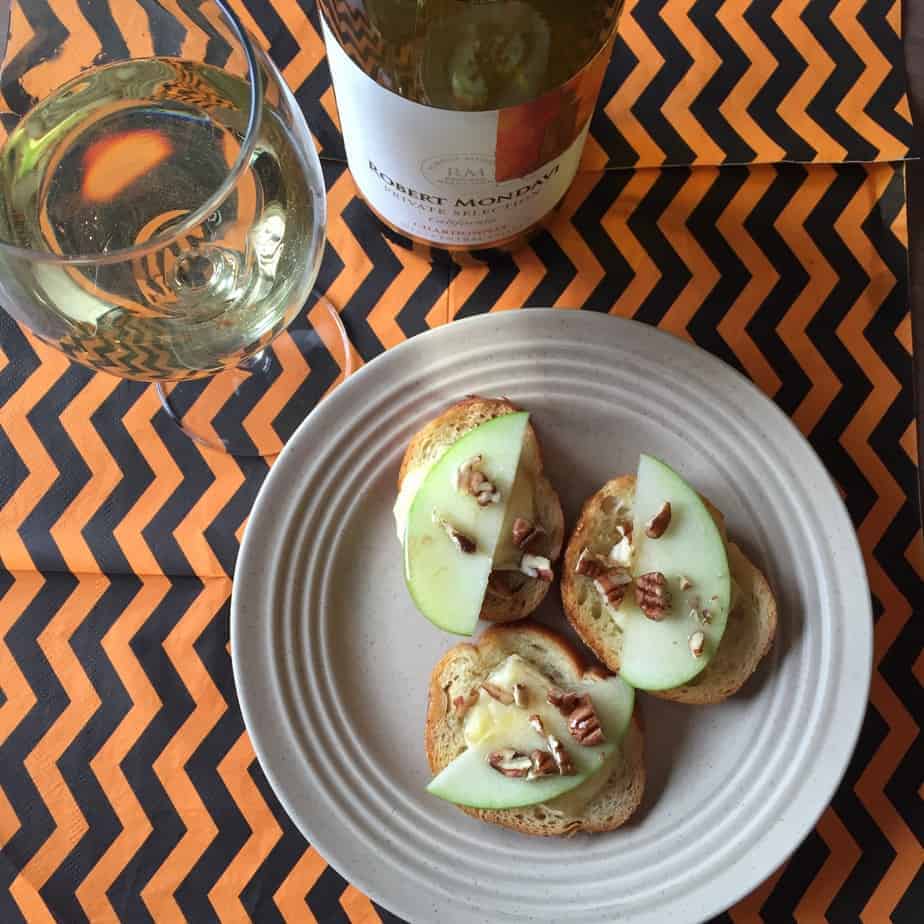 Pair these with a generous glass of wine and Hocus Pocus on the TV (clearly, everyone's favorite Halloween movie) and you've got yourself the perfect Ghouls' Night In! Happy Hallo-wine!
Do you prefer red wine or white wine?
Are you going to wish your friends a Happy Hallo-wine?