I am definitely a newbie to both Charlotte and blogging, and have been thrilled by the warm welcome I have received from the blogging community! I had no idea about the thriving, friendly blogging community that Charlotte had to offer (I guess you don't learn until you get out there and blog, right?) and many bloggers have welcomed me with open arms (especially on Twitter, I love getting tips from y'all!). Since moving to my new city I have enjoyed reading all sorts of blogs, from food blogs that suggest restaurants to visit and new recipes to try, to fashion blogs that tell me where to shop, to lifestyle blogs that talk about events and just the daily happenings around the Queen City. The thing I love about bloggers, is that after reading blogs for a while, I start feeling so connected to the writer like we are old friends.
So you can imagine my enthusiasm when Mary, over at Fervent Foodie, emailed me and asked if I wanted to grab lunch. Her blog is awesome: it's filled with restaurant recommendations, recipes, and other fun foodie things. And she is such a good storyteller. A few weeks back, she wrote a review on BringMeThat.com (a newish food delivery service that delivers from local restaurants) and in it she professed her love for Intermezzo. I also love Intermezzo, so my comment on her post led to us setting up a lunch in Uptown. After giving me a few choices, we settled on Halcyon, Flavors from the Earth, in the Mint Museum in Uptown.
I walked up to the Mint Museum from work (navigating Speed Street in the process) and got there a bit early. I beat the lunch rush, and Halcyon was nearly empty when I arrived. The décor is welcoming and rustic, with a touch of posh and upscale. Mary wasn't far behind, and we were seated at a table near the big windows, overlooking Tryon Street (it really is a great view, because the restaurant is perched up on the second floor next to the grand ascending steps of the museum, so it offers an expansive view of Tryon's leafy tree tops). We chatted and looked over the menu, and I had so much trouble deciding what to order. I finally made the move to not get something too heavy (I can't be going into a food coma with court in the afternoon) so focused more on light, salad options (and now can't wait to go back to try the luscious burger that kept coming past our table to other patrons). I settled on the ember roasted beets:  a beet salad with carrot puree, farmhouse cheese, farro-parsley salad and a charred lemon vinaigrette. Mary ordered the shrimp and grits, which our waiter described as more rice like than grits like. He then brought some seasoned popcorn to snack on while we waited on our meals.
My first impression of our lunches was that they were so freaking beautiful! In true food blogger fashion (I'm not sure at 3 weeks in if I can really be considered a food blogger) we both took out our phones to snap a few pics.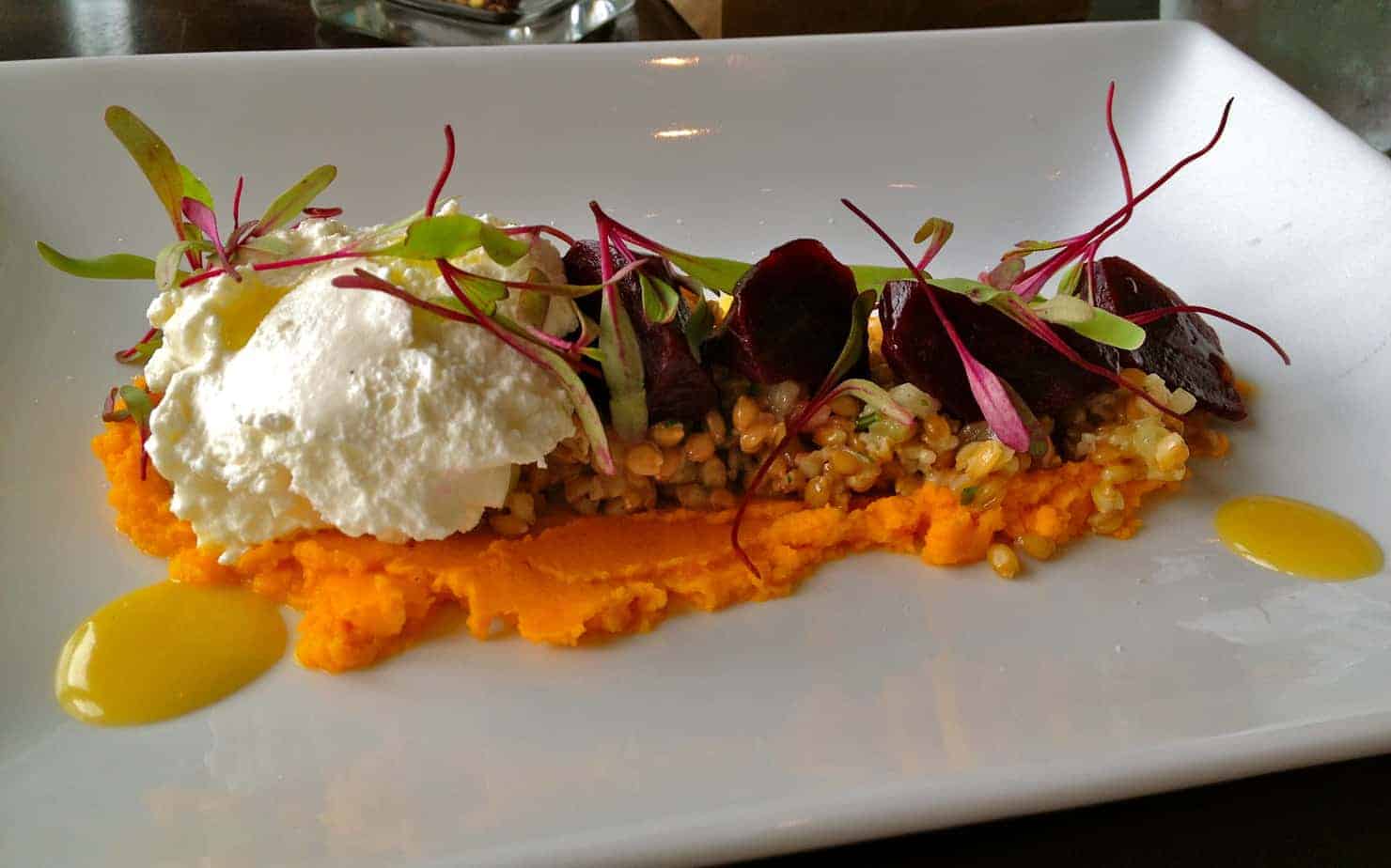 My dish was just what I was looking for, light, fresh and filling. The beets had tremendous flavor (I could really taste their natural sweetness) and a soft crunch, and paired well with the creamy carrot puree and yummy cheese. I do with there was a bit more texture, more of a crunchy element, but it was still quite good. I totally tried to savor every bite. Mary's shrimp and grits looked equally delightful (the shrimp were perfectly pink), and she gave it good reviews.
As Mary and I parted ways, I left Halycon satisfied and ready to tackle my afternoon. This is another place that offered an affordable lunch option but dinners seem to be a bit steeper. I will definitely be back, the food was great and the menu is worth exploring!
PS–Mary, we should definitely hit up Bistro La Bon's Sunday brunch soon! 🙂
map & more
score: 7
spending: $$$ ($$ for lunch)
neighborhood: uptown
cuisine: american
official website
[googlemaps https://maps.google.com/maps?f=q&source=s_q&hl=en&geocode=&q=Halcyon+Flavors+Charlotte,+NC&aq=&sll=35.223962,-80.847765&sspn=0.001245,0.002156&ie=UTF8&hq=Halcyon+Flavors&hnear=Charlotte,+Mecklenburg,+North+Carolina&t=m&ll=35.224044,-80.847852&spn=0.004382,0.005343&z=16&iwloc=A&output=embed&w=250&h=250]