The Hornets are back in Charlotte and the city is abuzz with excitement. Hugo, the Honey Bees, a honeycomb court , and teal and purple are not the only changes fans can look forward to with the return of the Hornets. The Hornets and Levy Restaurants have done an overhaul on the concessions offered at Time Warner Cable Arena, and Executive Chef Aaron Cox's new concessions menu is something fans will be buzzing about.
Chef Cox lived in Charlotte during the Hornets original heyday, so he feels a special connection to the Hornets return to Charlotte. Chef Cox confessed to our table at the media tasting event that "he was starstruck when saw Hugo at Time Warner Cable Arena." Standard stadium fare, like hot dogs, popcorn and nachos will still be available to fans, but even with the standard stadium fare, Chef Cox says the Hornets are stepping up their game (fans won't be munching on soggy tortilla chips with luke warm fake cheese, instead, nachos with be made to order).  For those fans looking for a bit more, the new new concession menu was created with focus on fresh, local, sustainable products (using ingredients sourced within 150 miles of Charlotte) and with the mentality of high quality restaurant meals.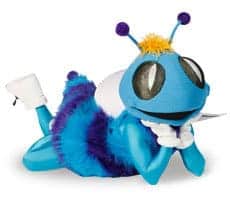 Hugo's Boss Burger is a burger worth buzzing about. Named for the Hornets' beloved mascot, Hugo's Boss Burger is 14, 8 ounce burger patties with lettuce, tomato, pickles, mushrooms, bacon, cheddar cheese, swiss cheese, and special sauce. Hugo's Boss is one of the biggest burgers in the south east (if not the biggest), weighing in at about 8 pounds and costing fans $70 (clearly, designed for sharing).  The
burger's size
is what has generated the most buzz about the new concessions items (really my goal at this point is to see how many times I can insert Hornets' puns into this post), but Hugo's Boss Burger also delivers the flavor of a classic cheeseburger. The sample we tasted was cooked well (medium rare to medium) with a flavorful balance of ingredients (and I can only imagine it tastes better when it's hot, rather than luke warm–a downside to sampling food at an event where everyone has to take a photo of the food first before we eat). I'm not sure the practicality of chowing down on an 8 pound burger in the middle of a basketball game, but the Hornets definitely nailed dramatic statement with this one.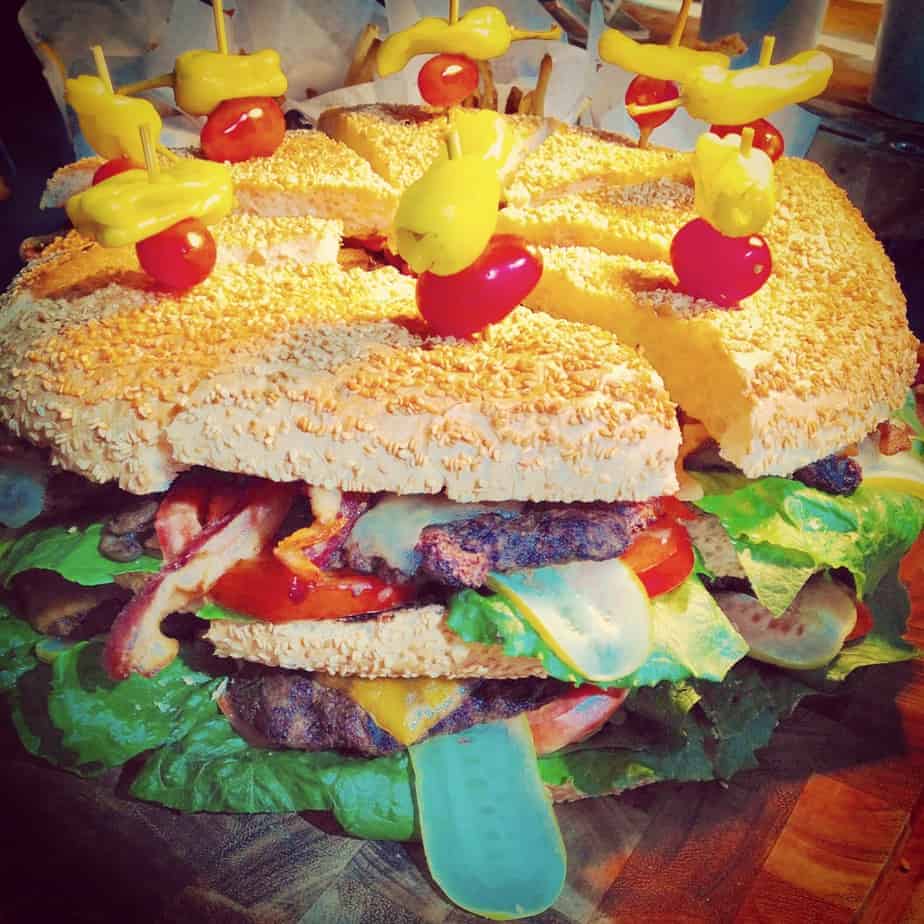 If you aren't full enough after indulging on Hugo's Boss Burger, grab some hand cut french fries (cut daily) or hand breaded onion rings, available in concession stands across the arena. The revamping of both of these items follow Chef Cox's theme of fresh ingredients and elevated stadium fare.
The Hornets are also offering new twists on classic stadium eats. Leading the pack is a creative spin on a corn dog, spiced up with buffalo sauce. The footlong buffalo bacon corn dog boasts buffalo ketchup and blue cheese.
And it's definitely not a stadium in North Carolina without barbecue, and the Hornets are serving up a new brisket sandwich topped with Carolina style coleslaw and garnished with okra. The brisket is smoked in house every night before an event for 13 hours.
There are also a few new choices for fans looking for something on the lighter side, like a new made to order mediterranean chicken salad.
Every Hornets' fan will have the chance to try Hugo's Boss Burger, but only those in suites and with Front Court Club access will get to munch on new premium items. The Hornets have imported new chef Thomas straight from Staten Island to man the Italian station and produce two new fresh items–Italian rope sausage (also imported from New York) and a giant meatball.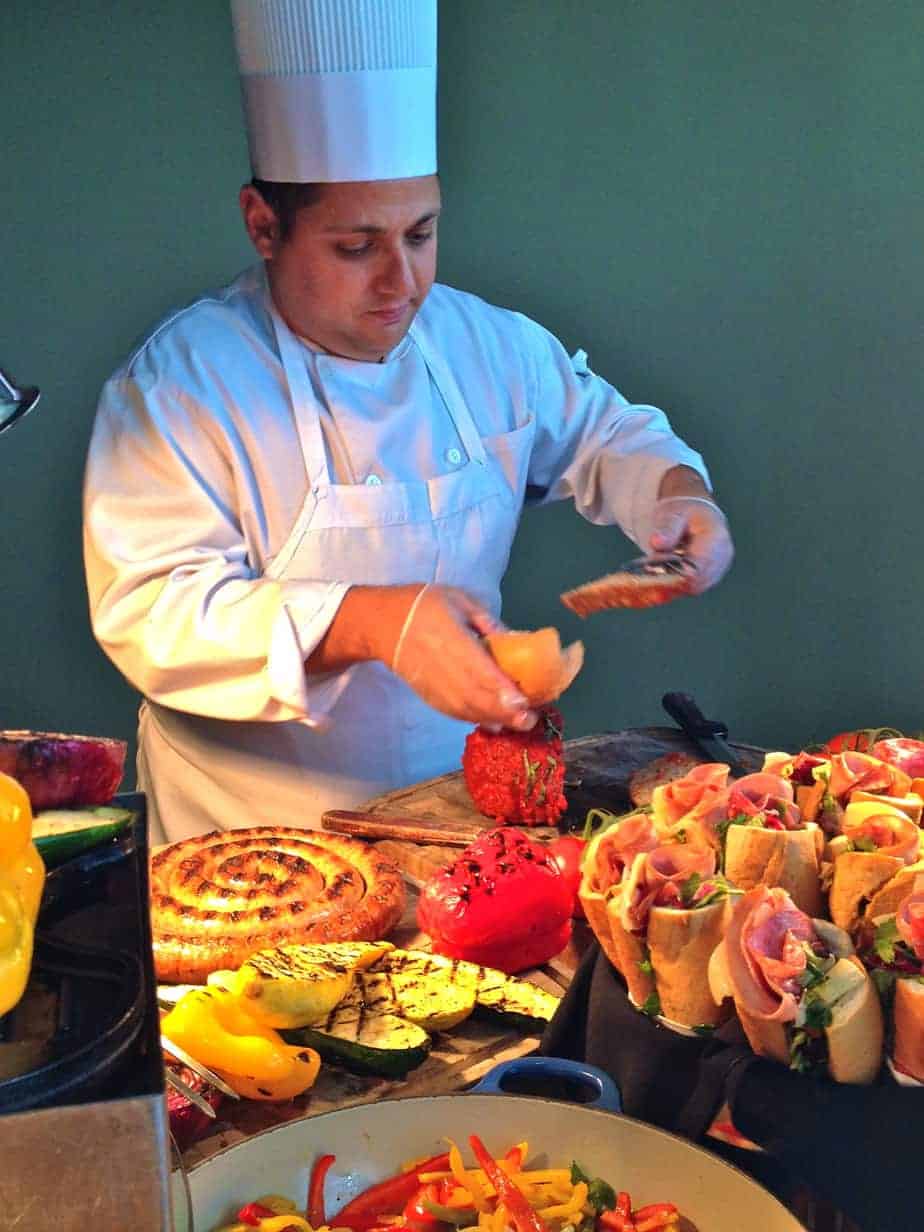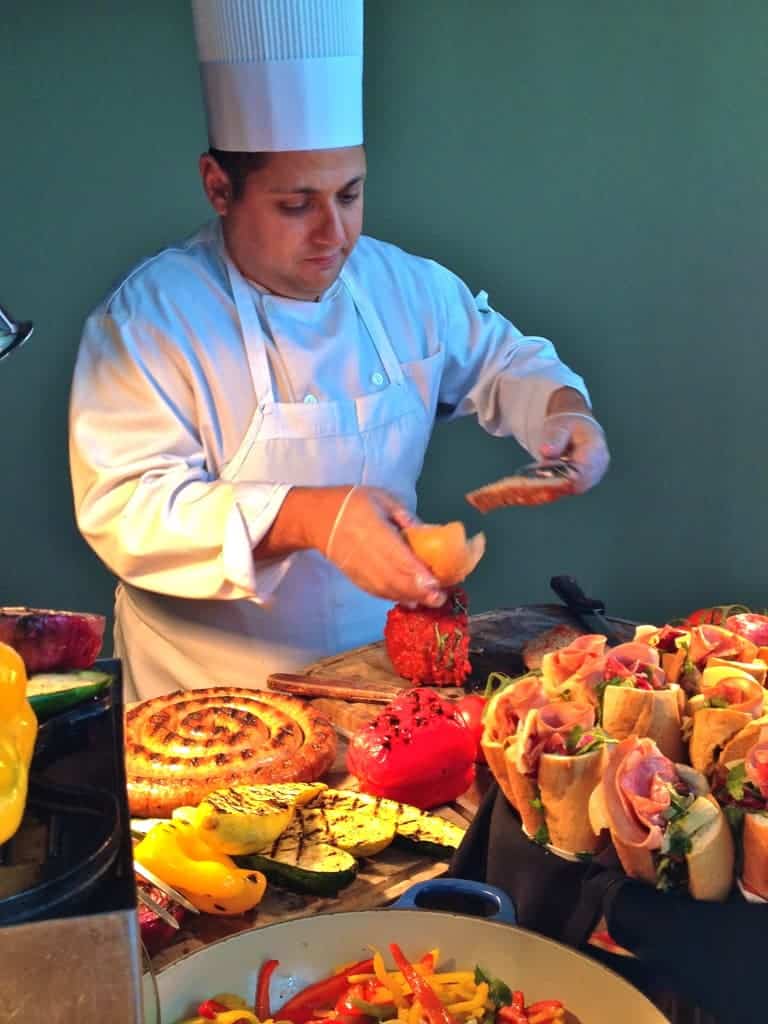 Both can be ordered in the Front Court Club and in suites, made into sandwiches, and are chock full of classic Italian ingredients and flavor. The sausage is grilled with pepper and onions before being slid onto a hoagie roll.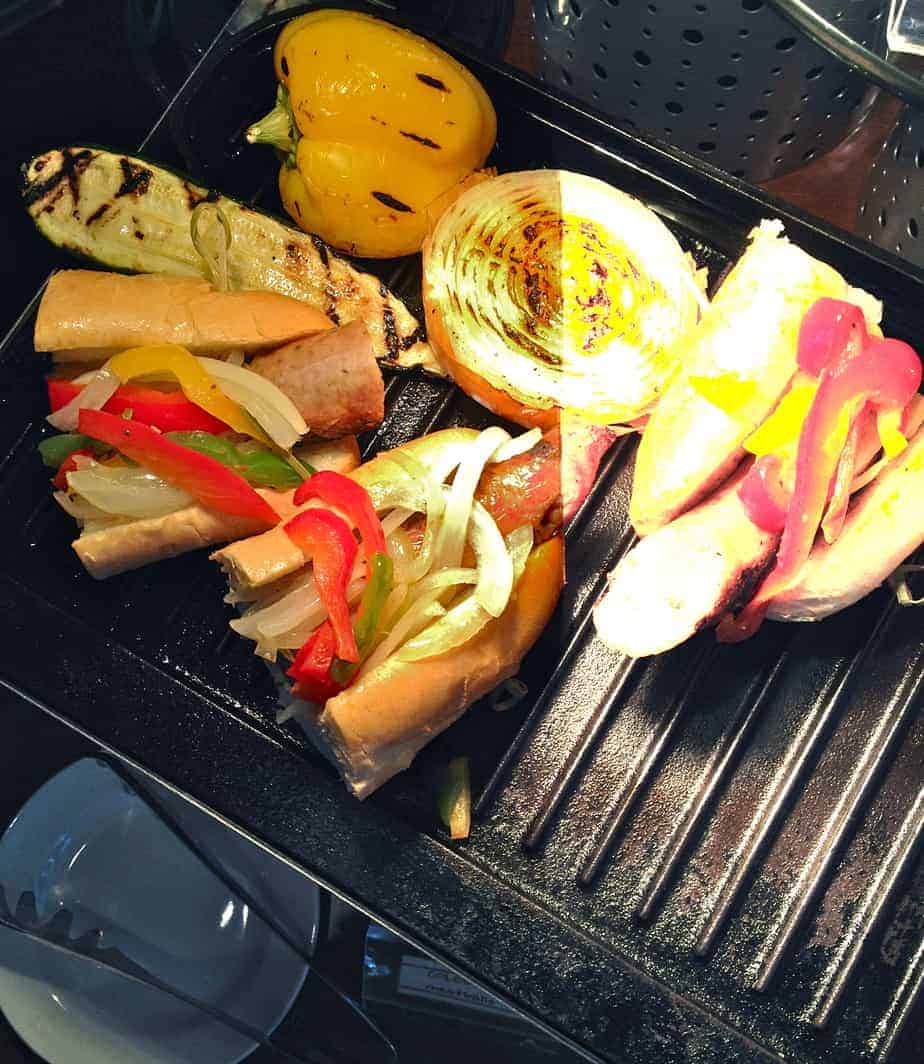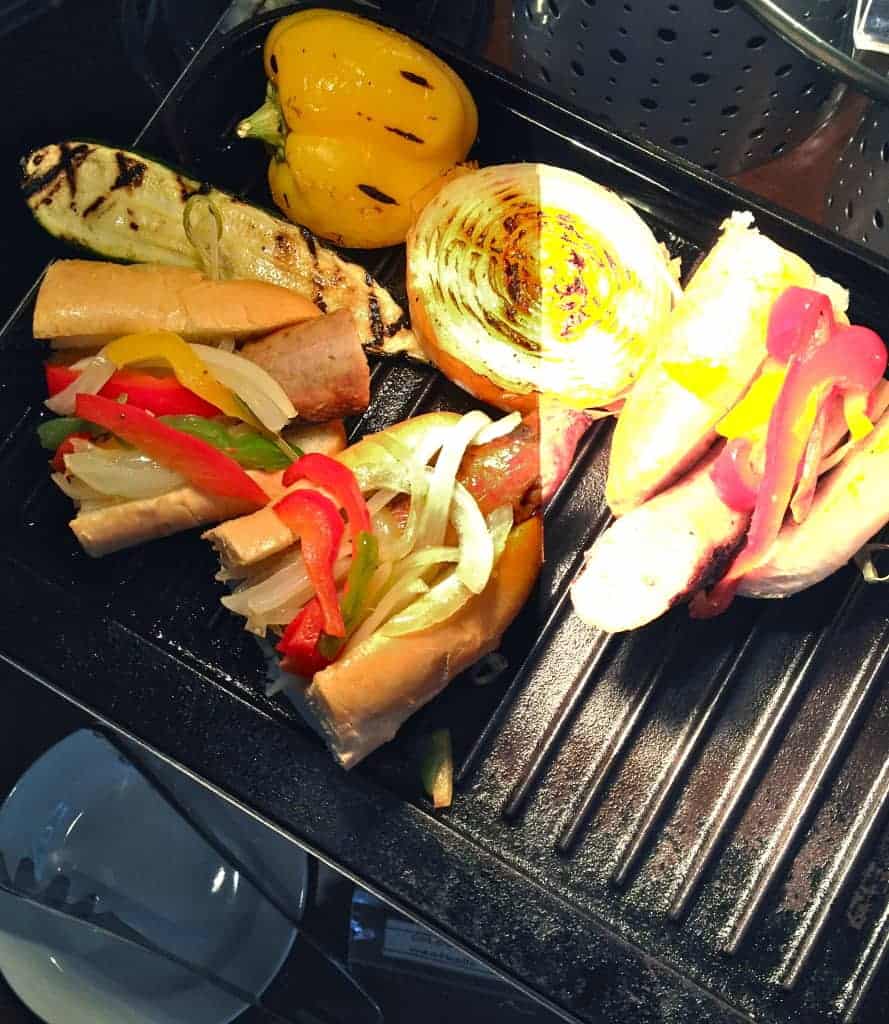 The giant meatball weighs in at 2.5 pounds and is made fresh with veal sausage and beef and then slowly simmered in marinara sauce. The only downfall to the meatball is that the sub version is not served with melted cheese (give me some provolone or mozzarella, please!) but guests can sprinkle parmesan to their liking.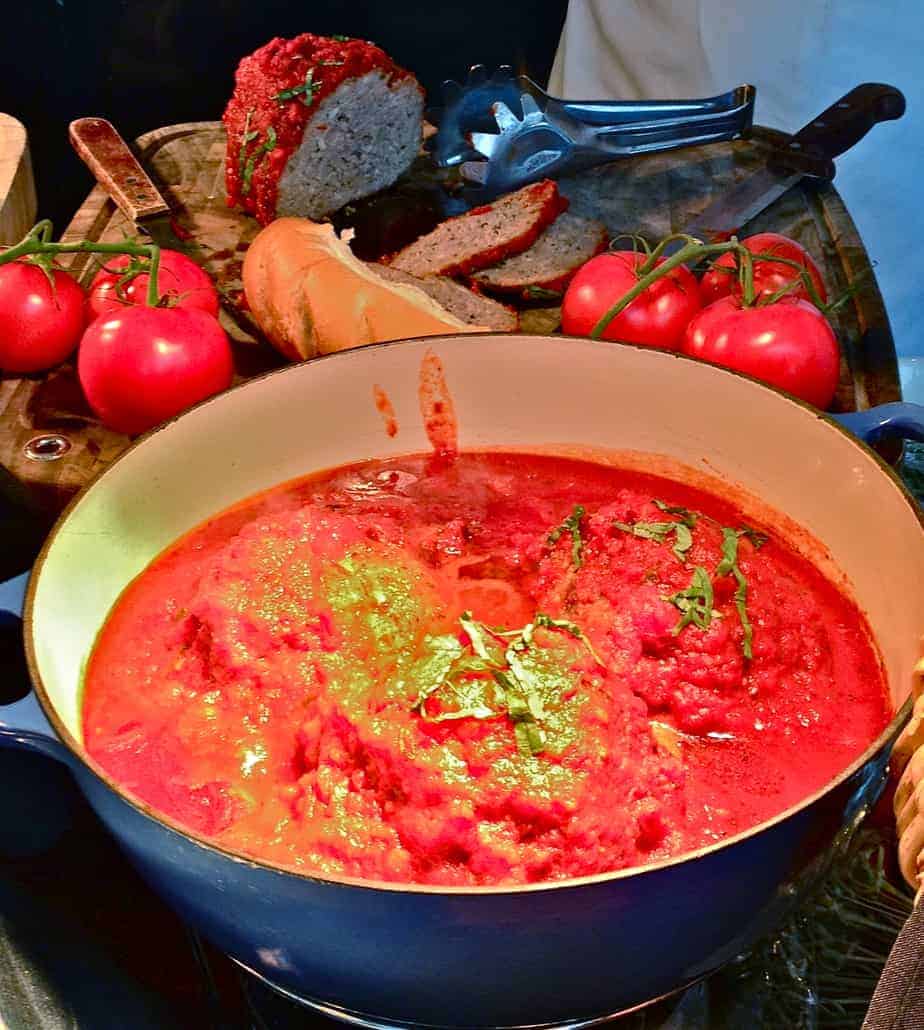 In keeping with the Italian theme, two new sandwiches are available in suites as well. The grilled chicken wedge takes inspiration straight from a wedge salad, giving a crisp, light flavor. My favorite sandwich choice (besides the giant meatball, I love a good meatball sub) was the Garbage Salad Grinder. Inspired by an Italian chopped salad, this sandwich is chock full of Italian meats and cheeses and served on a crusty baguette.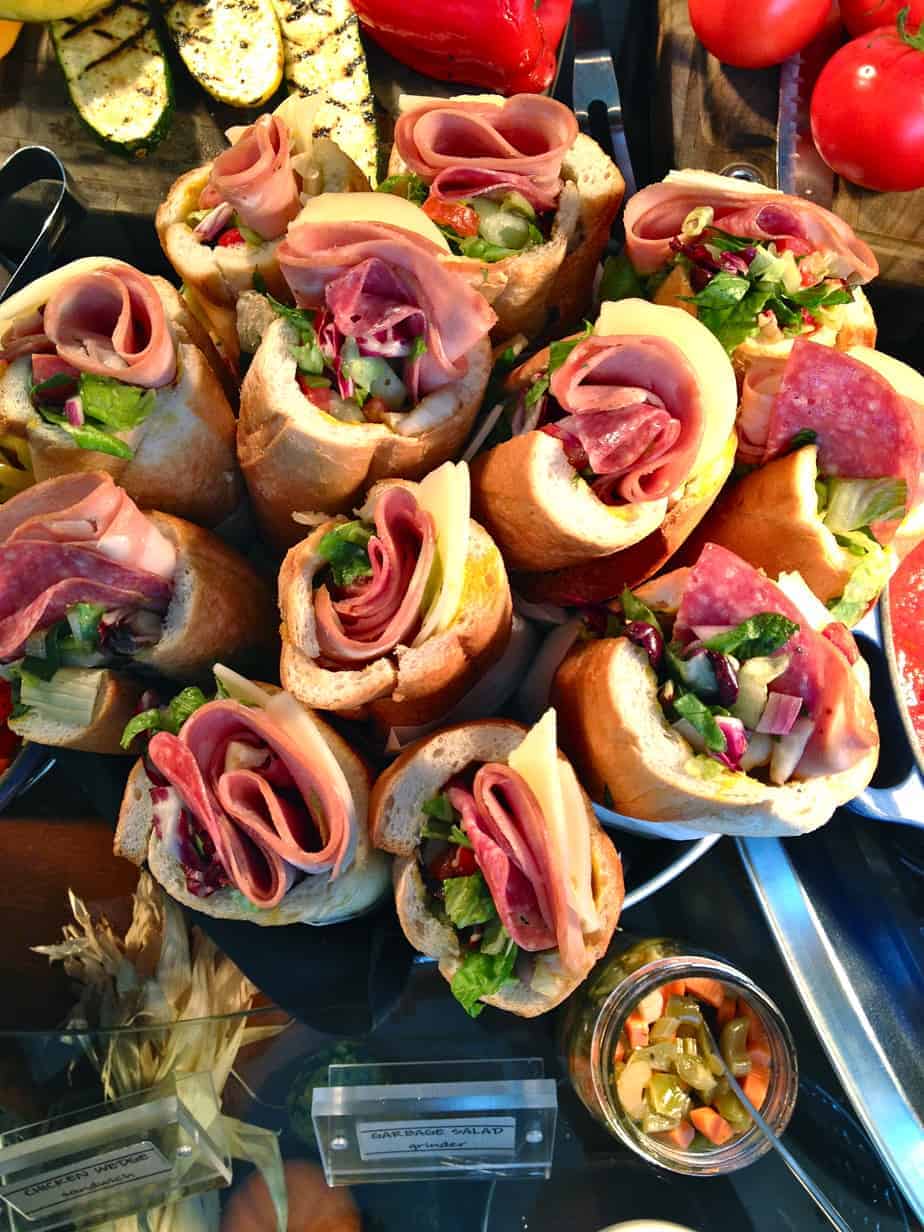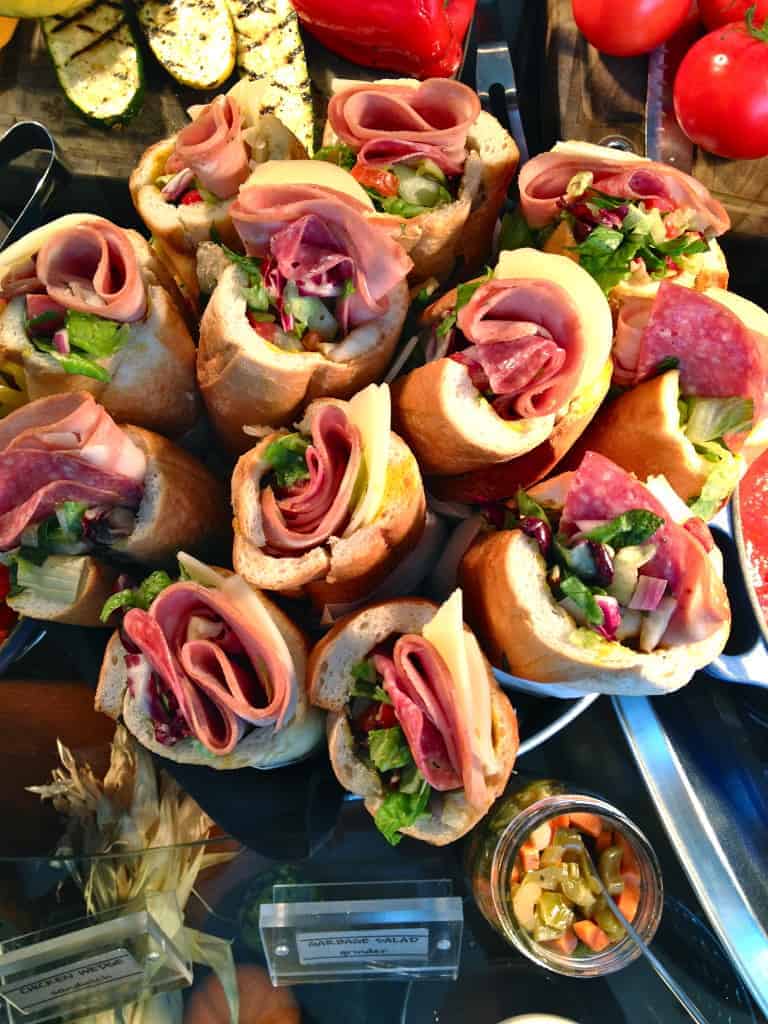 To wash everything down, The Hornets have partnered with several local breweries making local beer available to fans arena wide. Fans can also look forward to a few new cocktails, The Stinger (made with UV Blue, Sprite and lemonade) and The Honey Bee (made with Wild Turkey Honey bourbon and lemonade). While both are simple, their names and colors scream "Go Hornets!" and they are sweet alternatives for non beer drinking fans (unfortunately, I didn't get to try either because I had to go back to court that afternoon, but they are pretty to look at!!).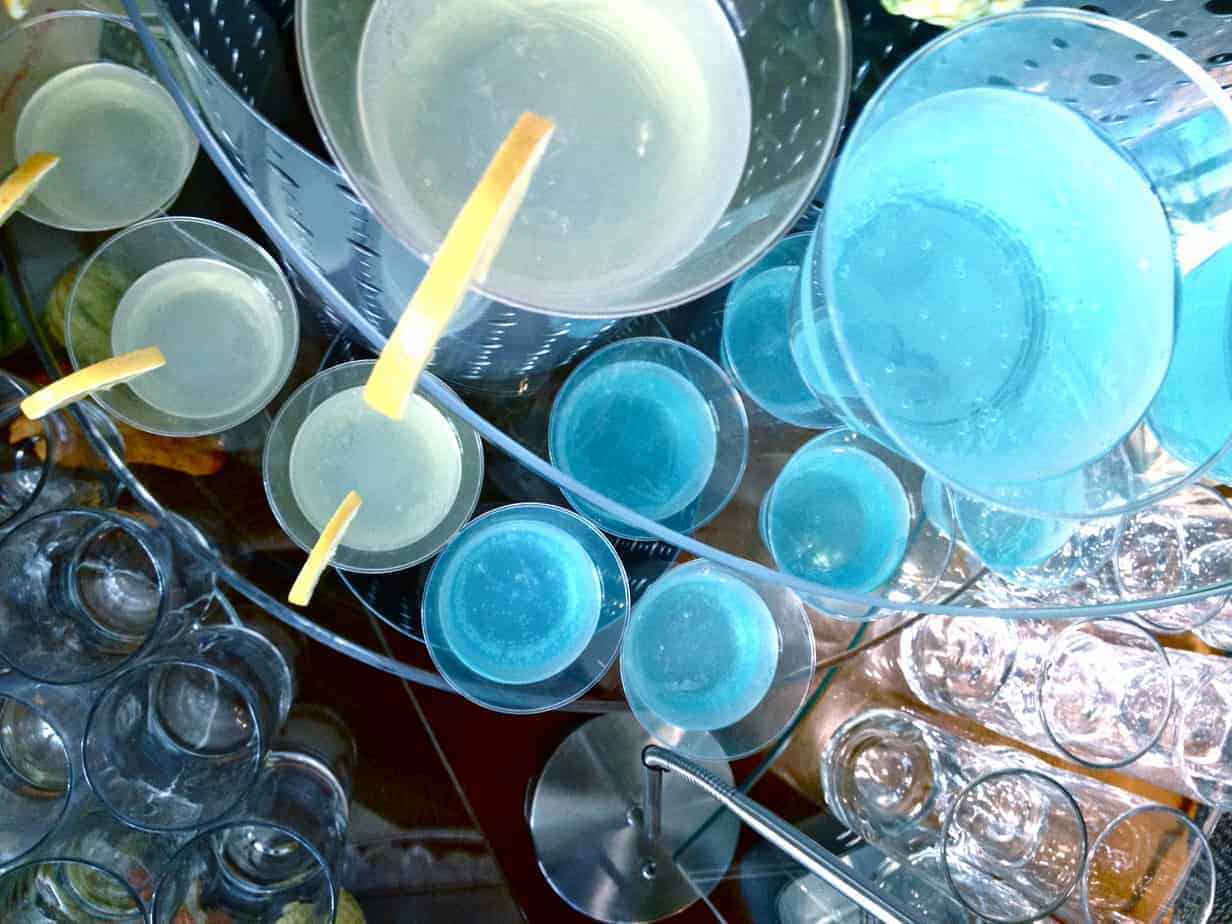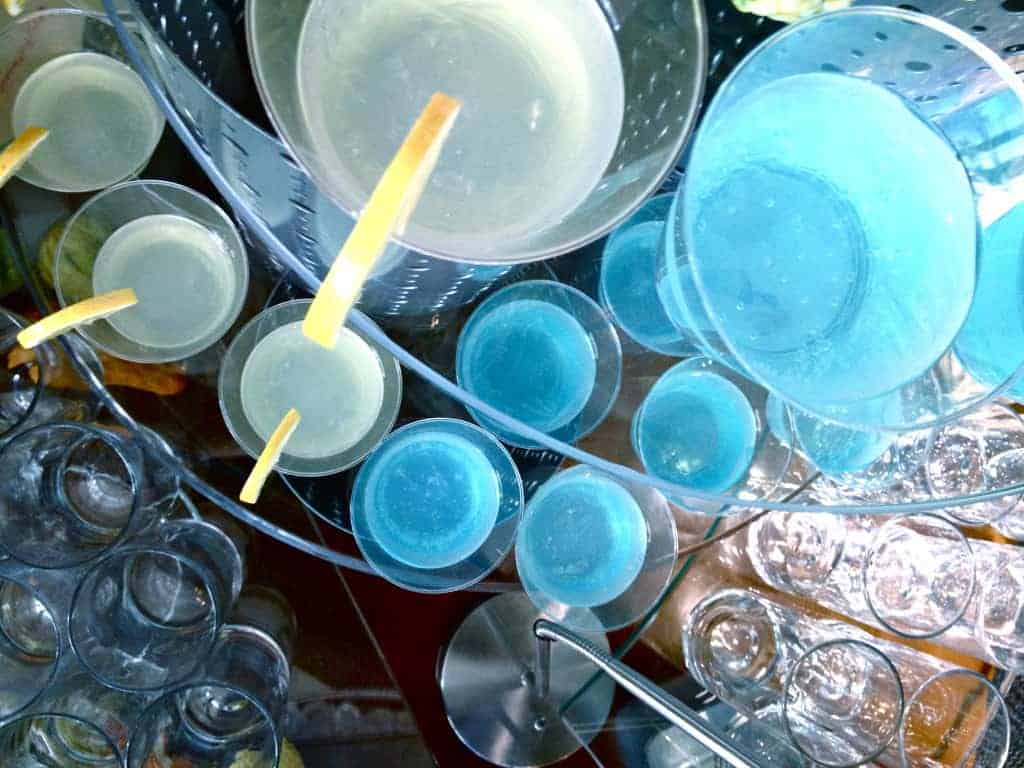 While I can't comment on if the Hornets have stepped up their game on the court, I can say that The Hornets have stepped up their game in the kitchen.
*Thank you to the Hornets for inviting me to the media preview event. Even though I did not get to meet Hugo or Michael Jordan, I really did enjoy Fred Whitfield's purple pin stripe suit. My food and drinks were complimentary as a menu preview for local media. No one asked me to write anything in return.