Welcome to another edition of Friday Faves! This week I wanted to focus on a group my my favorite things related to food: CSAs (community supported agriculture) and Farmers' Markets!
I first heard of CSAs 8 (or so) years ago when my aunt moved to San Francisco. She would go weekly to pick up her "box," filled with fresh, local produce. She loved going to pick it up because it always was a surprise as to which yummy fruits and veggies she was getting.
I became obsessed (to state it lightly) with farmers' markets when I lived in Madison for law school. Madison has a fabulous farmers' market, which runs all year round, but the best is the spring, summer and fall where the market sets up camp around the State Capitol. The best way to spend a Saturday in Madison was to walk over to the market and lazily meander among the stalls with a cup of coffee (and then to sit on the steps of the Capitol with hunks of piping hot Stella's spicy cheese bread). Ah. I ended up doing most of my weekly shopping at the market every Saturday: they had everything I needed! This was really my happy place. To say I miss it terribly would be the understatement of the century (I am still trying to figure out if Stella's will mail spicy cheese bread to North Carolina. If not, does anyone in the Charlotte area know where I could get something similar?).
(one more humble brag about the Dane County Farmers' Market in Madison: it is the largest producer-only farmers' market in the United States!).
When I moved to Charlotte, I knew I wanted to continue to support local produce and keep a lot of fruits and veggies in my diet. The best way to do that was to find a farmers' market ASAP (which wasn't hard, Charlotte has a lot of options if you want to eat healthy and support local farmers).
So with the back story in place, here's our Friday Faves!
1. Know Your Farms.
(in my last box I scored some sweet strawberries and beautiful rainbow chard).
I decided in April to sign up for a share with a local CSA. After much research, I settled with Know Your Farms (partly because they do a weekly drop off in my office buidling!). Know Your Farms has over 30 drop off locations in Mecklenburg County. Not only do they have multiple drop of locations, but they have multiple options for the size of share that you want (small or large) as well as other goodies you can include in your share (I currently receive the Bread Box, which includes a fresh loaf of homemade bread with my produce. They also have eggs and meat options). Even better, Know Your Farms give you tons of choices with pick up (weekly or biweekly), makes it easy for you to put your order on hold if you will be out of town, and there is no extended commitment! I love being surprised weekly with what I am going to get; it has really helped me try new things and I have become quite the experimenter in the kitchen!
2. Charlotte Regional Farmer's Market.
Going here is like going to Farmers' Market heaven! Located off of Tyvola Road (near the airport) it has stalls, beyond stalls, beyond stalls, packed with fresh fruits and veggies. I discovered this gem the summer I interned in Charlotte, and it is worth the trek to go pick up some fresh food (especially in June during peach season, I think I lived off of fresh peaches that summer). What I think is super neat about this market is that it is owned by the State of North Carolina and operated by North Carolina's Department of Agriculture (it's one of four state owned markets in the state). It's pretty cool that the State thought Charlotte deserved one of these puppies. The regional market also has a greenery shed (with lots of flowers, plants, shrubs and other gardening goodies) and on Saturdays, it has a Craft Barn, full of artisans and handmade items. It's open Tuesday through Sunday, so check it out!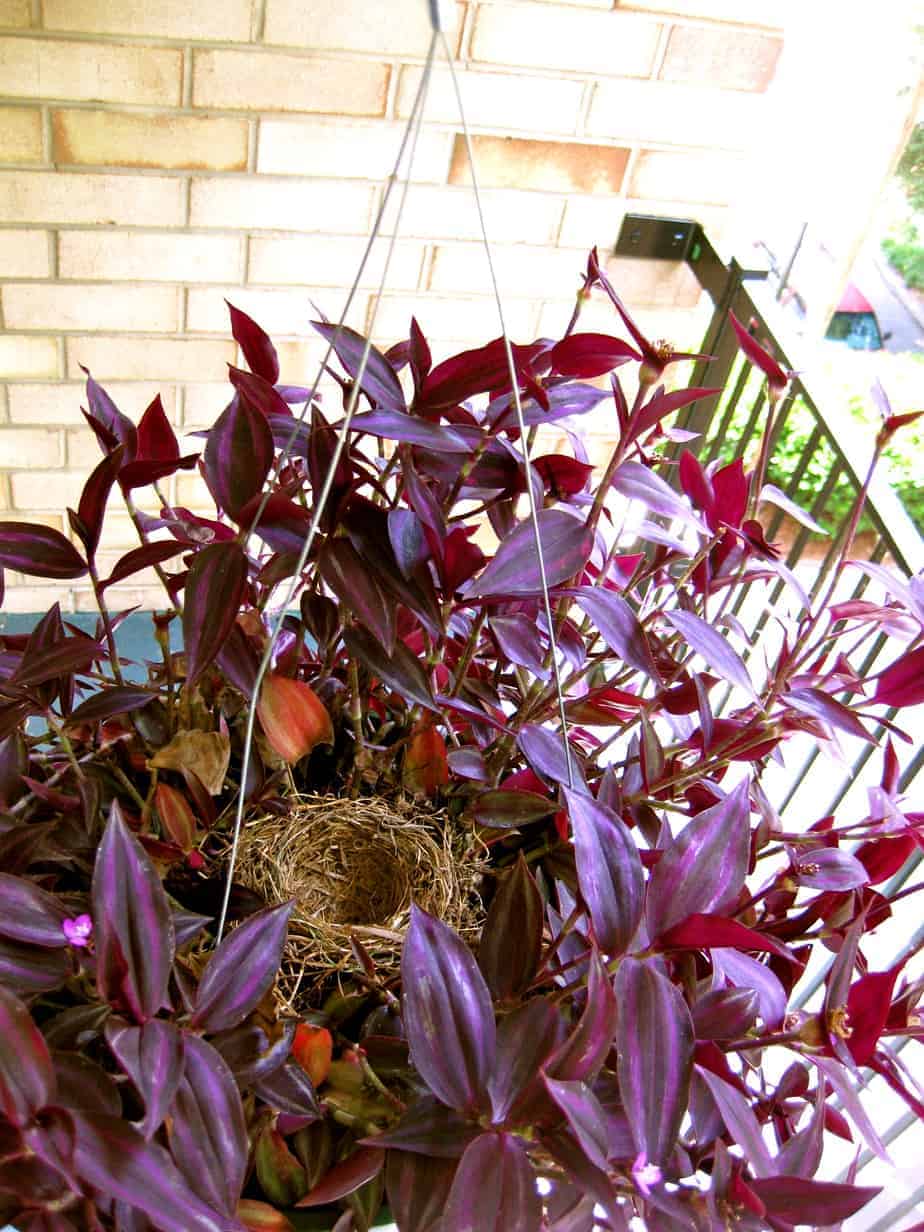 (a little birdie made a home in the wandering jew I bought at the Charlotte Regional Market 2 summers ago).
3. Atherton Mill and Market.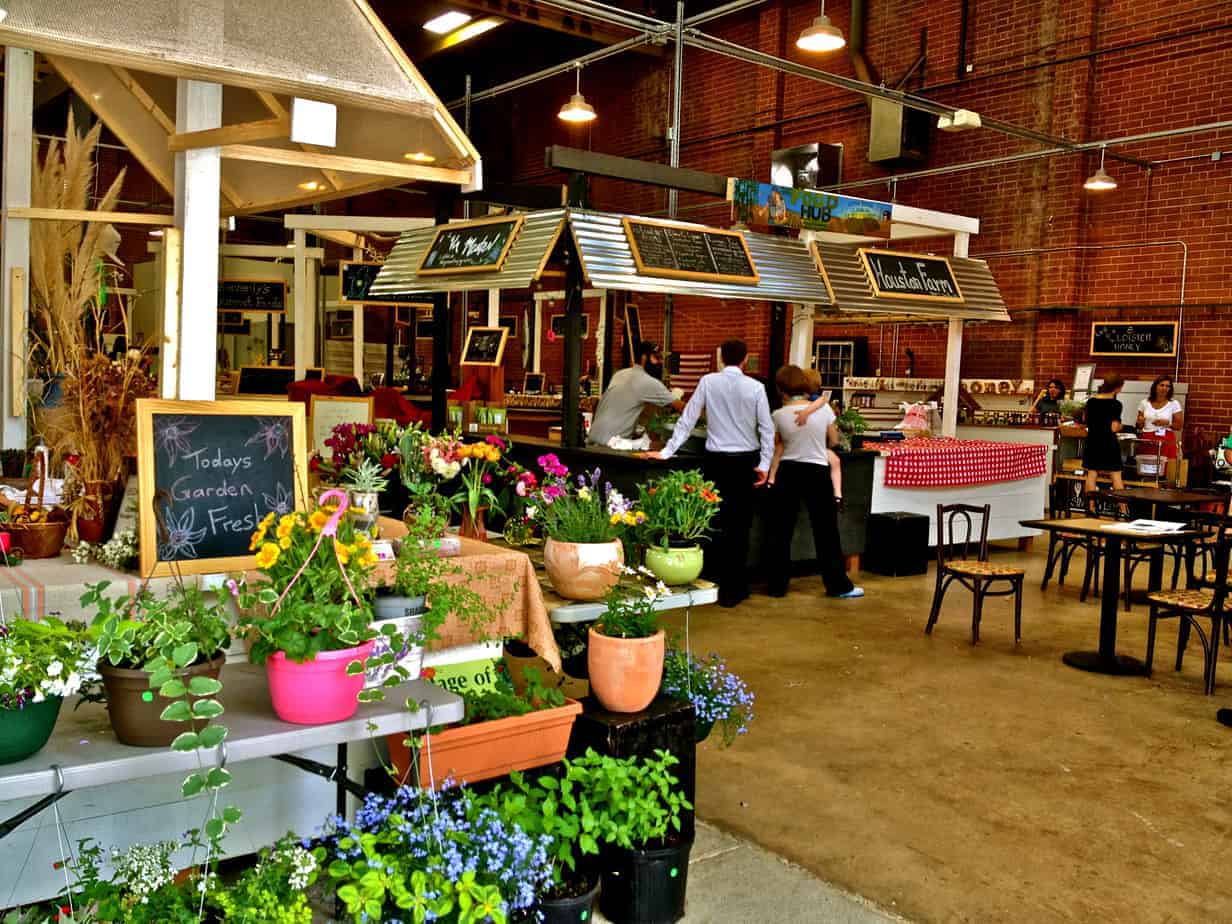 The Atherton Market is located in South End and is Charlotte's first indoor, year round, producer only farmers' market. It is open 5 days a week, and is home to a variety of different vendors. I love Atherton Mill and Market because not only does it offer fresh produce, meats, eggs, and dairy, but it also has vendors offering unique art and jewelry. Not only can you come to the market to get your shopping done, but the market hosts weekly events and activities, and to keep up to date you have to check out their Facebook page and Twitter. It's conveniently located just next to the Lynx Blue Line and among a variety of local restaurants and businesses (Luna's Living Kitchen, Vin Master, Savory Spice Shop, and Tyber Creek, among others), so is definitely worth checking out and making having a market adventure (maybe complete with lunch nearby?).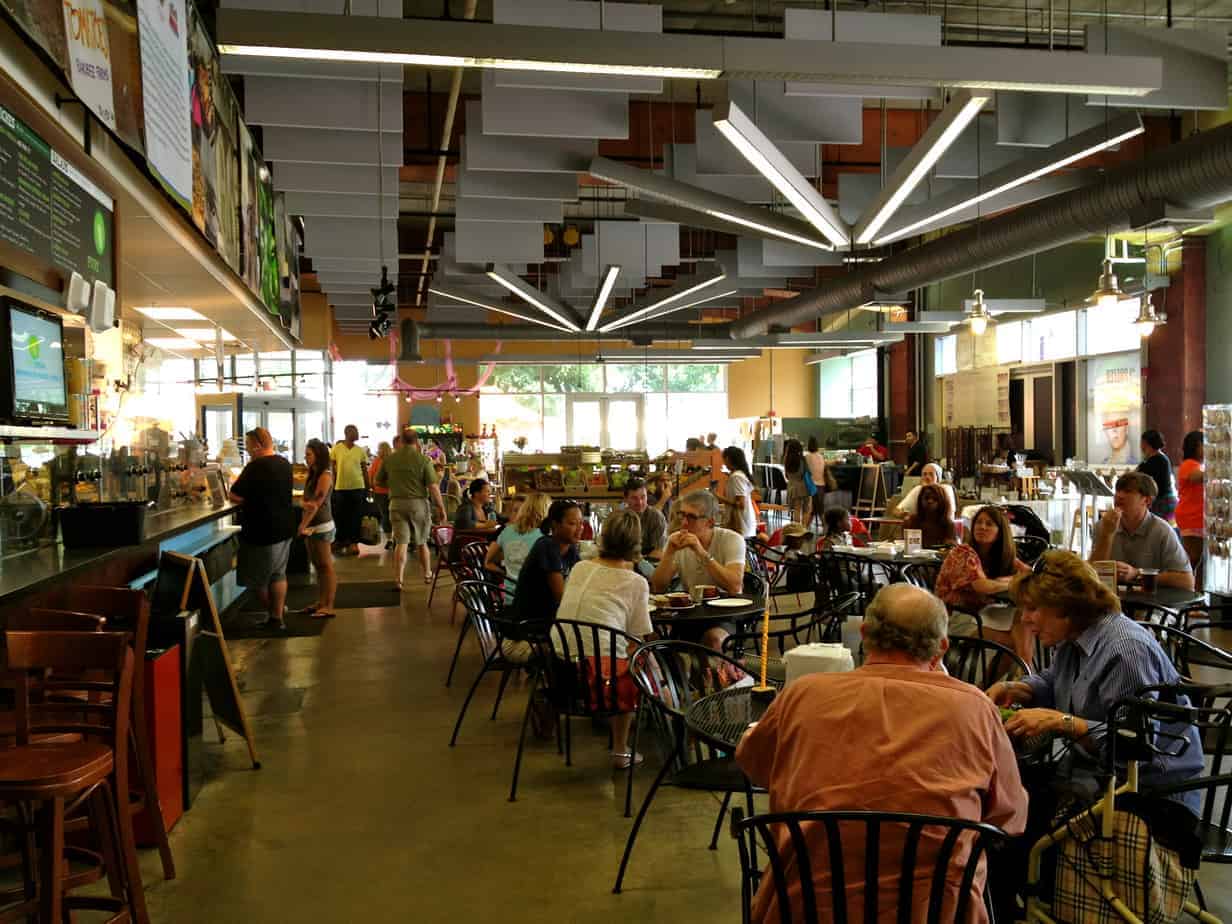 (busy lunch Saturday at 7th Street Public Market)
I love 7th Street Public Market. It is nestled in Uptown between the Levine Museum of the New South and ImaginOn (it shares real estate with Queen City Q and the Seventh Street Parking Garage). My favorite way to spend a Saturday is to head Uptown, wander the market, and then grab lunch at one of it's vendors (there are a variety of choices: I've tried most of them: Bonsai Fusion , Ormann's Cheese Shop , Pure Pizza, Cloud 9 Confections, and Not Just Coffee…I'm looking forward to trying their newest vendor, Local Loaf, soon!). You can pop into the market on a weekday and pick up produce, but also a bottle of wine, coffee, flowers, or something else that strikes your fancy. On Saturdays, 7th Street Public Market hosts Green Saturdays, and has vendors with fresh produce stationed outside, as well as the selections offered in the market during the week. The last time I went to a Green Market Saturday, I score fresh broccoli, strawberries, homemade blackberry jam, and black truffle salt. Run, don't walk, over to 7th Street Public Market if you haven't been yet! (they are located right on the Lynx, or if you choose to drive, your parking is free for the first 90 minutes in the 7th street garage).
5. Go Go Fresco.
I had the opportunity to buy some produce from Go Go Fresco a few weeks ago at the 7th Street Public Market for Green Market Saturdays. I had a chance to chat with one of the founders, Leconte Lee, and learn about the concept and mission of Go Go Fresco. It's super neat! Basically, it is a mobile, missions focused farmers' market; the produce they sell comes from local farmers and the proceeds go to local Charlotte missions (the proceeds from my purchase went directly to Beds for Kids). They float all over the Charlotte area (hence the mobile concept) and you can find their schedule on their website. I can't wait to check them out again!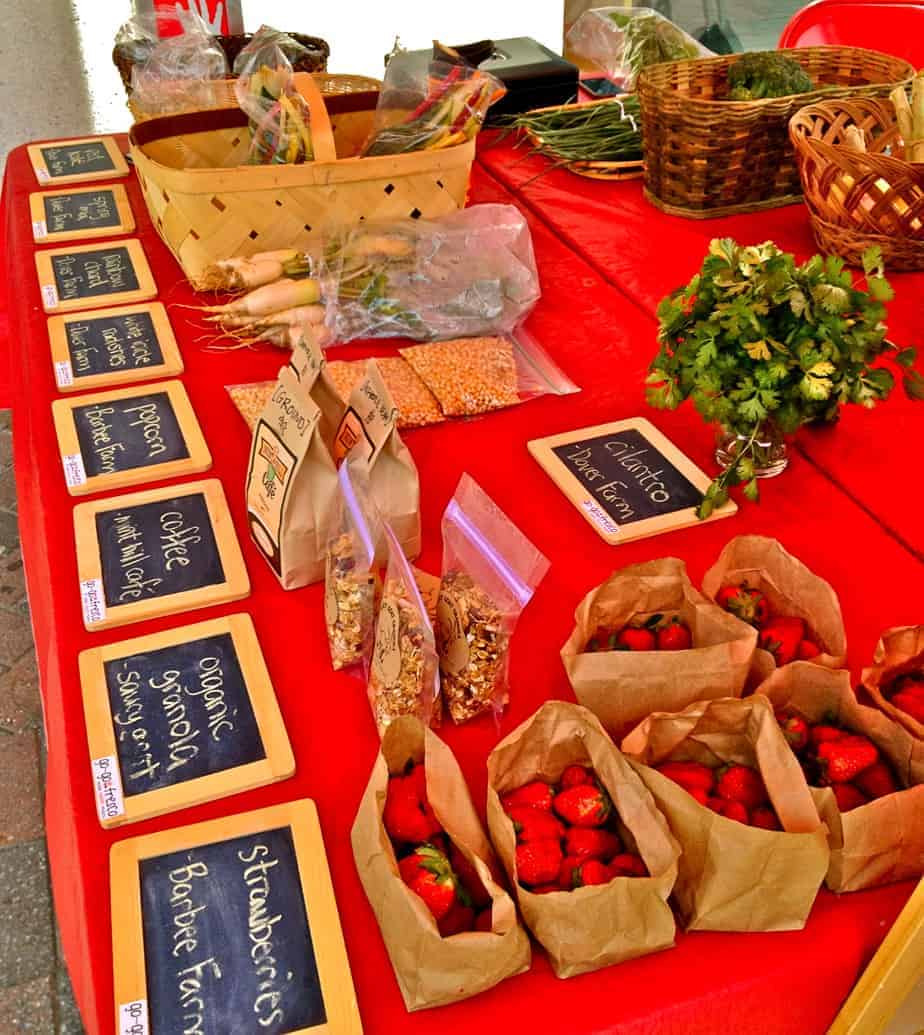 There are a ton of other CSA programs and farmers' markets throughout Mecklenburg County. Do y'all have any recommendations where my next stop should be? I'm hoping to check out King's Drive Farmers' Market and the Davidson Farmers' Market soon!