A few weeks ago, I went camping in Great Smoky Mountains National Park with a friend. We left Charotte early on Saturday morning, climbed some mountains, hiked about 24 miles on Saturday and Sunday, were in two places at once (a few miles on the Applichian trail between North Carolina and Tennessee, and camped (saw no bears, but made delicious s'mores). It was a perfect fall weekend; the leaves were gorgeous reds, oranges, and yellow, the sun was shining (for the most part, until we hit some fog on top of Mt. LeConte on Sunday) and there was a healthy chill in the air (Saturday evening was chilly, but nothing a big fire and sleeping bag couldn't fix).
It was a wonderful, adventurous weekend, and as we travelled back to Charlotte all I could think about was all the delicious food I wanted to eat (a 13 mile hike on a Sunday up a mountain will do that to you). We decided we were going to stop to eat, but not at some typical fast food place (while I occasionally have a craving for Taco Bell or a burger, it's always fun on road trips to find a tiny local place). After a short some short googling, we ended up at Flat Rock Wood Room in Hendersonville, NC. A place that markets both barbecue and pizza is my kind of place.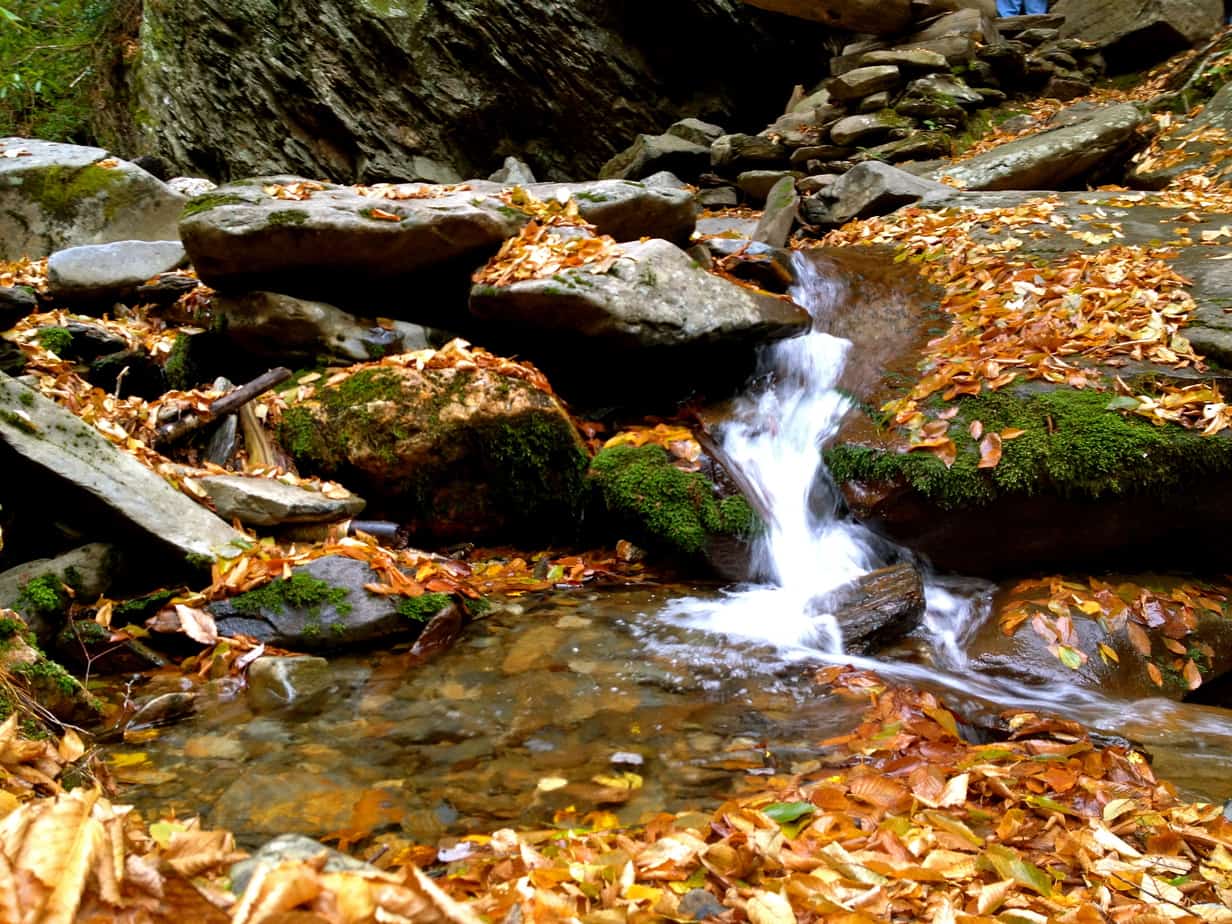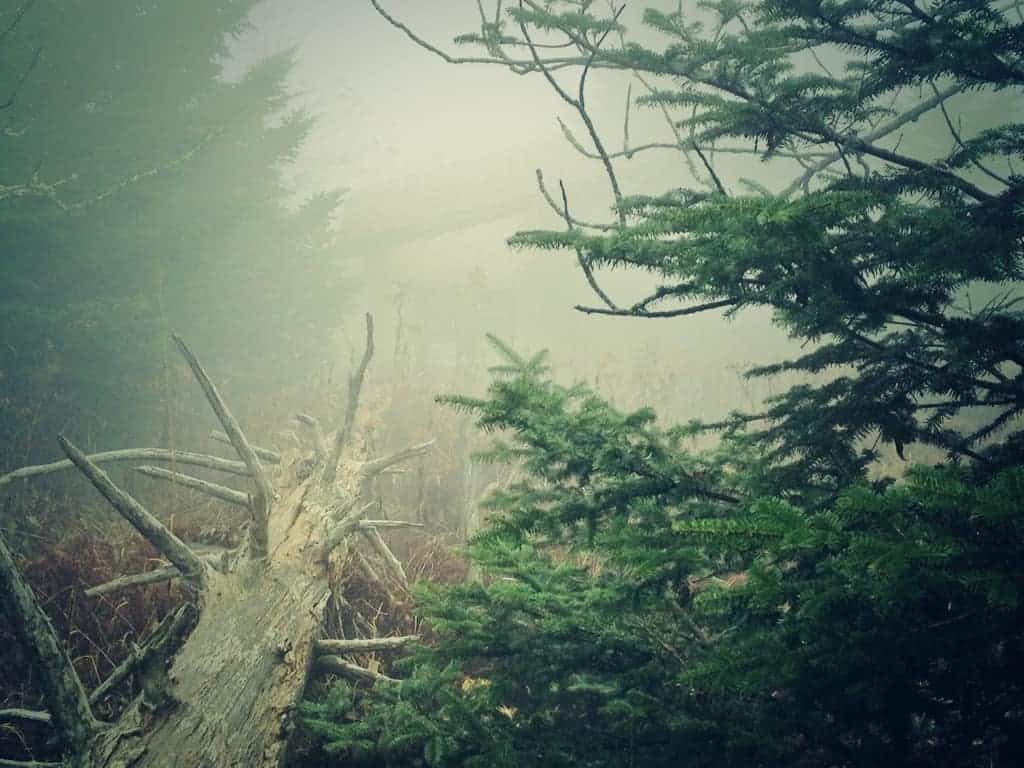 The restaurant was busy for a Sunday night, but not too busy; just the right amount of people there to know the food is good. While I studied the menu, I had such a hard time deciding what to get—after all I love barbecue and pizza the most. I decided I was in a more Italian mood, and my friend was getting barbecue, so I know I could be rude a pick a bit from his plate. Our waiter set us up with two local beers (from Highland Brewery in Asheville) and my rumbling tummy took over.
We started with the fried green beans (I was so tempted by the assortment of roasted olives and my friend wanted onion rings, so I guess fried green beans was a compromise). Fried veggies make me feel healthy while not actually being healthy (duh, it's deep fried). They were super tasty; the green beans retained their vibrant color and healthy crunch after being deep fried, and the batter was flavorful and crisp. There was a lot of crunch, crunch, crunching going on at our table. The cajun ranch dipping sauce was zesty, creamy and spicy and a good compliment to the fresh green beans. We devoured the whole serving.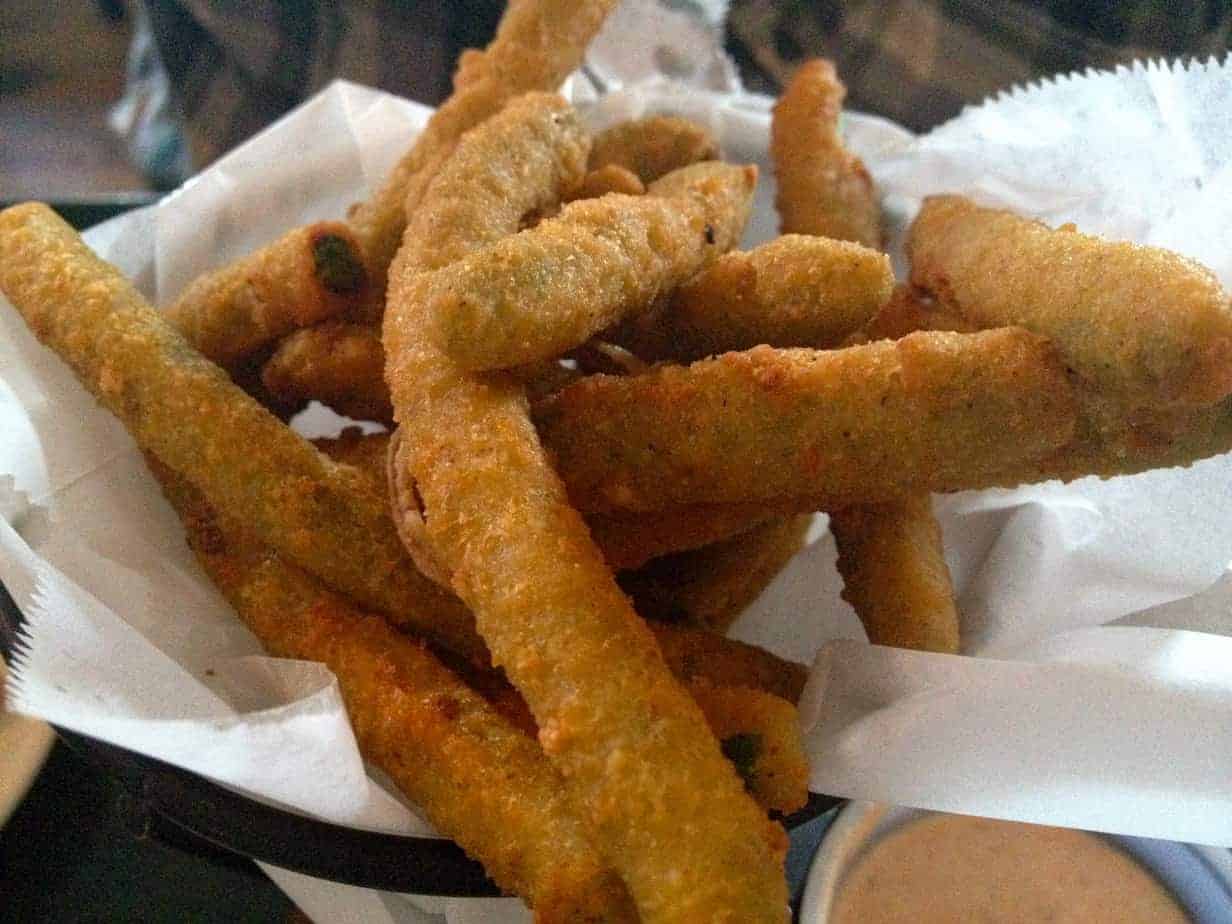 Our waiter explained to us the barbecue/pizza concept—homemade, award winning barbecue recipes plus the desire for a wood fire pizza over, why not? My friend got the barbecue plate (complete with cornbread and collards) and I settled on a meatball sub (toasted to perfection in the wood fired pizza oven) and a side of baked beans (I have this weird thing for baked beans, I love them. And while I was at a barbecue place I thought so hungry, gotta have them).
Our food was tasty. The meatballs were well seasoned and there was a healthy serving on my sandwich (plus they were sliced, so I didn't lose any rolling away), along with some sautéed peppers and onions, which added some good Italian flare. Toasting the sandwich in the wood fire oven was clutch; it was warm and toasty, and the bread added a nice crisp texture. My one complaint was the lack of sauce (the sauce was delicious, but there was far too little of it) and a lack of cheese. Come on, people, more cheese only enhances a dish (not that I'm a culinary expert or anything but cheese is great). I like my meatball subs to be a little drippy and sloppy; there's something about gloppy, melty cheese, dripping out of toasty bread. While this sandwich was messy, it was not to the degree I desired. Nonetheless, it hit the spot.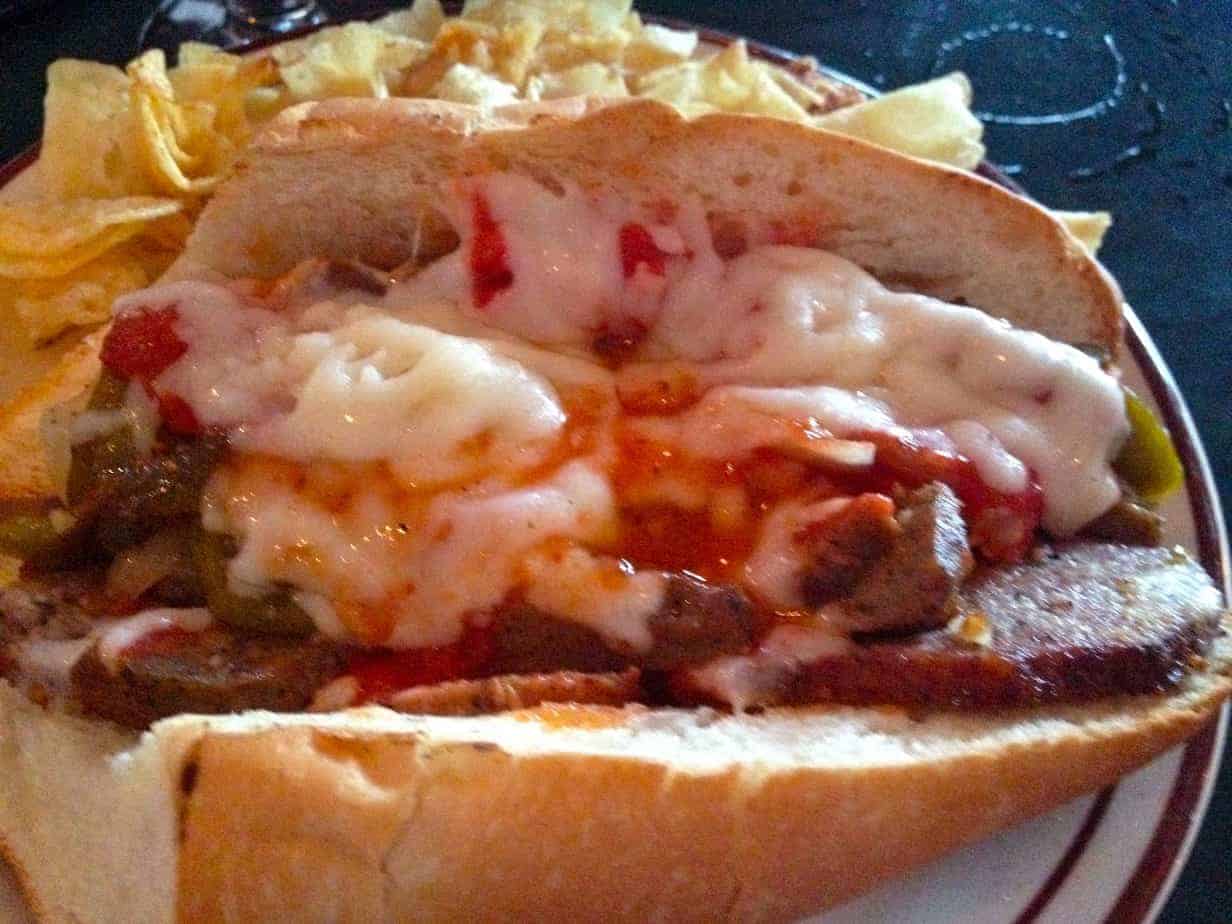 While we were waiting for our food, I read a little bit of history behind the restaurant. The owners embraced Memphis style barbecue, and started competing and winning in barbecue competitions with their signature dry rub. They decided they wanted to open up a barbecue joint, but with a well rounded menu that offered something for everyone, hence the pizza oven. My friend got the barbecue plate, and after a taste I totally understand why it was prize winning. The pork tasted like it had been smoked for eons; it was tender, moist and full of flavor. I got to taste a couple of the different barbecue sauces they offer, and enjoyed the spicy sauce so much I added some to my baked beans. While the barbecue and beans were classic, traditional and delicious, the corn bread was amazing. It was fluffy and light, essentially melt in your mouth,  and was paired with this amazing, creamy, honey pecan butter that I could have eaten with a spoon.
I would recommend stopping in at Flat Rock Wood Room if you're traveling between Charlotte and anywhere to the west (while Asheville is a favorite to almost anyone and has a ton of great restaurant options, why not switch it up and stop in Hendersonville?). There are all kinds of options for everyone (pizza? Got it. Barbecue? Got it. Burgers? Got it); so even with a big group, you should be able to find something you're craving. Plus, the folks are nice and they've won a bunch of awards.  And they like pig butts and they cannot lie; which only speaks the truth.