In mid-November a group of my gal pals took a weekend trip to the mountains (many, many, profuse thanks to Katie Claire and her parentals for letting us stay for the weekend). It was super relaxing–there was a ton movie watching (Love Actually, Now and Then and Save the Last Dance back to back to back=epic), wine drinking, and lots of crazy and cuddly dogs.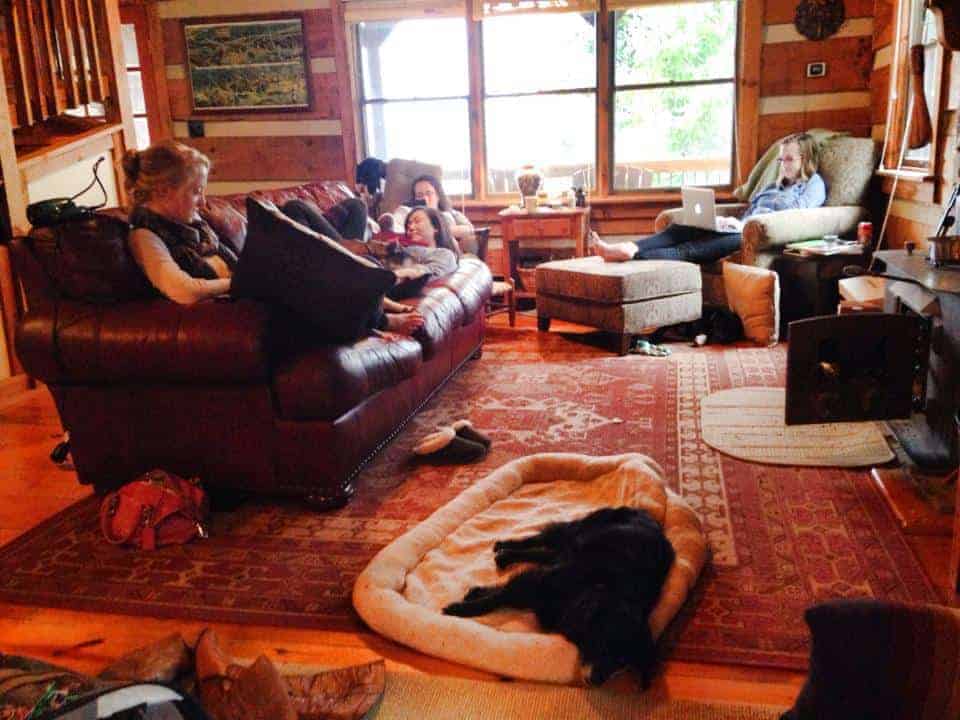 On Saturday, we spent a lazy, overcast day snuggled in front of a fire with afghans, books, bottomless cups of coffee and intermittent conversation. It's great having a day with no agenda, you do what you want when you want to. We had decided that at some point we would venture out to Linville Falls Winery, and Katie Claire suggested we stop at this cheese shop on our way over.
This place is teeny tiny; they make the cheese fresh from the cows that live on the farm. The family is dairy farmers by trade, since 1927 they've been milking Holsteins and Jerseys. After many requests from neighbors and friends for the homemade cheese from the farmhouse kitchen, they opened up the cheese shop in May where they sell the cheese and other local goodies to the public. Way cool.
map & more
score: 8
spending: $
neighborhood: marion, nc
cuisine: cheese
official website
[googlemaps https://maps.google.com/maps?f=q&source=s_q&hl=en&geocode=&q=english+farmstead+cheese+marion+nc&aq=&sll=35.797016,-81.974861&sspn=0.327476,0.578842&ie=UTF8&hq=english+farmstead+cheese&hnear=Marion,+McDowell,+North+Carolina&t=m&ll=35.914079,-81.975174&spn=0.111222,0.136642&z=11&output=embed&w=200&h=200]
The farm store was cute and quaint and the cheese was good (if you need any information about how much I love cheese, please see here and the fact that I lived in Wisco for seven years). Just inside, there was a tasting table set up with a variety of offerings–spreads, cubes, curds, crackers and a bit of sausage as well. After tasting, they have coolers of cheese for you take home your favorites. They also offer gift baskets, a selection of meats, and at the counter had some homemade apple hand pies, which looked amazing (but I exercised my self control). It was fun chatting with the ladies behind the counter, and tasting all of the fresh homemade cheese.
I took advantage of the free samples and tasted all the fresh, homemade cheese they had to offer. English Farmstead Cheese produces small-batch cheeses using a portion of milk from the farm's Holstein cows that is brought directly from the milking barn to the cheese making room. So we're talking super local, super fresh. Here's a taste of what I got to indulge in–
Buttercup, which was a soft cheese (but still in a block form so definitely sliceable) that had a smooth, mild taste, with a little bit of salty/tangy at the end. The ladies told us it was great at melting, so I envisioned using it in grilled cheese and a top a freshly grilled burger (maybe blending it into some mac and cheese?). The taste is not overpowering, so it would be the perfect pairing for any dishes with bolder flavors.
I tasted three of English Farmstead Cheese's spreads–the cucumber dill, roasted garlic and pineapple almond. All three were extremely creamy and smooth, and spread across crackers like butta. And each spread was unique, distinct and jam packed full of flavor. The cucumber dill was cool and refreshing, the cucumber flavor was fresh and the dill added an aromatic kick. The cheese was mild so it really let the power players, the flavors shine through.
Similarly, the cheese was the flavor vehicle the roasted garlic spread and the garlic was the star of the show. This spread was my favorite; the roasted garlic was a comforting, savory, a bit sweet and still quite pungent. I made sure not to breath on anyone too offensively after downing my fair share of garlicky cheese. The third spread we tasted was a dessert spread–the pineapple almond spread. This one also had tons of flavor (seeing a trend yet?) but was interesting to me because it was a sweet cheese and I've never had a sweet, dessert type cheese before. It had a whipped texture, almost like frosting (my friend Jessica said it reminded her of an icing her mother makes). But it was cheese. I loved the sweetness accompanied by and underlying savory cheese taste. I don't think it would be something I would buy a whole container of and snack on, but I love trying new things and it was a nice treat spread across a graham cracker.
English Farmstead Cheese offers a variety of other flavors that I'm super sad I missed out on–bacon ranch, jalapeno, key lime, pimento cheese, and sundried tomato. I think bacon ranch and key lime are the most enticing and must tries. Next time fo sho.
I also got to taste English Farmstead Cheese's Ashford aged cheddar. After living in Wisconsin for seven years (and many, many visits up nort growing up) I love good cheddar cheese the most. English Farmstead's  was flavorful but was not the stankiest I've ever tasted, in fact it's quite mild compared to sharper cheeses that have aged for much longer. We learned that English Farmstead's is actually quite mild, after only aging for 60 days or so. They are hoping to produce sharper cheddars, but pungent flavor just takes time.
After snacking on free cheese and crackers, we poked around and bit and then bought a small selection of cheese to snack on at home and pair with delicious wine and chick flicks! If you're in the area, you should stop by, meet the cheese producers (the cows are on the farm next to the farm store), taste the cheese, and support local farmers. You can also find the cheese in some local places around Linville Falls, Marion and Black Mountain, NC (get a cheese plate at the Linville Falls Winery!), but the cheese shop is definitely worth the stop.
PS–The roasted garlic spread was a great addition to my bacon breakfast sandwich on Sunday morning and it spread like butter across warm toast. Nom.