Elwoods is the the barbecue mecca of Ballantyne. And I only got lost twice on the way…my Google Maps thinks Ballantyne is some sort of magical place where U-Turns don't exist.



map & more


score: 7.5
price range: $$
neighborhood: ballantyne
cuisine: barbecue, burgers
official website
Elwoods has been around since 2009, but was purchased just under a year ago by brothers Dan (a Charlotte restaurant industry veteran) and Jeremy (a man with a passion for barbecue). Along with Chef Mike Theimer, Dan and Jeremy have put a creative spin on the standard barbecue, burger and craft beer joint by emphasizing what's important: quality, fresh and local ingredients. At Elwoods, they are smoking their meats daily (15 hours for the brisket in house), grinding their burgers in house, sourcing local and flavorful ingredients and make everything fresh, from scratch (there's a huge emphasis at the restaurant for fresh, not frozen. Our waitress Milissa told us they don't even have a freezer on the property…how's that for fresh?!).
Besides the food, Elwoods offers a variety of craft beers on tap (with an emphasis on Charlotte and North Carolina brews), as well as and extensive bourbon list, bourbon tasting flights and creative cocktails.  My new favorite has to be the Elle Woods Lemonade–fresh berries, Stoli razberi and house lemonade. Give me a good Legally Blonde pun anytime and you have my heart.
Elwoods gets it's mecca status because it offers 'cue for every single kind of 'cue lover. Of course, they have North Carolina pulled pork, that's a given for any barbecue restaurant in North Carolina. But they also have burnt ends from Kansas City, Texas style smoked brisket (with a North Carolina twist of course), St. Louis ribs, smoked chicken and even a Blues Brothers' special– four fried chickens, white toast and a coke–super tempting but maybe next time? Of course, they offer a sampler platter if you're in the mood to try a little of everything. A barbecue melting pot if you will, with similar offerings as my other fave 'cue spot in Charlotte, Midwood Smokehouse. Milissa sung the praises of the burnt ends, so clearly that's what we ordered (though next time, I'm probably going to go for the sampler, so I can try the rest of the barbecue, my stomach is only so big!). Burnt ends are a traditional dish in Kansas City barbecue–they are taken from the point of a smoked brisket then smoked a little bit longer in their own juices to make them super tender. Elwoods version is delicious. They are melt in your mouth and super flavorful, so much so that AJ preferred them without barbecue sauce. While they were super tasty and tender naked, I am of the firm belief that barbecue sauce never hurt anyone, so I slathered some on my burnt ends for good measure.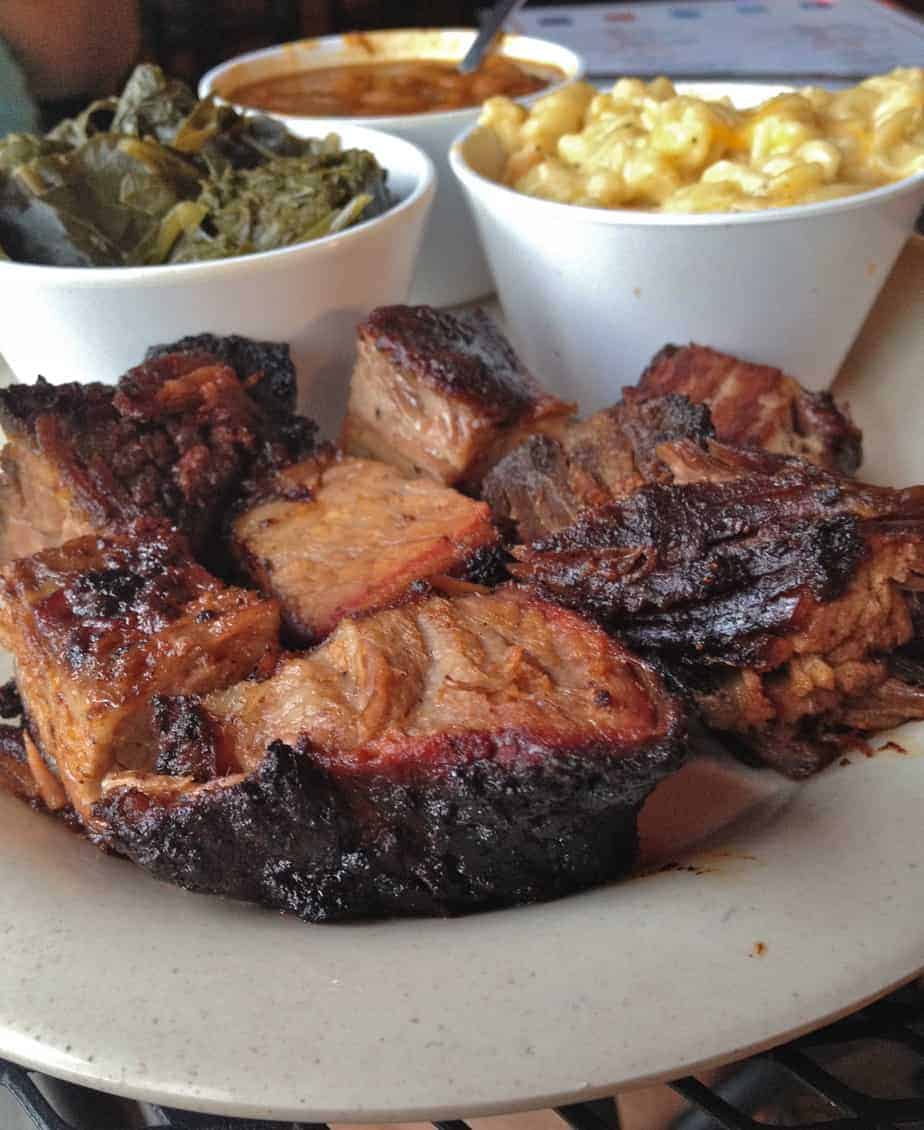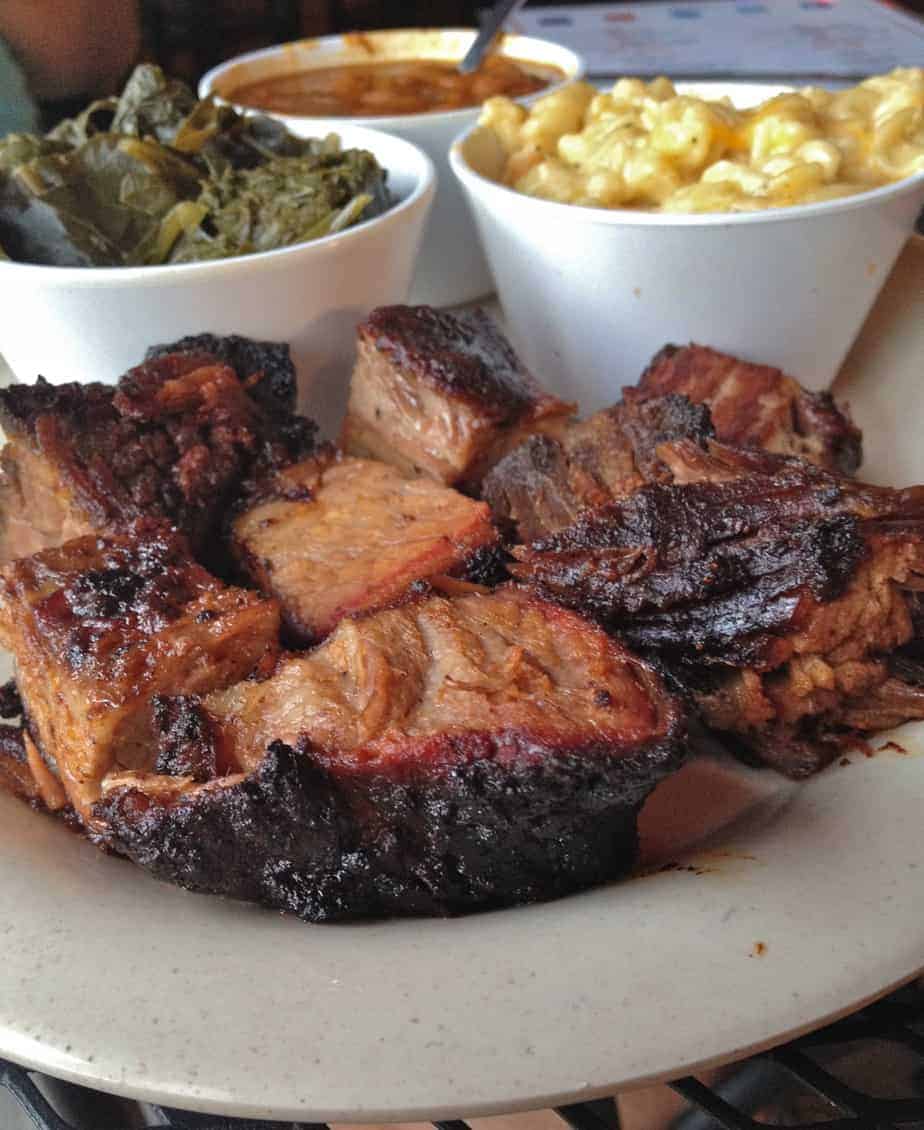 Besides serving up all sorts of barbecue, Elwoods prides themselves on their angus chuck, ground in house burgers (clearly, otherwise burger wouldn't be in their name). I couldn't go to dinner at a burger place without trying a burger, so we settled on their namesake, The Elwood. Now, this is not a burger for burger rookies or vegetarians. The Elwood is cooked to temperature, topped with smoked brisket, bacon, onion rings, tomato and pimento cheese. All I have to say is that a picture's worth a thousand words (if you're not following, it was super tasty–the onion ring gave a little crunch, the pimento cheese was gooey and the meat was cooked just how I wanted. Plus, bacon makes everything better).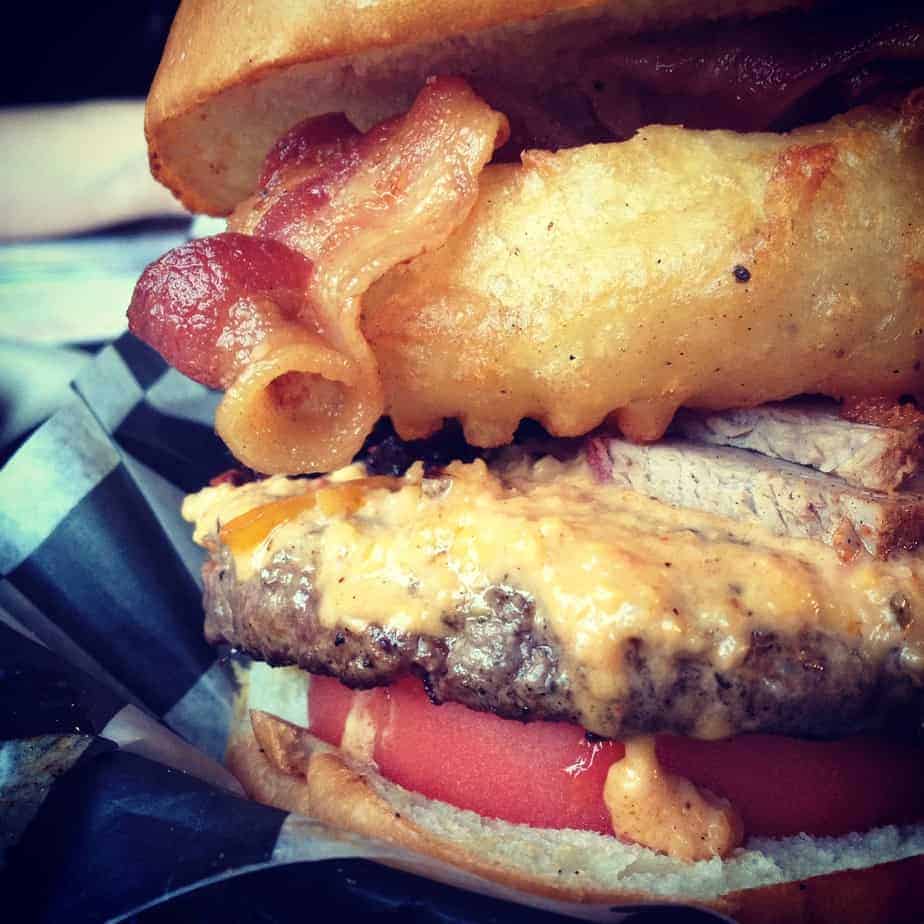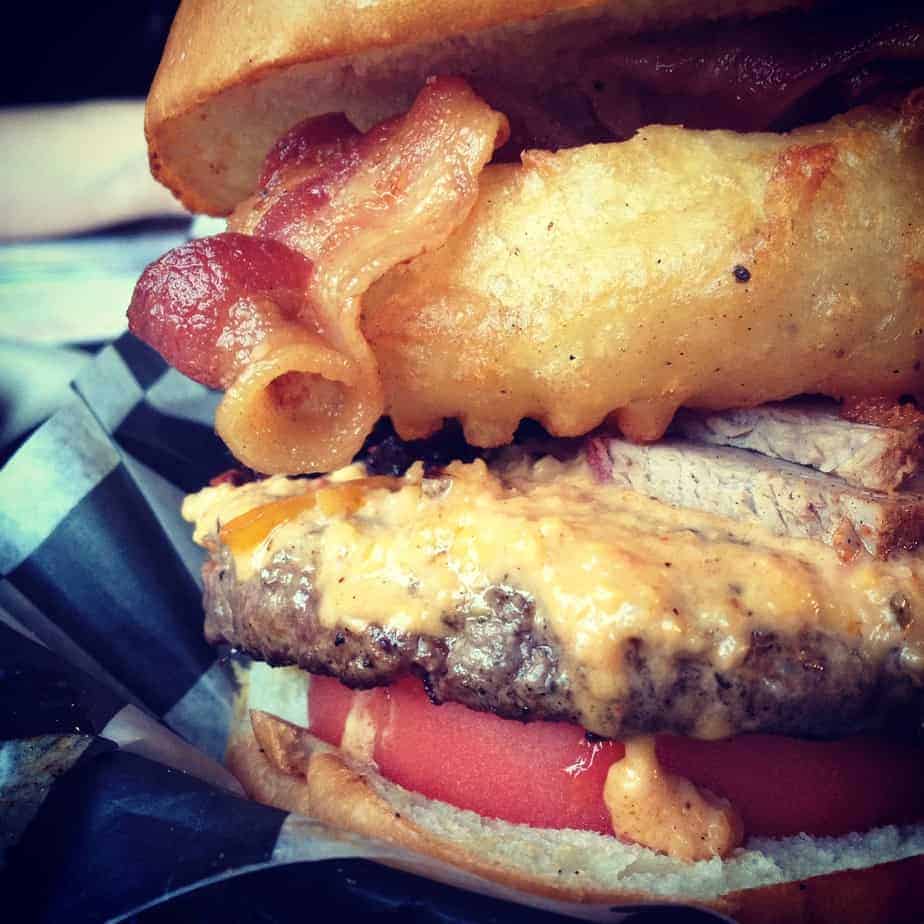 If you're not into meat, on meat, on meat, Elwoods offers a variety of other speciality burgers, a build your own option, a veggie burger, chicken sandwiches and even tacos.
Not in the mood for barbecue or burgers? That's ok, because Elwoods also serves up tasty appetizers, including several southern spins on true classics–like Collards & Artichoke Dip, Roasted Red Pepper Pimento Dip, Buttermilk Fried Pickles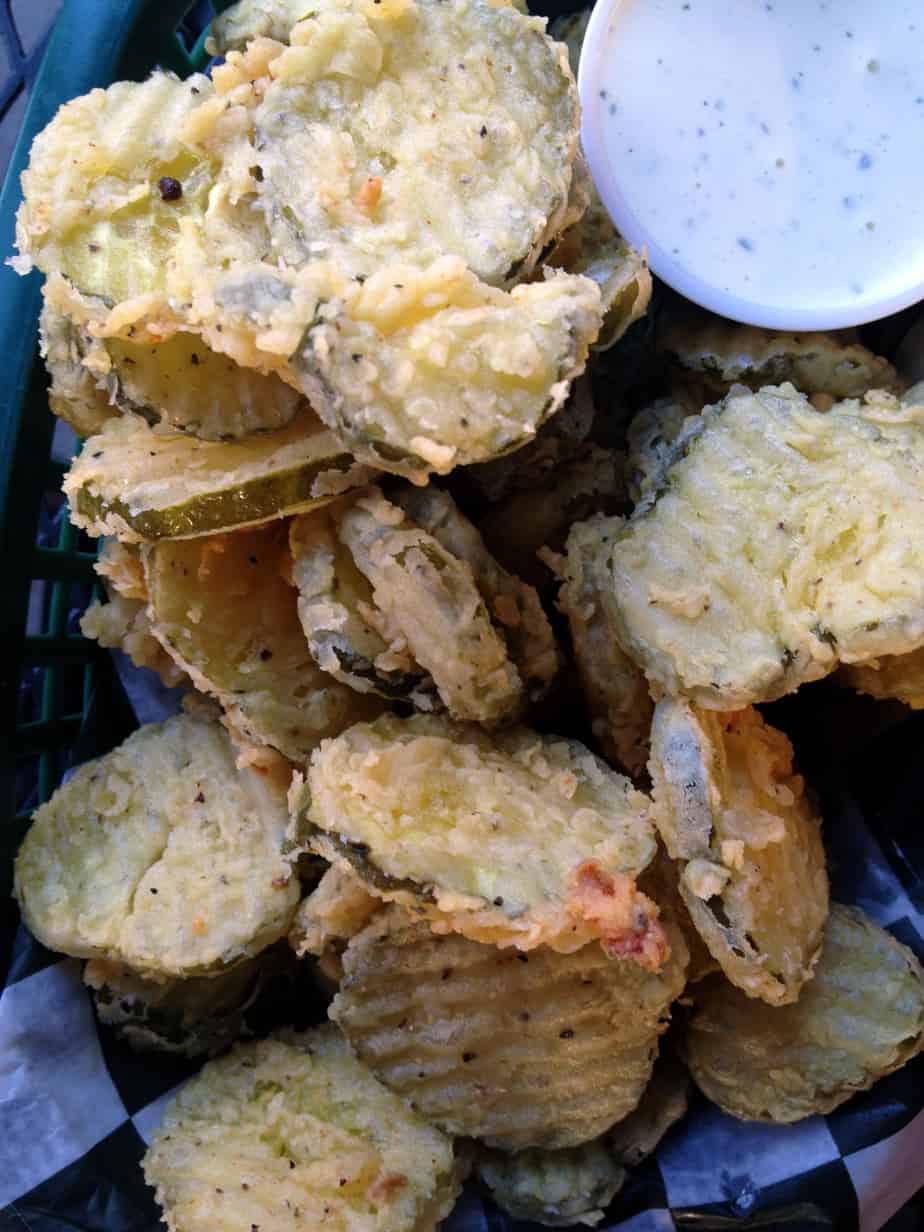 and hush puppies. Don't forget the wings (smoked of course) or the chili cheese fries.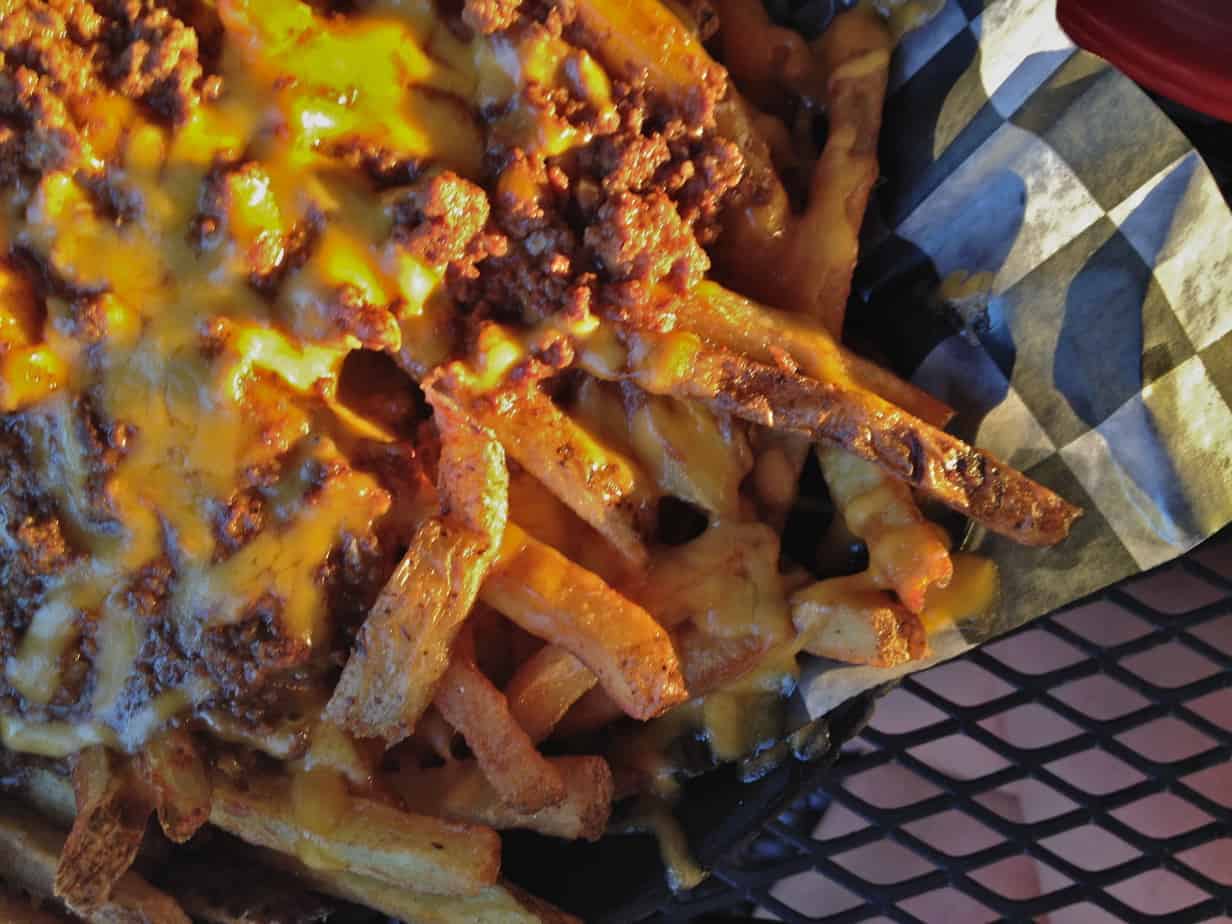 And if you're still hungry at the end of all of this, order dessert. My favorite was Rhonda's banana pudding (made by mom of course!) and we also indulged in a deep fried Snickers with vanilla ice cream.
The feast at Elwoods was divine and delicious. If you're looking for good barbecue (and burgers and a whole lot of other stuff) in Ballantyne, look no further than Elwoods. If you're not in Ballantyne, you should still go to Elwoods, it's worth the trip.
*My barbecue and other treats were complimentary, thank you Dan and Jeremy!  No one asked me to write anything in return.