My blogging habits are currently being fueled by red wine and sporting events. Much like the Winter Olympics, March Madness has provided me ample opportunity to sit on my couch, drink, and pretend that I am a college basketball fan. (I do have to say these games are exciting, but are they more exciting than Tessa Virtue and Scott Moir ice dancing to Moulin Rouge? It's a tough call.)
So before I jump on the Loyola Chicago bandwagon (too late, I already have, I love Sister Jean), and since I crossed a good number of things of my 2018 foodie bucket list in February, I thought I'd pop in to talk to you about the delicious things I've been eating recently.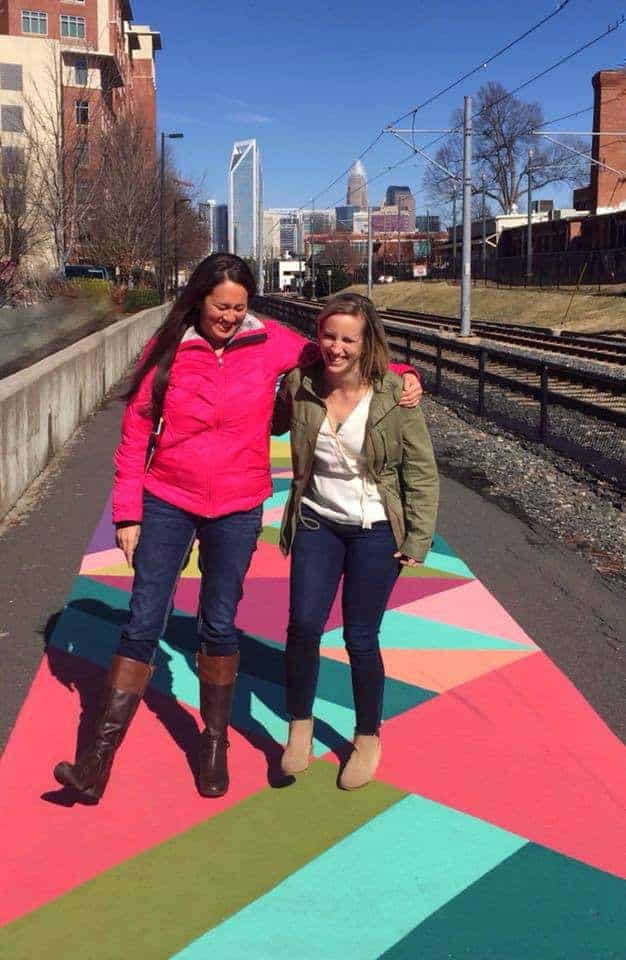 Not food but equally as fun, my friend Tina and her boyfriend Dan escaped Minneapolis during the Super Bowl and came to visit. We went to Queen City Brewers Festival (one of my faves) and ate a lot.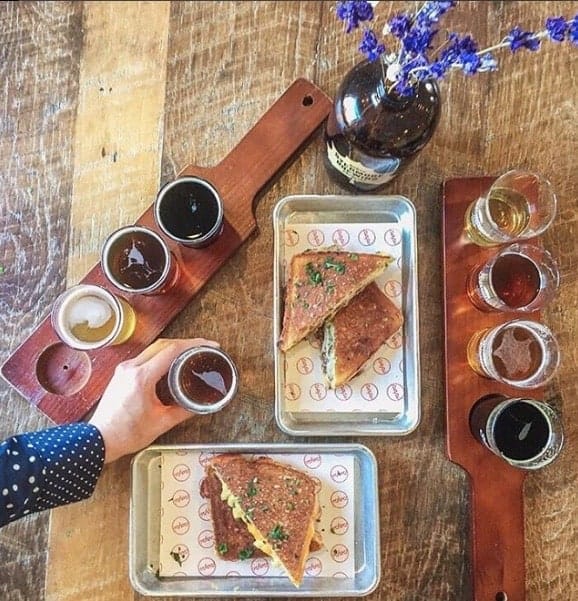 I took Tina and Dan to Sycamore on Friday for lunch, because it turns out that Sycamore is one of the only Charlotte breweries open at noon on a Friday. Who knew? I guess I'm always at work. Also I'm a big fan that Papi Queso has a pop up kitchen there.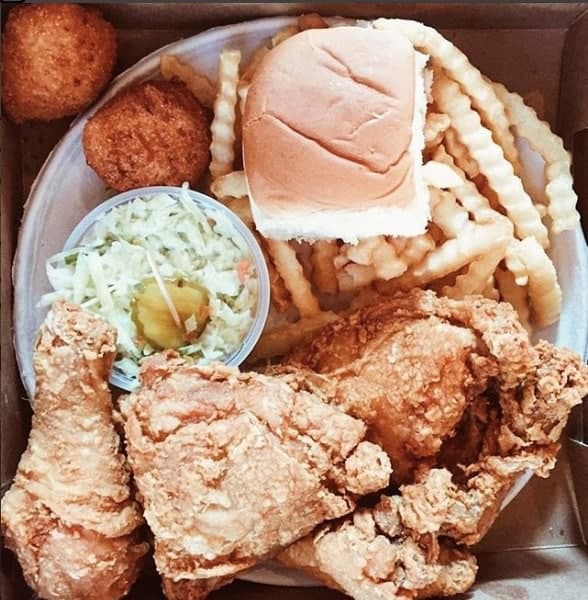 Then we walked up the Rail Trail to Craft and Wooden Robot, and had second lunch at Price's Chicken Coop, of course.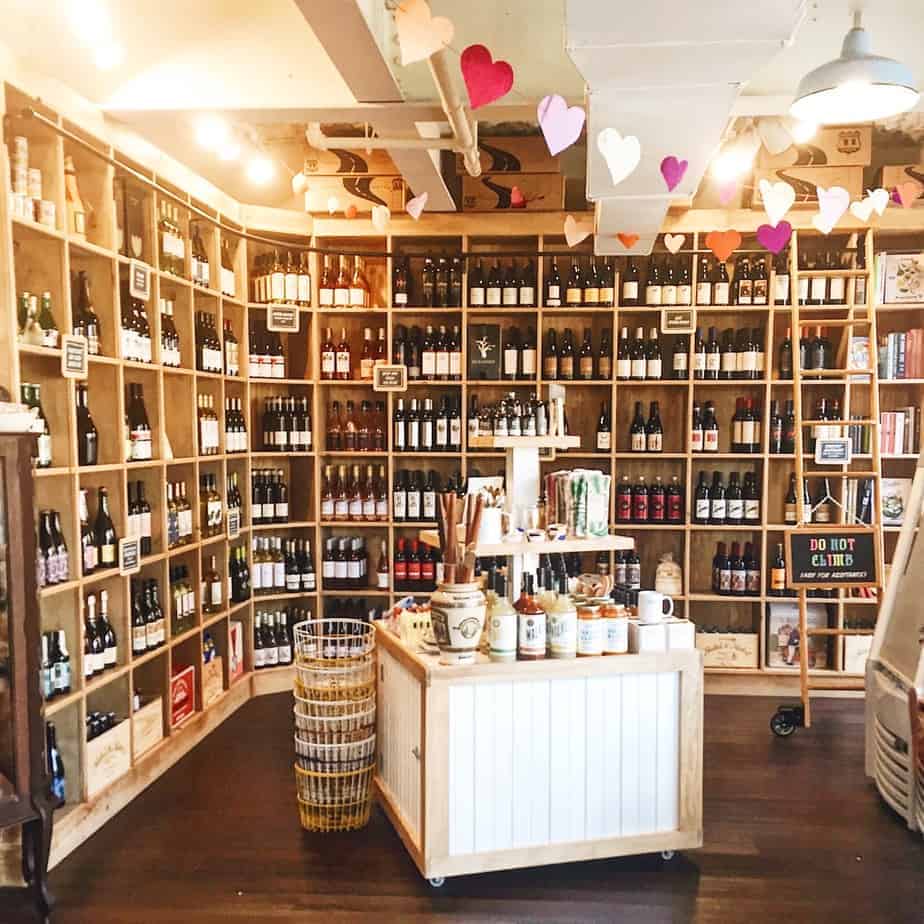 My birthday was that Monday so we grabbed lunch at Lincoln's Haberdashery. I've been like five times since then. This is not sponsored, I am just obsessed (my faves are The 13th and the Fortuna). Their bread is incredible.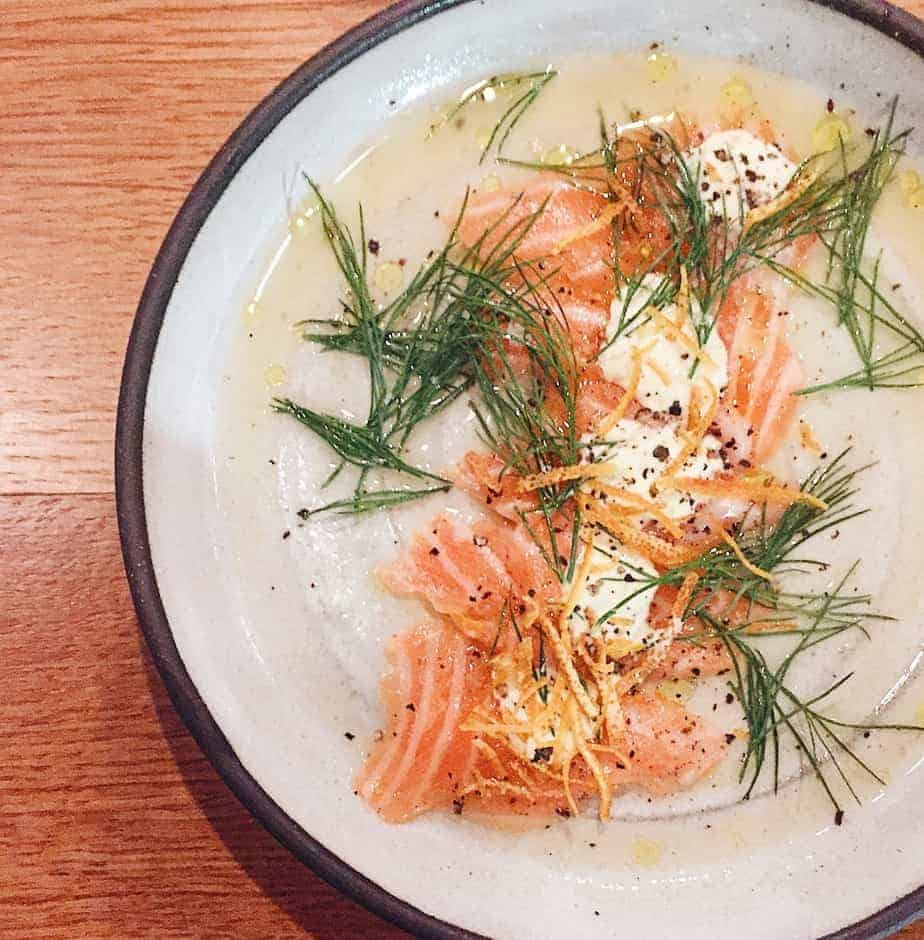 AJ and I stopped giving each other birthday gifts a while ago, and instead treat each other to birthday experiences, which means he usually opts for camping and nature adn I usually opt for food. We did post birthday date night at the coolest shopping center in the Queen City with dinner at Flourshop and drinks at Dot Dot Dot. We sat at the bar at both places and loved every minute of watching the kitchen and bartenders work (the expediter at Flourshop is a badass lady).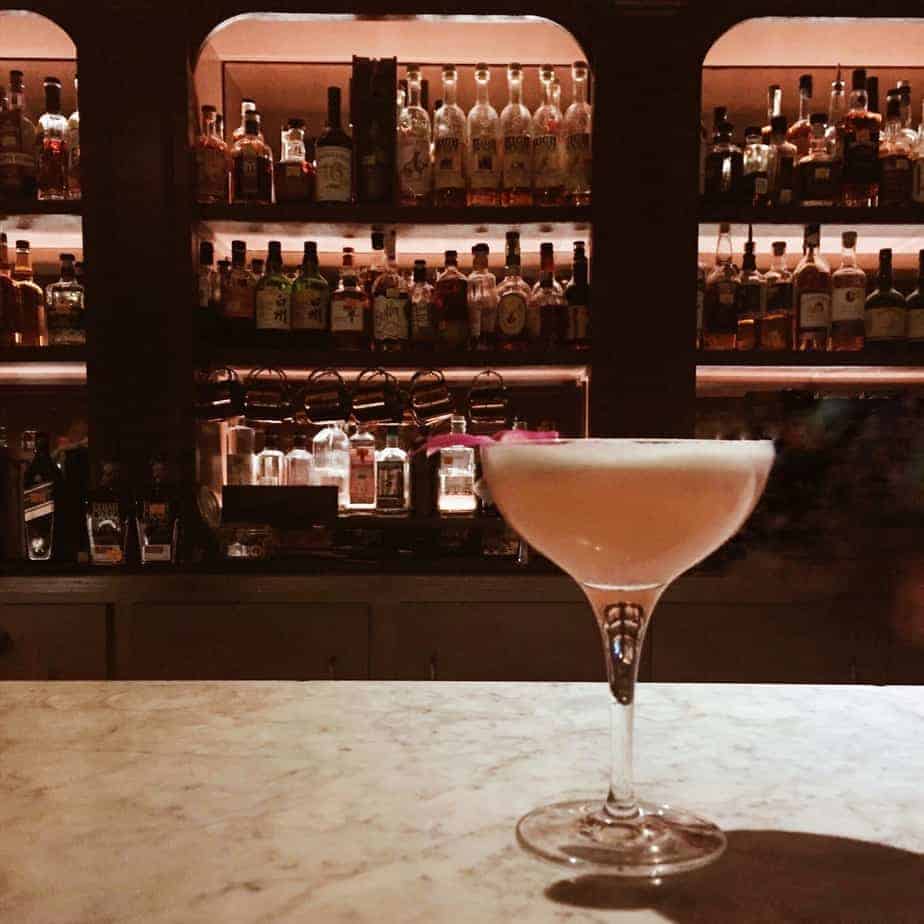 I was invited to a blogging dinner at Kid Cashew (my first time visiting!) where we indulged in all sorts of good food (my faves were the hummus, roasted chicken and mac n cheese). And what is a dinner with fellow foodies without at least one ice cream sundae ending up on the floor of the bar for photos? (Thank you to Kid Cashew for feeding us for free, as always, all opinions are my own).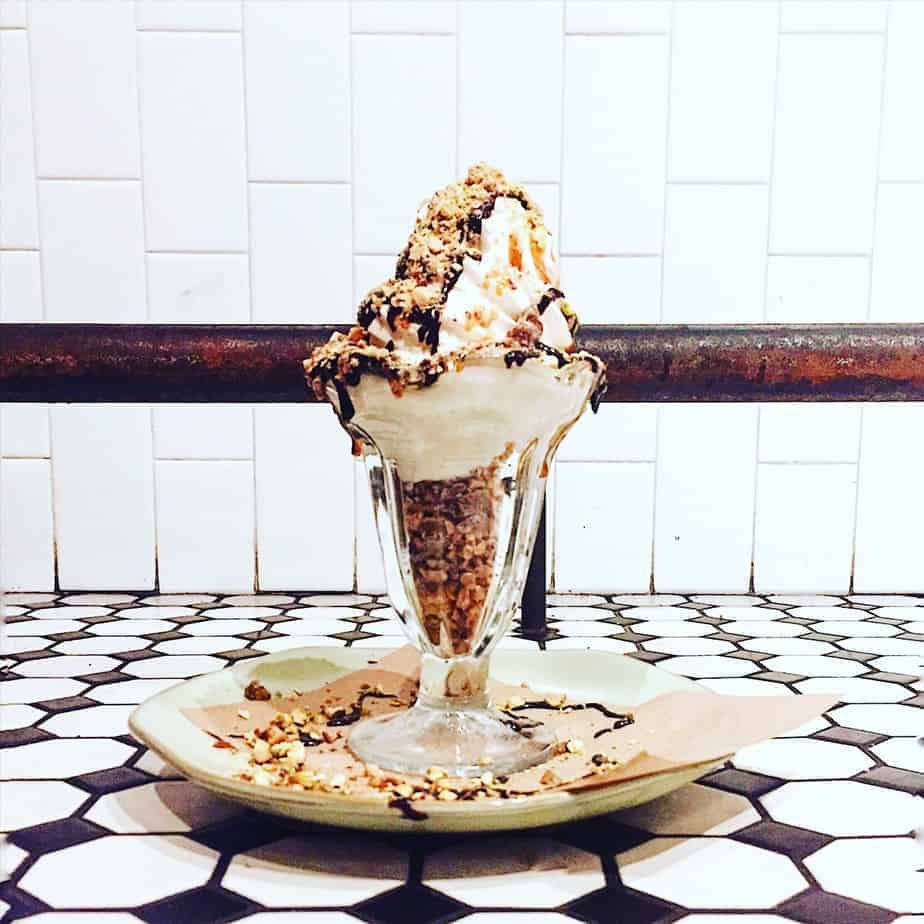 AJ and I did a little Sunday funday up North, starting with lunch at Barcelona Burger in Mooresville (we were invited to visit Barcelona Burger and our lunch was provided to us for free, but as always, all opinions are my own). I had been hearing rave reviews about the burgers for month, and the food is definitely worthy of all the raving. I love the casual, order at the counter atmosphere, and the burgers were really, really good.  My favorite was the Barcelona Classic (American cheese, lettuce, pickle, tomato, onion, house sauce) and AJ's was the Madrid (American cheese, caramelized onion, roasted tomato, spicy pepper sauce).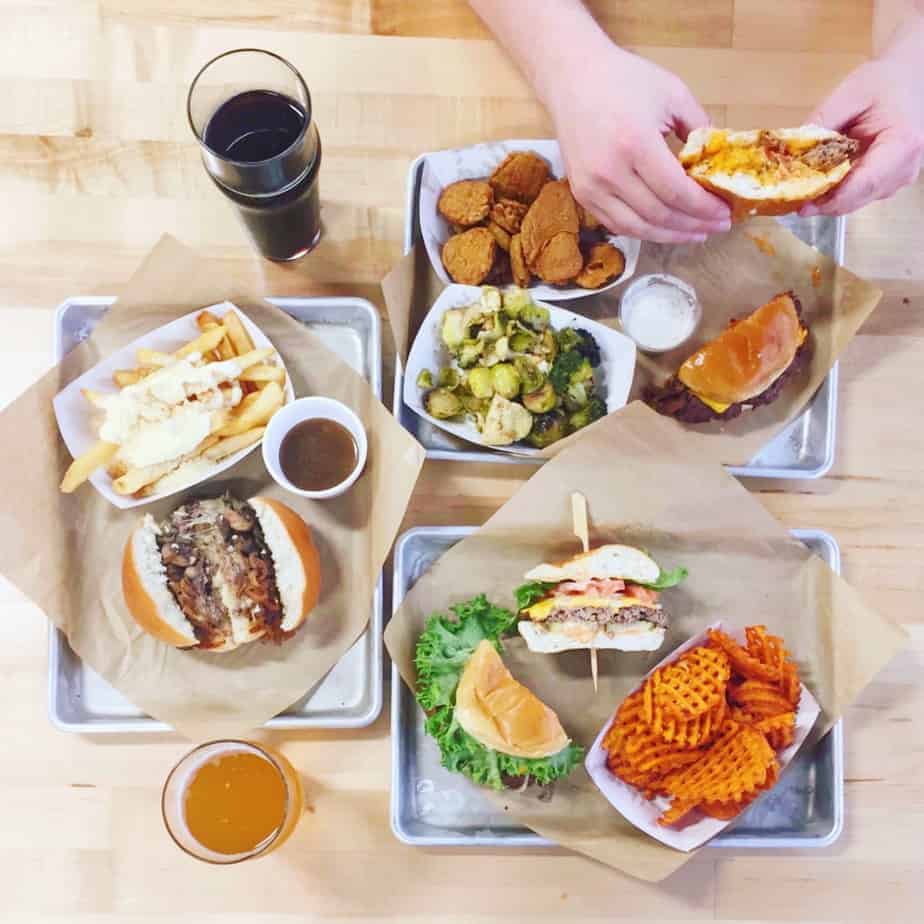 And when near Davidson, you gotta stop for custard at Whit's because custard, duh.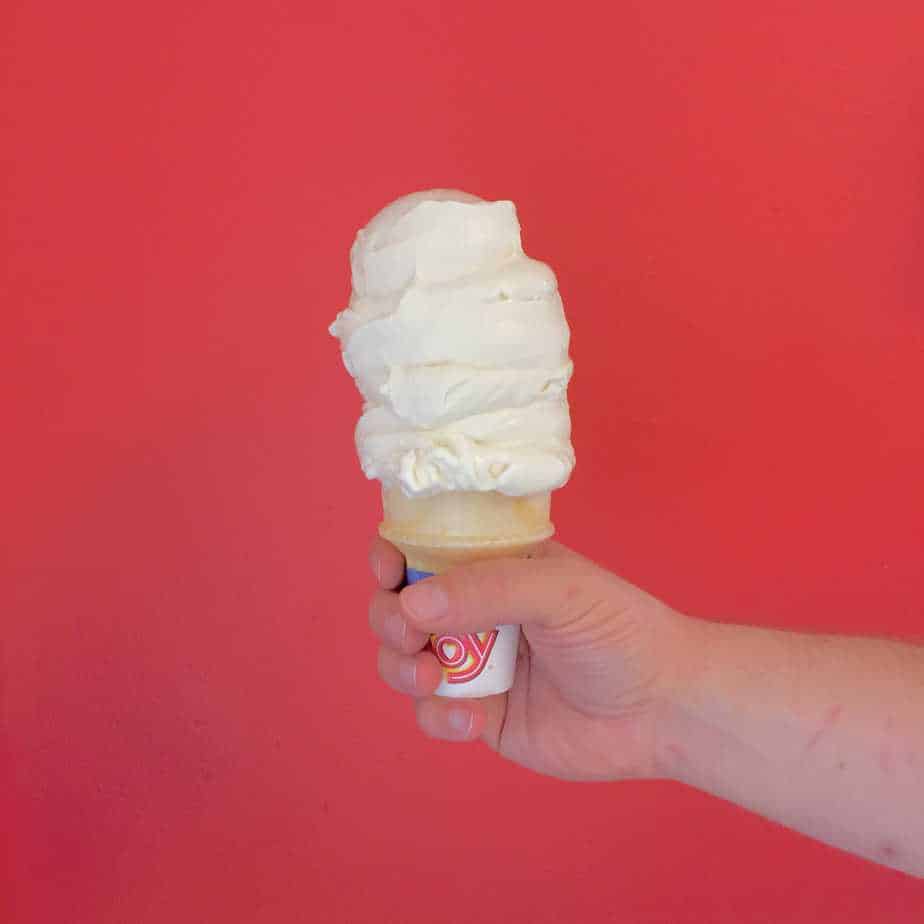 In honor of Valentine's Day, we had our Charlotte Food Bloggers' monthly eat up at Birdsong Brewing combining two of my favorite things at a beer and dessert pairing.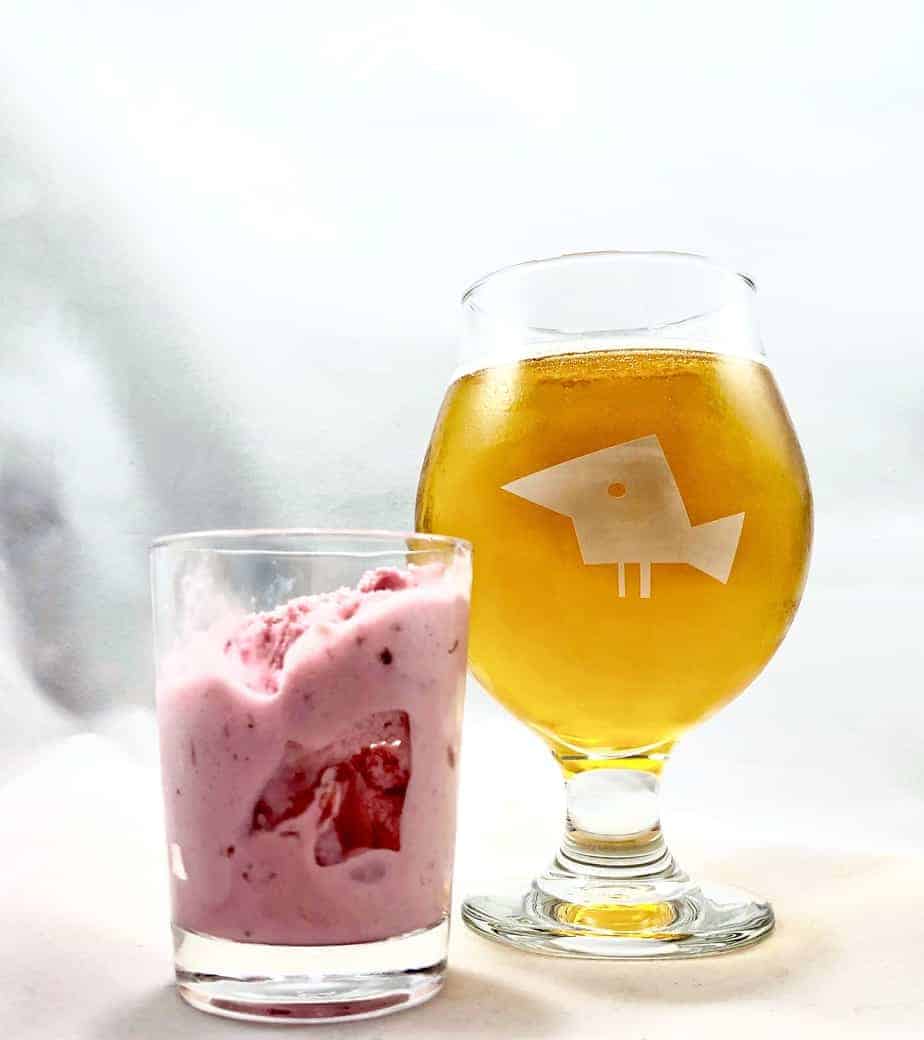 My in laws came to visit for a long weekend so we spent a Saturday afternoon with them exploring Belmont and finally made it to The Jailhouse after talking about going for months. We ended up staying for like three drinks and I can't wait to go back. (we also went to Riverman Brewing and Glenway Pub for dinner, and we liked them too!)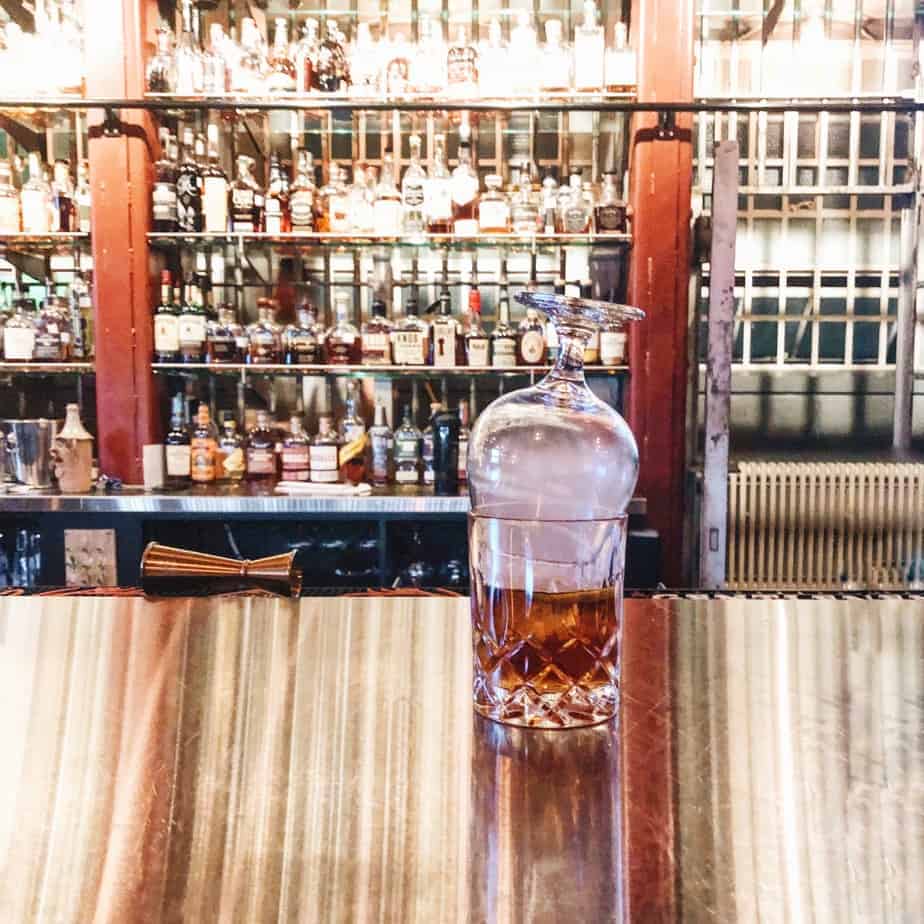 And Haberdish is now our go to place to take out of town guests, so we enjoyed a sunny Sunday afternoon with flights on Catawba Brewing's patio and then had an early bird dinner with chicken and all the fixins' at Haberdish. We knew my FIL would love the chicken and we impressed my MIL with flower ice. AJ is still obsessed with Haberdish's deviled eggs. Also I am so pro early bird dinner because natural light!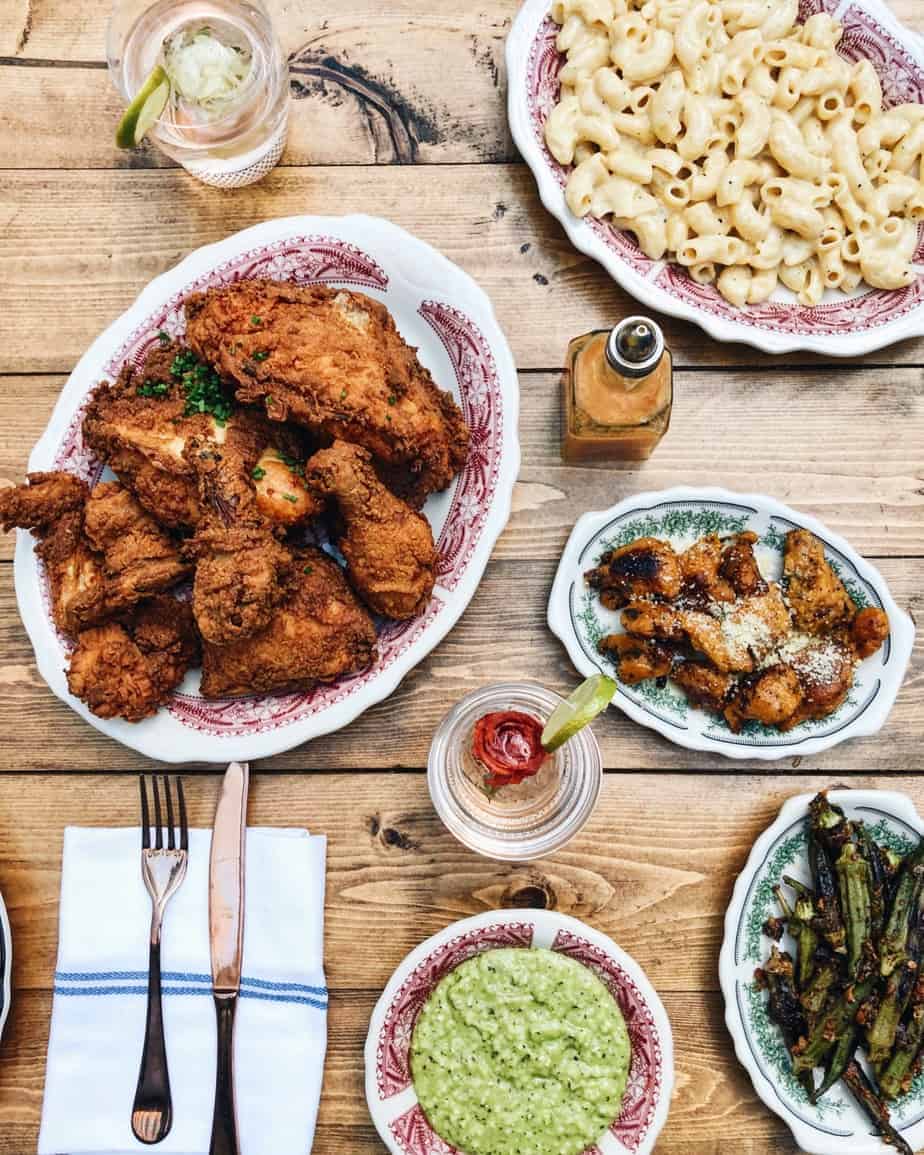 If you want to impress a room full of Charlotte bloggers, enter with a platter of golden cake pops shaped like crowns…they're a show stopper! (Thank you to the Ritz Carlton Charlotte and The Punch Room for inviting me to the debut of your new food menu! As always, like a broken record so the FTC doesn't come after me).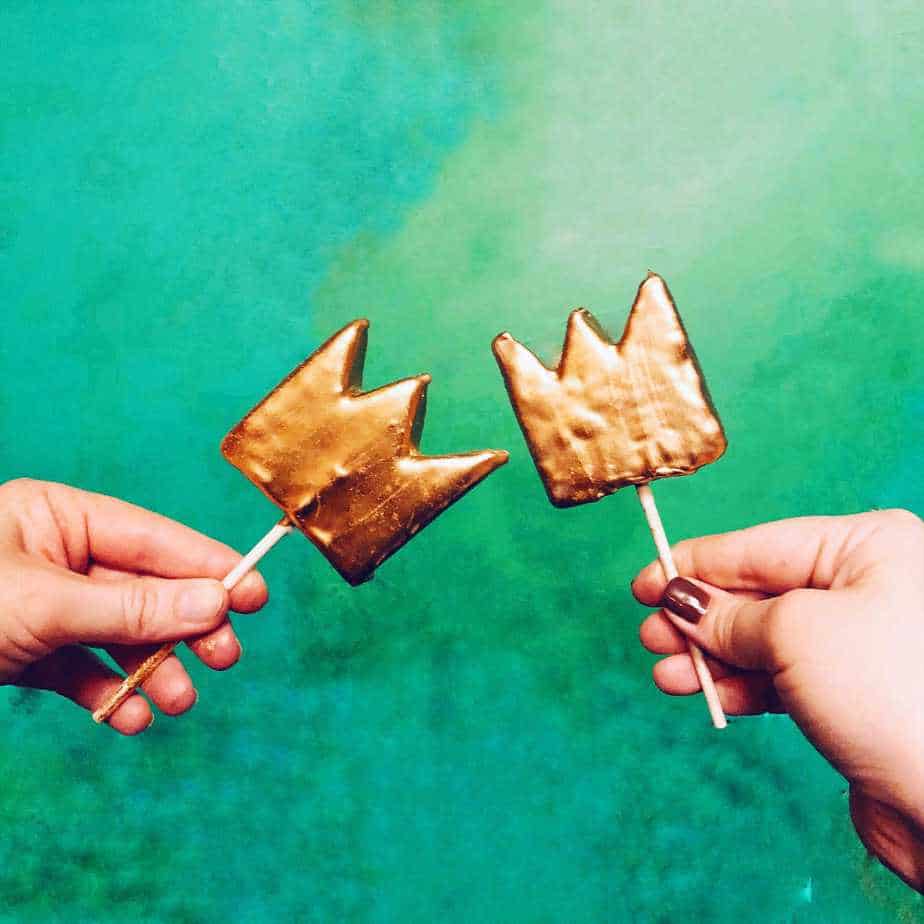 Another foodie highlight of February was the three days I spent in Hendersonville previewing menus for their inaugural restaurant week (I liked it so much I wrote like 3000 words about it). If you've been going to the mountains but ignoring Hendersonville (like admittedly I have been doing) change your game plan it's worth the stop.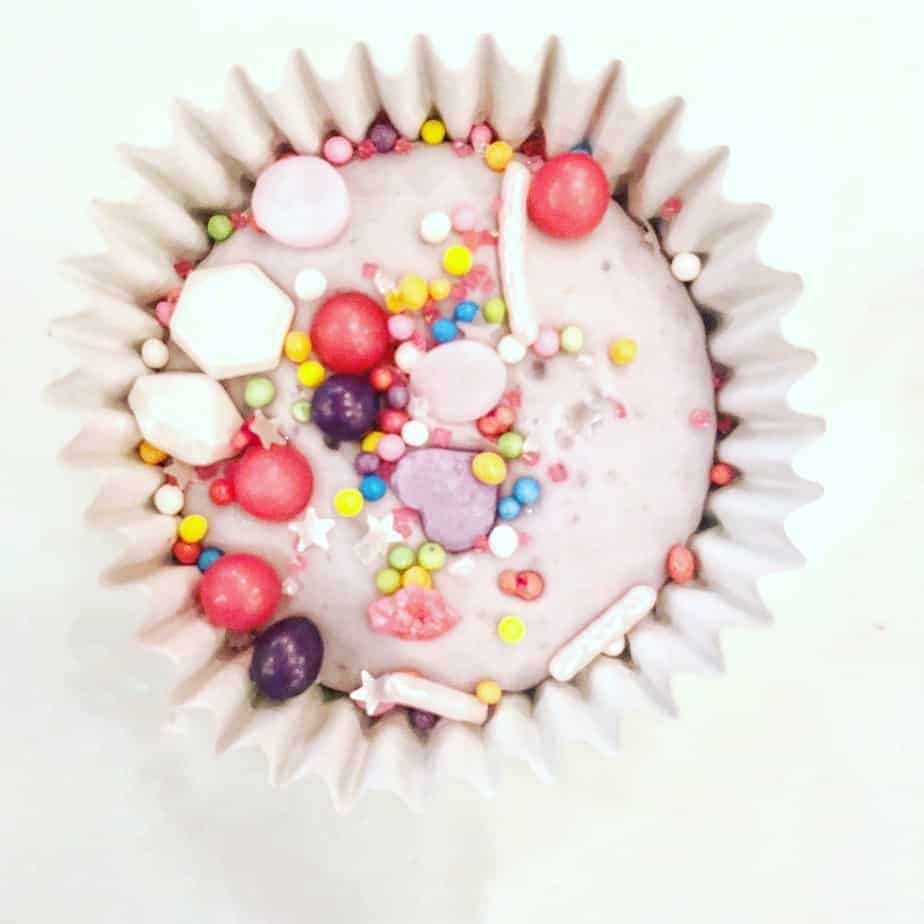 One of our favorite Saturday activities is the dog park followed by sammies in Pineville. (But sadly, a week after I took this pic, Corner Grind closed. Rumor is the owner of Sunflour has signed a lease for the space so maybe our new routine will be dog park and cheddar biscuits?)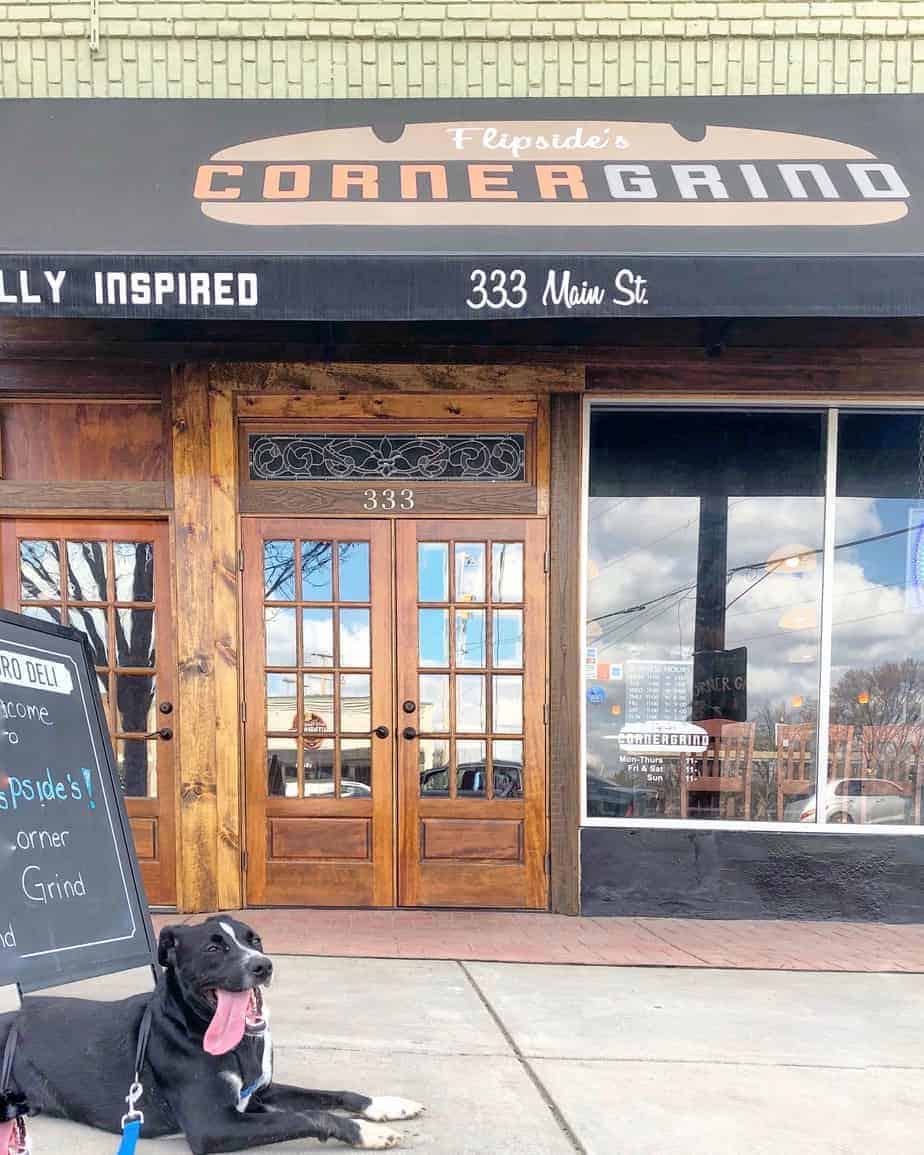 And we did fancy Uptown date night (so fancy, AJ went to a real barber to trim his beard) with cocktails at Merchant and Trade and dinner at Angeline's. We had the best time (and I'm not just saying that because they treated us, but as always, all opinions are my own). Merchant and Trade's space is way cool, and their views are way cool, and the vibe is way cool, and dinner at Angeline's was delicious (we ordered the whole branzino and finished every last bite). And omg, their foccacia and olive oil is life changing. And we finished with dessert donuts and y'all know how much I love dessert donuts.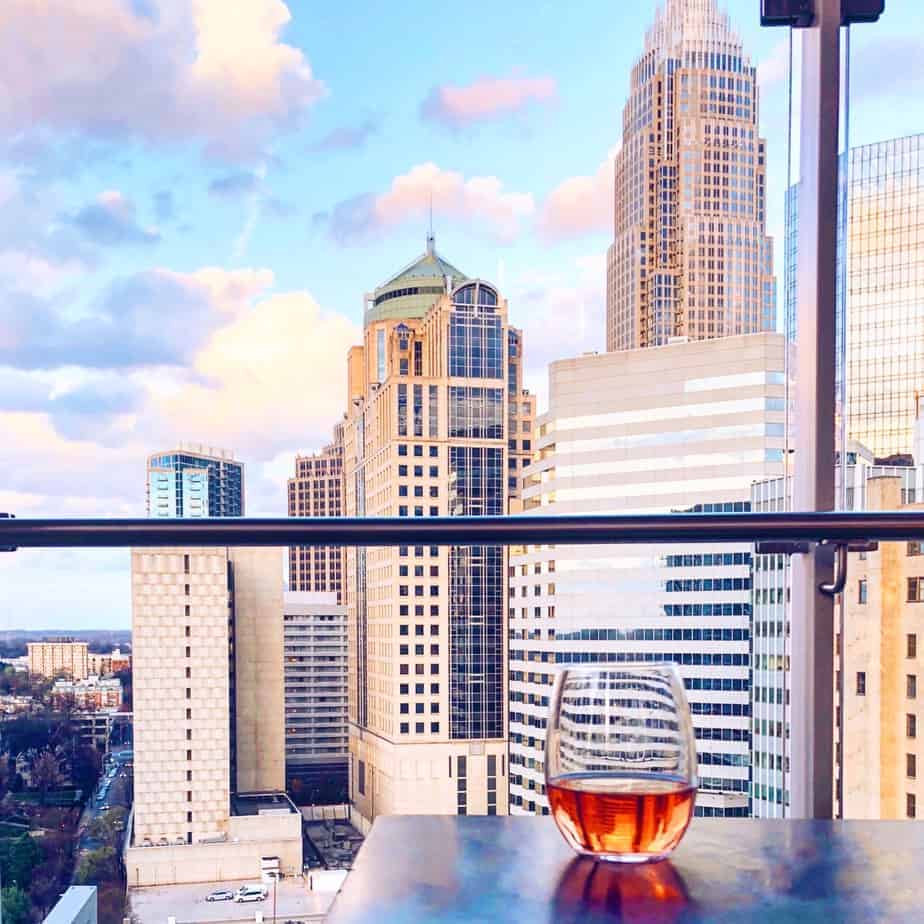 I ended a month of really good eating with pizza, of course. On the recommendation of my friends Yvonne and Jason (who say that this is in the running for the best pizza in Charlotte) I went to Desano and got a pizza carnivale style for lunch. Sign me up for any crust stuffed with ricotta thank you.