So the last time I did a Delicious Things round up post, I finally was all caught up from Spring and early Summer.
Shockingly (not really), I got behind again.
Post Iceland, we laid low the rest of summer before a week and a half trip to Michigan in early September for my SIL's wedding and camping trip in the UP and Western Michigan.
(The UP is the Upper Peninsula of Michigan if you didn't know).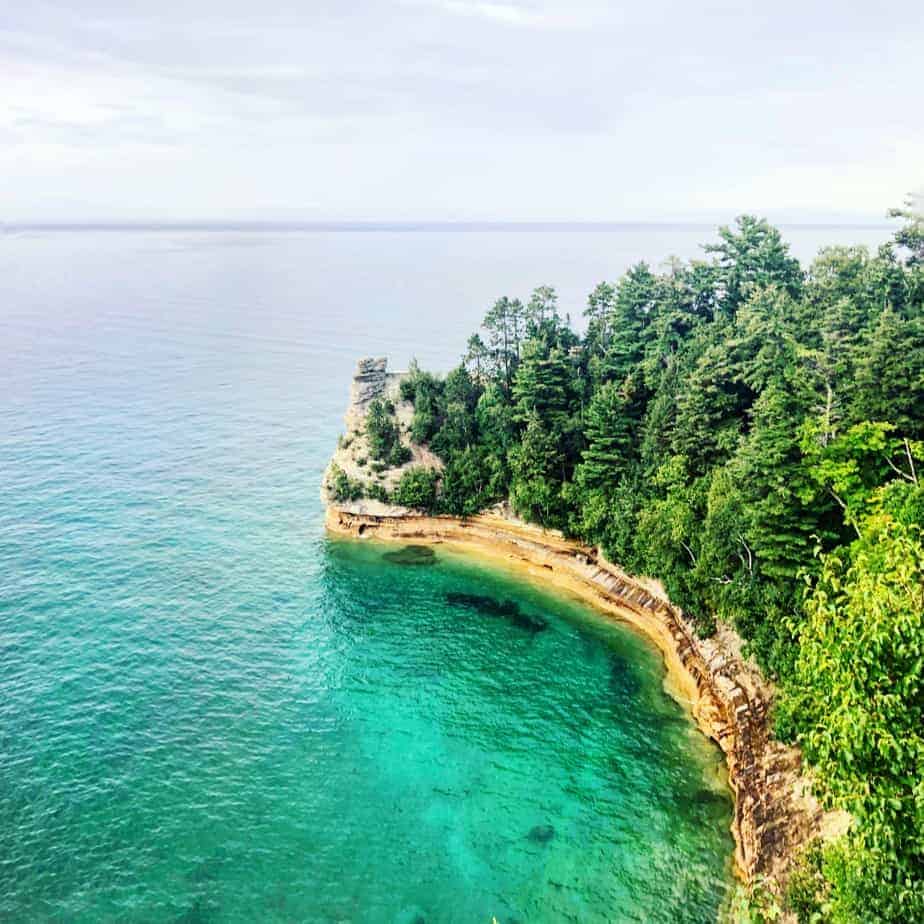 Since getting back a month ago, I've been spinning like a top with work, blogging, teaching SkillPop and a few fun personal things (like celebrating our wedding and my mom and sister coming to visit).
Long story short, here's a little round up of what we've been eating and drinking recently.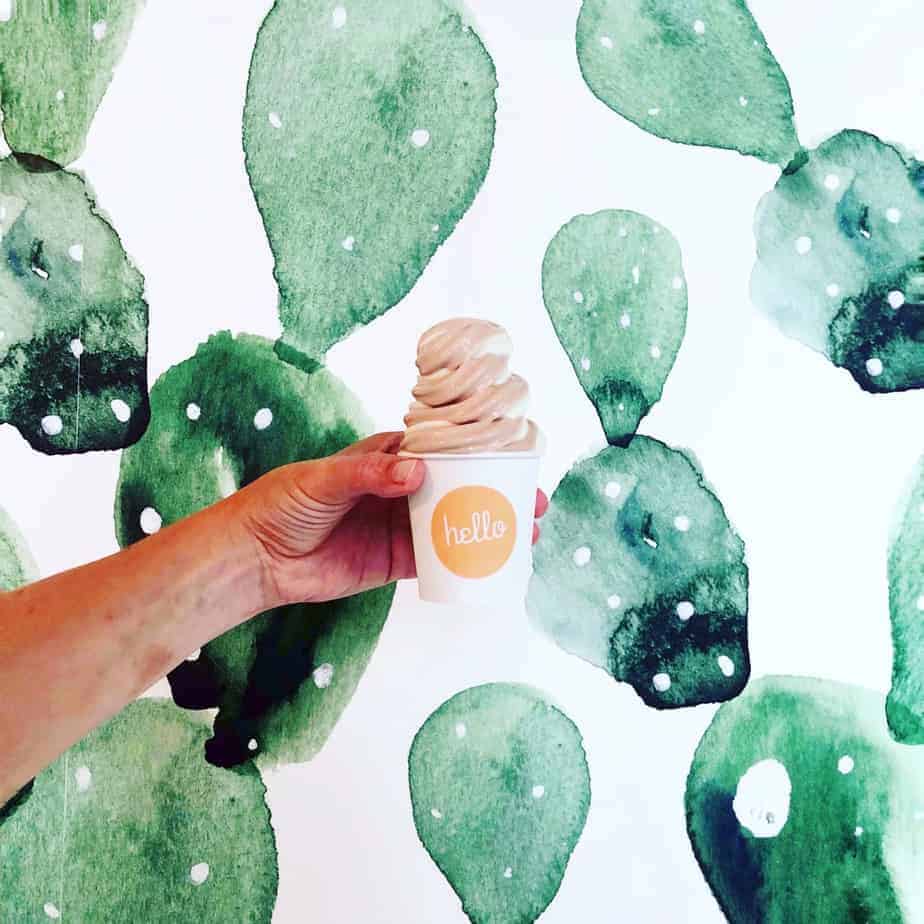 Hello Sailor made it's debut on the Charlotte restaurant scene last winter, and I finally was able to make it up to Cornelius (not once but twice) to enjoy the lake views and food.
My first trip was with LeAndra on a rather mild day in July…we enjoyed negroni slushies, oysters, crab dip and mussels as we caught up and watched pontoons dock.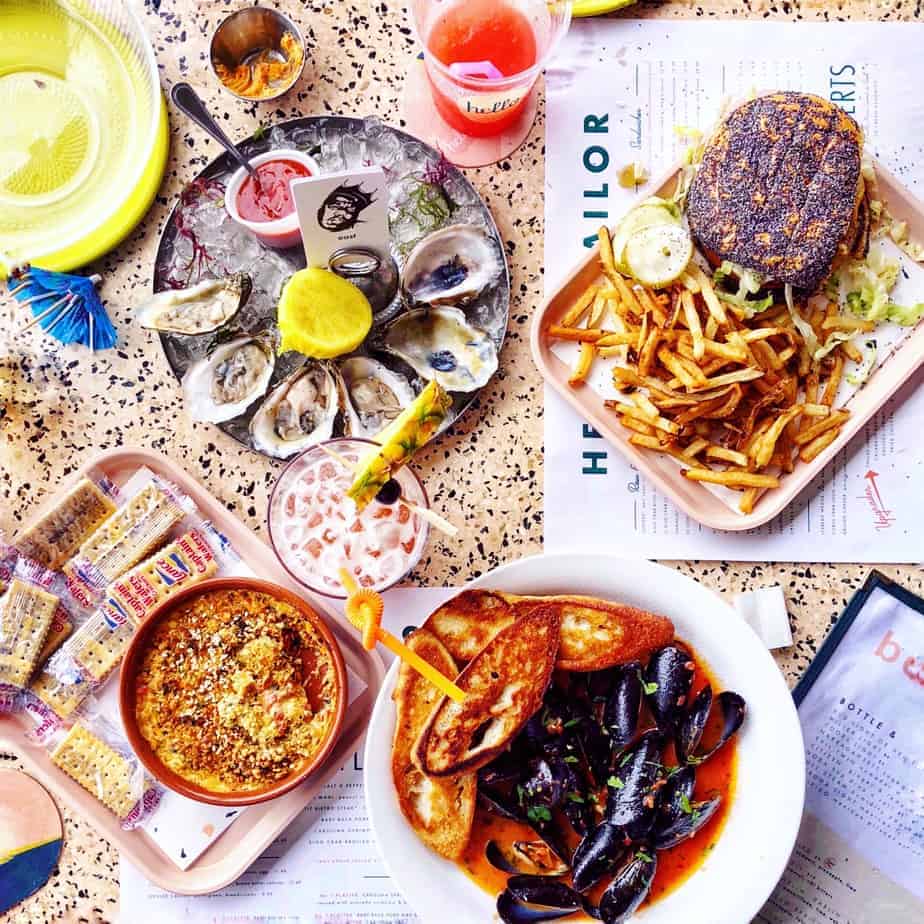 I went back again last week with my friend Jess, for oysters (again!) and sandwiches (she enjoyed the fried bologna and I ordered the crispy chicken).
We sat overlooking the water again and tried two new cocktails. I think the views and cocktails are alone worth the visit, but I love the fun indoor décor (so instagramable!) and have enjoyed the seafood dishes I've tried (the sandwich was nothing special to me).
I'd love to take AJ for a day date!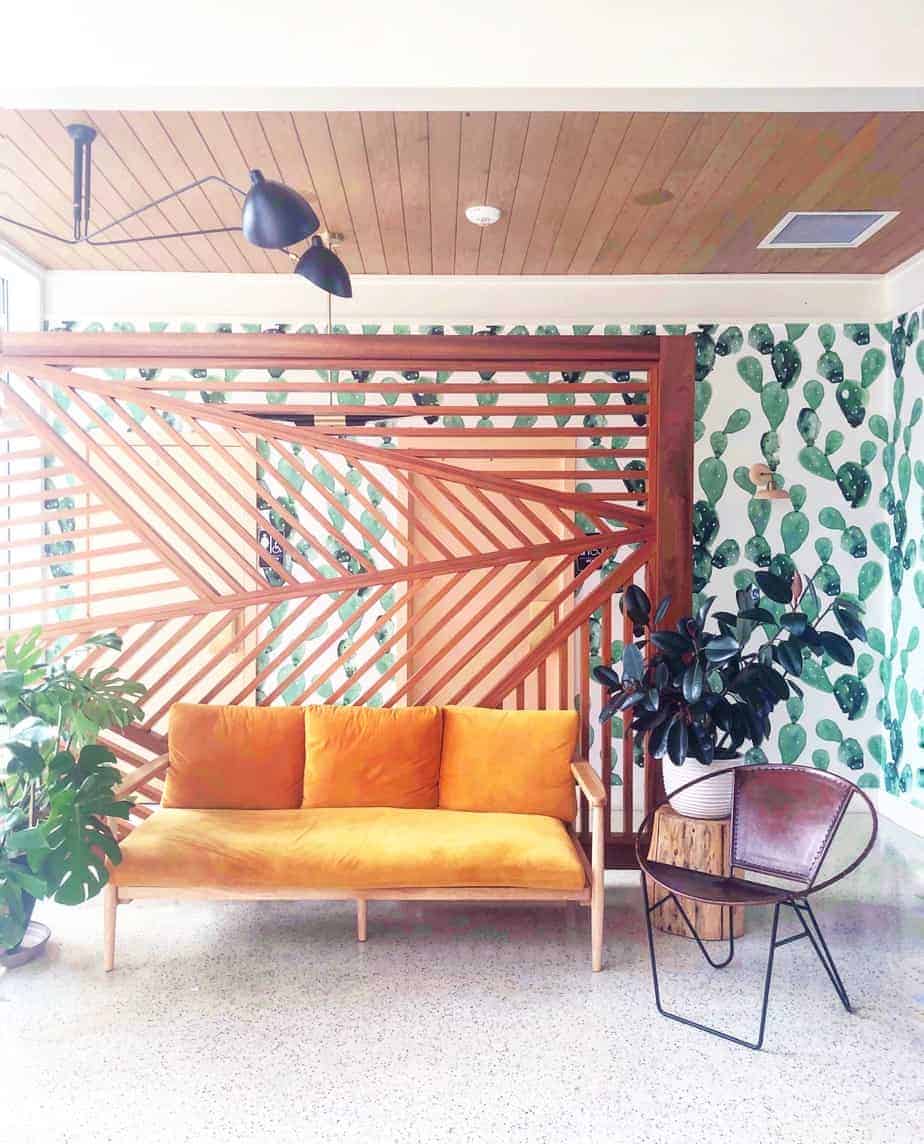 In July we had visitors back to back weekends so of course we had to show off some of our favorite spots in the Queen City.
We took our friends Michelle and Brian on a mini tour of Plaza Midwood with stops at two great Charlotte breweries (Catawba and Legion) and then dinner at one of my favorite restaurants, Soul Gastrolounge (with the no wait app it makes it so easy to get a table a Soul now…we just grabbed a pint at Legion and they texted when it was ready!)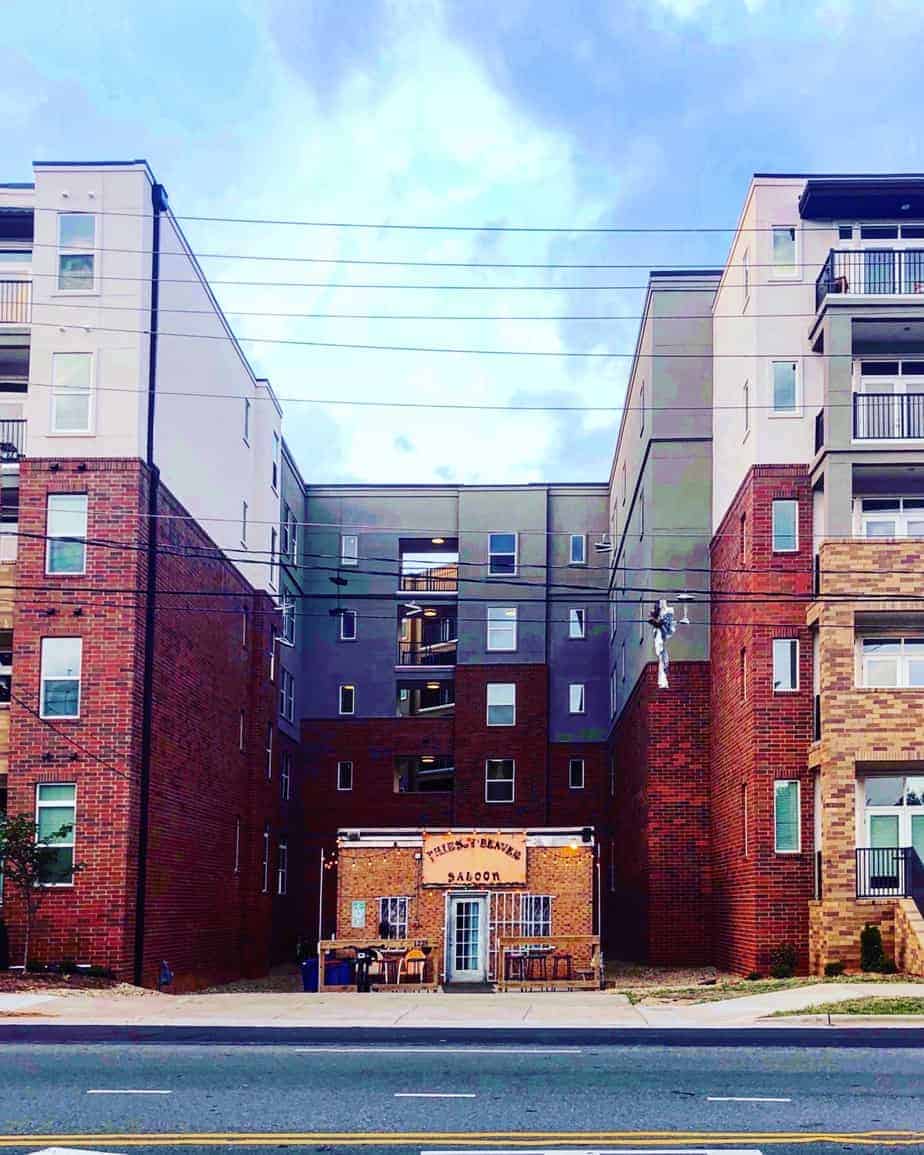 And of course, a PM tour isn't complete without a PBR at the Thirsty Beaver. The Beav is my favorite dive bar in Charlotte. No contest.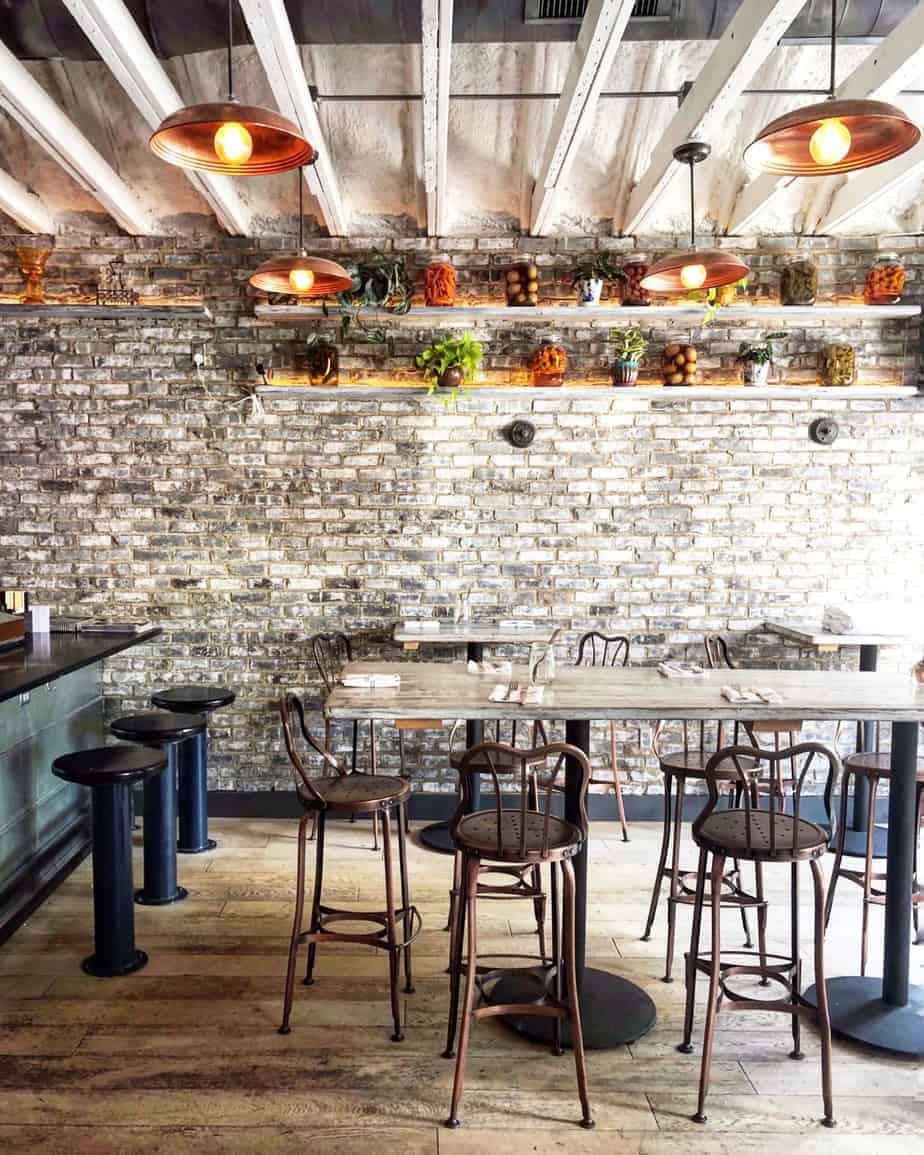 The next weekend, one of my best friends from college, Hayley, was in town overnight on the tail end of a work trip so we had to show her the best 24 hours in Charlotte we could: River Jam at the Whitewater Center, brunch at Haberdish and a few pints at NoDa Brewing and OMB before dropping her off at the airport.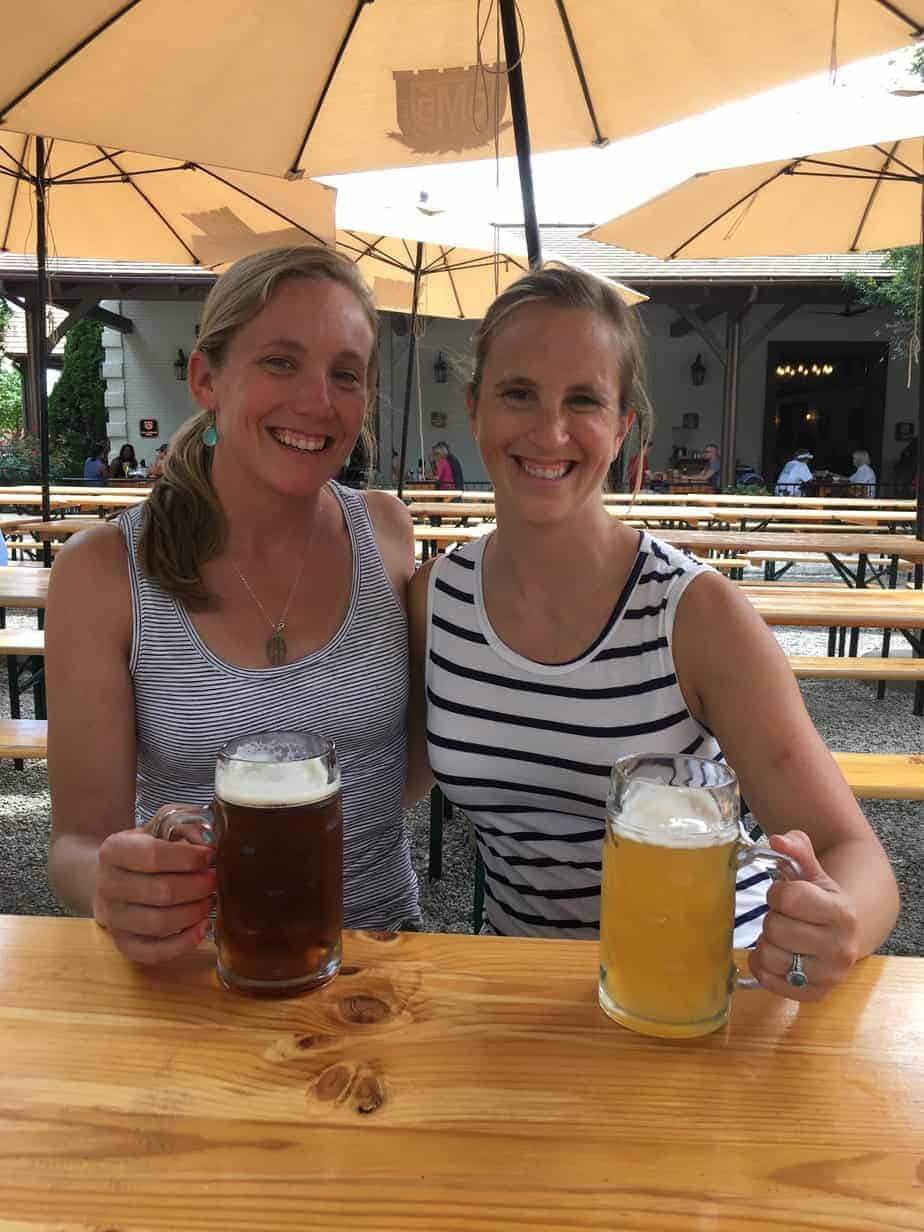 In mid-July, I got new head shots done! I usually am behind the camera and pretty much hate being in front of it…but I loved working with Julia to capture some photos of me that reflect my brand and my personality and I love love love them.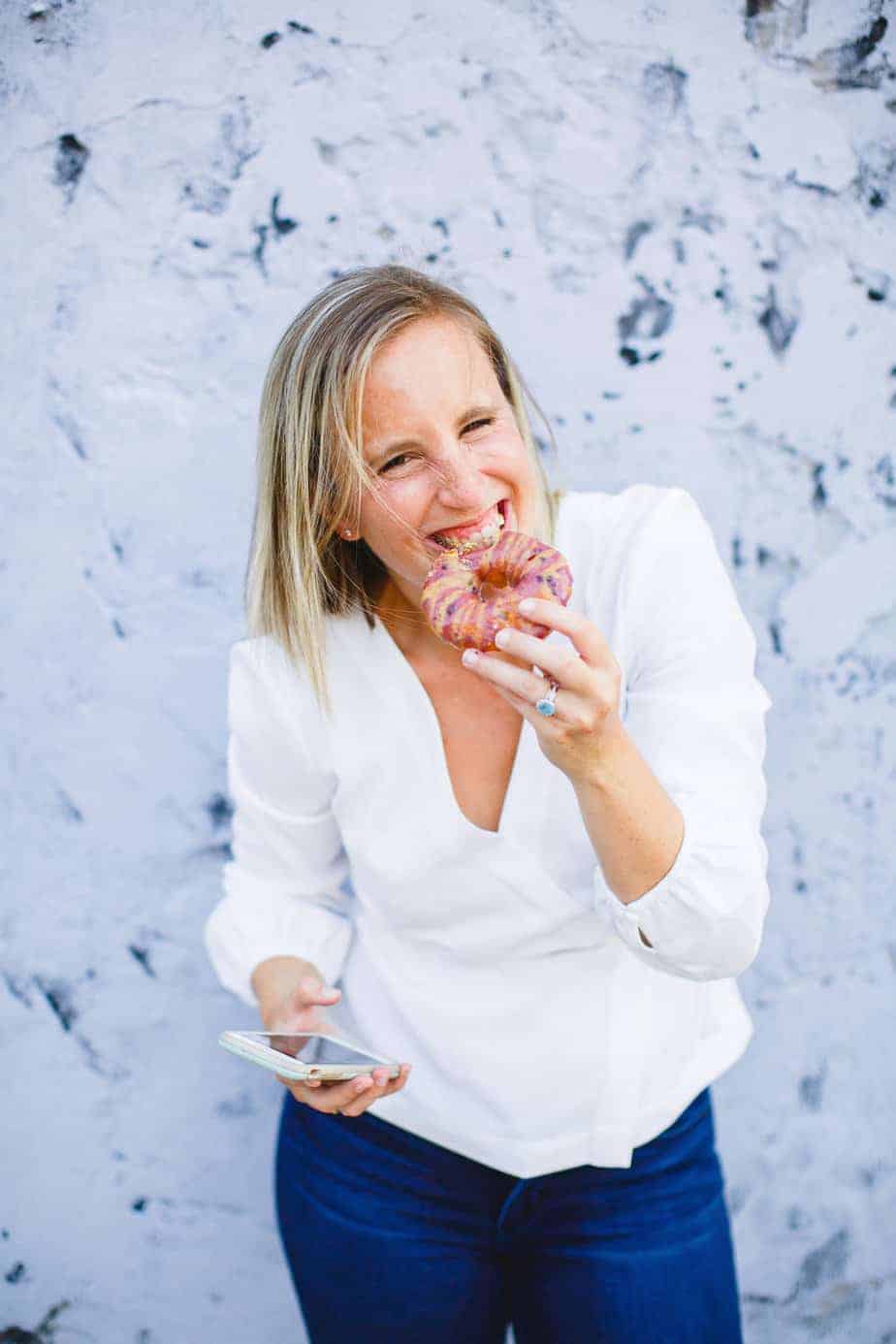 Plus, I got to enjoy some Duck Donuts and Two Scoops and a glass of wine at Luna's, so didn't mind being in front of the camera one bit.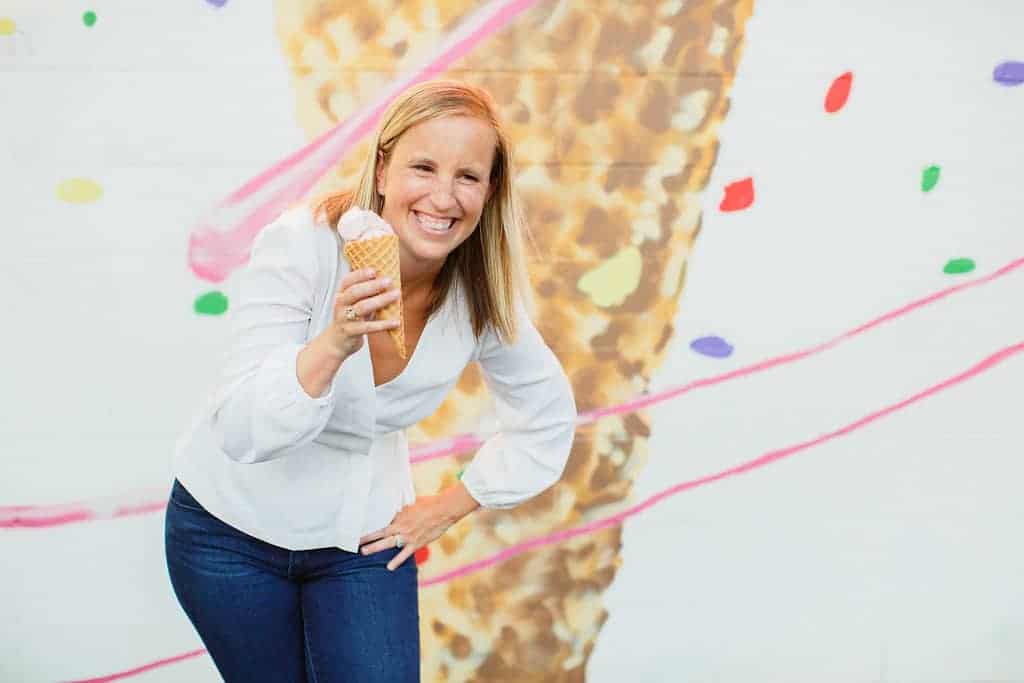 Speaking of ice cream, cult favorite Jeni's opened in South End in July, and I enjoyed a pre dinner cone on opening weekend.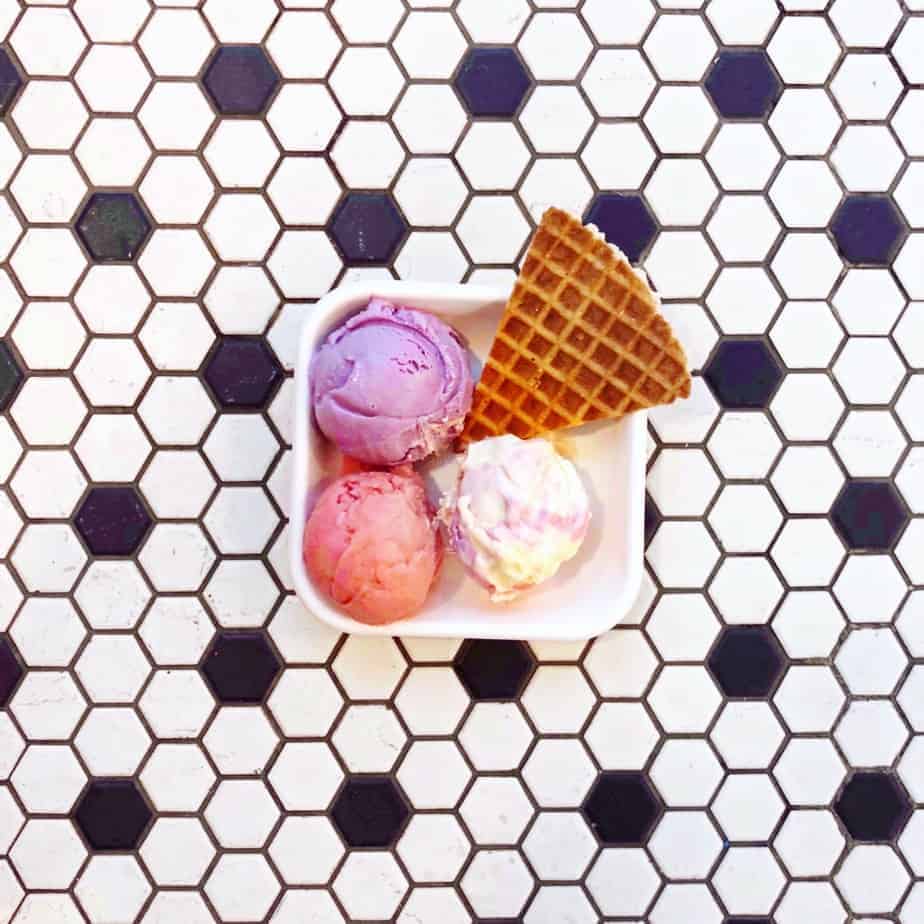 (AJ was out of town and I was waiting on some take out sushi from O Ku getting ready for a big night in on the couch when I saw no line coming out of the scoop shop). Since my first visit I've been back twice!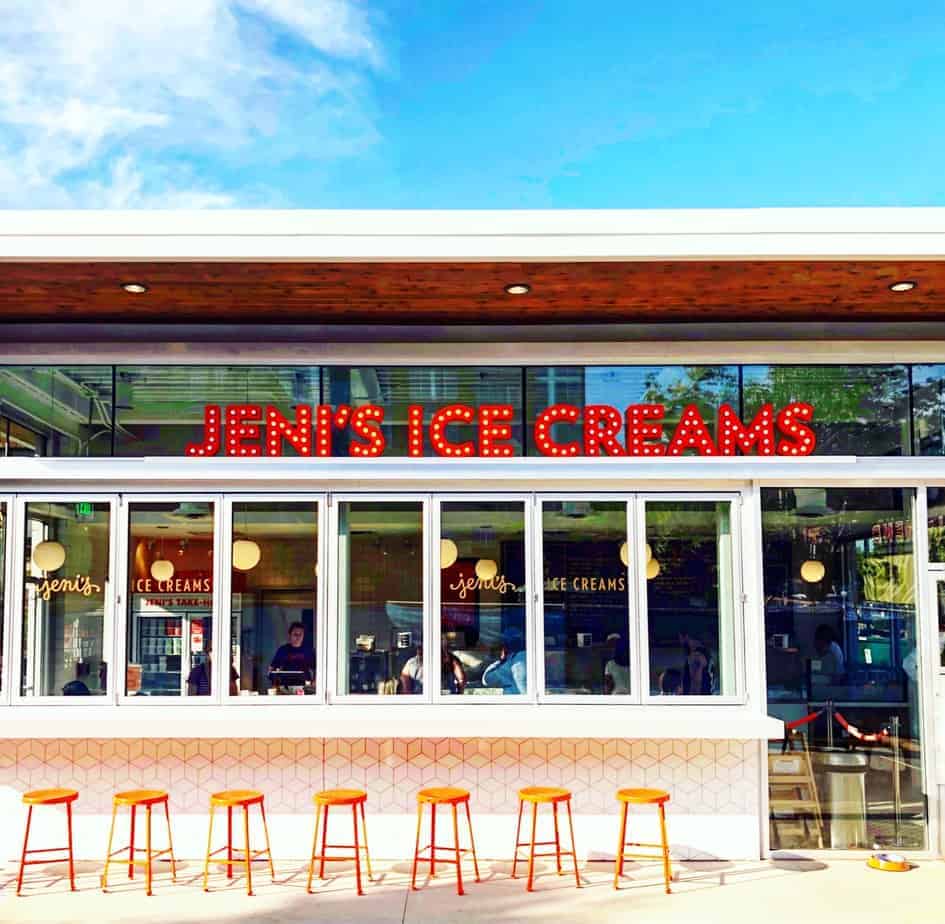 While I did lay pretty low in July and August, I did make it to a few media events. I grabbed a cocktail and some bites at Uptown's newest hot spot, La Belle Helene, which is absolutely stunning. I sipped on a North Carolina South Side (I love anything with gin) and am itching to get back for a date night dinner.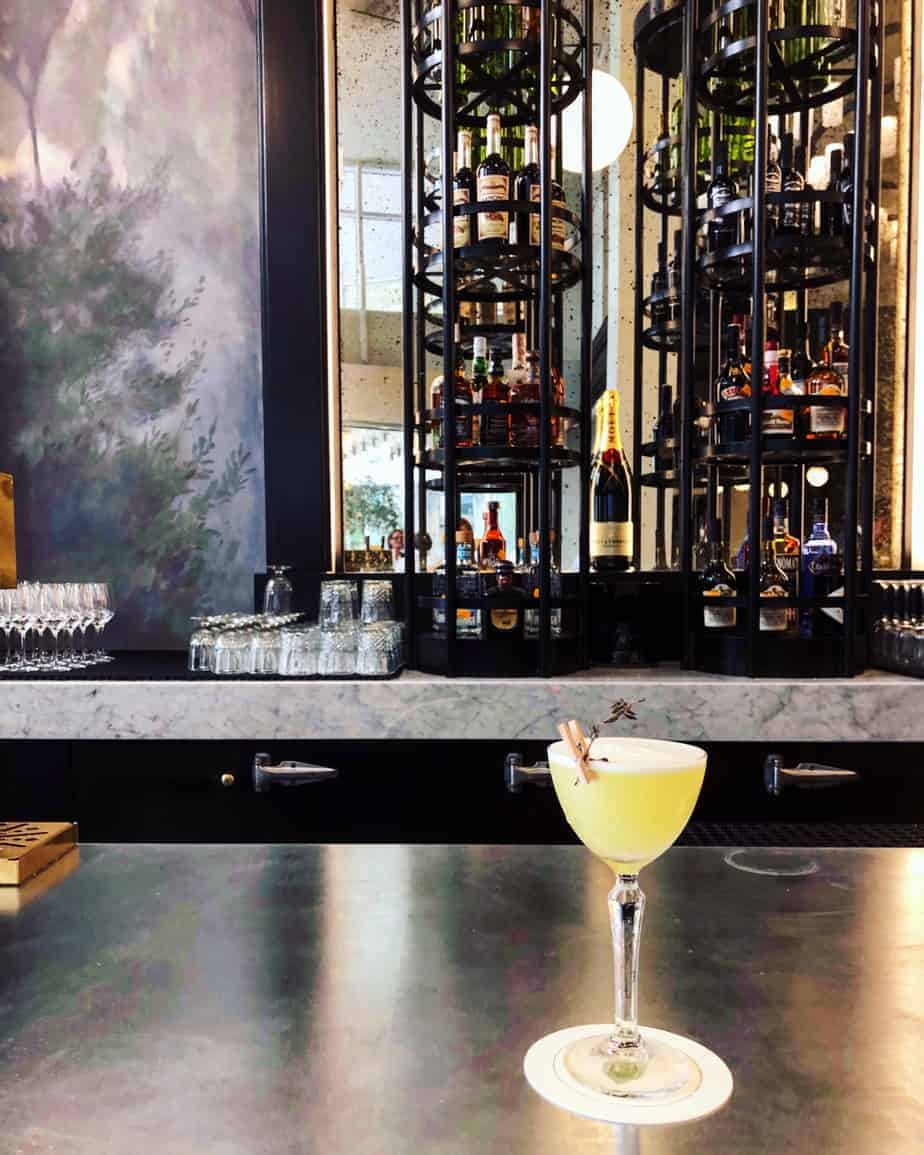 (I've since had a second visit to La Belle Helene for SAME COCKTAIL and to meet Alain Ducasse, which was jaw droppingly awesome, and still really want to go for dinner).
Also when you get a photo with a three Michelin star chef and it's maybe not your best you post it anyway right?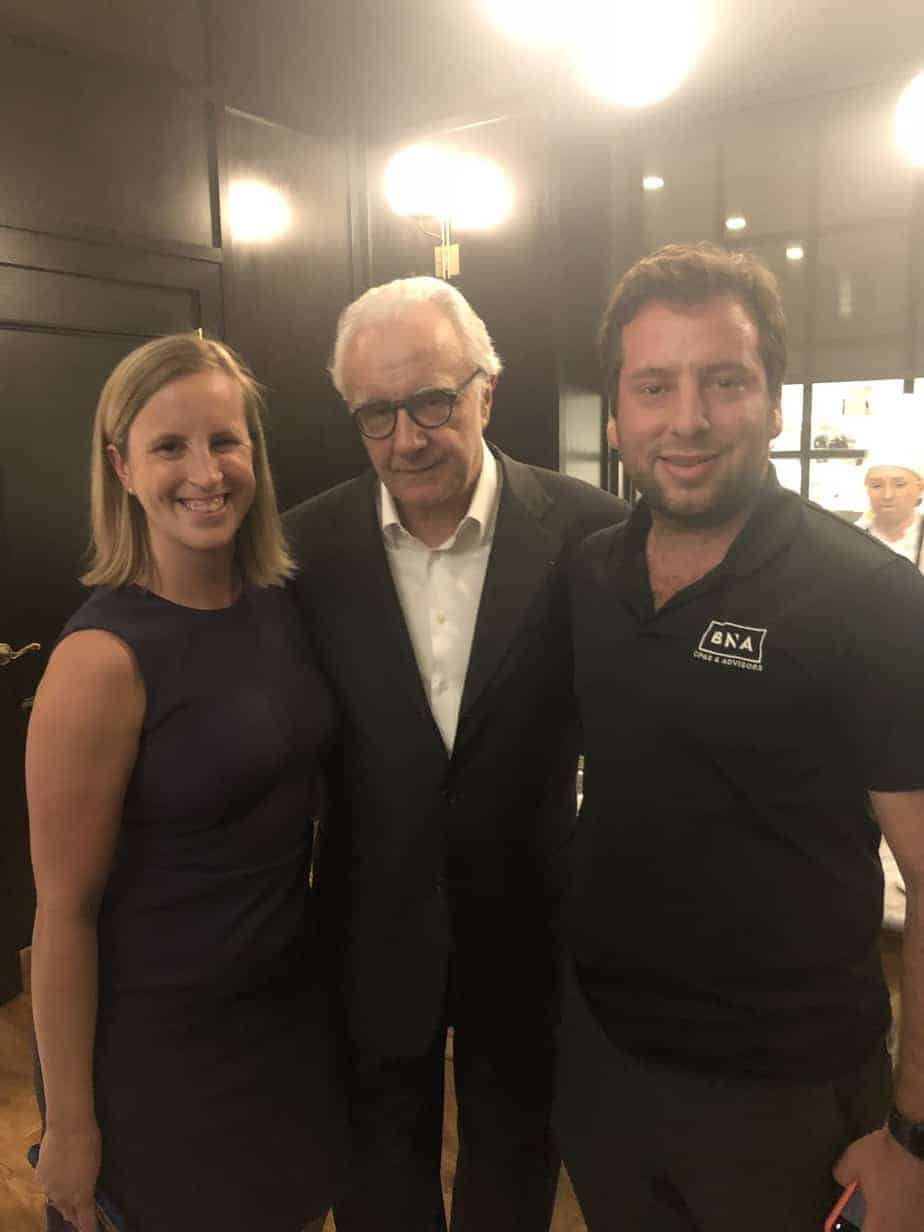 I also enjoyed a media dinner at a new Italian restaurant in Ballantyne, Zinicola. We got a grand tour of Zinicola's menu, including made from scratch pasta, seasonal appetizers and delectable desserts, all paired with creative cocktails from their bar.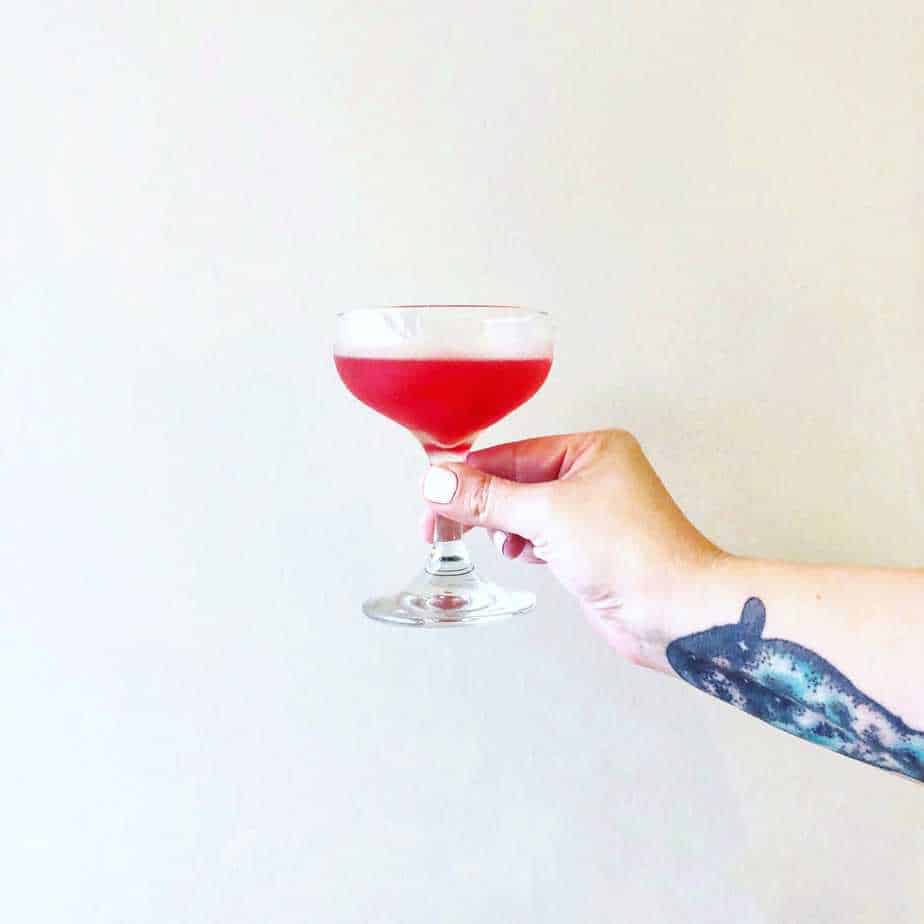 For full review of our Zinicola experience, you should check out what my friends Yvonne and Jason from Scallionpancake had to say!
I finally (after ages and ages of yearning) made it for dinner at Stoke and was totally wowed with what Chef Chris served us (as an aside, I profiled him for the NCRLA Chef Showdown and his dish there was also delish!).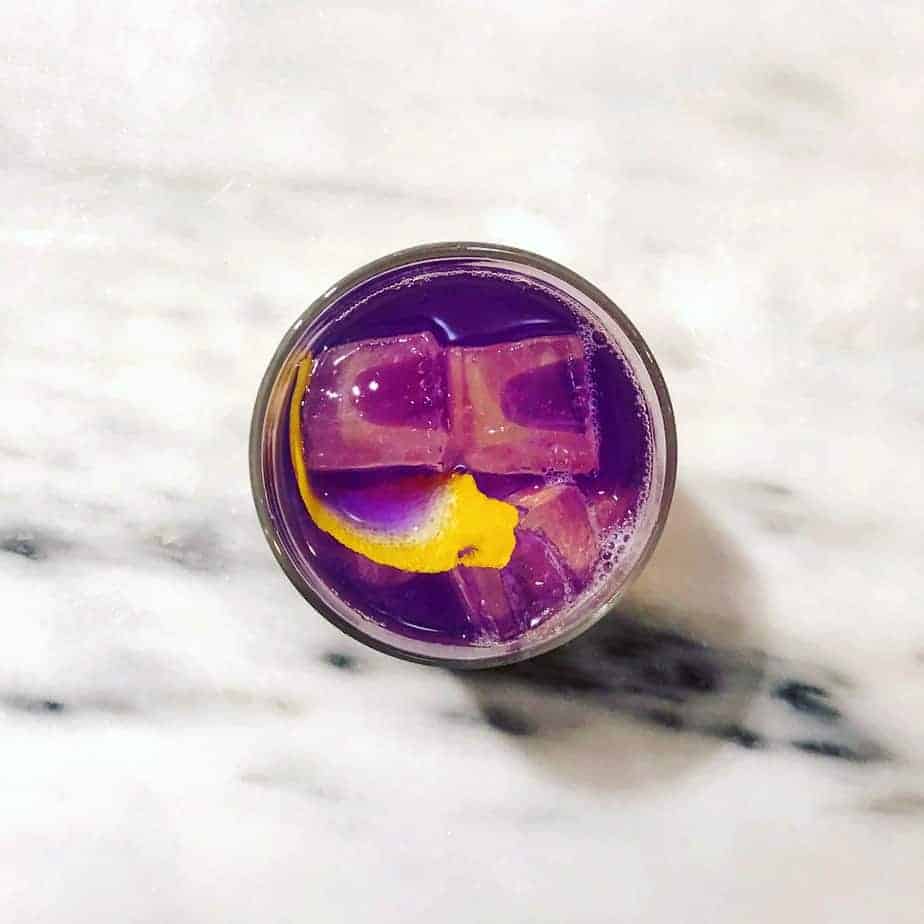 Honestly, I was pretty underwhelmed by the 1 pound doughnut (which has been a bucket list item foreverrr) but I loved all of the savory dishes coming out of the kitchen.
The menu has probably changed now since we are heading into fall and I dined there peak summer produce, but if it's still on the menu, the watermelon with goat cheese, peanuts and spices  was not only creative (like mind blown it looks like tuna but it's not tuna!) but also was tasty (I'm not a huge fan of watermelon being used in a savory way but this was delish).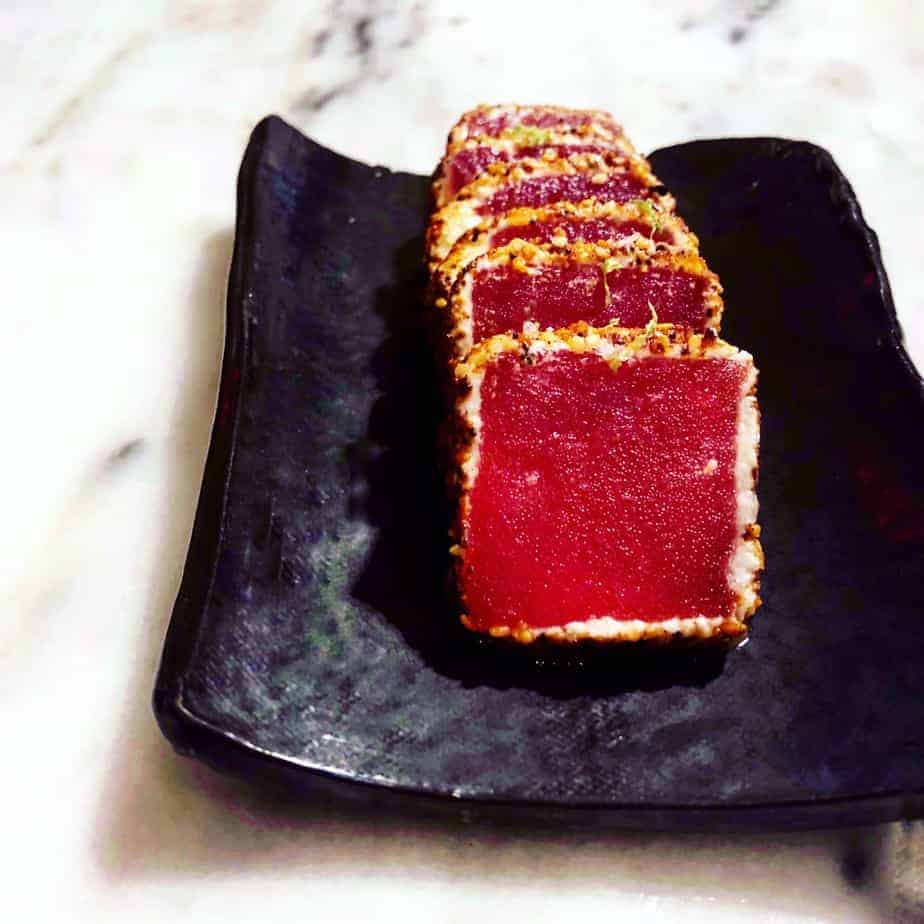 AJ and I also had an awesome date night in August at Oak Steakhouse in SouthPark. The lighting, as you would expect in a great steakhouse, was too dim for great photos, so I decided to take advantage of the mood and really focus on a great evening with my husband rather than the perfect Instagram shot.
And a great evening it was!
We had excellent service and really delicious food (the kitchen sent out some of the chef's favorites for us to try and we loved everything we ate). The steak was superb, and I also loved the scallops, both of our starter salads (the Burrata Salad and Oak Salad) and the sides (crispy potatoes omg wow) but what really stole the show was the dessert!
This lemon cake was so tall and so delicious.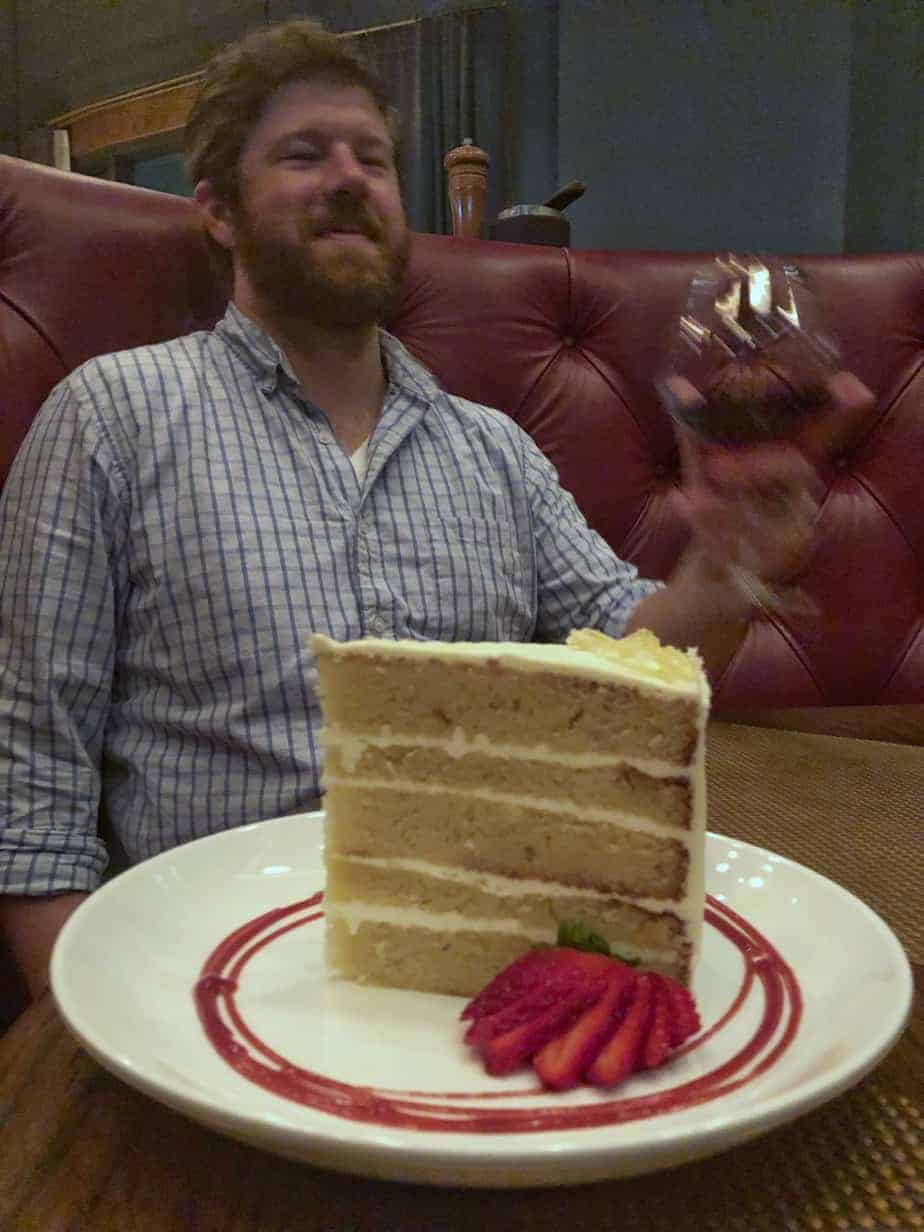 I also loved the little extra touches we got with our dining experience, from diligent and kind service to a coffee cake on our way out to enjoy the next morning, the hospitality really put the evening over the top. I would highly recommend Oak for a date night or business dinner.
With September came a week and a half road trip to Michigan for my SIL's wedding (we then tacked on about a week of camping and friend and family time to the wedding festivities).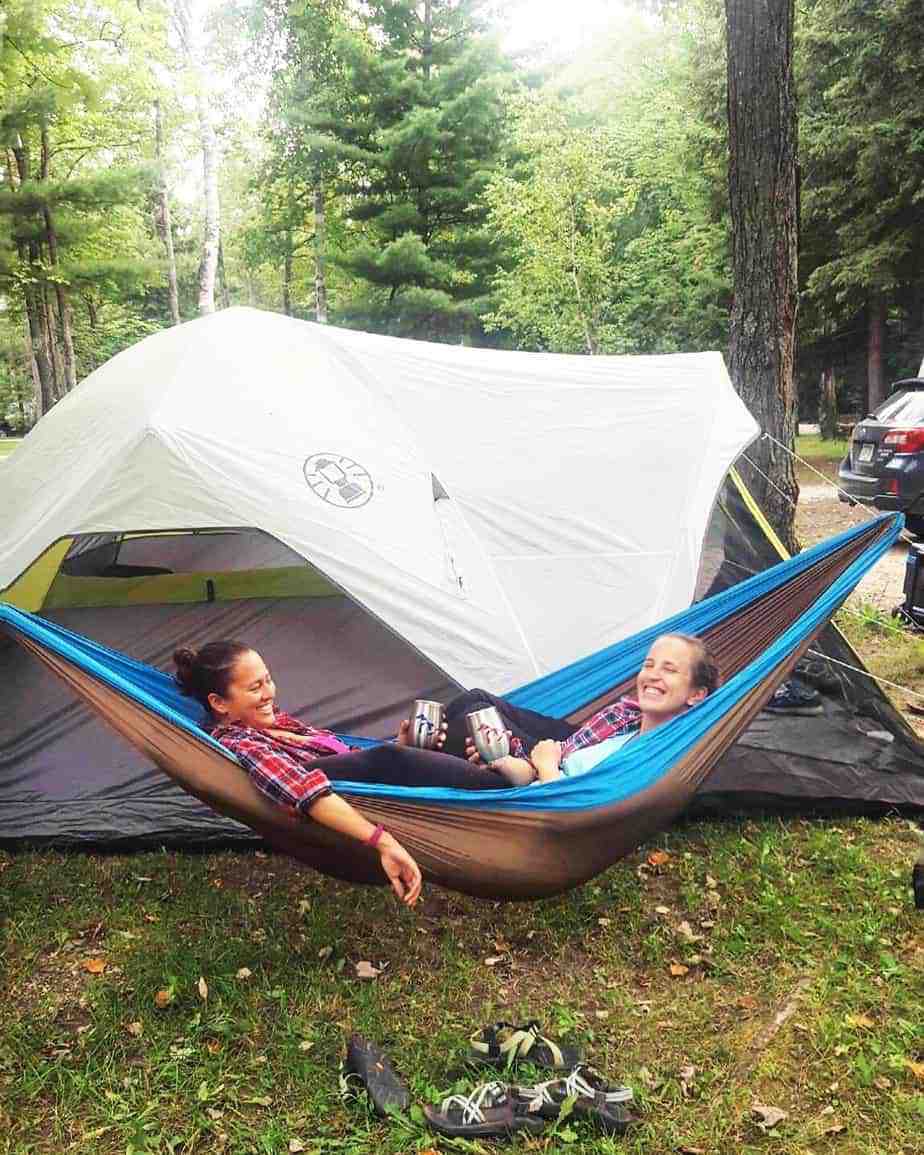 After a full weekend of fun wedding celebrations, we headed to the UP where we met one of my best friends and her boyfriend for three days of camping in Tahquamenon Falls and Pictured Rocks, followed by a few solo days at Sleeping Bear Dunes and Traverse City.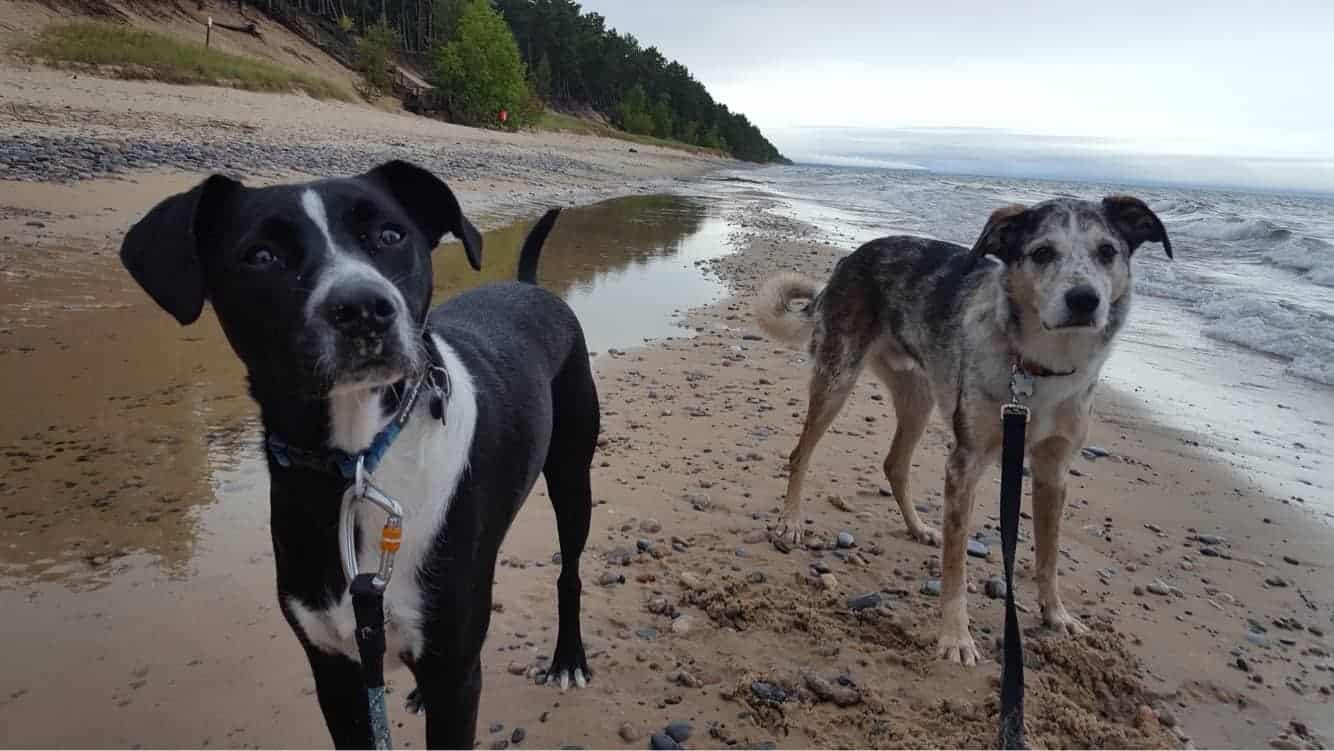 Guys, the Lake Superior Sunsets are AMAZING, and we had a great lunch at Lake Superior Brewing Company in Grand Marais, which ps is an adorable town.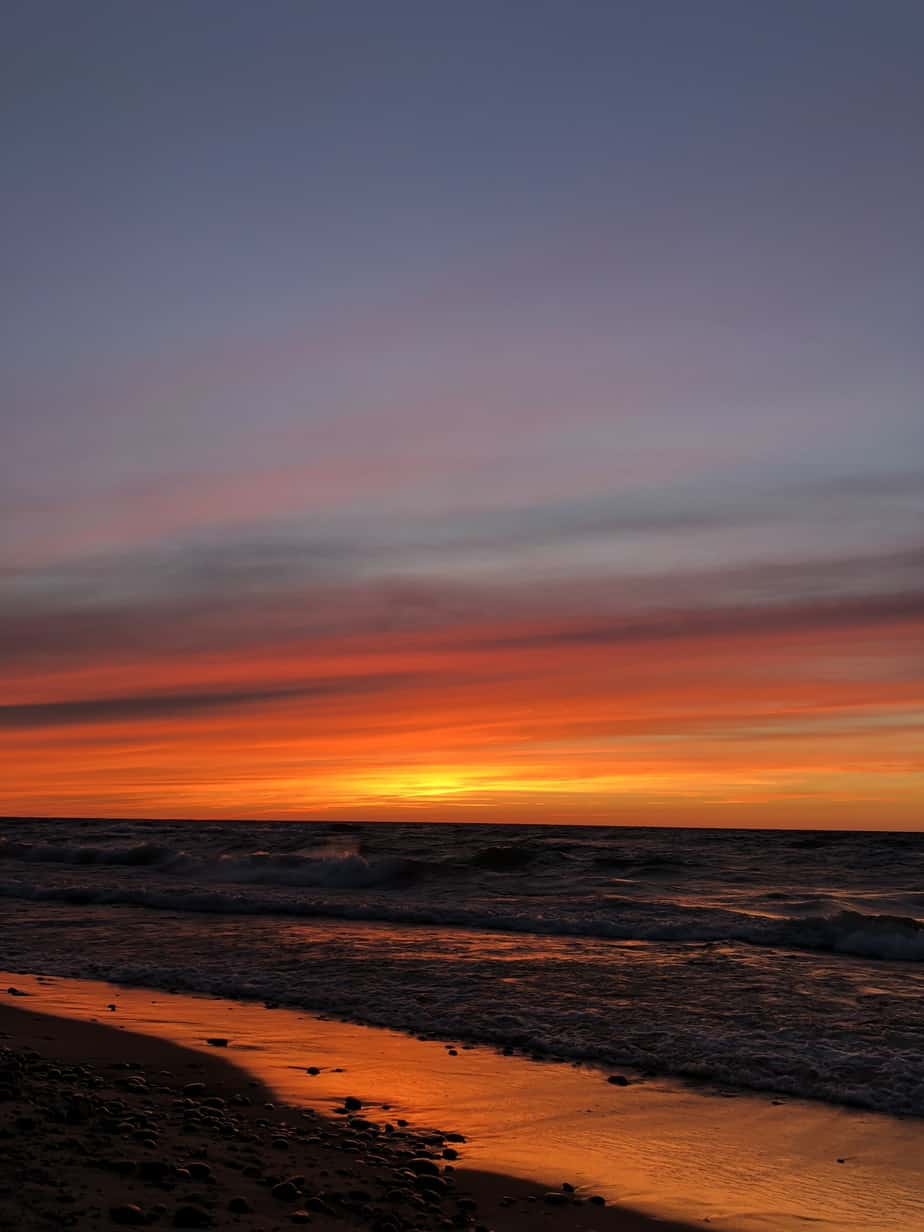 We brought Bodie to Michigan with us and my SIL's dog, Diego, came with us for the camping fun, so with two dogs we didn't think we'd be doing much winery hopping when we got to Traverse City (Traverse City is the wine capital of Michigan and the Midwest…and fun fact did you know it is on the same parallel as Boudreaux, France?).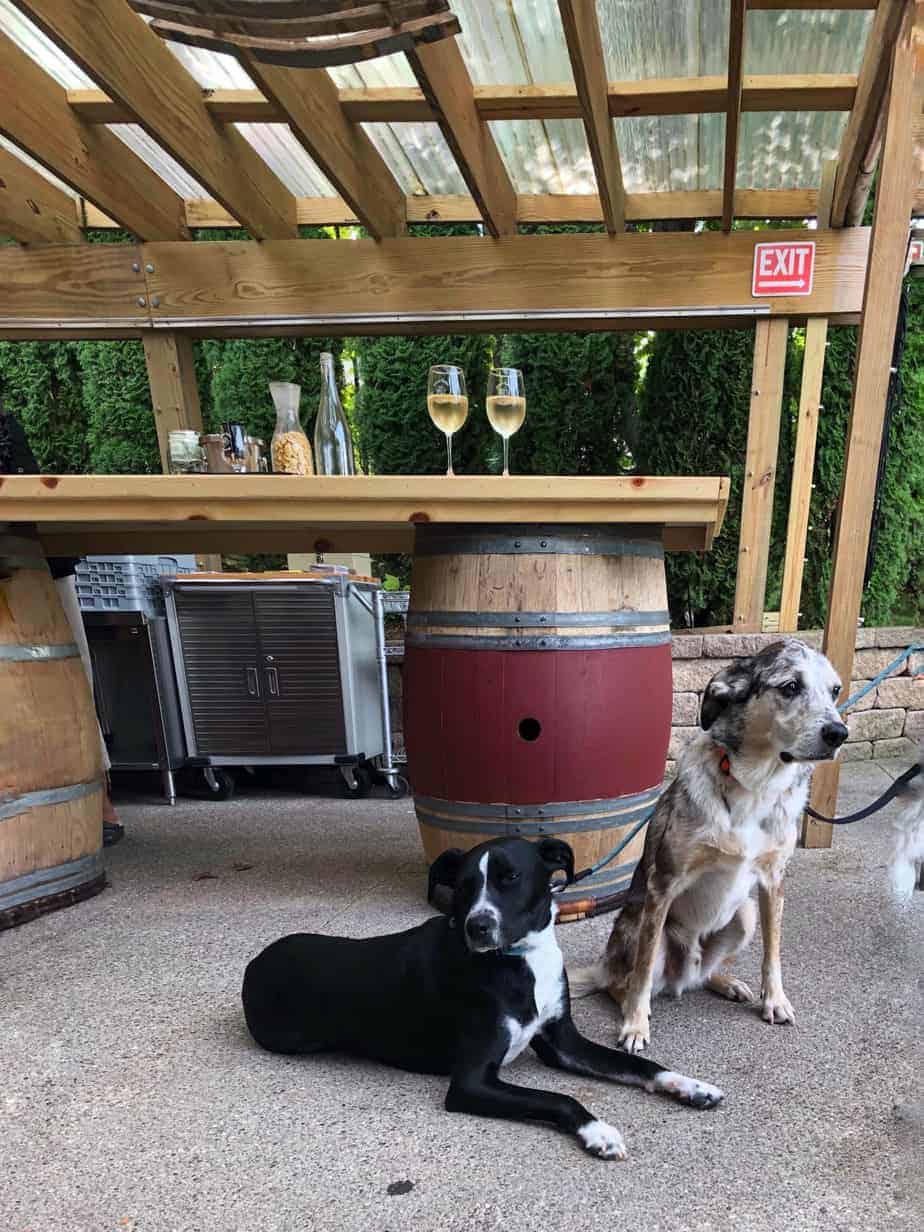 A friend told us about Bowers Harbor Vineyards, a dog friendly winery in TC, which of course became an immediate must visit and they were so welcoming and accommodating to our pups.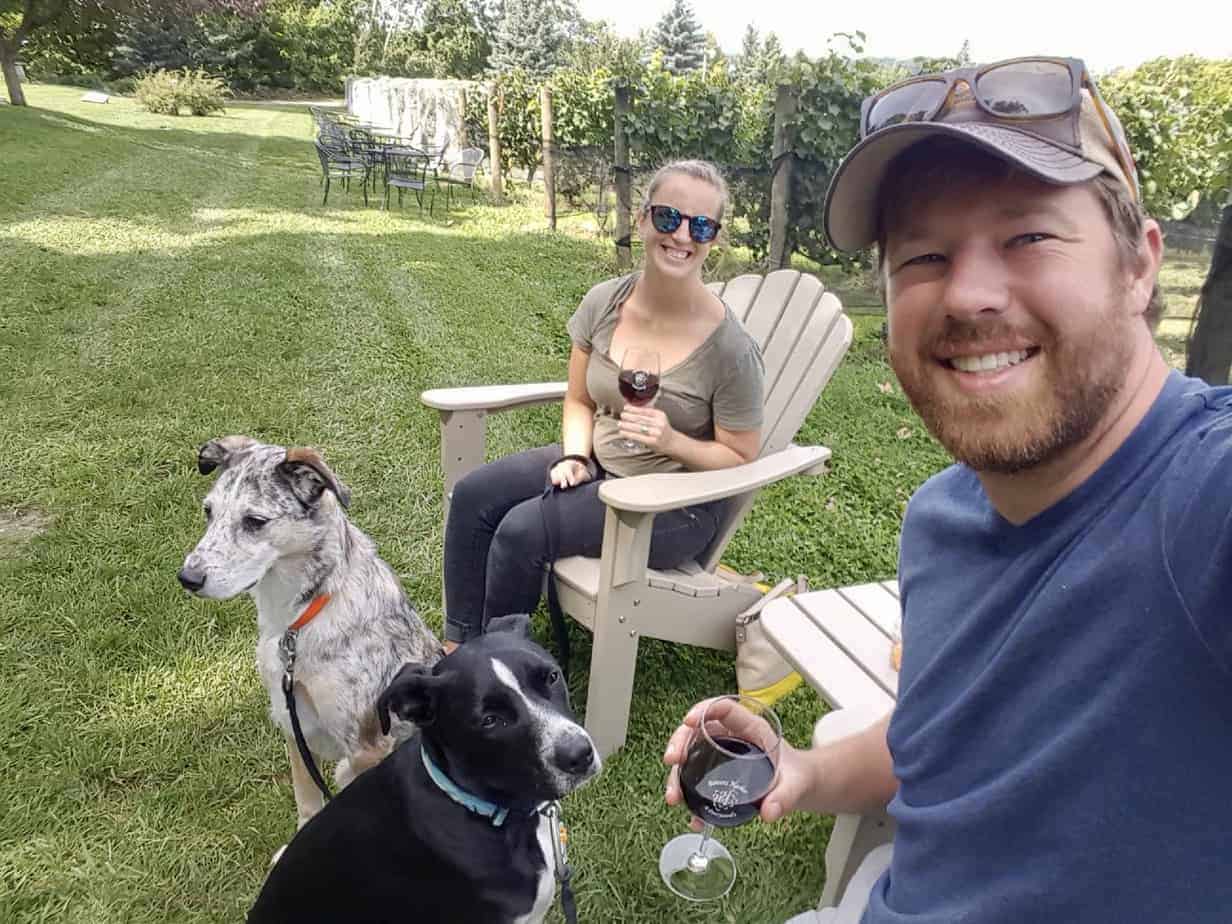 We spent a few hours there tasting, wandering and relaxing, before heading to Jolly Pumpkin for a flight and some apps (and a little bit of wedding crashing from their patio).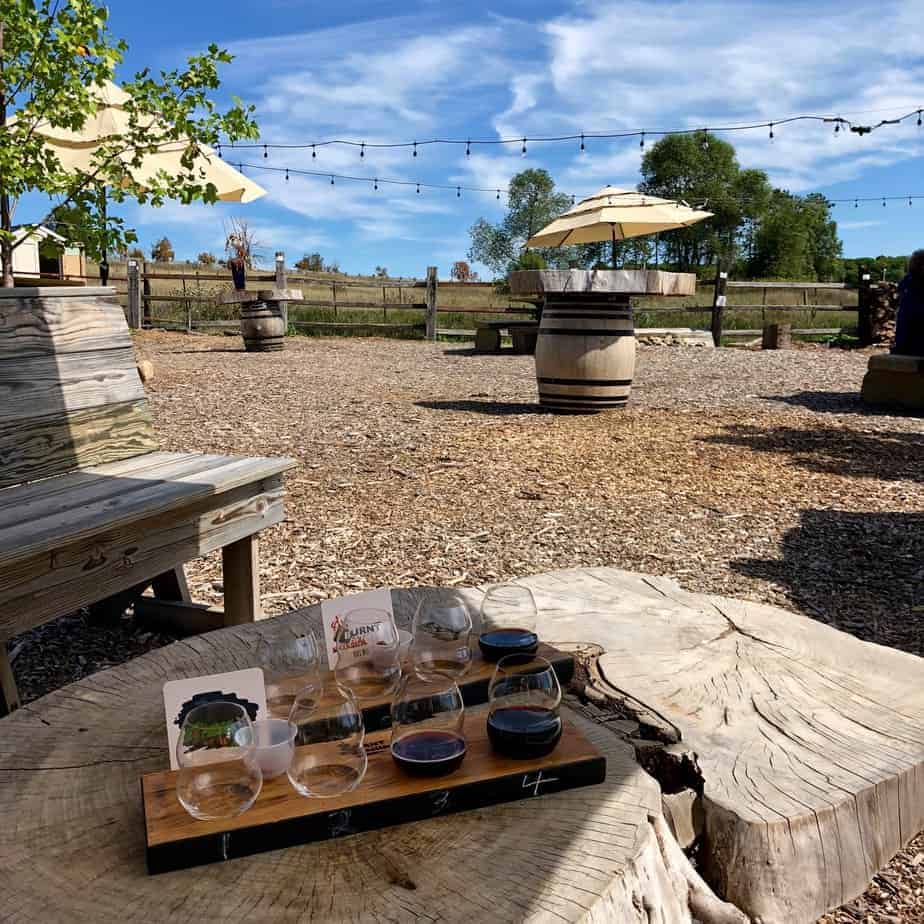 We also visited two other breweries while in TC…Burnt Marshmallow Brewing (on a farm!) and Bier's Inwood Brewery (with stunning Lake Michigan views!)
Here is AJ getting his perf Instagram shot. HA!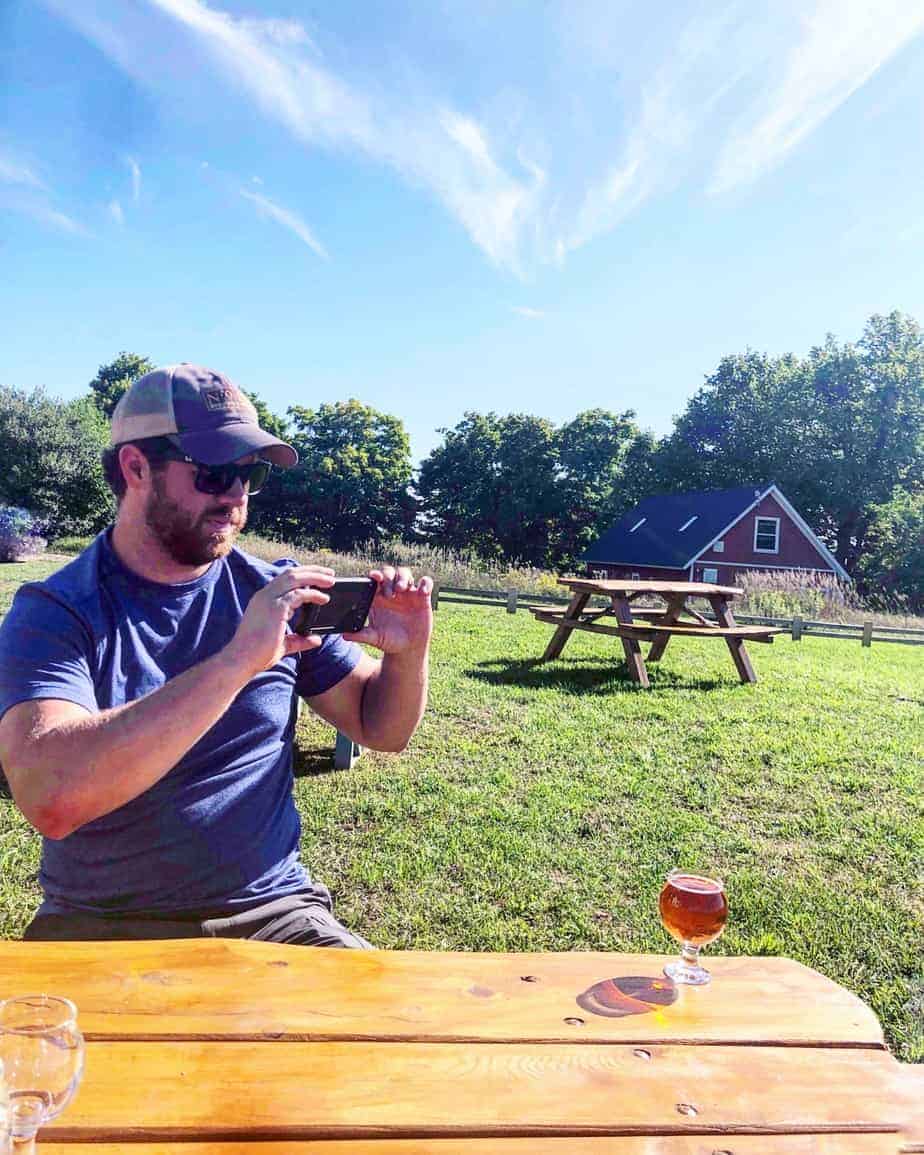 And I couldn't leave Michigan without at least one foodie stop in Detroit (I am begging AJ to plan a foodie weekend in Detroit where all we do is eat and drink).
We met friends at Sister Pie for coffee and breakfast before our eleven hour drive home to Charlotte and I put my egg gallette on the floor for a photo and ate pie for breakfast which was glorious.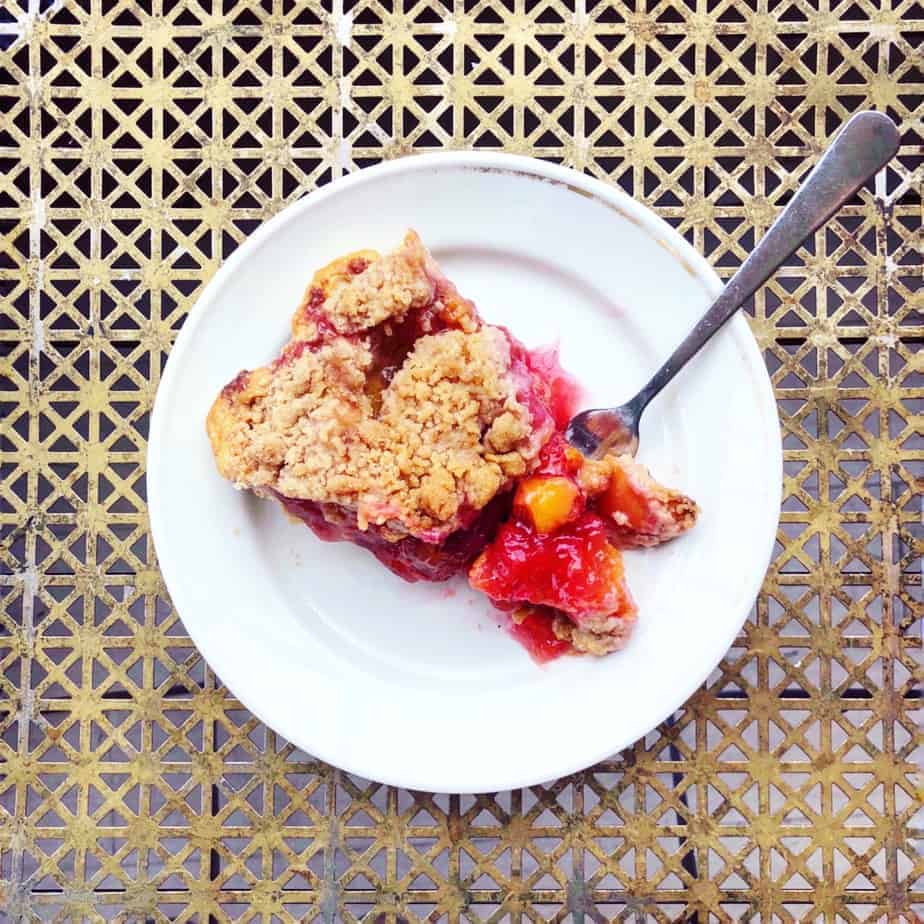 More recently, we've been eating and drinking a ton of delicious things (after all, we just got back from a trip to Asheville so I will save all of those for an exclusive anniversary weekend in Asheville post) so I'll end this one on probably the best foodie event I've been to all year: Farm to Fork at Daniel Stowe Botanical Garden.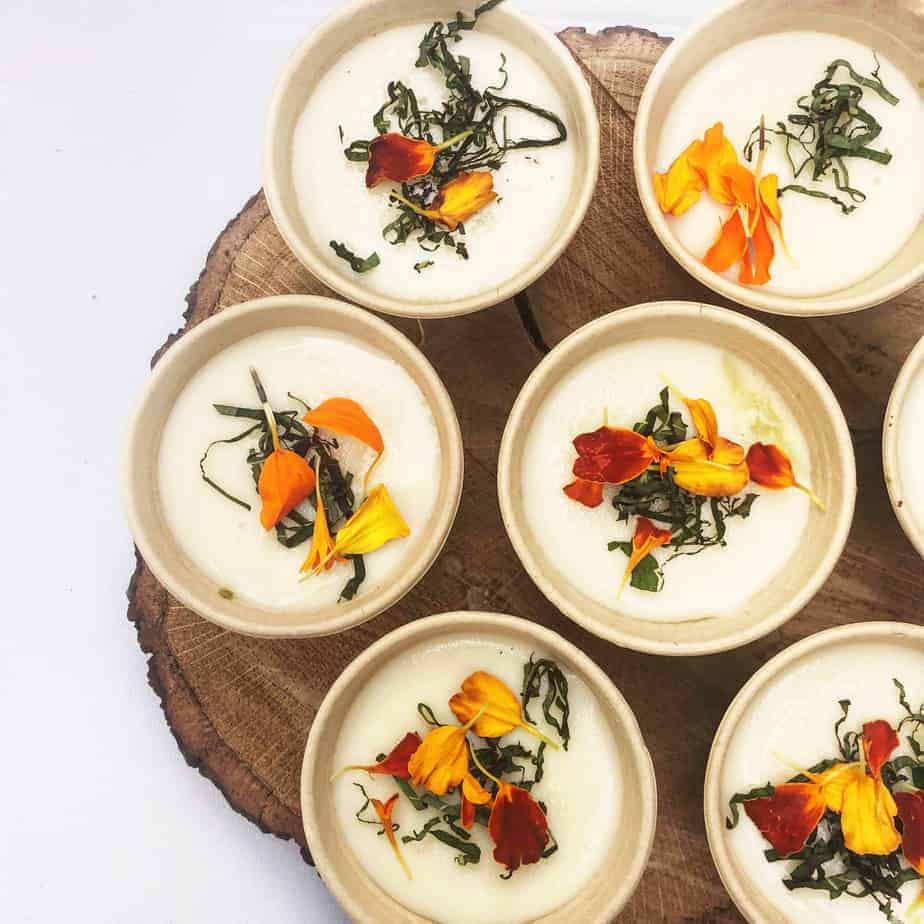 Hosted by Piedmont Culinary Guild and Center for Environmental Farming Systems, Farm to Fork was a tasting event throughout the garden featuring twenty plus chef and farmer pairings, plus craft cocktails, local breweries, distilleries, wineries and other food artisans. Plus a bluegrass band!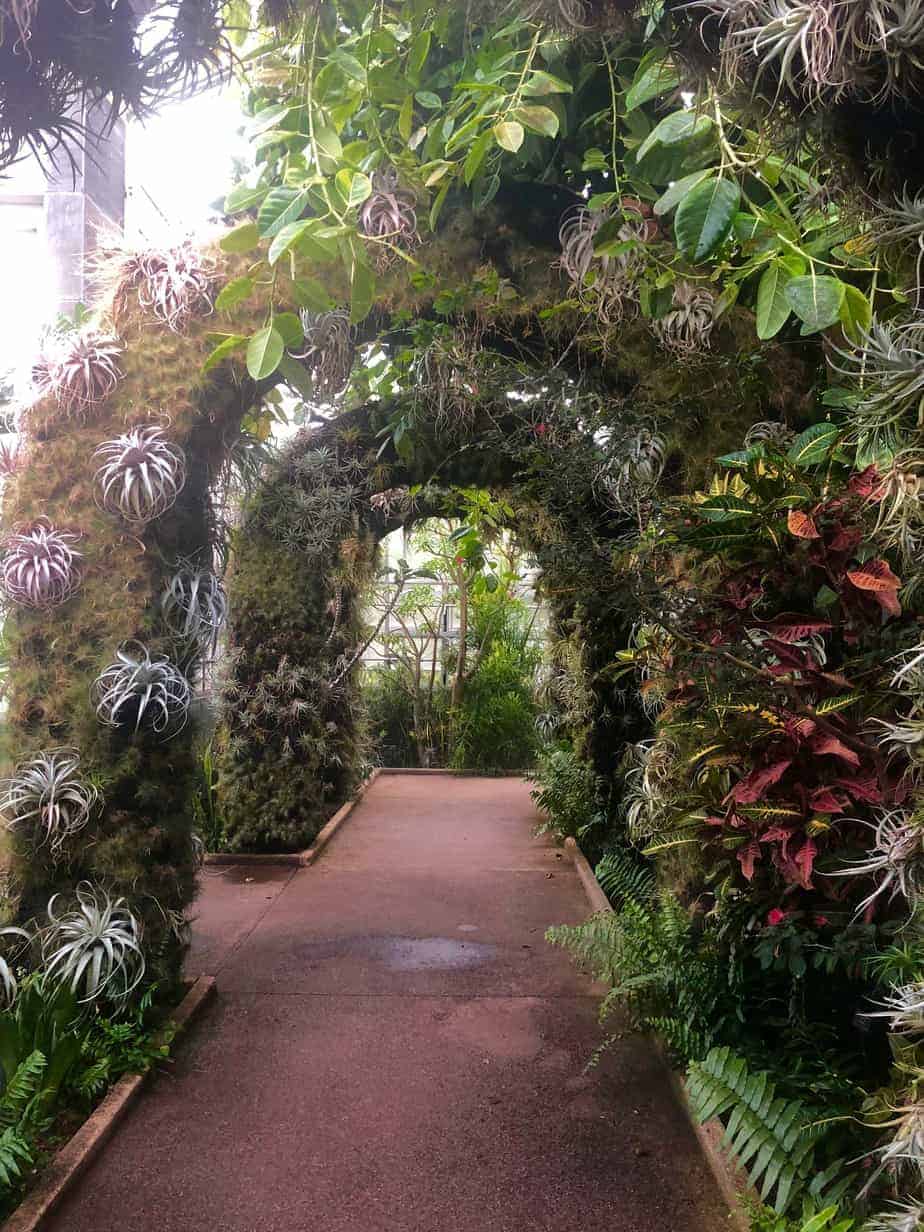 I am definitely looking forward to next year!
And also looking forward to the next delicious things post (which I am hoping will come sooner than 2 months from now!) where I'll share some of the yummy things I've been enjoying so far this fall. If you want to keep up with my eating and rambling in real time (more or less), make sure you're following me on Facebook and Instagram!