This post is sponsored by the Charlotte Ballet. All opinions are my own.
January and February (and even into early March) are my hibernation months. They're the months that you'll find me at home in my sweatpants on a Saturday night, cuddled with the cats on the couch in front of the fireplace and TV. AJ and I will discuss take out options at length (there are too many to choose from, but we've been on a Mexican and Vietnamese kick lately, and pizza is always a strong contender), open up a bottle of wine, and settle in for a movie or flip through the sports on TV (most recently watched: Inside Out. AJ's pick). Don't get me wrong; I love a good night out, whether a date night or with a group of friends, but much prefer soaking up the spring and summer sun on a brewery patio or socializing on a night where fall's air just has a mild bite (maybe I've just become soft since moving to Charlotte 3 years ago).
Although I'm quite comfortable on my couch, with a little bribe, it's not too hard to pry me out from under my fleece blanket on a Saturday night in January. Tickets to Charlotte Ballet's Innovative Works and a plan to stop at two of my favorite spots in the Fourth Ward was just the push I needed to break up the January monotony (which makes us sound boring but I promise we're not! we're fun!) of debating over take out and Netflix options. We donned our date night finest, called ourselves an Uber (I know you don't call an Uber but you get it) and cruised towards Uptown for a night of culture, cocktails and snacks.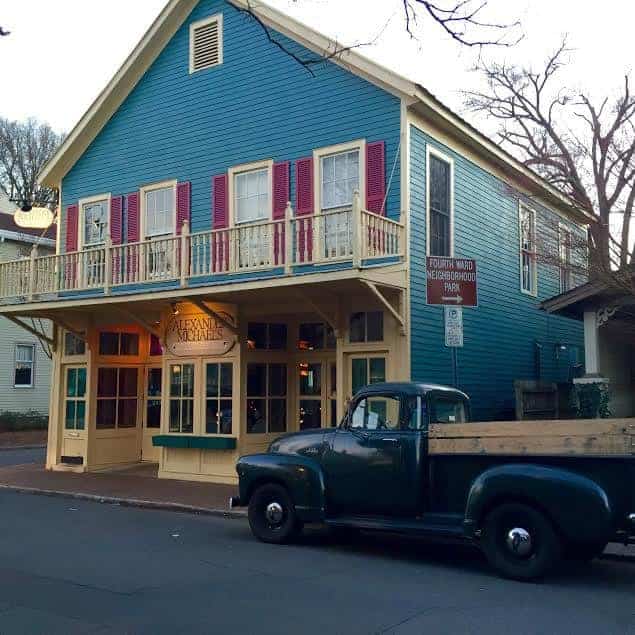 Our first stop was at Charlotte mainstay, Alexander Michael's, where we snagged the last two barstools (beating the Saturday rush at Al Mike's was a truly triumphant moment). I love Alexander Michael's; it was actually the first restaurant I ever went to in Charlotte when I moved here for an internship in Summer 2011. Al Mike's cozy, comfortable atmosphere makes me feel relaxed and at home, like an old, historic general store turned neighborhood watering hole with low ceilings, low lighting, friendly servers, beer on tap and delicious food is where I belong. We only stopped in for beers and appetizers, as we had a show to get to at 7:30, otherwise I would have ordered the What It Is, an Al Mike's classic and in my opinion, the best thing on the menu. We shared DC's Potato Wedges (heaven definitely is French fries covered with cheese and topped with bacon, tomatoes, Cajun seasoning & sour cream) and hot wings, and washed everything down with a Birdsong Lazy Bird Brown and OMB Copper.
almikestavern.com / 401 w. 9th street, uptown
mon. through thurs. 11am-10pm
fri. & sat. 11am-11pm
closed sunday
It was less than a 10 minute walk from Alexander Michael's to the Patricia McBride & Jean-Pierre Bonnefoux Center for Dance (home of Charlotte Ballet) so we strolled hand in hand down the brick sidewalks and past the pastel Victorian homes of the 4th Ward to Tryon Street (which was down right romantic). With enough time to spare, we picked up our tickets from will call and snagged a glass of wine from the cash bar in the lobby (where the bartender asked me for my ID in the most genuine way I thought it was the best compliment) before settling in our seats in the black box theater. I had absolutely no idea about Charlotte Ballet's set up on North Tryon Street; I knew that they had a building there, but thought it was used solely for rehersals and offices and they always performed at one of the Blumenthal theaters. The space is really cool; because of the small size of the theater (it holds about 2oo people) every seat is the best seat in the house. I love the arts, especially ballet and musicals, but usually am enjoying them from a second or third tier balcony in a performing arts center, so it was fun to be more up close and personal with the dancers (what's also cool about Innovative Works is not just the small performance space, but the opportunity to meet and speak with the dancers over coffee and dessert after the performance.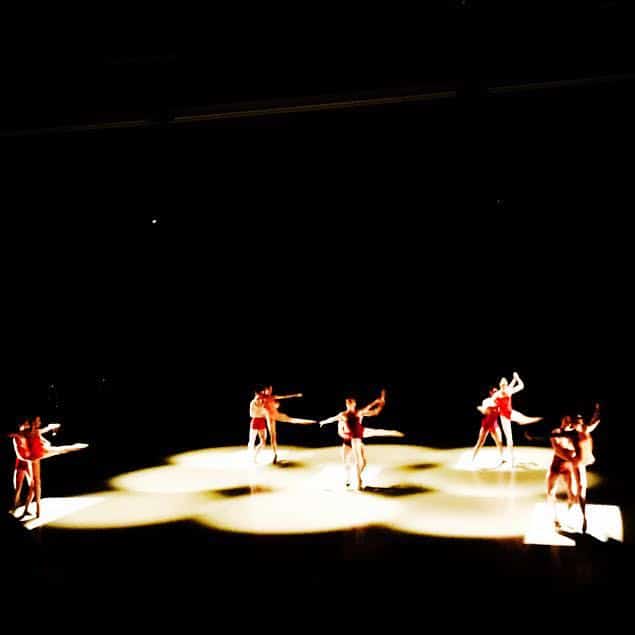 Innovative Works was fantastic; the performance showcased new works by four different choreographers, Mark Diamond, David Ingram, Sasha Janes and Dwight Rhoden, as well as two pieces choreographed by Charlotte Ballet's dancers. The set and costumes were minimal, which I liked, because it was clear the focus on the dancers and choreography and the connection of the movements to the music to share a message. I thought Innovative Works was a fantastic way to enjoy the ballet; I thought it provided a different connection with, perspective and appreciation for the ballet and the dancers (it really makes you appreciate their athleticism!). AJ also enjoyed himself; he liked that he could watch the ballet while sipping on a beer and thought "the second half was better than the first." (a la football).
charlotteballet.org / 701 n. tryon street, uptown
performances february 11, 12, 13, 18, 19 and 20
After some coffee and mingling, we moseyed down Tryon to my new favorite place in Charlotte, The Cellar at Duckworth's. The underground space (take the steps down when you get to Duckworth's Uptown) was built in 1912 and radiates a secret speakeasy vibe. They don't take reservations after 7pm, so we put our name on the list and grabbed a beer upstairs until they texted us that our table was ready. We usually prefer sitting at the bar so we can chat with the bartenders and watch them making signature drinks; it's fascinating and fun to watch the different steps and ingredients involved in craft cocktail making (we're talking more than just liquor and a mixer, there's flames, fresh fruit and herbs, and a whole lotta shaking going on).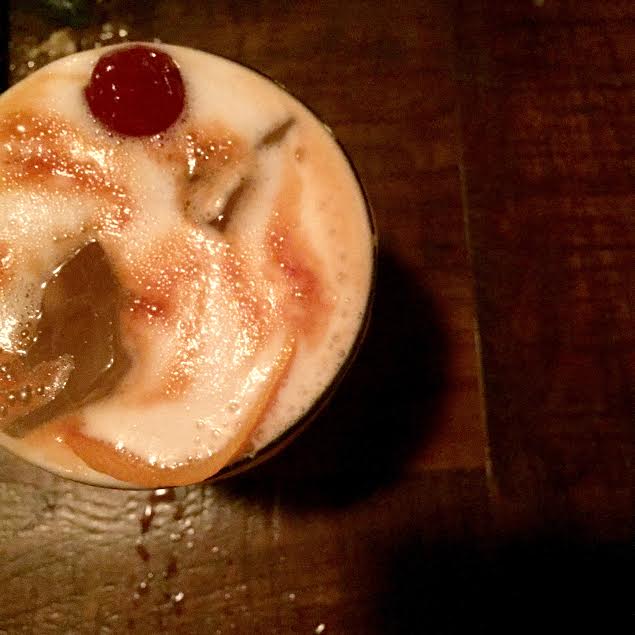 While there, we indulged with a couple of their hand crafted, signature cocktails (our favorites are the Redrum and Smoked Whiskey Sour) and split a couple small plates (everything that we've eaten here is delicious, the truffle fries, Brussels sprouts, oysters and tuna tartare are my jam). If you have not been to The Cellar, you are truly missing out on one of the Queen City's best gems. Go. Now. Really. And get the tuna tartare.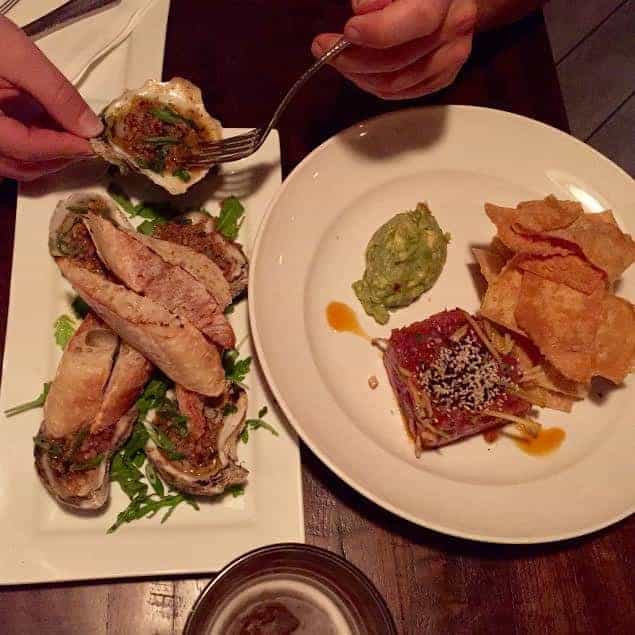 thecellaratduckworths.com / 330 n. tryon street, uptown
sun. through wed. 5PM-12AM
thurs. through sat. 5PM-2AM
If you're looking for a fun, romantic, and a little different date night (let's admit, you don't go to the ballet every weekend and also hint, Valentine's Day is just 3 days away), Innovative Works is running the next two weekends, Thursday, Friday and Saturday February 11, 12 and 13, and Thursday, Friday and Saturday February 18, 19 and 20. Both Alexander Michael's and The Cellar at Duckworth's are walking distance from the Center for Dance, and offer cozy, romantic atmospheres, perfect for a winter time date night.