Like your momma told you, it's always good to eat your veggies. I like Crisp as a quick and convenient meal option (two locations, in Dilworth and Elizabeth) It is a definite healthy alternative to some of the fast food chains I've fallen in love with since moving down south (I love me some Bojangles fried chicken, and can we talk about how Cook Out has something like 42 flavors of milkshakes?).
When I go out to eat, I am not a salad orderer. Maybe because I just want a steak or a cheeseburger. Maybe it's because my feminist side does like the first date i-eat-like-a-bird stigma that is associated with ordering a salad. Maybe it's because sometimes I feel like I could make a great salad at home with fresh, seasonal produce for half the price. But sometimes, I just want someone to make me a salad.  Food just seems more delicious when someone else makes it for you. That is totally my lazy side talking.
This was my third or fourth time going to Crisp, but the first time at their Dilworth location (I live near the Elizabeth one, and it is super convenient after yoga). We went for lunch on a Monday as a send off for a different semester intern (the good thing about interns is lots of lunch outings as they wrap up their stints with our office). Crisp is crazy at lunch; the line went back to the front the door, and every table was full. We were lucky though, by the time we went through the line, something had opened up.
I like the way Crisp is set up, you walk up to the counter/salad bar, and place your order. Their menu offers several different options: salads (including both speciality salads and a create your own option) sandwiches, wraps. If you are creating your own, you get to see exactly what ingredients are available and tell them exactly what you want. Crisp has choices: several different varieties of lettuce, proteins, topping, and dressings.  While they do have choices, it is mostly the standard salad bar fare, there is nothing out of the box. There are veggies (and one or two fruits) that you would expect to be stocked in a salad bar in a cafeteria or grocery store. The choices don't seem to rotate by season. Also, depending at what time of day you go and where you are in the line, the availability of the ingredients can be limited (there were several empty sections in the salad bar when I placed my order).
This was the first time I ordered a protein to go on top of my salad. I really like that if you choose to add a protein to your salad (chicken, steak, shrimp), they cook it to order and then deliver your food to your table, rather than chicken or steak sitting out for hours on end. It makes it that much more fresh.
I ordered a create your own salad (I still really need to try their specialty salads, but can't get over making my own!) with romaine, red peppers, cucumbers, apples, bacon, monteray jack, chick peas and flank steak (I had to balance all the veggies with some bacon and red meat, and let's be honest, bacon makes everything better). It was really satisfying and delicious, but there was a funky aftertaste to my apples (I'm not sure if it was because they were sitting out or what). I also appreciated that they cooked my steak to order and it was the correct temperature (rare: mooing and bleeding 🙂 ) but I would have appreciated some sort of seasoning or marinade on the steak.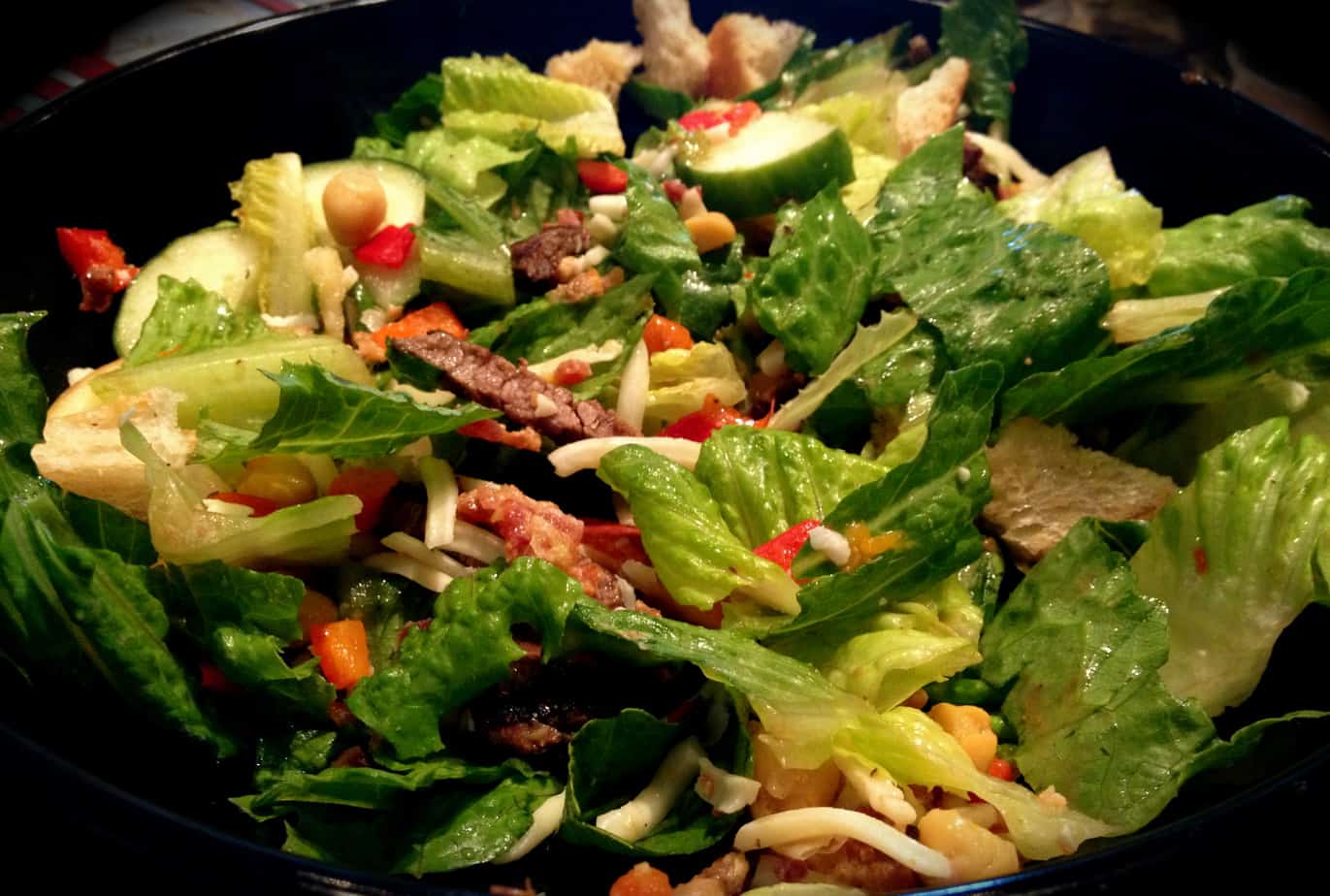 The portions are huge, and I took about half of my salad back to the office. It kept really well, and I had an enjoyable lunch the next day.
Crisp has a selection of soups and sandwiches too. My friend had a wrap that looked pretty tasty.
Crisp is a solid choice. The price is not too bad for what you get, because the portions are ginormous. However, Crisp is not something I would go to everyday, because $10 for a salad all the time would get me in trouble with my budget. But when laziness overcomes me, Crisp takes good care of my salad craving.
map & more
score: 6.5
spending: $
neighborhood: dilworth and elizabeth
cuisine: salads, healthy
official website
[googlemaps https://maps.google.com/maps?f=q&source=s_q&hl=en&geocode=&q=Crisp+Foods,+1412+East+Blvd,+Charlotte,+NC&aq=0&oq=crisp+foods+1412+east+blvd+charlotte+nc&sll=35.214166,-80.83253&sspn=0.03983,0.069008&ie=UTF8&hq=Crisp+Foods,&hnear=1412+East+Blvd,+Charlotte,+Mecklenburg,+North+Carolina+28203&t=m&ll=35.200605,-80.843496&spn=0.003068,0.003734&z=16&iwloc=A&output=embed&w=250&h=250]