I became (slightly but actually really) obsessed with Food Network in college. It was like something went off and I no longer found cooking shows boring but actually interesting, intruiging, and drool inducing. I got in the habit of DVR'ing some of my favorite chefs' cooking shows and turning them on in the background when I was doing work and then replicating the recipes I saw on TV. From cooking shows it was just a downward spiral, into reality cooking competitions (reality tv + food? yes please!) and now as embarassing as it is to admit, I keep up with several of those season to seaon–my favorites are Masterchef and Chopped (though I do love the occasional Iron Chef competition when it's on TV).
What does my obession with food and reality TV have to do with Fire in the City? Well, "Got to Be NC" Competition Dining Series is one part delicious food, one part local chefs, one part competition cooking (where the audience votes!) and one part single elimination bracket style tournament blended together for a super fun evening!! "Got to Be NC" Competition Dining Series hosts dinner competitions in five different regions in North Carolina throughout the year, and they are in Charlotte during August and September for Fire in the City! (other locations include Raleigh, Asheville, Wilmington, and Greensboro). Local chefs enter the competition and are set up to battle each other bracket style, with the winner from each night advancing on until a regional champion is declared (the regional champion advances to the Final Fire Battle in November). Each night, two local chefs face off in a blind dinner format. Guests get to indulge in and devour six courses (three from each chef), without knowing who made it, and then get to vote in a number of categories including flavor, appearance, and use of the mystery ingredient (among others). Speaking of mystery ingredients, each evening centers around a mystery ingredient–local to North Carolina–which is announced to the chefs at 11:30 AM the day of the competition, and revealed to the diners right before dinner service. At the end of the evening, they reveal who made which dishes, tally up the votes (you vote using a handy mobile app) and a winner is declared!!
Sounds fun and delicous right? AJ and I were lucky to attend the battle between Chef Tom Dyrness of Mama Ricotta's and Chef Brian Mottola of e2 Emeril's Eatery a few weeks ago, and we had the best time. We got to Bonterra in Dilworth (the competition's Charlotte venue), grabbed a glass of wine and took it all in. Bonterra is a beautiful space (I love old churches converted into new things. It was my first time there and I can't wait to go back to try their food!), and was the perfect backdrop for the evening. They had large and small tables set up (when you buy your tickets you can request to sit with specific people if you want) and a few TV screens and projectors set up so we could keep up with everything (the event is super technologically advanced, from the mobile app, to updates on screens throughout Bonterra, to loaner phones for voting…honestly I've never seen it so acceptable to be on your cell phone at dinner). It was so fun to look at the screens as each dish came out to see what we would be eating.
It was just the two of us and we didn't make any special seating requests, so we ended up at a table with Chef Dyrness' family and friends. That made the event so much better; they were such a friendly and welcoming group of people, and we got to learn a little bit about Chef Dyrness throughout the night (AJ sat next to his mom). They were definitely his biggest supporters and fans, and it was wonderful to share in their passion and joy when he won! (spoiler alert).
Once we were seated, we perused some drinking options, and both decided on the flight of North Carolina wines selected to pair with each course. One of the things I loved about this event was their emphasis on local, North Carolina ingredients–from meats, to bread, produce, to booze–all from North Carolina (it makes sense, Competition Dining Series is sponsored by the North Carolina Department of Agriculture!). An event created in North Carolina with North Carolina chefs and North Carolina ingredients? You've got my vote.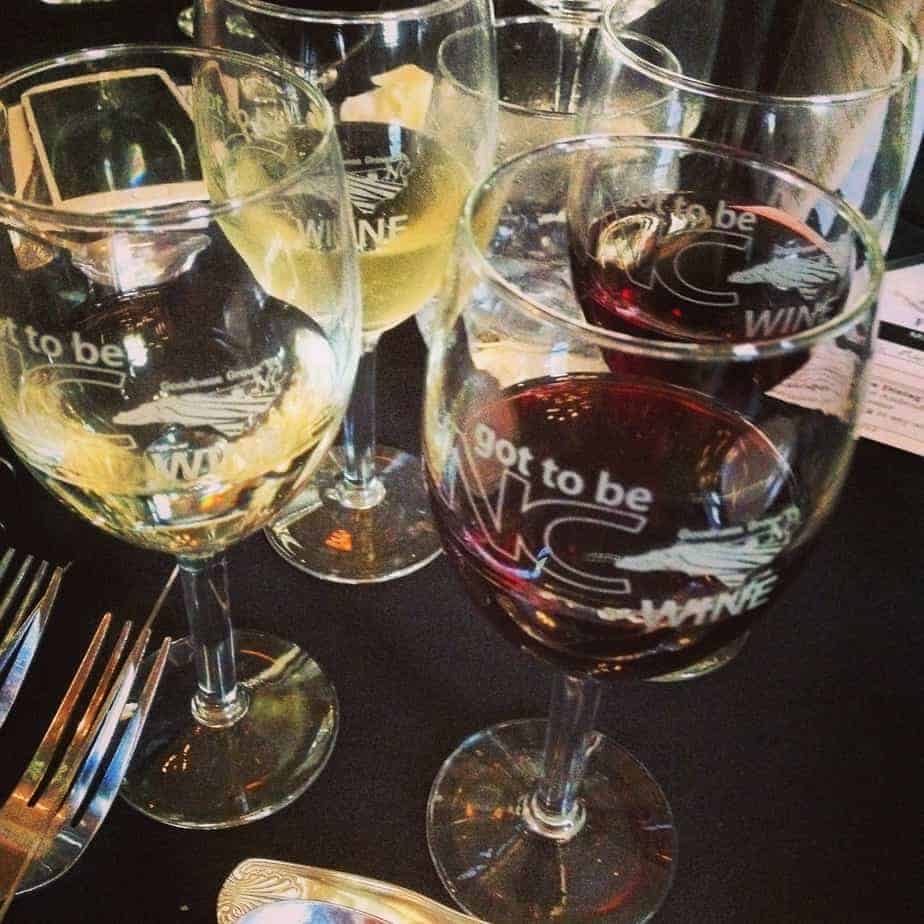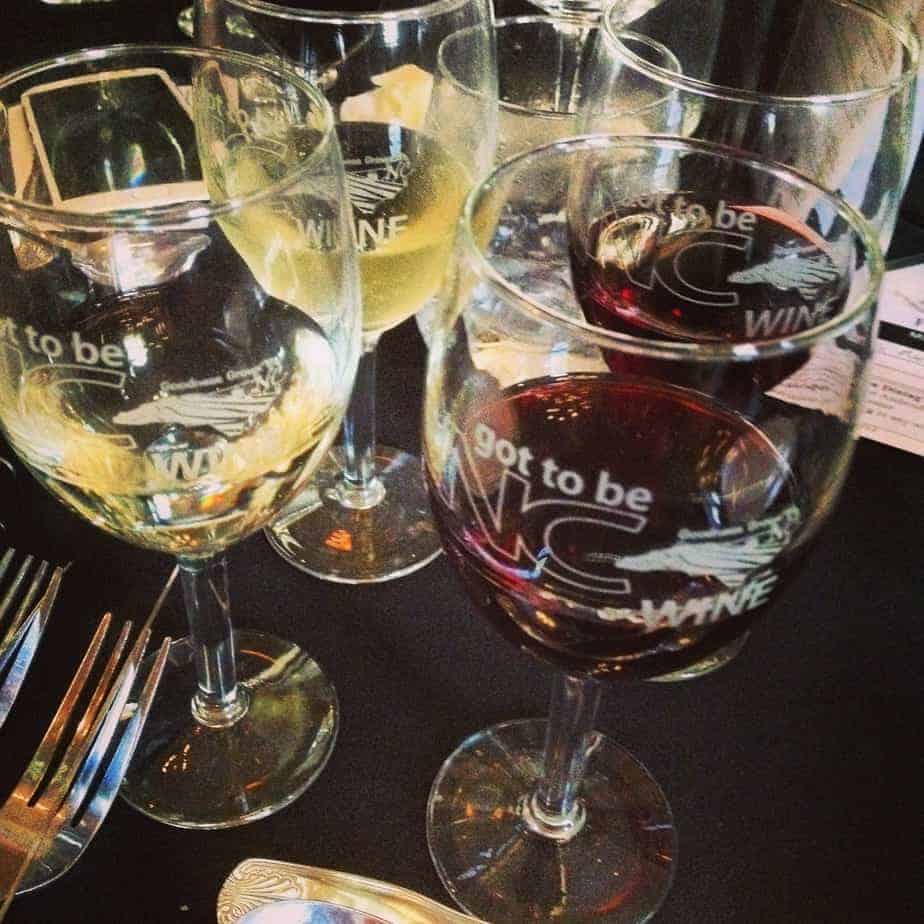 Apparently the wine flight was popular the evening we went, because it took the waiter a while to get our glasses in order and they were out of pre-made flight sheets (that's a very technical term) which explained each wine. Our waiter did a great job of explaining each of the wines, but my memory fails me at this point. I did really like the attention to detail with the wine flight,  each of the wines we got was well paired to the food and tasty. Maybe I just really like wine.
Shortly after we got our drinks, host Jimmy Crippen kicked the evening off. Jimmy is a great emcee–he is energetic, charasmatic and engaging. The evening was definitely all about the food, but also the entertainment and experience, and Jimmy really fused it all together. He thanked a lot of sponsors, gave some shout outs, and then revealed the secret ingredients: Windcrest Farm tomatoes and Una Alla Volta formaggi! I really felt like we were the luckiest because really, who does not love tomatoes and cheese? Tomatoes and cheese might be some of my favorite ingredients (add bread, cookies, and pizza in there. Oh wait, pizza is made of tomatoes and cheese!).
On to the food.  It was incredible. It was such a treat to each six courses from two of Charlotte's super talented chefs. Part of the fun was guessing which chef made which dish when we were served–we had a lot of debates at our table and there was some hemming and hawing and flip flopping. While the guessing was fun, I have to say the best part about dinner was savoring every bite (below I've told you which chef made what dish, but in the moment, we had no idea).
Our first course was made by Chef Dyrness–Windcrest Farm charred San Marzano tomato soup with baby arugula pesto, mixed heirloom tomato relish, U.A.V. fresh mozzarella, and olive oil crostini. I wanted to swim in this soup, and have dreamed about it almost daily since I ate it. It was hearty, robust, flavorful, warm and I loved the melted cheese (but who doesn't love melted cheese?). This would be perfect for a chilly evening; it was like eating a warm hug. Yes, that's totally possible.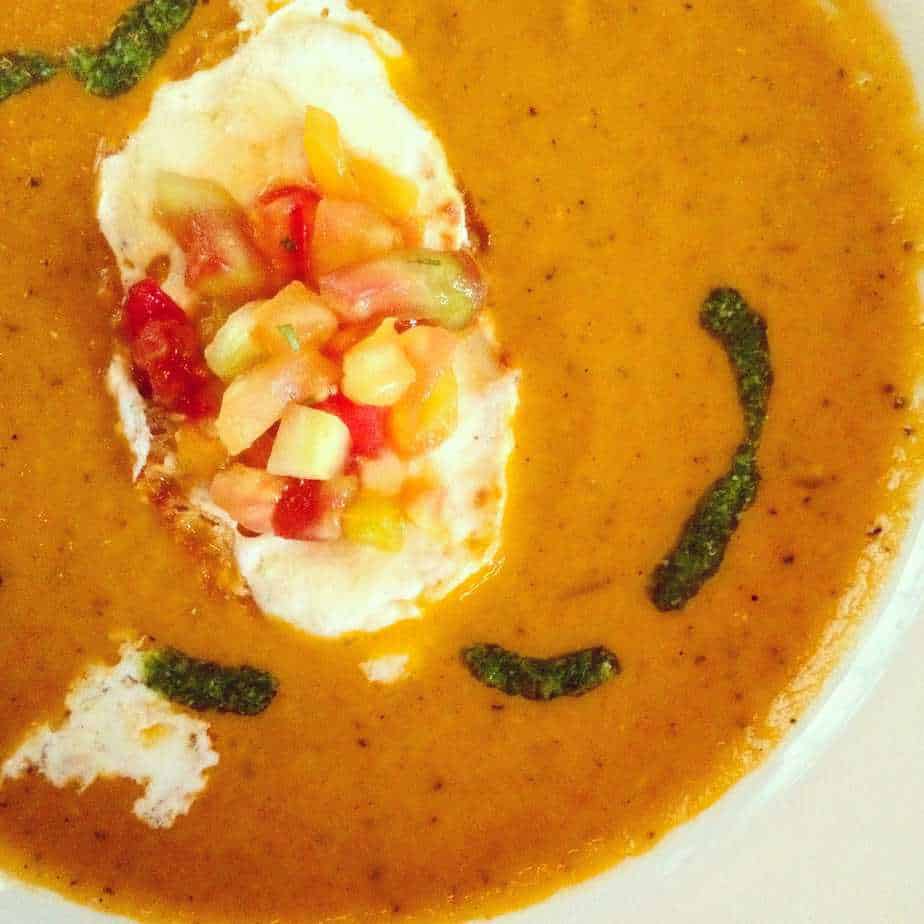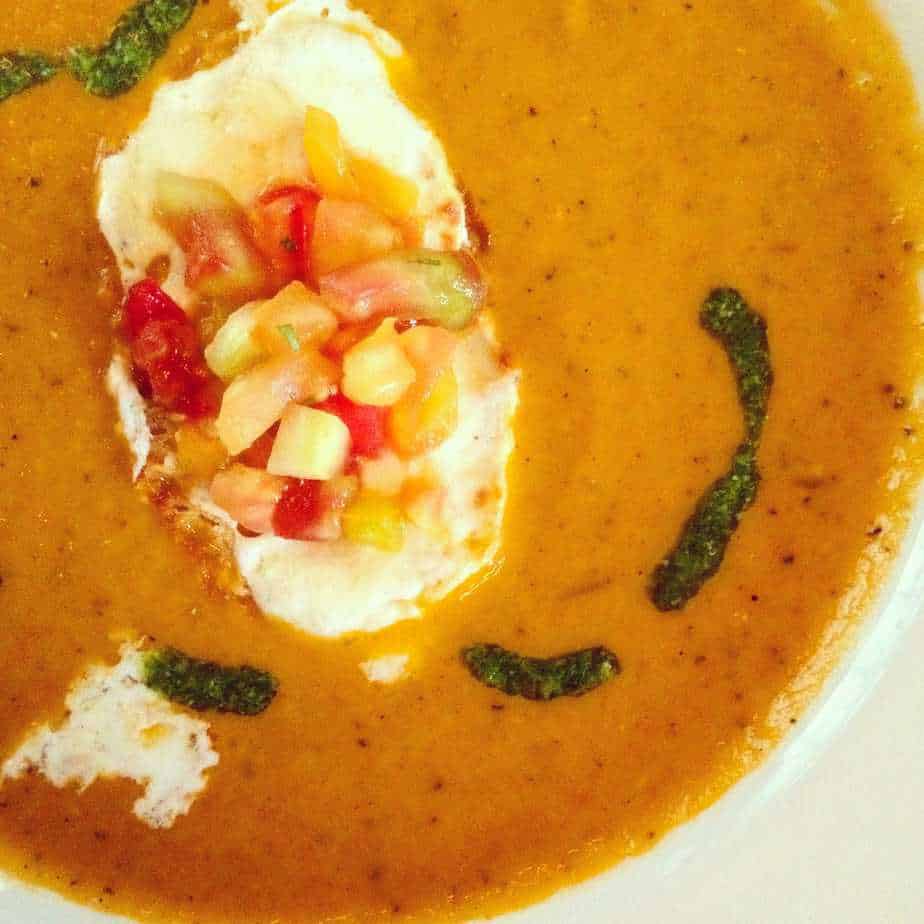 Next up was Chef Mottola with a U.A.V. burrata crêpe with Johnston County cured ham and Little River crab salad, spicy Windcrest Farm tomato water, and cucumber tomato salsa. I was not expecting a crepe, but it was a creative and pleasant surprise. The crab salad was bright, tangy and overall incredible, and the dish was super light and refreshing.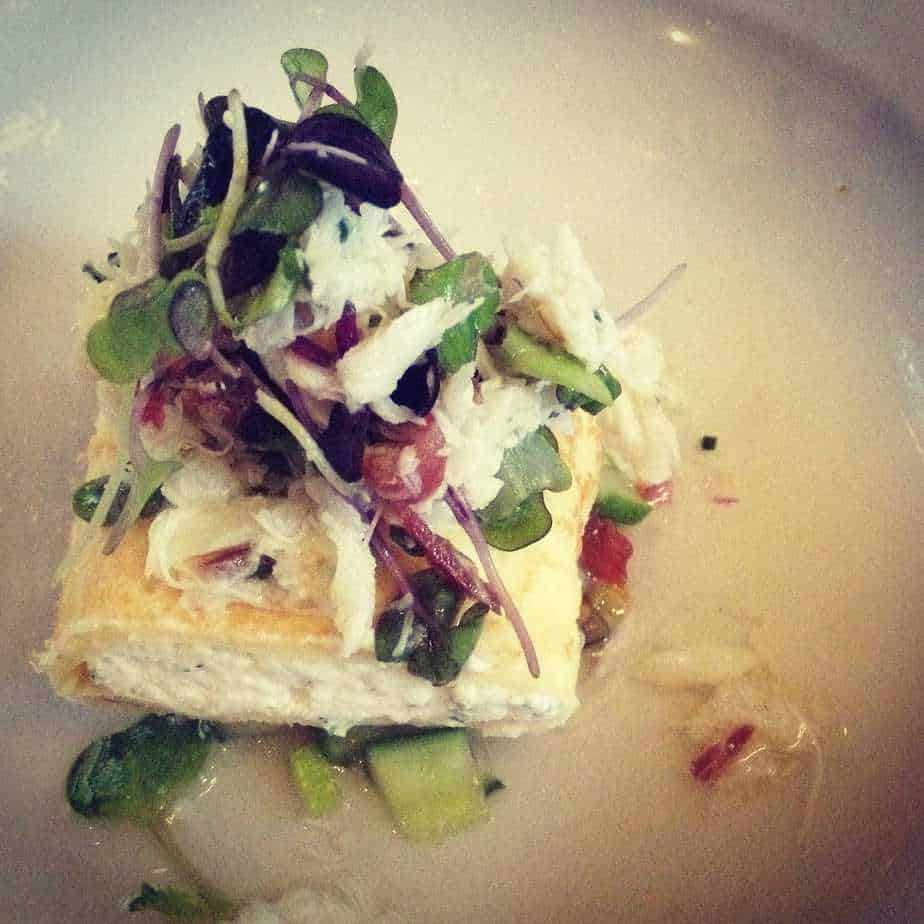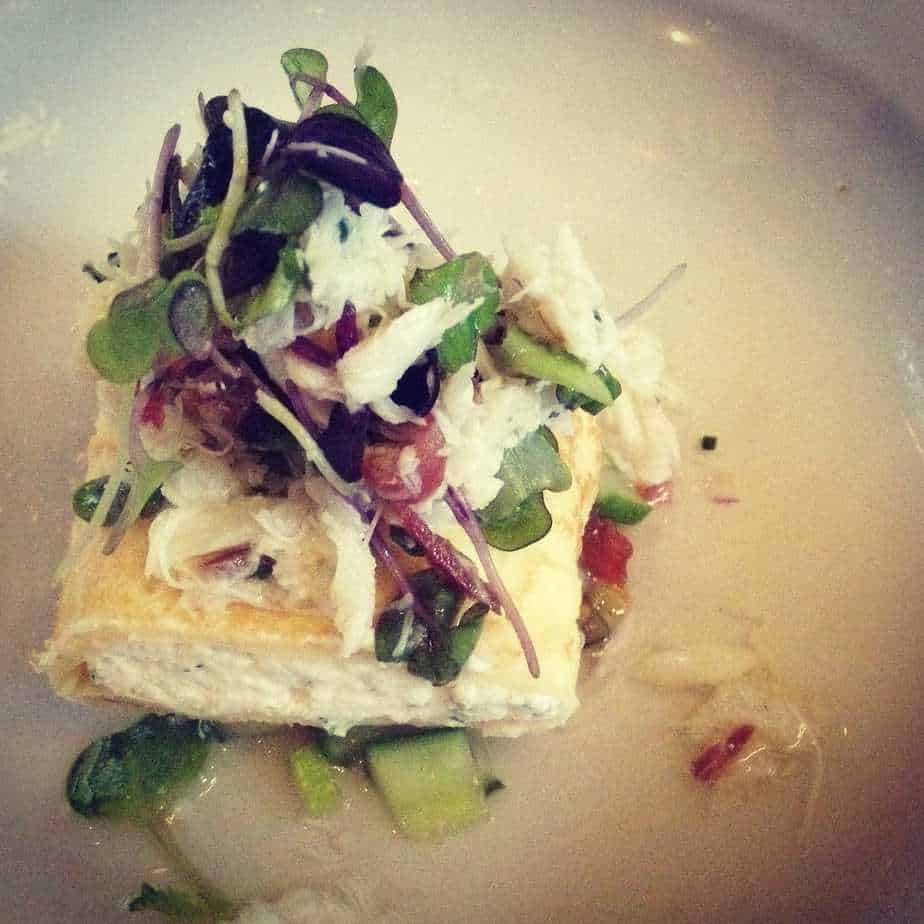 Our first main course was served up by Chef Dyrness–confit of Heritage Farms Cheshire pork tenderloin, with Windcrest Farm yellow and green tomato compote, U.A.V. Burrata chili grits, heirloom tomato oil, and aged sherry jus. This one got praise all around the table, and AJ deemed it his favorite dish of the night. Pork tenderloin is not always my protein of choice, but this was tender and delicious. And I would really like to eat burrata grits every day, please and thank you.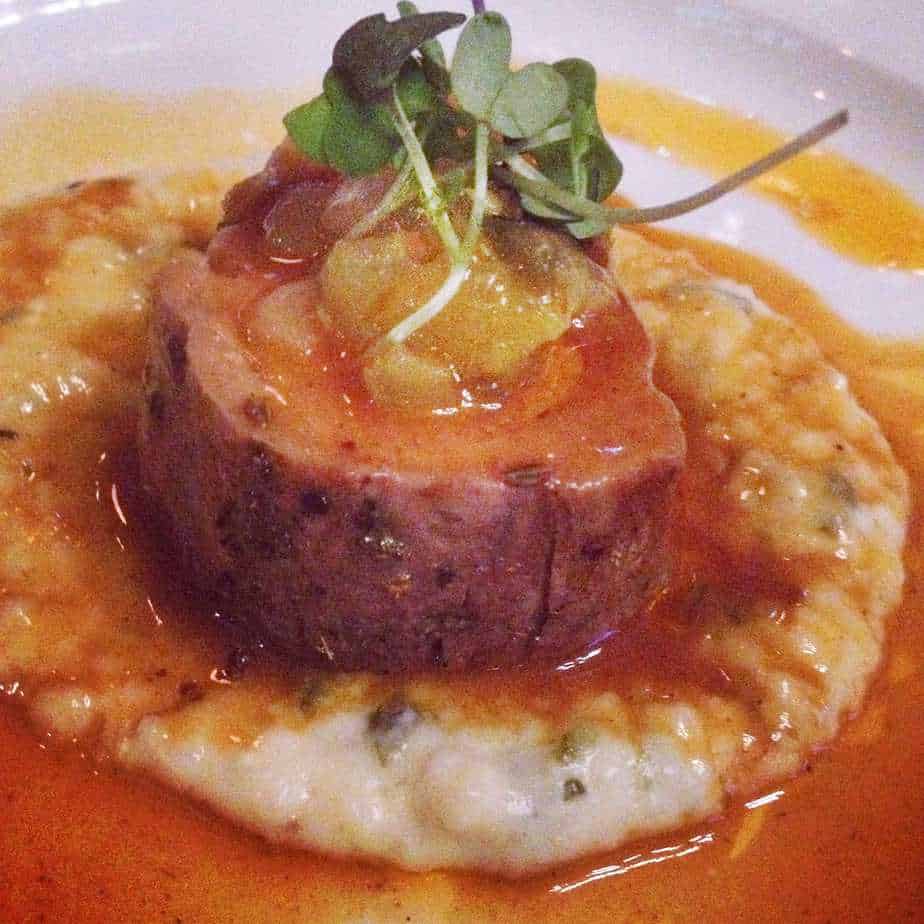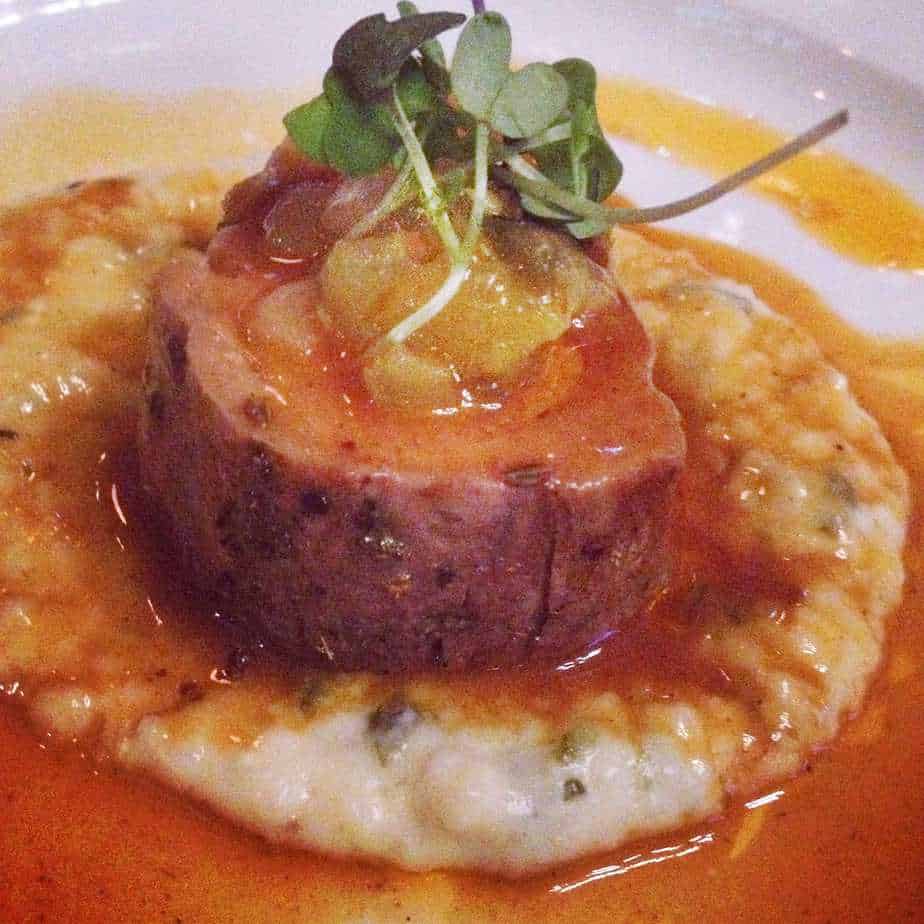 The main course from Chef Mottola was a roasted Maple Leaf Farms duck breast, with Windcrest Farm San Marzano lemongrass broth, crispy green zebra tomatoes, U.A.V. smoked mozzarella, mango, ginger, and mint. I would absolutely eat Chef Mottola's take on fried green tomatoes every single day if I could (maybe I could put them on top of Chef Dyrness' burrata grits?). The tomato was crisp and packed full of flavor–the seasoning was on point and highlighted the flavor of the tomato. The duck was delicious, and while I have to say I was hesitant about the mango, it worked. Also, smoked mozzarella, mmm.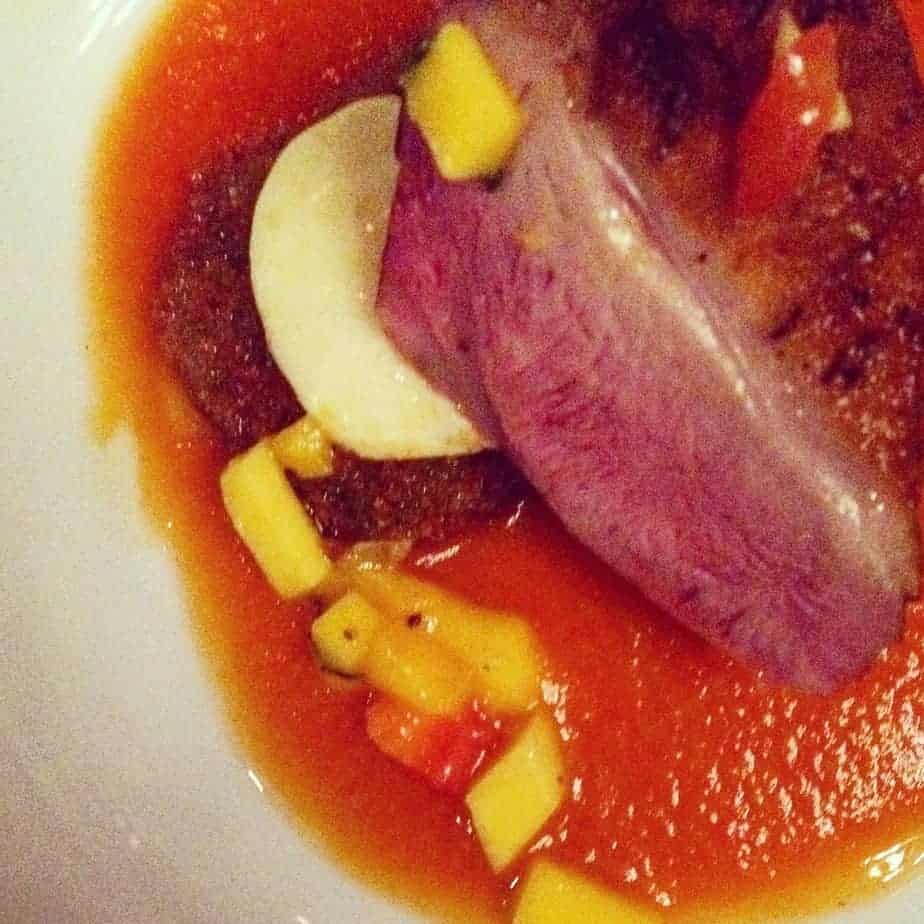 Then it was on to dessert. Neither of these desserts blew me out of the water, but I think Chef Dyrness' mother put it best when she leaned over after her first bite of dessert–these folks are savory chefs, it's just their craft (there may have been a follow up about how the pastry chefs are in charge of the desserts at the restaurants). Her opinion was right on point–the savory dishes were the highlights of our meals.
Chef Dyrness served up a Sweet Corn & U.A.V. Ricotta Mousse, with almond tuille, bacon and pine nut brittle, and Windcrest Farm candied sweet baby tomatoes. Overall I like this dessert–the mousse was surprisingly sweet and the crunch of the tulle and brittle was great. AJ said that tomatoes should never be in dessert, but a lot of our table mates liked the tomatoes and said they tasted like grapes. To each his own.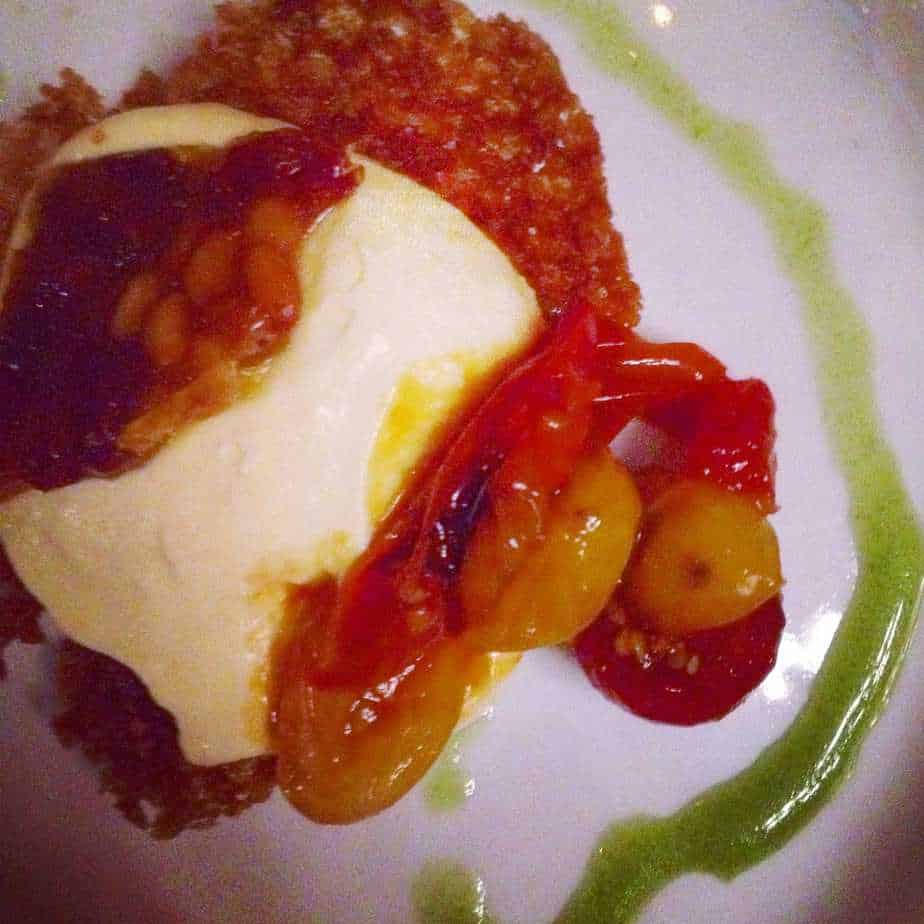 Chef Mottola's dessert was a blackberry and U.A.V. mozzarella soufflé, with Windcrest Farm cherry tomato jam, and a pistachio crust. This dish was beautiful to look at, but was definitely more savory than sweet. My little sweet tooth wanted something a lot sweeter to finish off our delicious meal.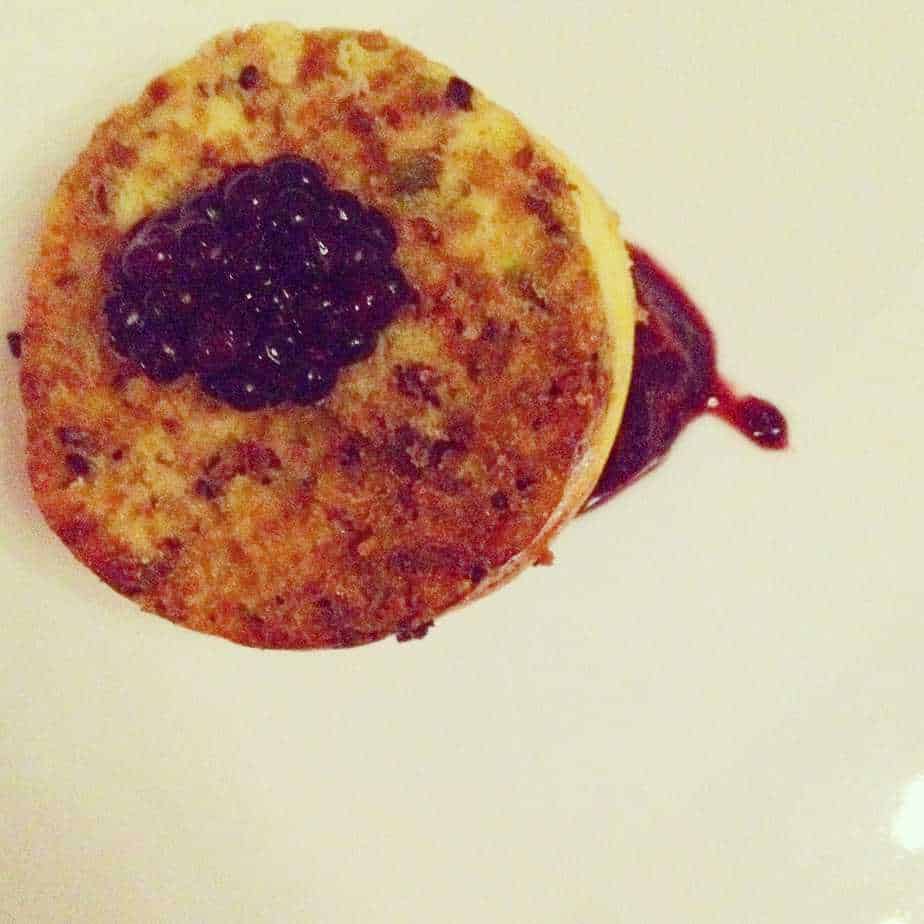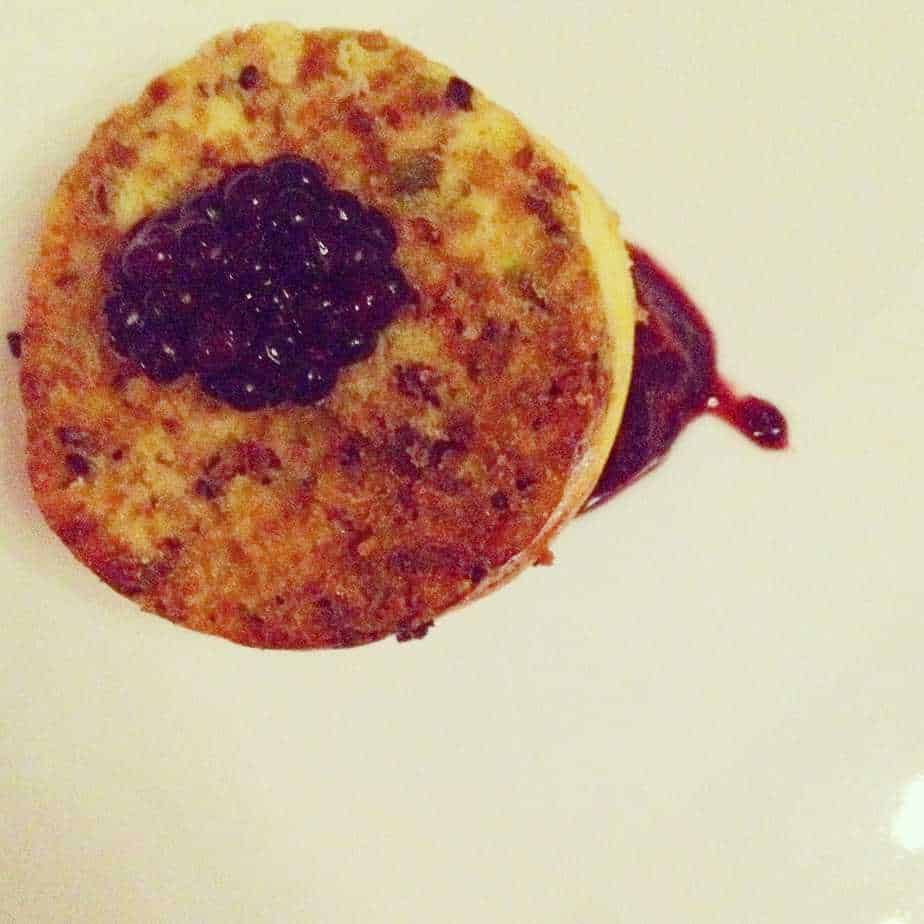 At the end of the night, Jimmy brought the chefs and their teams out to interview and meet the crowd before revealing the dishes, tallying up the scores and announcing the winner. Our battle champion was Chef Dyrness (I know there was already a spoiler), who won 30.02278369 to 22.74213836 (yes these are very exact scores, but these folks are precise with their technology and maths, y'all). Chef Mottola put up a good fight, and had some really creative and tasty dishes.
Chef Dyrness' next battle against Chef Luca from Passion8 Bistro is tonight!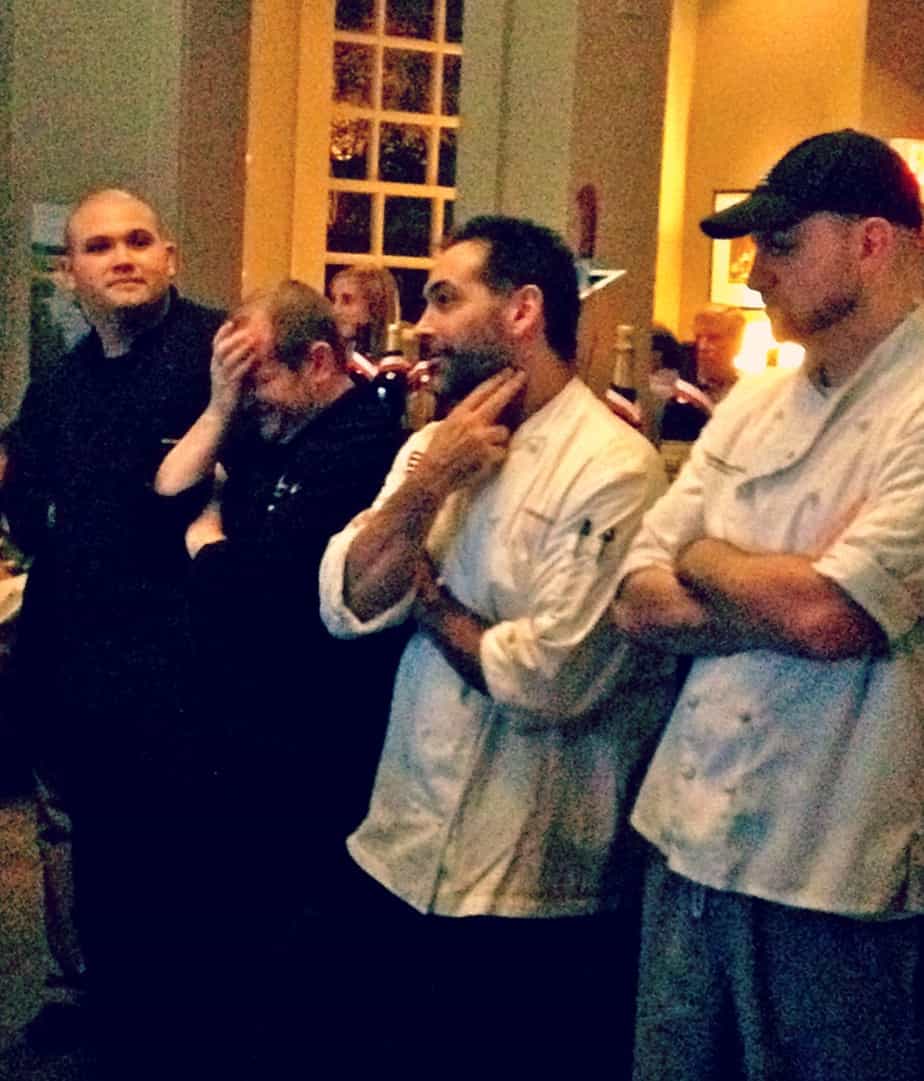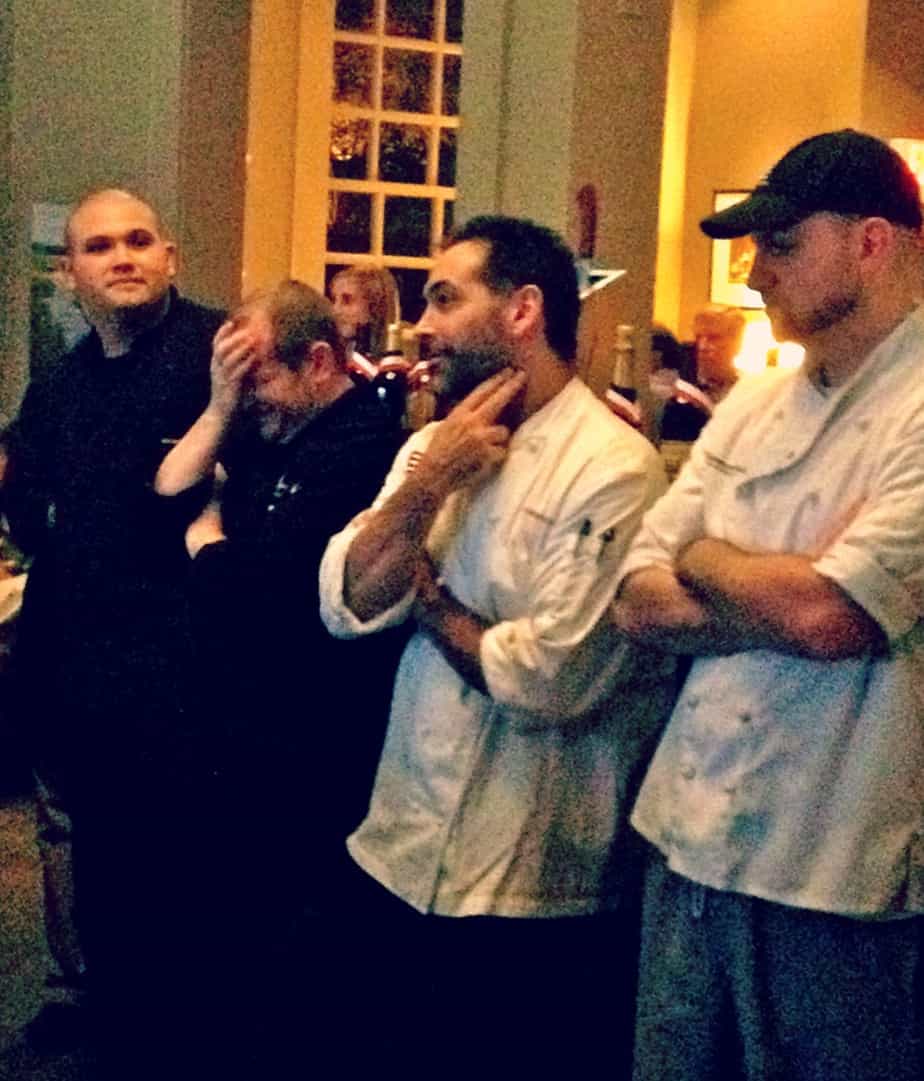 I would highly recommend Fire in the City to anyone who loves food and is looking for a fun evening out. The price tag may be a little heavy ($59 plus tax and service and beverages are not included), but I promise you, it's worth it! Use it as an excuse to celebrate a special occasion, or to just celebrate your inner foodie and  drink some wine and eat delicious food made by some of Charlotte's fabulous chefs! Unfortunately, Fire in the City is sold out for 2014, but it's not too early to start planning for 2015!
*I was invited to attend Fire in the City as a guest blogger and my ticket to Fire in the City was complimentary. Thank you Competition Dining NC for hosting me for such a fun evening!!  No one asked me to write anything in return.