This shop has been compensated by Collective Bias, Inc. and its advertiser. All opinions are mine alone. #ShareYourSpirit #CollectiveBias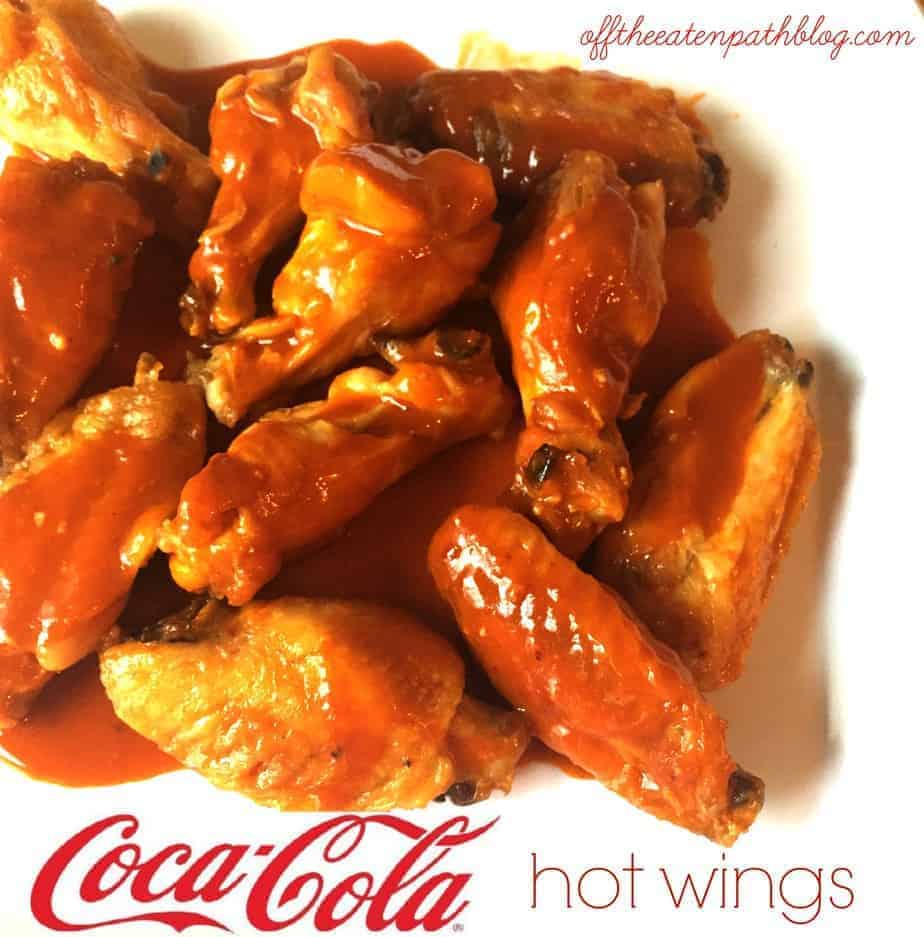 I've been looking forward to fall all summer long. Not so I could break out my riding boots (though I do love them) or cozy scarves (love those too). I wasn't really excited about ordering my first pumpkin spice latte (I'm a black coffee and chai tea kinda gal anyways), and carving pumpkins, and corn mazes aren't really my jam (though I do love a deep red leaf color). I've been looking forward to fall because, football (let's be honest, a lot of us started counting down the days to late August/early September after the bowl games' pomp and circumstance in January).
My dad is from Wisconsin, and I went to college and law school in Wisconsin, so my loyalties definitely lie with the teams in America's Dairyland (born and raised, y'all). In law school, my roommate and I lived right behind the stadium, so many game day Saturday kicked off with a tailgate party at our house.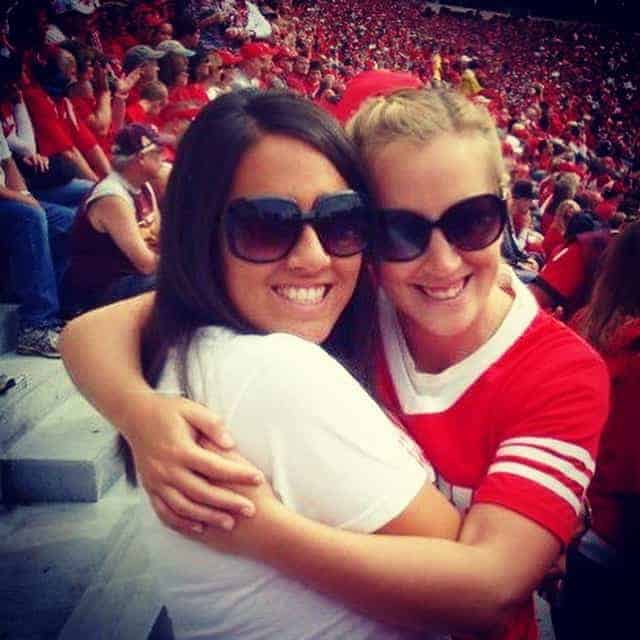 AJ, on the other hand, hails from Michigan, so it could easily be said there's a bit of a rivalry in our household.
Although we're cheering for different teams when weekends roll around, you'll be able to find us parked on the couch, screaming at the TV, together (true love, no?). I definitely enjoy the game day experience; nothing can beat the roar of the crowd, the smell of charcoal in the air as brats sizzle on the grill, or a jubilant tailgate party (and you can bet you'll see us at a fair share of tailgate parties near the stadium during football season). But a tailgate party at home can be just as festive with a great spread.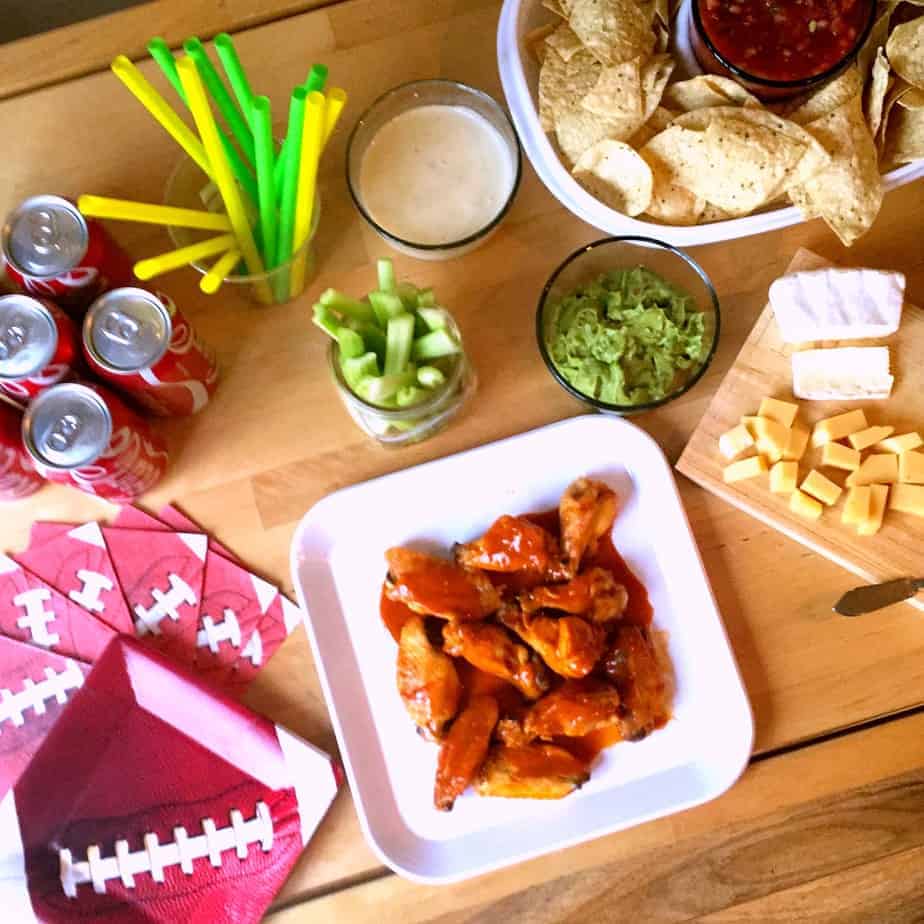 There are a few key tips to throwing an excellent, high caliber, feel like you're practically in the stadium parking lot (but with added benefit of being on your couch) tailgate party at home. Here are my top five at-home tailgate tips.
1. Share your spirit.
Just because you're not going to the game, doesn't mean you can't sport your fan gear. Throw on your favorite jersey and get ready for an afternoon of cheering from the couch!
2. Shop in one spot.
The absolute worse thing is hosting a party and having to stop at three different stores the day before in order to get everything you need. With the weather being so terrible in Charlotte lately, we had big plans this weekend to hunker down for hours and hours of football. So we swung by Sam's Club Friday night and grabbed everything we needed for our epic tailgate party at home: chips, dips, wings (more on some incredible Coca-Cola hot wings, and a recipe, below), and a pack of Coke (Sam's Club has 28, 32 and 35 packs, perfect for parties!).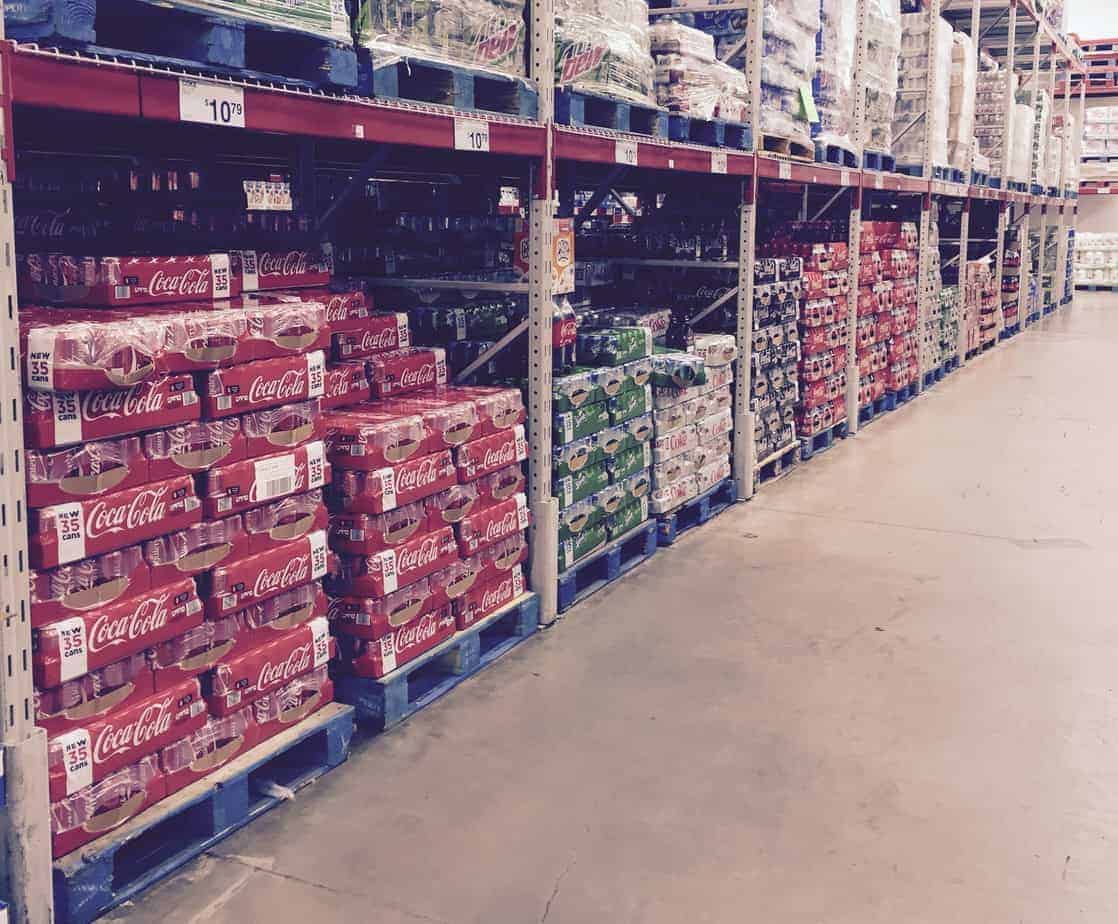 If we didn't want to spend a romantic Friday evening together at Sam's Club (haha, followed by pizza and a movie), we could have ordered everything we wanted online and picked it up at Sam's Club. I really wish we had planned ahead because I love it when I don't have to do my shopping myself!
To get your ready for your at-home tailgate party, I made think shopping list printable. Print it out, shop from home, and then pick everything up at Sam's Club when it's ready (or wander the aisles at Sam's checking everything off your list!).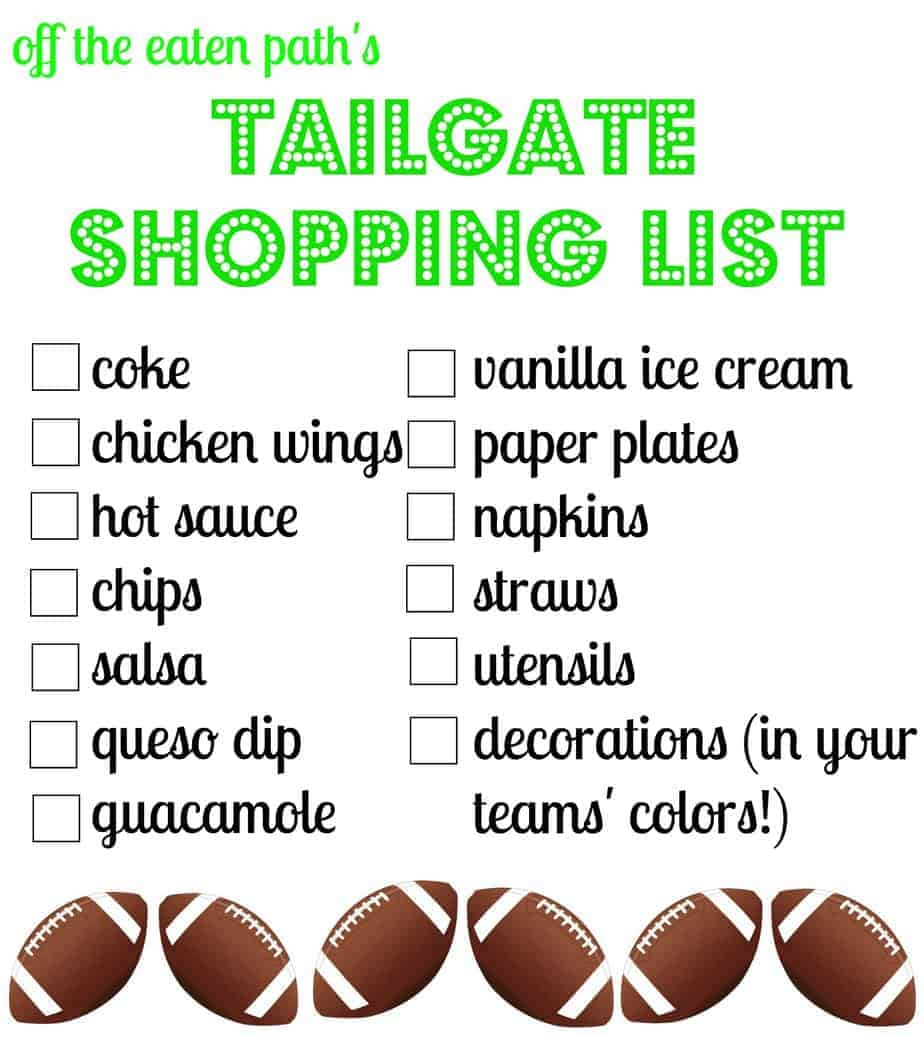 3. You're going to get thirsty.
The easiest beverage solution is a tub of ice filled with cans of Coke. I loved that the pack we picked up at Sam's Club was full of "tailgater" cans. It's like they knew what we were doing!!! The Coke can do double duty, because you can whip up a Coke float for you guests for dessert as a fourth quarter treat (so easy, a few scoops of vanilla ice cream and Coke).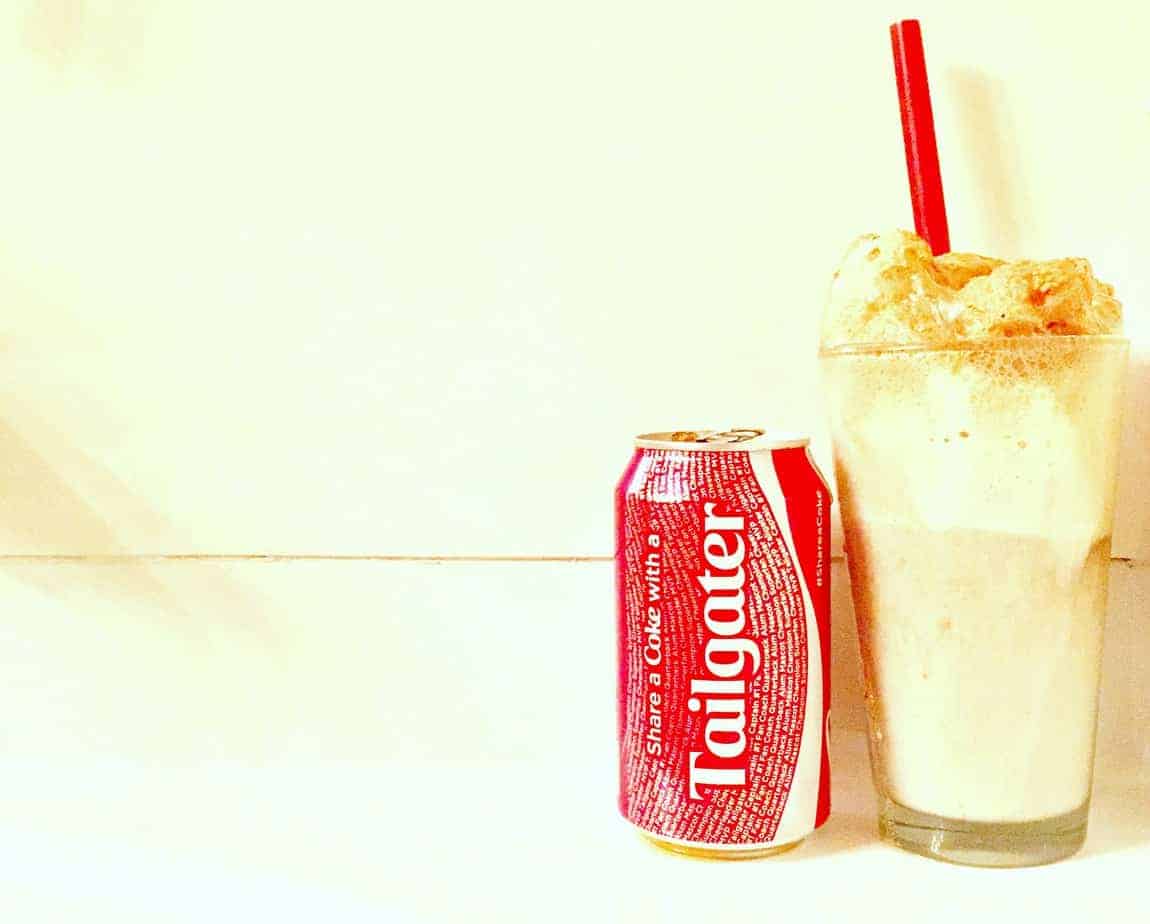 4. Prep everything ahead of time.
Any hostess with the mostess doesn't want to be stuck in the kitchen while her team is scoring touchdowns. Make everything ahead of time and store it in the fridge, then stick it in the oven right before kickoff (Coca-Cola hot wings–recipe below!!!–are perfect for this approach, as are these meatballs and Aunt Julie's Pepperoni Bread). Dips and chips are also always a crowd pleaser, so be sure to whip up a batch of guacamole.
5. It's all about the snacks.
No one wants to come to a tailgate for a sit down meal. Sure you may have your stars of the show (like brats, a standard staple at tailgates in Wisconsin), but your game watching spread needs to a variety of tasty things for people to graze on. Four quarters provides plenty of time for snacking, and your guests are guaranteed to get full (even if you don't have a traditional "main dish"). One of my favorite football snacks is wings, and these Coca-Cola hot wings were a big hit at our last football fiesta.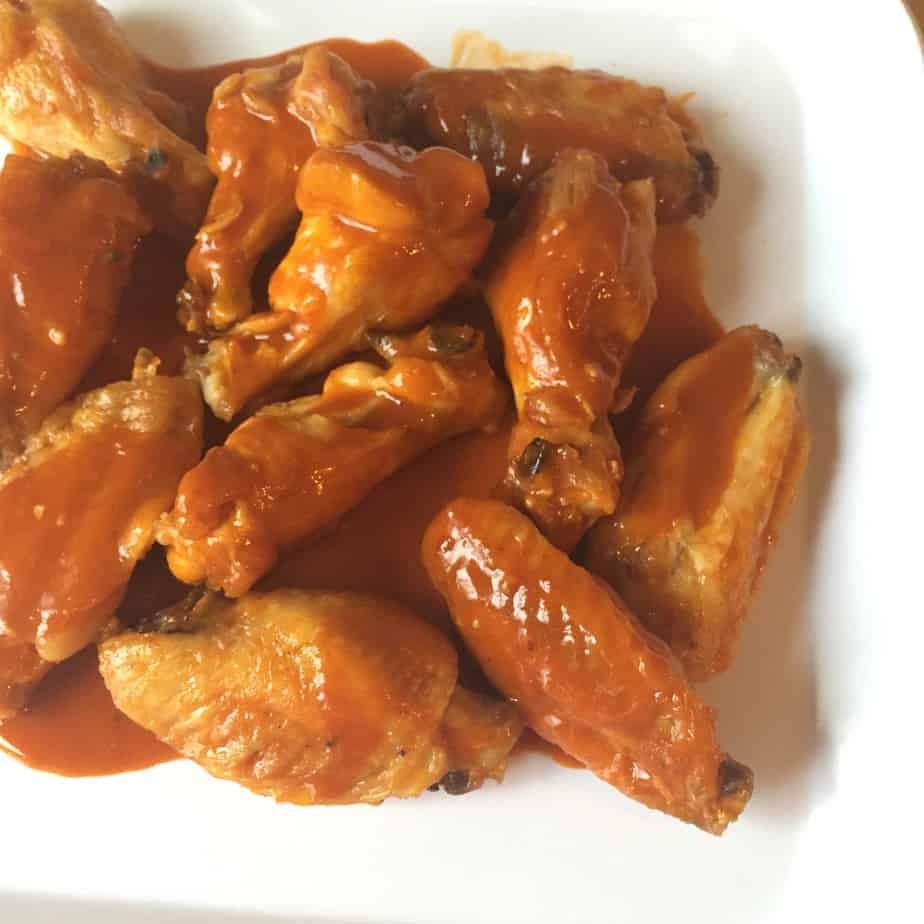 And these wings are so easy to make; the recipe includes a lot of ingredients you probably already have on hand, and the cooking process is super hands off (which is excellent when you'd rather be watching the game rather than stuck in the kitchen!). You need a few pounds of chicken wings (which we picked up on our trip to Sam's Club), a can of Coke, your favorite hot sauce, and a few pantry staples like butter, garlic, soy sauce and cayenne pepper.
The hardest part was separating the wings and chopping off the tip (definitely easier with a sharp knife or super duty kitchen shears); you can toss the tips or reserve them for stock.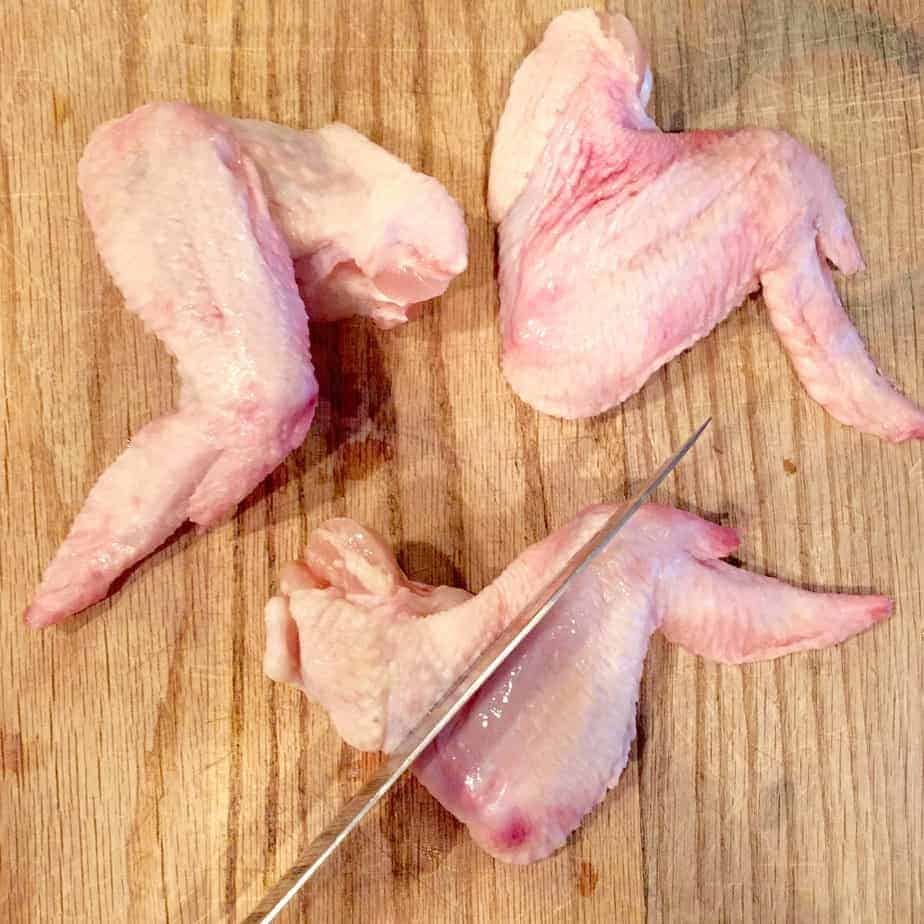 Steam the wings in a steamer basked over a pot of boiling water to get them nice and juicy, and then let them cool in the fridge for about an hour on a baking sheet on some parchment paper.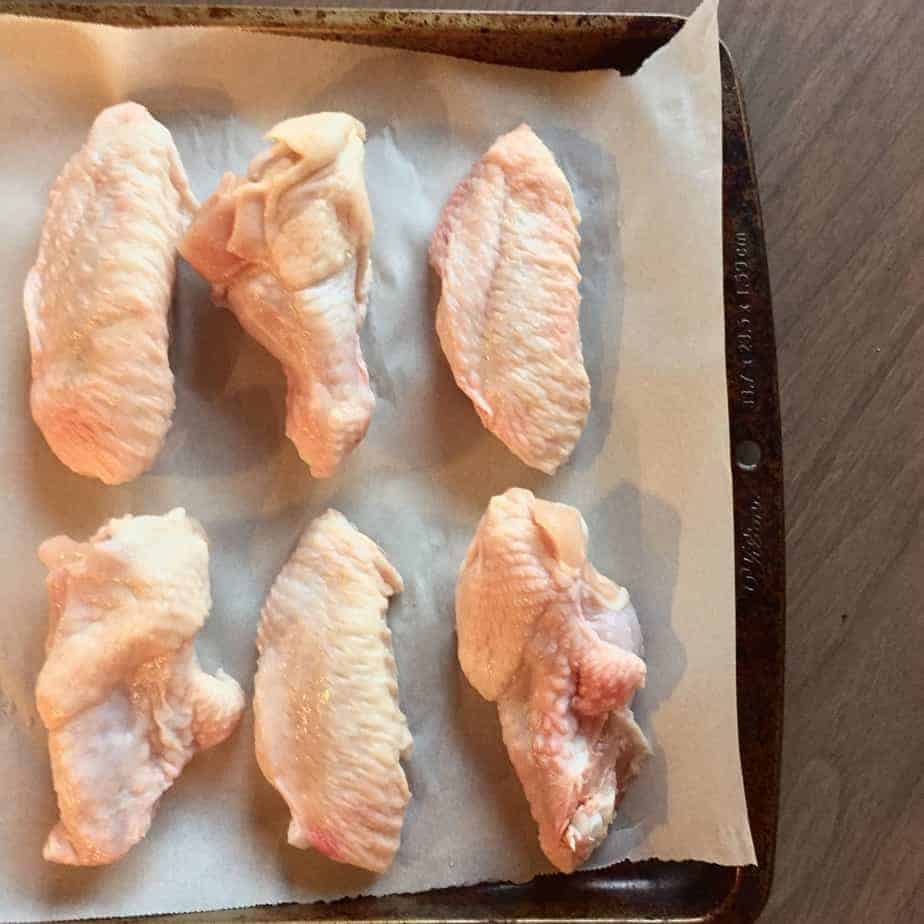 Then, fire up your oven, and bake the wings for about 40-45 minutes at 425. Halfway through baking, pull the wings out and flip them so they get nice and roasted on both sides. In the last 15 minutes of baking, whip up your sauce. In a small saucepan over medium high heat, melt the butter, then sauté the garlic. Add the hot sauce, Coke, soy sauce, and spices. Whisk away and let the sauce simmer and reduce while the wings finish baking.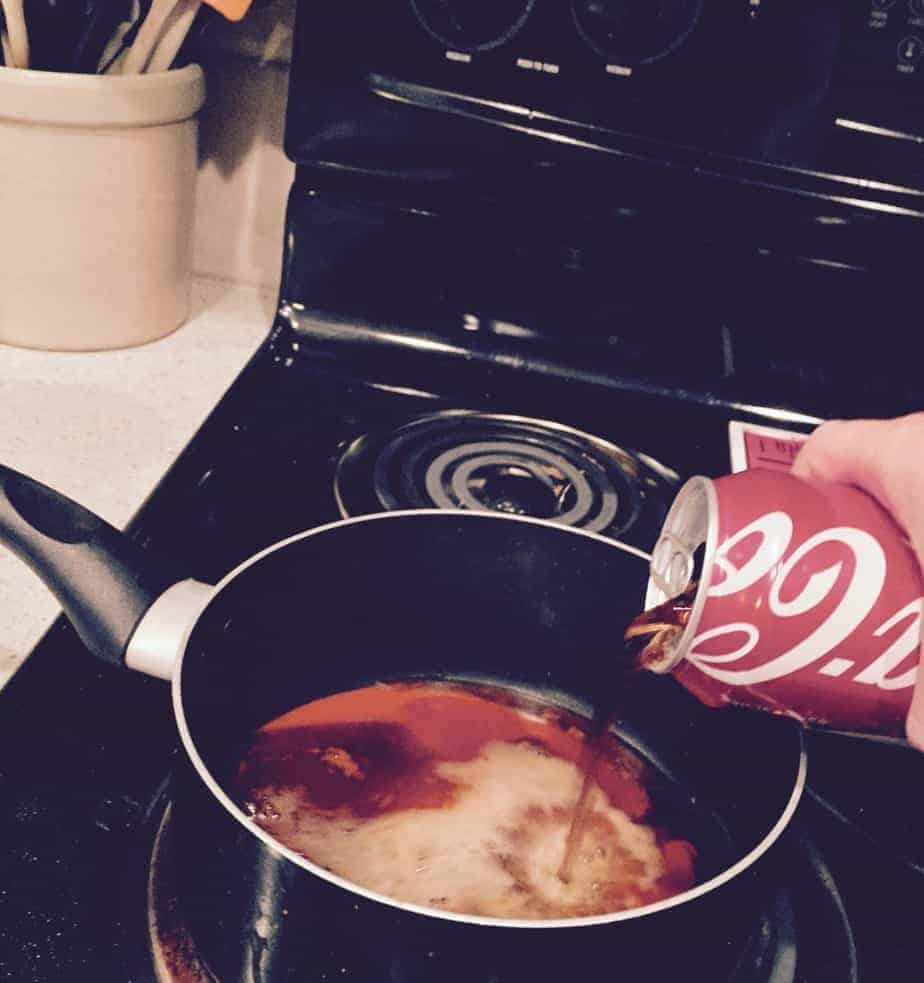 Toss the wings in your sauce and send them back into the oven for a quick trip under the broiler.  Reserve a little bit of sauce and toss them one more time, and they're ready!!! Don't forget blue cheese and ranch for dipping, as well as some crunchy celery sticks.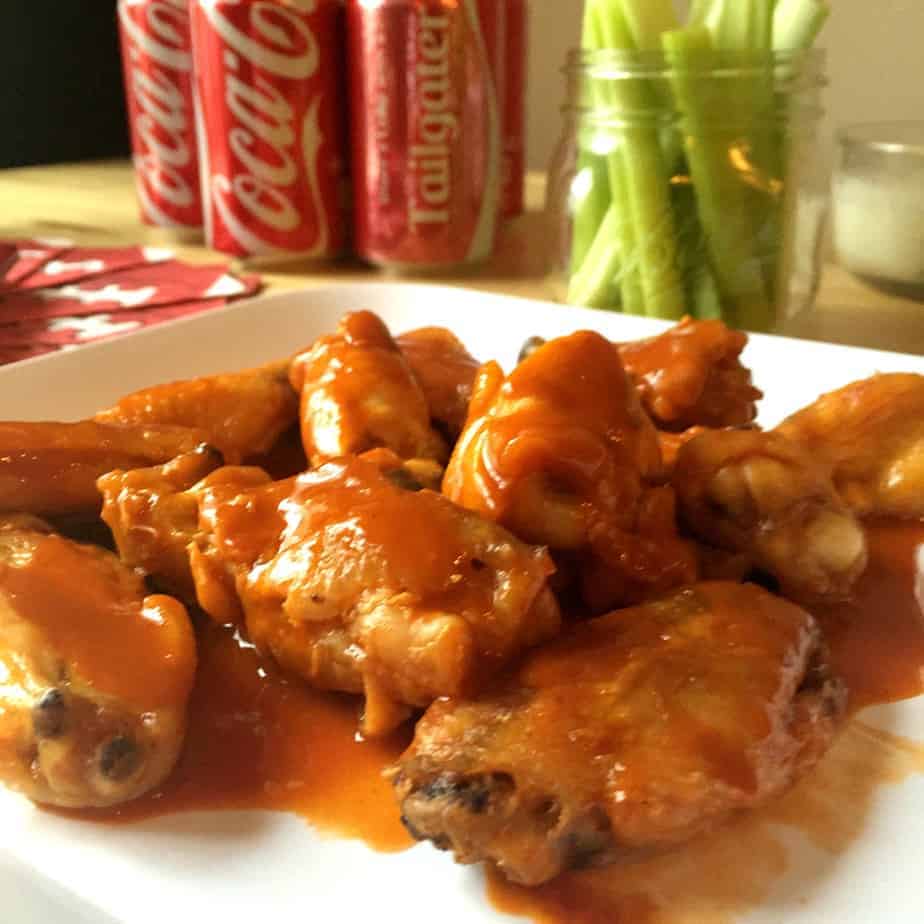 I'd love for you to share your tailgating tips with me!!! What' s your favorite tailgating snack?