I fell in love with restaurant week the summer after my first year of law school while living in Madison. Madison has a pretty extensive restaurant and foodie scene, and I often stuck to burgers, pizza, and salad (as a student, many of the hip Madison restaurants were out of my price range). Restaurant week gave me an opportunity to check out restaurants I passed daily on my walk to school that I never thought about going into before, and a three course meal for only thirty dollars (sounded like a steal to me). Over the three years I spent in Madison, twice a year I got to eat dinner at a host of new places—a brazilian steakhouse where I stuffed myself to the gills (borderline meat sweat status); a quaint Italian eatery with classic, rustic dishes; and locally sourced, fine dining restaurant, white tablecloths and all. Restaurant week is something I've always looked forward to, and was thrilled to learn that Charlotte hosts one twice annually (affectionately called Queen's Feast) and that (what seems like) an unending list of Charlotte eateries participate.
As soon as Queen Feast website rolled over to the summer affair, I eagerly began perusing the list of participating restaurants and picking out where I wanted to go.  I thought this would be a great occasion to invite some fellow Charlotte food bloggers for an evening out so threw the question out to group—where should we go?! We decided "the more prohibitively expensive the better" (to take advantage of the three courses for thirty dollars), which led us to Carpe Diem in Elizabeth.
Carpe Diem is fine dining restaurant with a long history in Charlotte. I have heard nothing but good reviews about Carpe Diem's food and service since moving to Charlotte 10 months ago, and I was eager to check it out. I got to the restaurant a few minutes early, which gave me time to soak in the ambiance—inviting and classic, before my fellow bloggers arrived. The hostess was friendly, and our table was ready exactly at our 7:30pm  reservation time. The wait staff was patient while our group of nine debated and settled on our orders; they accommodated dietary requests (we had one vegan dining companion, and they were able to offer her choices for all three courses so she could get the full experience); and they were extremely attentive throughout the evening.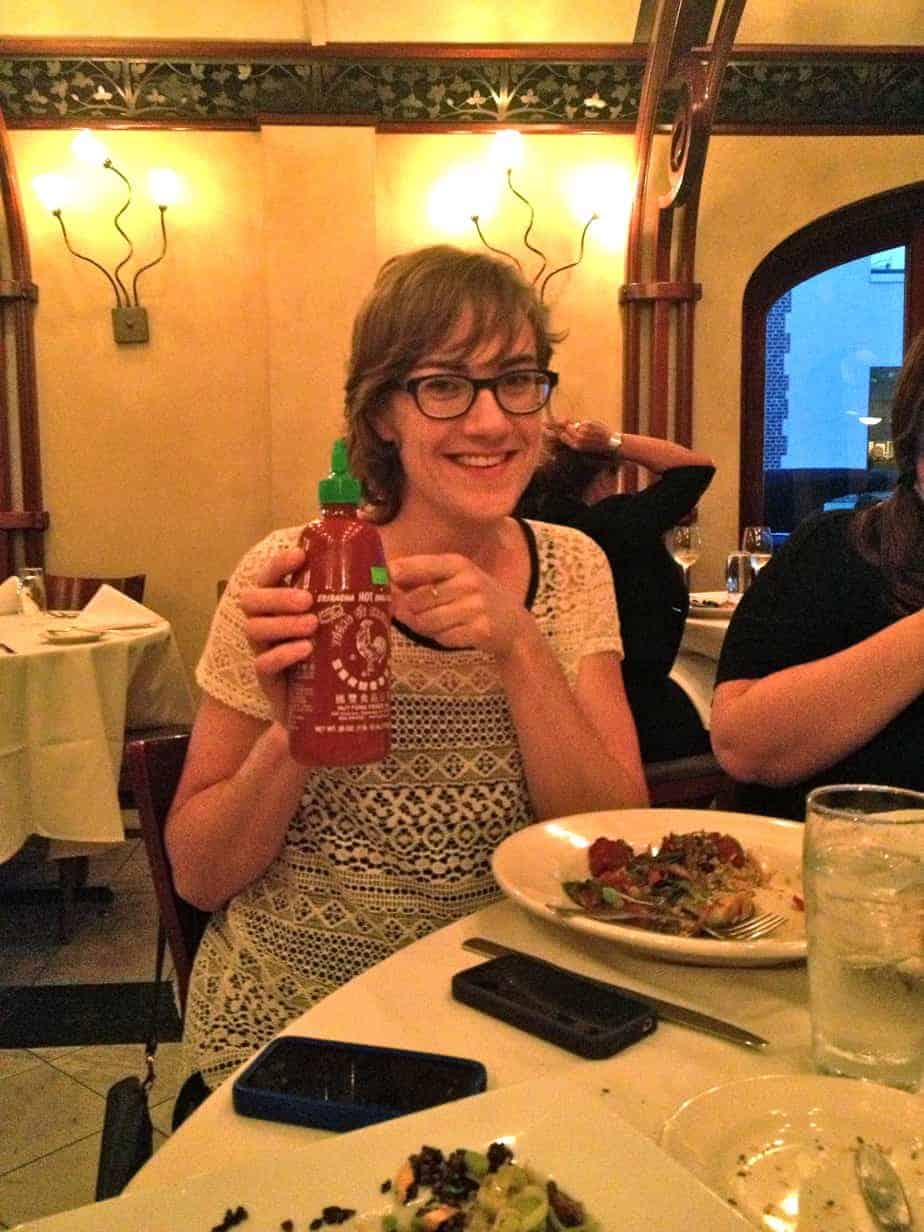 (Hannah with proof of our waitress' attentiveness and accommodation; she asked for Siracha and she got it!)
After a round of hellos and introductions, our first course arrived. I started my meal warm goat cheese salad (with wine poached onions, hazelnut crusted goat cheese, mixed greens and an apricot jalapeno vinegarette). I can't say no to warm goat cheese and it's rich, creamy texture; so was a bit disappointed that the feature of the dish, the goat cheese, was quite sparse (only two goat cheese, for lack of a better term, balls, adorned my salad). While I liked the concept of the crusted goat cheese, the crust was not quite crisp, and the texture felt like it needed a few more minutes of cooking. I spread the cheese throughout the salad in order to savor the taste in every bite, and overall, the salad was a delightful way to kick off my meal. The onions were sweet and not overpowering, and complimented both the cheese and the sweet and tangy vinegarette.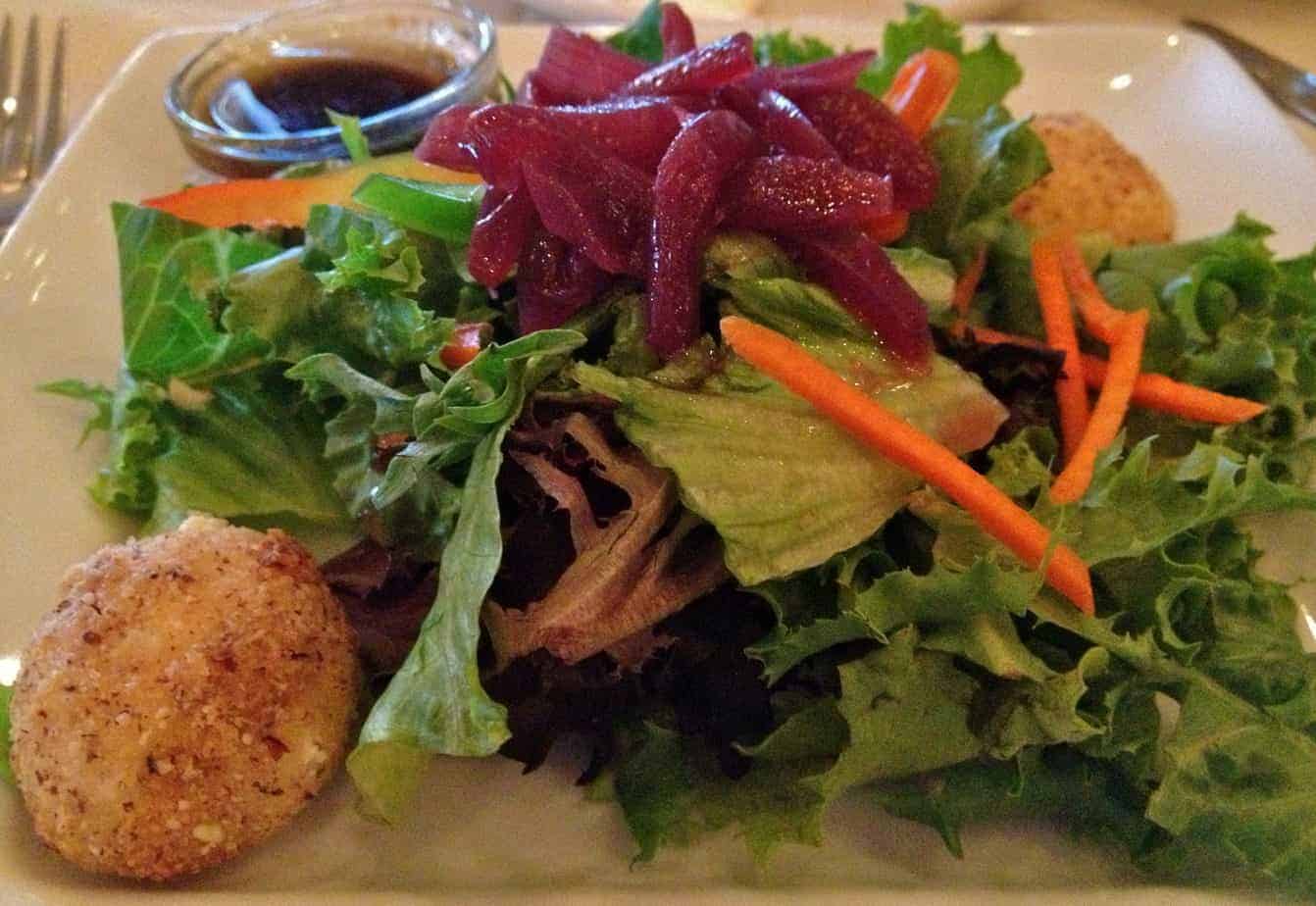 In between the first and second courses, our waitress freshened our wine and water glasses and brought us each a small palate cleanser, sorbet with hints of ginger. It was chilled and refreshing and totally got me excited for my main course (plus, it reaffirmed that Carpe Diem was the correct prohibitively expensive choice for Queens Feast). For my entrée, I order the maple sorghum glazed hanger steak, which came with farro, vegetable pilaf and pickled fennel. This was an elevated comfort dish; the steak came nestled on the farro and veggies, and the flavors of all three complimented each other. The steak was cooked to my liking (rare, though the middle was a tad warm if we're splitting hairs); and was so incredibly juicy that I probably could have used a butter knife for slicing. However, the maple glaze was a bit sweet, and overpowered some bites to where I couldn't taste the meat and left a candied aftertaste in my mouth. As a self-proclaimed red meat connoseiur, it was a delicious and delightful steak, and I would wholeheartedly recommend the dish.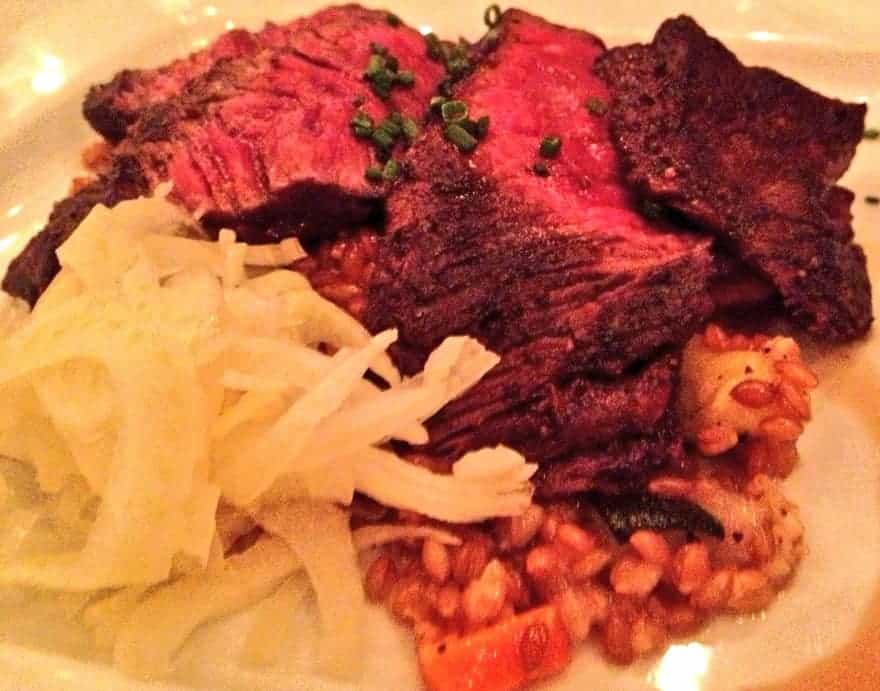 At this point of the meal, I was proud of myself for wearing a highwaisted dress, because I felt like I was going to burst at the seams. Luckily, I have a sweet tooth and can always make room for dessert. For dessert, I ordered the coconut cream pie, which came highly recommended by our waitress, and she definitely knew what she was talking about. My slice of pie was decorated with salted caramel sauce and strawberries, and while I was a bit hesitant about the sweet, on sweet, on sweet, it totally worked and I ate the whole thing. The brightness and sweetnes of the fresh strawberries enhanced the coconut, and the caramel provided just the right amount of salty balance. It is one of the best desserts I've had at a restaurant!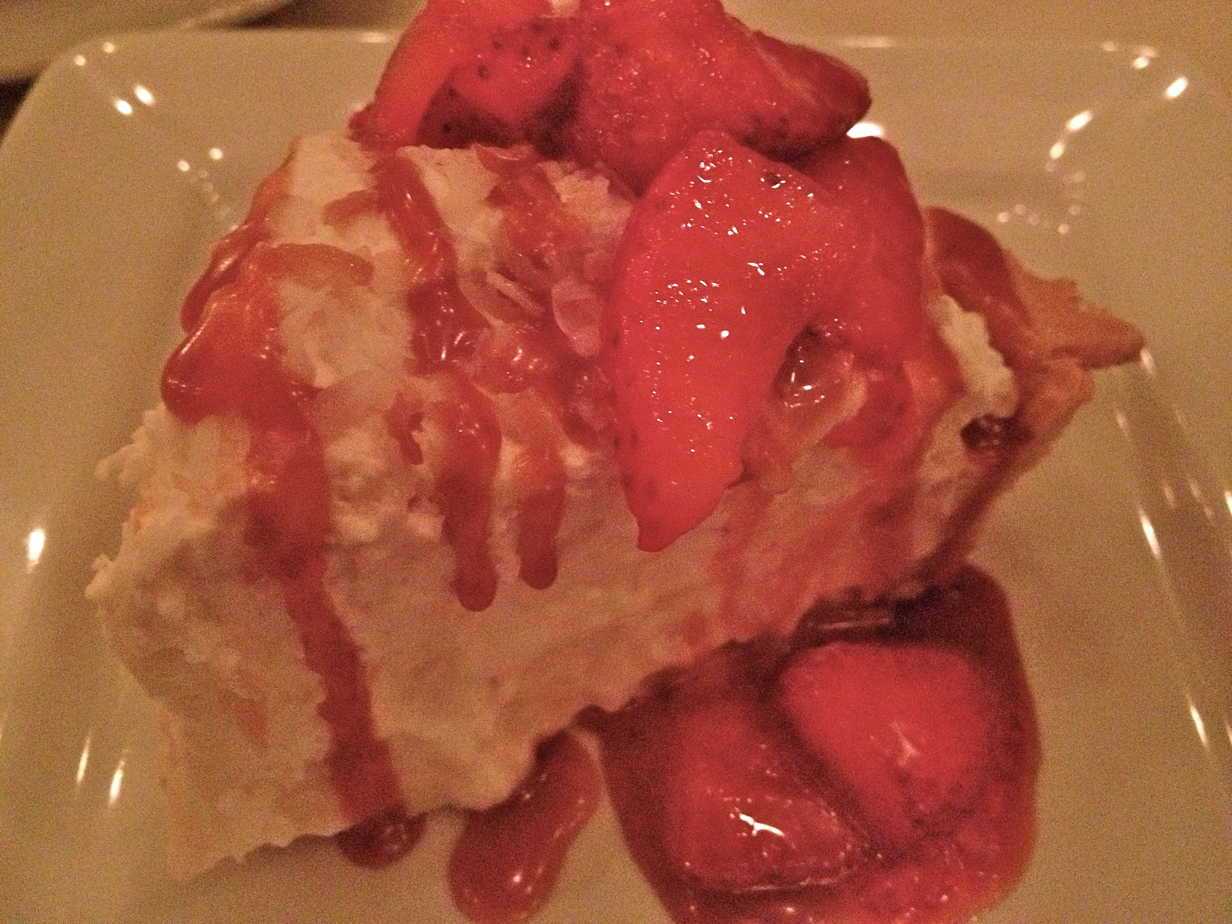 I was truly impressed with my Queen's Feast meal at Carpe Diem. A lot of times you hear that fine dining restaurants can get overwhelmed by restaurant week, or worse, skimp on quality and put out food that is not on par with their regular menu. But not at Carpe Diem. Just slightly better than my food was my company. I had a wonderful time chatting about all kinds of things with Mary, Heather, Hannah, Shellina, Keia, Kelly and Amy and look forward to many more food blogger events! (And y'all should check out their blogs, they are pretty awesome!)
map & more
score: 8
spending: $$$
neighborhood: elizabeth
cuisine: american
official website
[googlemaps https://maps.google.com/maps?f=q&source=s_q&hl=en&geocode=&q=Carpe+Diem,+Elizabeth+Avenue,+Charlotte,+NC&aq=0&oq=carpe+diem&sll=35.146664,-80.827781&sspn=0.009966,0.017188&ie=UTF8&hq=Carpe+Diem,&hnear=Elizabeth+Ave,+Charlotte,+North+Carolina&t=m&ll=35.213947,-80.826738&spn=0.004383,0.005343&z=16&iwloc=A&output=embed&w=250&h=250]