Carolina Beer Temple at Ayrsley is a mecca for craft beer in southwest Charlotte. The craft beer shop and craft beer bar offers a rotating selection of local, regional, national and international beers brewed by independently owned breweries that can be enjoyed on site or to go.
This post is long overdue.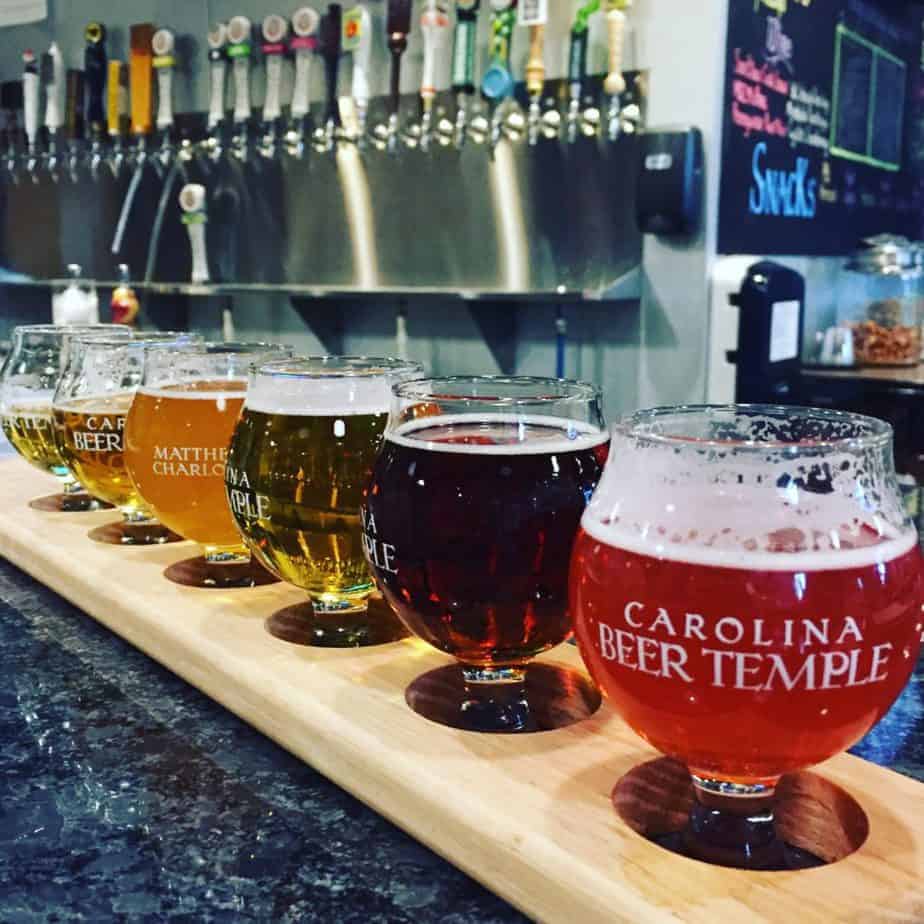 I've written before about how I'm a fan of a good neighborhood watering hole. A place that evokes feelings of Cheers-esque nostalgia. You know you just started singing where everybody knows your name.
Even though I finally stopped bitching about my move 15 minutes South to Steele Creek (copious amounts of Mexican food can shut me right up), I never found a new neighborhood spot after I moved. Sure, we're fans of our local neighborhood bars and restaurants, but nothing seemed to give me that warm, fuzzy, feeling. Turns out, maybe I just wasn't drinking enough beer?
Well, I'm now pleased to announce we've found our home away from home, just down the street. By found, I guess you can't really find a place until it opens in your neighborhood. But since Carolina Beer Temple at Ayrsley opened six months ago, you can pretty much find us at their bar or on their patio no less than twice a week.
How do I love Carolina Beer Temple at Ayrsley? Let me count the ways (and channel Elizabeth Barrett Browning while doing so).
Pimento cheese. Ok, maybe it's weird to start a love list about a beer bar with pimento cheese, but hear me out. Carolina Beer Temple at Ayrsley does not have a kitchen so does not serve their own food, but does allow you to bring in food from anywhere (we will cover this more later). However, they do offer snacks, and if you know anything about anything, its that a bar is even better if they have good snacks. Aside from the $1 scoops they offer from big tubs behind the bar (of delicious, adult things like peanut butter pretzels, fruit loops and Cheetos), they have a more substantial snack menu of baked pretzels and a variety of pimento cheese. And not just regular pimento cheese, but super delicious, local pimento cheese, Queen Charlotte's Pimento Cheese Royale to be exact. You get your choice of flavor (while regular is always a good option, we fluctuate between jalapeno and bacon) along with pita chips. I've been on such a pimento cheese kick recently and Queen Charlotte's is so good. We get it with our beers a lot, but also pick up a container for home during our weekly run to the farmers market.
The other snacks are good too if you're looking for something to munch on. We do not order the Cheetos because I don't like Cheetos. (Which AJ discovered one night when we were debating snack choices at Carolina Beer Temple. This was after we got married. He said my dislike of Cheetos was something we should have discussed in premarital counseling).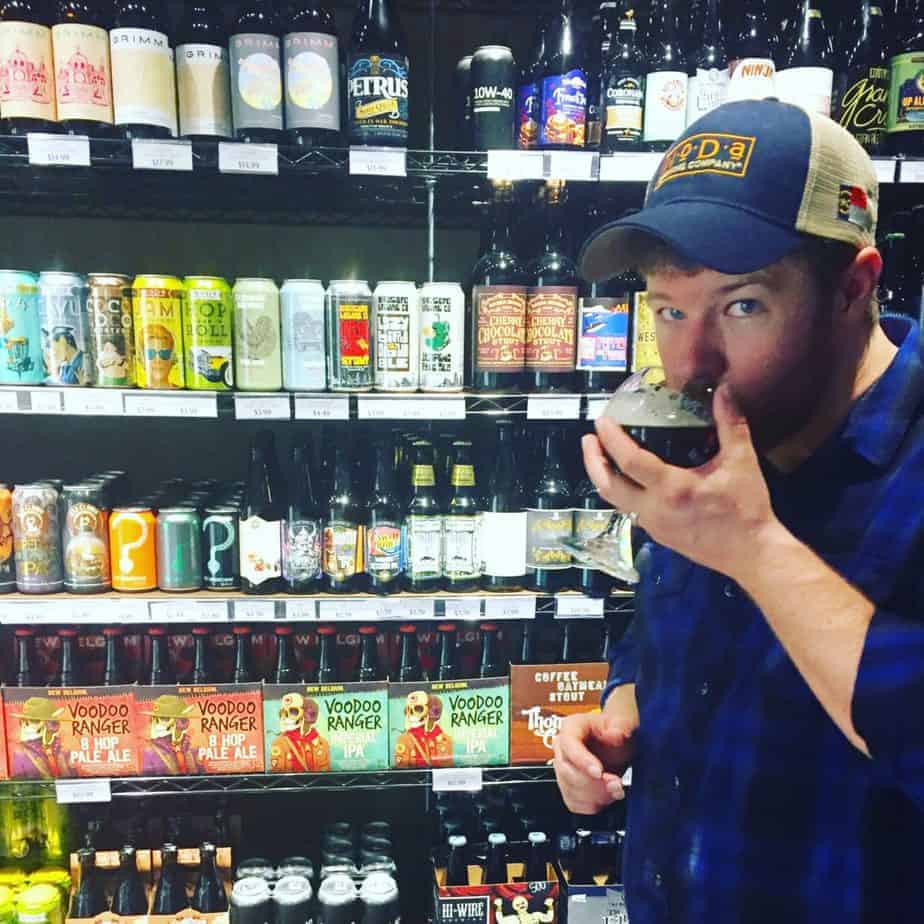 Craft beer. Clutch. And also duh, they are a beer bar (so maybe should be number one on the love list but whatever, pimento cheese and other snacks is very important). While I like to put back a PBR every once and again (and I will never say no to a refreshing Bud Light Lime on a hot summer day…am I losing my street cred yet?), I'm a total backer/supporter/lover of the craft beer movement. Carolina Beer Temple has a great selection of unique beers, many of them local, and a rotating draft list, so there's always something new to try. They host tap takeovers once a week, where most of the taps on that night are dedicated to a local or regional brewery, and you can order a flight of that brewery's beers. Tap takeover nights are likely one of the (many) nights you'll see us there. We're huge fans of Thursday night flights.
They also have an extensive Belgian beer selection. Did you know that more beer styles originate from Belgium than any other country in the world? AJ loves Carolina Beer Temple's Belgian selection because unlike anywhere else in Charlotte; so far, their Belgian beer offerings are unmatched in the Queen City. (I honestly don't know a lot about Belgian beers except the few that I've tried have been delicious so I would like to try more. Also do you know of other bars in Charlotte with extensive Belgian beer offerings that we are missing?)
Grab and go options. Besides their tap list, Carolina Beer Temple has a great grab in go section of six packs, bottles, and growlers that you can take home with you. This area is dangerous for us for a few reasons. AJ could stand among the shelves and coolers of beer forever. These offerings rotate too so theirs always something new. The combination of those two things means likely we are bringing at least one six pack home.
Bartenders. I am a fan of chatty, knowledgeable bartenders because I am a chatty, indecisive person and so I like to chat and like to get recommendations of new things to try based on things I like. Anyone who tolerates my chatting and chats right back gets a plus in my book.
Proximity to our house. Ok, maybe this is not a love list item for those of you who are not my neighbors, but I still think a visit to Carolina Beer Temple is worth the trip to southwest Charlotte down I-77. Lucky for us, we're walking distance, so it's super convenient for last minute plans or to just get out of the house. Bodie has definitely become a regular on the patio.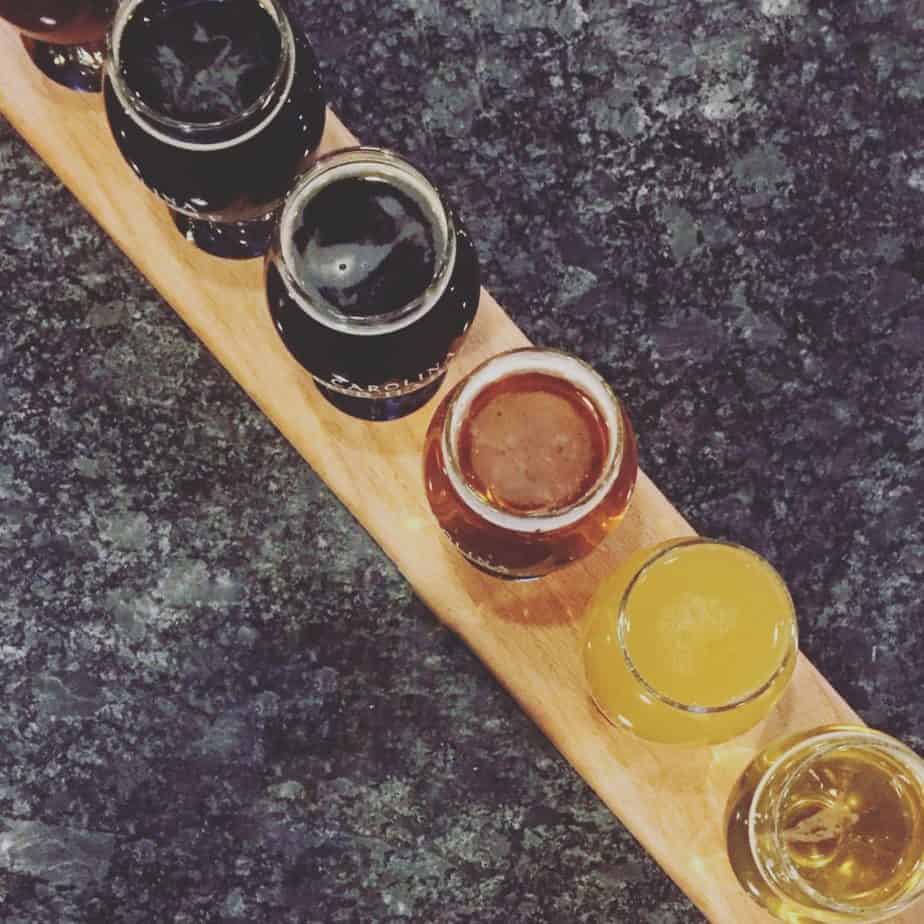 And I promised I'd circle back to food, so here we are. Carolina Beer Temple welcomes outside food in, so you better believe we are not beyond bringing in sandwiches we made from home for dinner. But more likely, it's takeout from nearby Portofino's, Harry's, Rooney's or the plethora of Mexican restaurants we have in a one mile radius. Or sometimes, dinner is just bacon pimento cheese and a flight of beer. Don't judge me.