I spent a week in the triangle this summer for work, and mid week after 8 hours of lawyer-y classroom sessions I met Andrea for dinner and a beer to catch up and wind down. I was staying in Chapel Hill, she's in Raleigh, so Durham was the perfect spot to rendezvous. It was my first time in Durham and all I wanted was more time to explore. It was a perfect summer evening–I wandered a bit downtown, grabbed a refreshing margarita at Dos Perros (orange zest is the best!) and then Andrea and I enjoyed beers, burgers and fries on the back patio at Bull City Burger and Brewery.
I love the vibe that emanates from Bull City Burger and Brewery–very casual and laid back with a focus on quality local ingredients, fresh food and good beer. Bull City Burger offers food that's made fast, but it's definitely way more than "fast food" (the concept is counter service where you order at the register, grab a number and the food is delivered to your table when it's ready–think Shake Shack or Five Guys, but local and fresh, and also, beer!). I know I can't stop talking about local and fresh, but those are things Bull City Burger cares about: everything is made in house: from sauerkraut, to pickles, mustard to mayo; the buns are baked fresh daily, the meat is ground in house daily, they cure their own bacon, make their own hot dogs and the beer is theirs too! The only things that are not made in house are the vanilla ice cream (which they get from Locopints) and the ketchup (which is a special kind of Heinz made without corn syrup). Their beef is 100% North Carolina beef and is pastured raised, and they work with local farmers to source produce. The result is really good handmade burgers with seasonally rotated toppings and cold beer.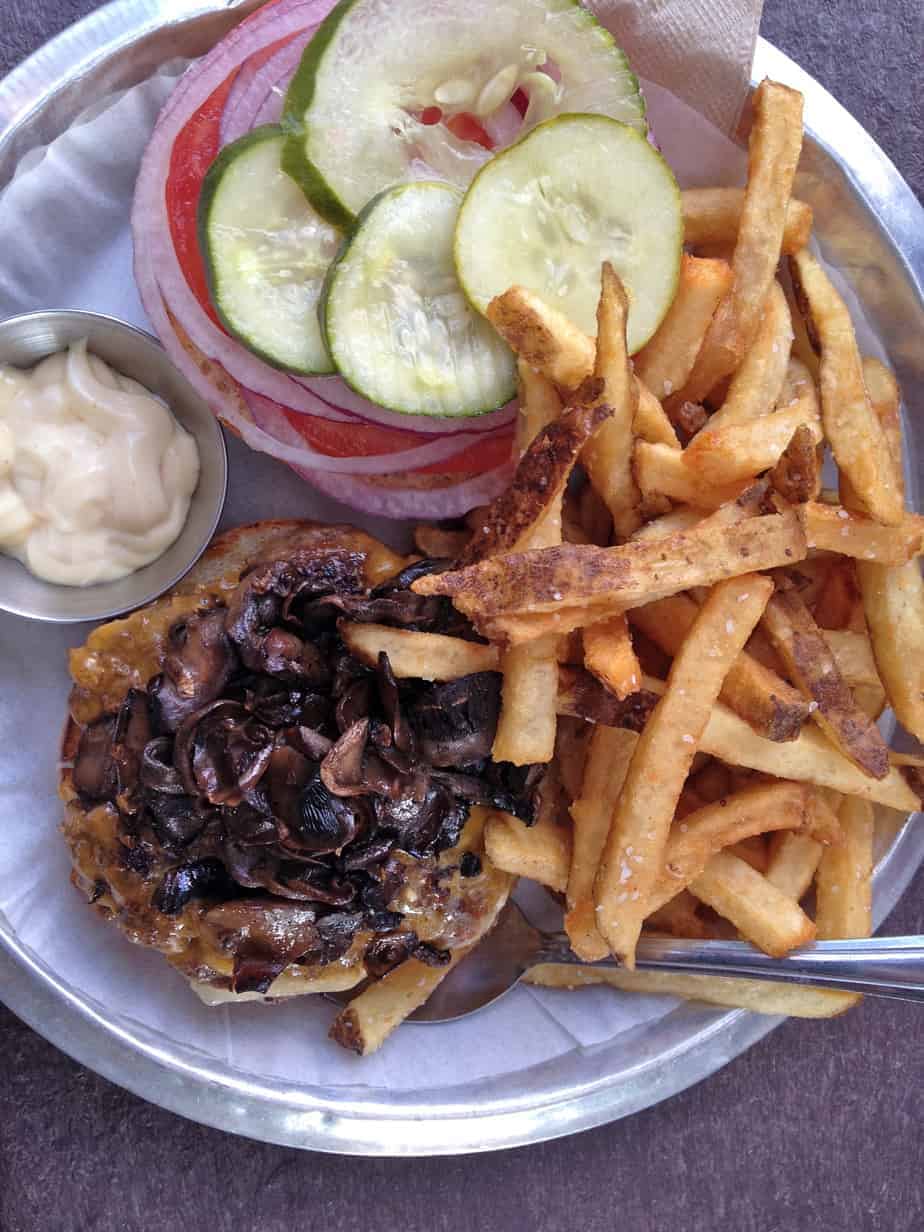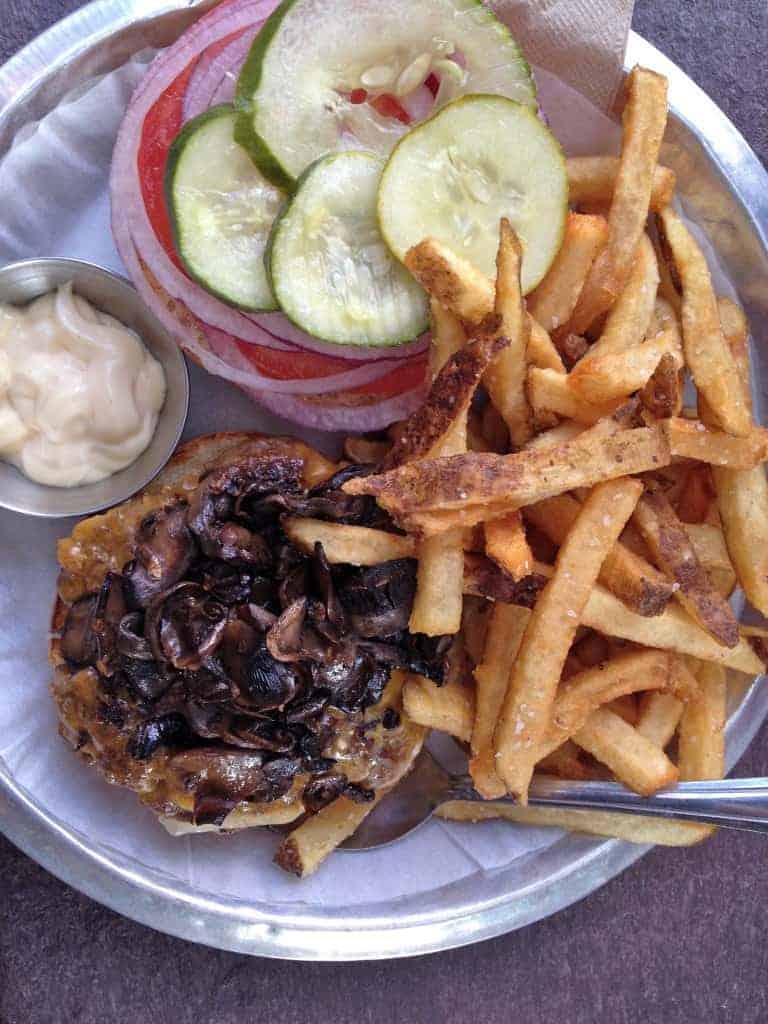 The hardest thing for me to do was to decided what to order. I finally settled on a Build Your Own Burger, and customized it with cheddar, pickles, mushrooms, tomatoes and truffle aioli. I got a side of dirty fries, but they also offer duck frites (finished in duck fat), and the sweet potato version (which looked incredible). Several of their specialty burgers piqued my interest and I want to go back and try the  Over Easy (with a fried egg) and the Pimento Burger (with pimento cheese, yum!). While I'm a meat eating gal, their veggie burger also sounds tasty (aptly named the Joan Jett because "she's kickass and a vegetarian," the veggie burger is made in house and topped with goat cheese and garlic aioli). I washed everything down with a Honeycutt Milk Stout, and it really hit the spot.
bullcityburgerandbrewery.com / 107 e. parrish st., durham, nc
open daily at 11:11am
mon.-thurs until 10pm, fri & sat until 11pm, sun. until 8pm
My first taste of Durham left me wanting more. Enter an event that includes two of my favorite interests: beer and friends, and I'm there. AJ and I bought tickets to the World Beer Festival Durham and popped up to Raleigh for the weekend to hang with Andrea and taste all the beer. I'm a big fan of beer festivals–there's a ton of new and different beers to try (as well as some old favorites) and they are usually a lot of fun. World Beer Festival Durham was no different; there were over 200 different beers for us to taste from all over the country as well as 10 different food trucks with noms to snack on (we skipped the food trucks by eating a large meal of buffalo wings, potato skins and cheeseburgers ahead of time and munching on some homemade pretzel and cookie necklaces during the event). I loved the venue–the Durham Bulls ball park; it provided for a ton of room (with vendors on the upper level and the field) and kept lines short. There were only a few drawbacks–the price (for $55 it was a steeper than other festivals I have attended), the lack of music (the weather may have had something to do that), not all of the folks pouring beer were the brewers or employees of the brewers (the local breweries and some out of state spots had their people there to explain the beer and answer questions, but a lot of the folks who poured were event volunteers who didn't have any special info on the brews) and the rain (which is not something the event planners can control, and it cleared up just after the event started). Overall, we had fun, albeit soggy, evening sampling beers from all over the world.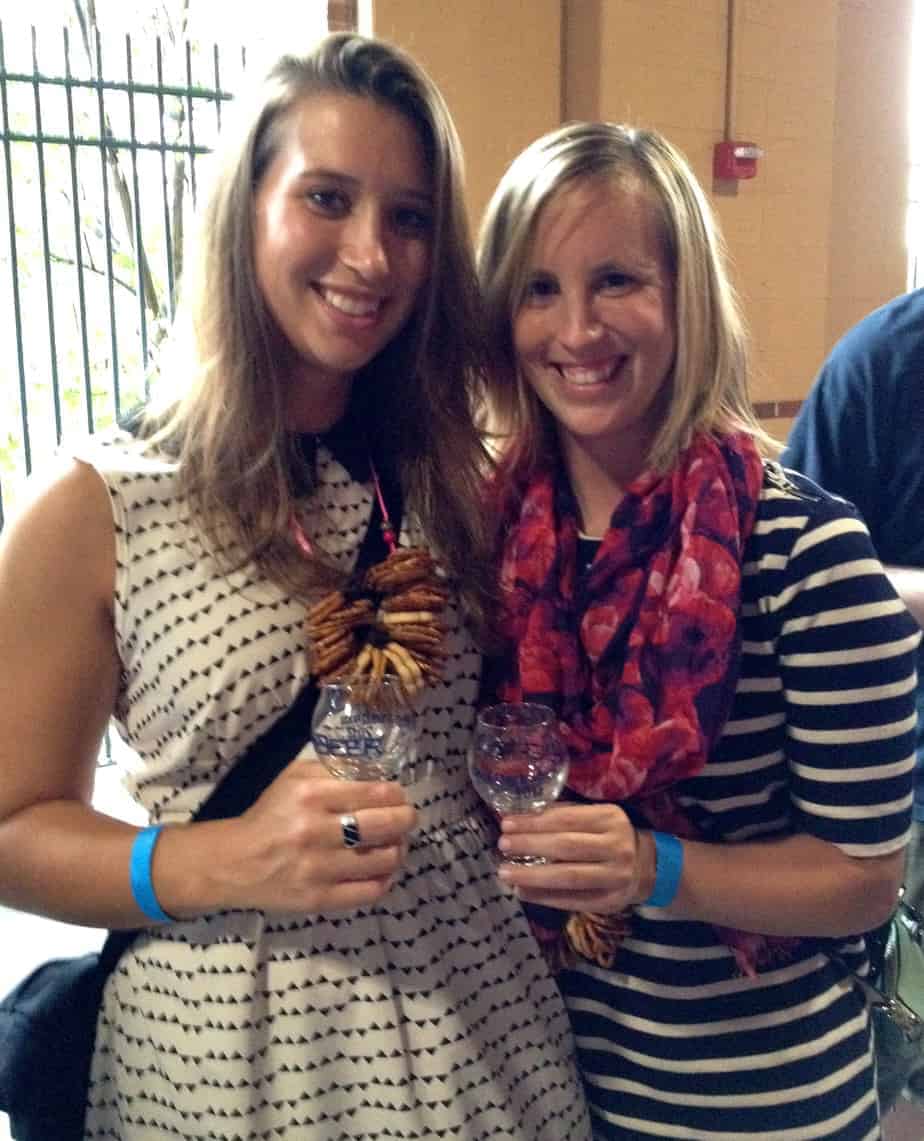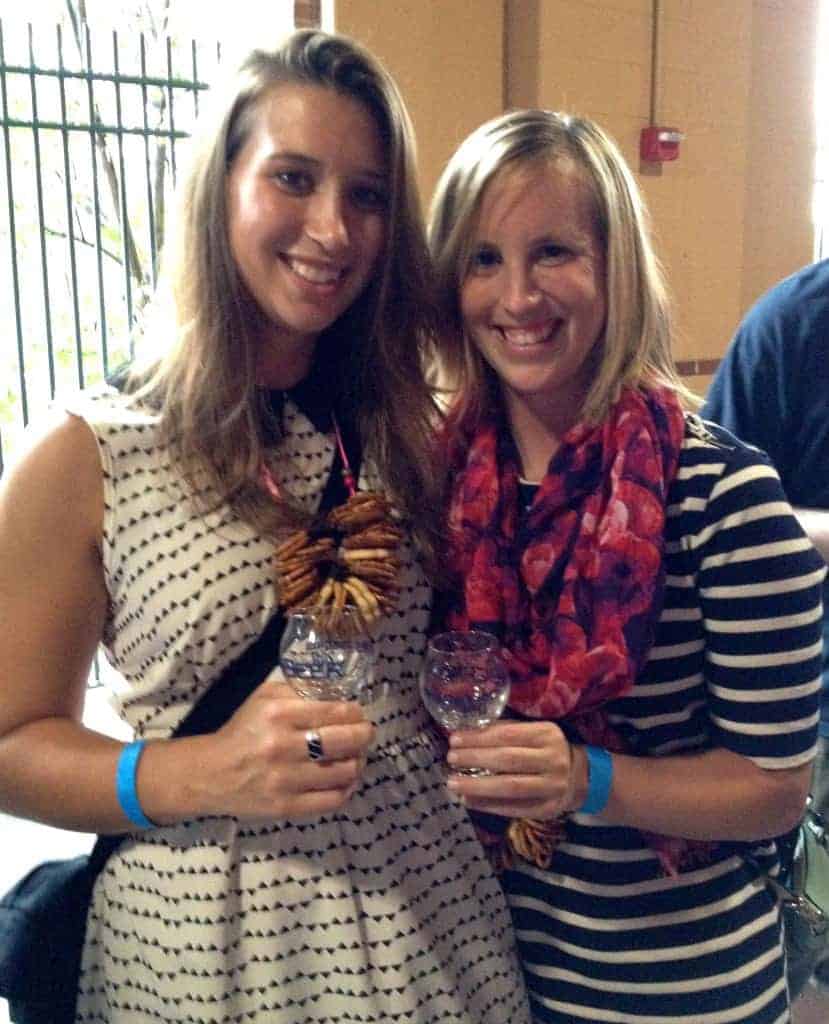 The next morning, we ventured back to Durham for brunch. Our hopes and dreams were made of eating food fast (with a side of Bloody Mary) so a buffet place was just the ticket. We ended up at Geer Street Garden for brunch, which offers a breakfast buffet of brunch and Southern classics (biscuits and gravy and deviled eggs, yum) and a Bloody Mary bar.
Geer Street Garden serves up simple, down home food in a relaxed atmosphere. It's located in an old service station, which was restored a few years ago while maintaining its architectural integrity. The result is a cozy, unique space occupied with a wooden bar and a few tables inside, and an expansive covered patio with picnic tables out back. The best way to describe brunch was a (sort of) organized chaos–you line up through the restaurant with the ultimate goal of paying your $23 for food to the bartender, and then get in a line behind the bar to grab a plate and go through the buffet. We put our name in, and got in one line, and by the time we got in the other, our table was ready (there's no table service during brunch, but you have to check in to get a space to put your plate once you get your food). We paid for our plates (and 2 Bloody Mary's) and hopped in the first line. The first go around, our timing was bad, as most of the food from the buffet was being replenished, but with a little patience, we got fresh, piping hot biscuits, sweet French toast, crispy bacon, and a whole platter of deviled eggs. We set our plates down and headed to the Bloody Mary bar to fill up on fixins. The bartender poured us glasses full of vodka and house made Bloody Mary mix, and I went to town loading up with Woesterchire sauce, house made pickles, olives, salami, lemons, limes and bacon (the only thing missing is one of my favorites, string cheese, but the bacon was a great touch). The accoutrements to a Bloody Mary are affectionately called the salad, and this salad was the salad of my dreams.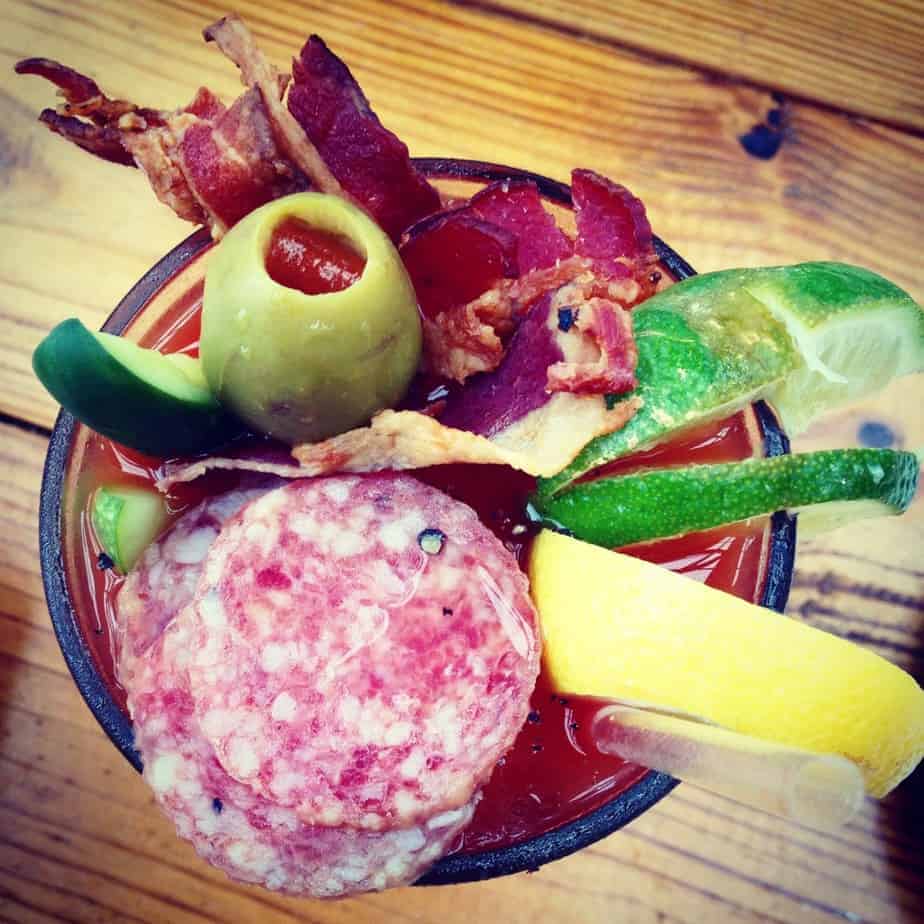 The food was good and satisfied my Sunday brunch craving, but it wasn't over the top, mind blowing fantastic. The food was simple and straightforward with no bells and whistles–I had two plates full of breakfast potatoes, bacon, biscuits and gravy scrambled eggs, deviled eggs, fresh fruit, and banana pudding (yes, banana pudding). Since moving to the South I love me some biscuits and gravy, and these just didn't hit the mark (the sausage came on the side I think to respect our vegetarian friends, so I had to create my own concotion of sausage gravy. Vegetarian gravy just isn't the same) The buffet also offered some quiche like platters and salad, but I was satisfied with my salad of the Bloody Mary variety so I passed on the arugala.
geerstreetgarden.com / 644 foster st., durham, nc
open mon.-sat. 11:30 am-midnight, sun. 2-10pm
sunday brunch 11am-2pm
My second trip to Durham still left me wanting more, and hope to visit and explore the Bull City again sometime soon.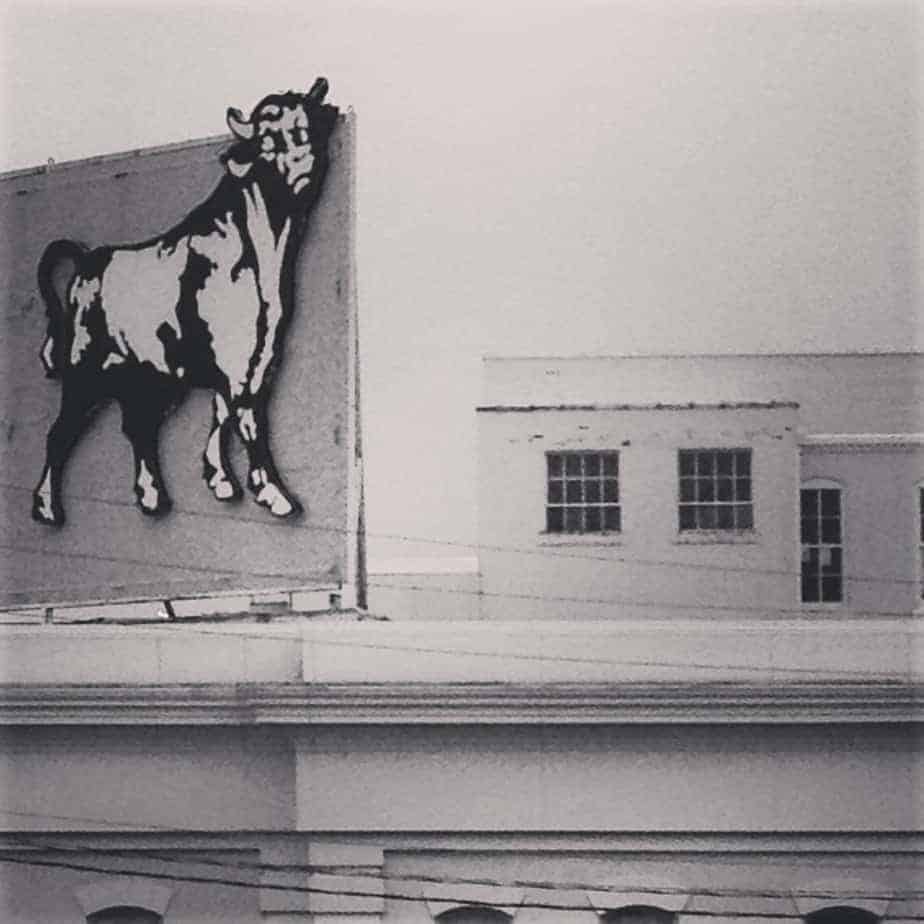 What are some of your Durham foodie favorites that I have to eat at on my next visit?