Blue delivers on classic flavors in a classic environment. While Blue's focus is on mediterranean cuisine, Chef Gene Briggs delivers a myriad of flavors from across the globe, which creates a unique and delicious experience. Blue's unique menu is a combination of traditional, year round dishes mixed with specials that rotate seasonally which gives guests a variety of options that span the globe. Blue's food is coupled with a classic, fine dining atmosphere–while the restaurant is large, the ambiance is relaxed and romantic. Candlelight, crisp white tablecloths, and sleek, comfortable booths make the large space feel intimate. Our waiter was excellent; he was informative and helpful and exuded passion about Blue's food, which made our dinner fun and enjoyable.
map & more
score: 8
spending: $$$
neighborhood: uptown
cuisine: mediterannean
official website
[googlemaps https://www.google.com/maps/embed?pb=!1m14!1m8!1m3!1d3259.160236524971!2d-80.840702!3d35.227381!3m2!1i1024!2i768!4f13.1!3m3!1m2!1s0x8856a02517ea5241%3A0x8316ce7513036b63!2sBlue+Restaurant+%26+Bar!5e0!3m2!1sen!2sus!4v1407207340037&w=200&h=200]
We started dinner with an appetizer to share, and after a few recommendations from our waiter, decided to order the mussels ala basquiase, with extra bread for dipping (of course!). I love mussels, and my favorite part might be sopping up their succulent juices with bread after my mussels are long gone. Blue's mussels are inspired by Spanish flavors (their menu highlights which countries inspire which dishes) and are pan roasted with chorizo, onions, peppers, and tomatoes. Picking an appetizer to share was a tough choice, because I've heard great things about Blue's scallop appetizer, with proscuitto, fava bean puree and lemon marmalade (the scallops won an award from Taste of the Nation for best appetizer and our waiter couldn't stop raving about the scallops) but after a lot of back and forth, AJ and I decided that mussels would be better for sharing. For the record, mussels were an excellent choice; the portion was big enough for two, the mussels were plump and succulent and the broth was warm, rich and delicious. We did see a few scallop appetizers travel past our table, and those looked good too, but the portion was much better suited for one.
We both had a hard time narrowing down what we were going to order for our main course because everything sounded so tasty. No worries, our fabulous waiter came to the rescue and made some great recommendations (we had a true interactive experience with him and he was so patient with us–ok, mostly me–and was so great at really articulating why he preferred one dish over the other). After much debate, we ordered two of Blue's signature dishes, the Duo of Wild Boar for AJ and the Beef Tenderloin ala Blue for me. Our waiter told us that these were two of the best dishes on the menu…and he was right!
My steak was incredible; cooked just the way I like it (rare, rare, rare!). It was seared on the outside, with a cool, tender, pink center. The creamy gorgonzola dolce added some robust flavor to the seasoned, seared steak (but I have to confess, I gave a lot of it to AJ when he stole some bites from me…I'm trying to get on the gorgonzola/blue cheese train but it's a process). The kitchen was not shy with my pancetta and green pea risotto portion, which was excellent because it was so creamy and tasty and I could not stop eating it. Definitely a well rounded, hearty dish.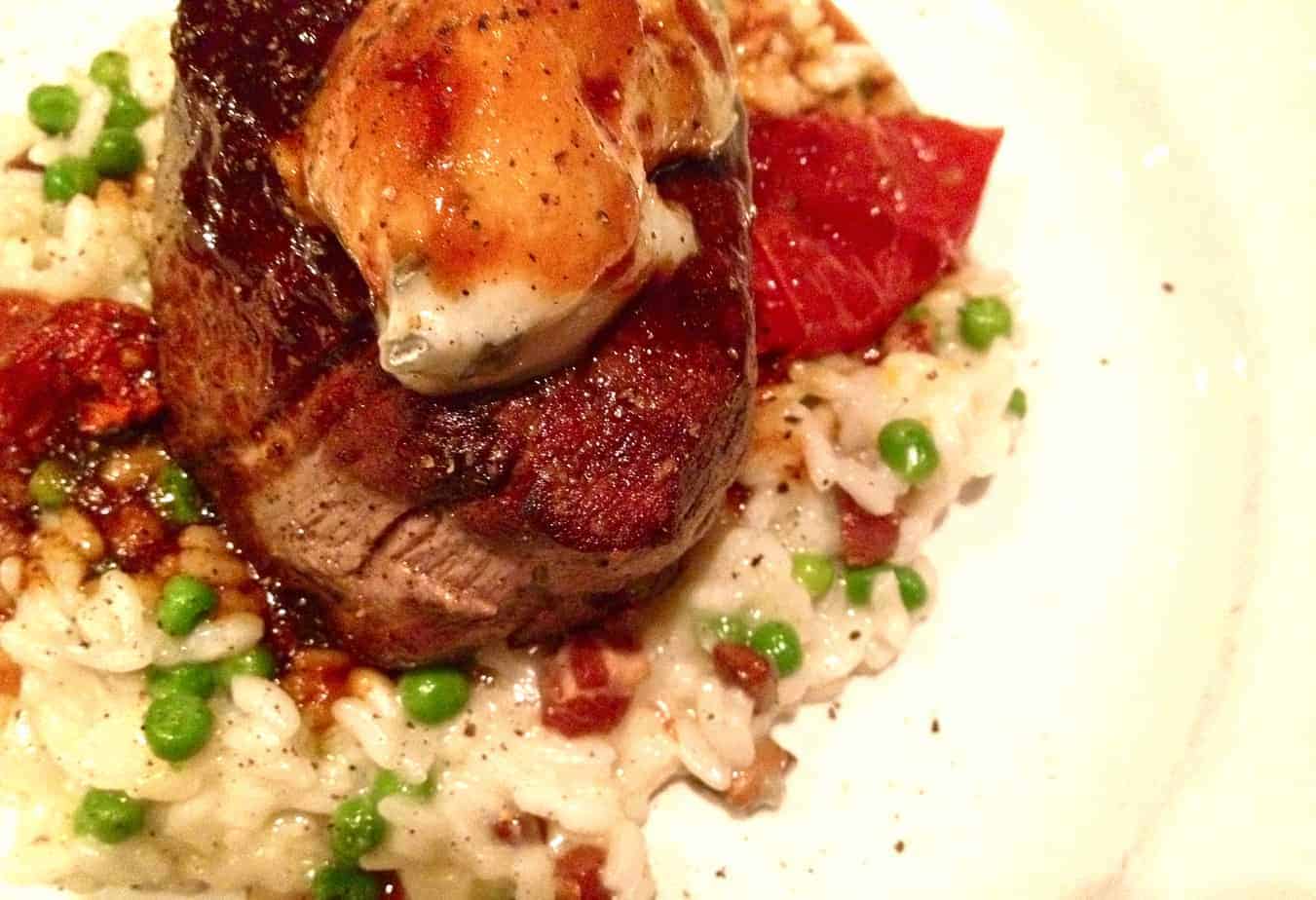 AJ really enjoyed his wild boar, and the few bites I snuck (or sneaked, grammar police) were full of flavor. The wild boar is served two ways: a grilled tenderloin and a crepinette of shoulder (a small, flattened sausage of boar, yum!) braised with porcini mushrooms and served chestnut risotto, rainbow Swiss chard and black currant marmalade. Both of our dishes had a wintery feel, and even though it was July, we didn't care because they were delicious!
Luckily, we saved a tiny bit of room for dessert, so we picked one out to share. After some perusing and per our waiter's recommendation (again, he knows his stuff!) we ordered the sticky toffee pudding. Our waiter said he would make sure they added some extra caramel sauce. 🙂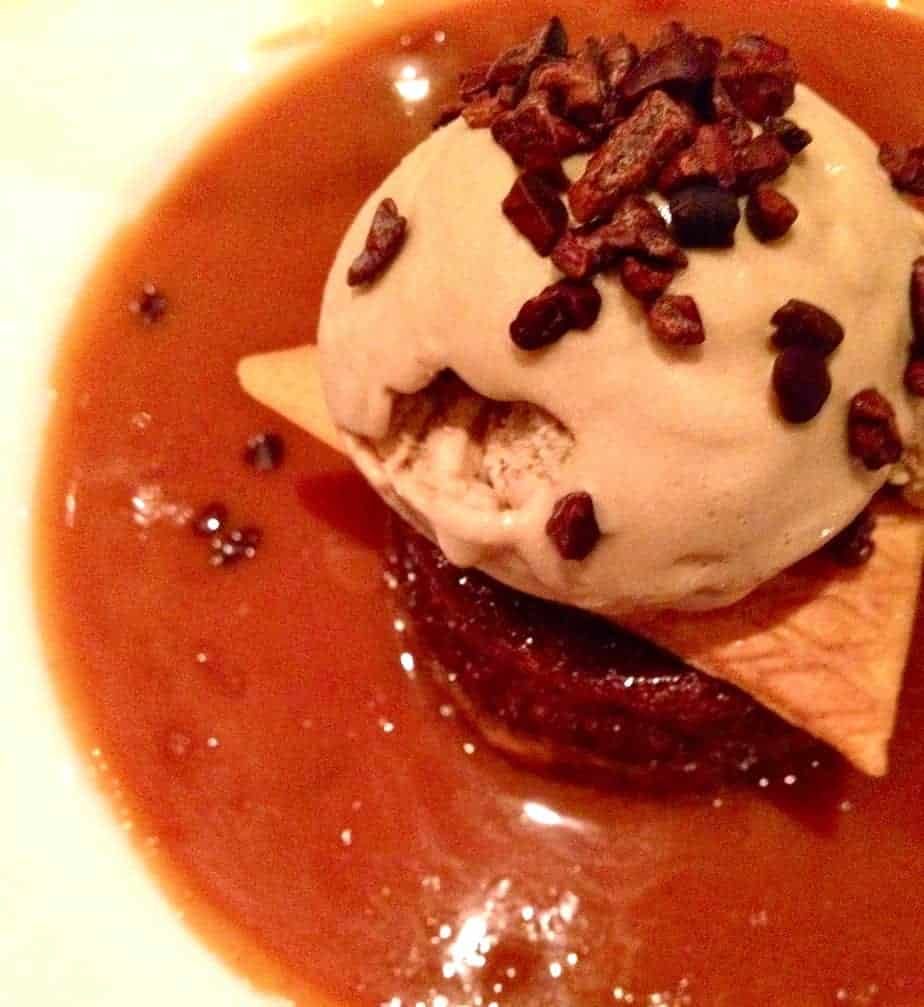 The twenty minute wait was worth it (they make the sticky toffee pudding fresh so it's a twenty minute preparation time, but our waiter came around to ask about dessert towards the end of our dinner so he could time it perfectly, and we appreciated that!). Our sticky toffee pudding came out drowning in salted caramel sauce, and I had to resist the biggest urges to lick the plate clean when we were finished. I could swim in that caramel sauce. It would be a sweet, delightful experience. The dolce de leche gelato that came with it was refreshing and sweet.
My one complaint about our experience was that towards the end of our meal, they were setting up for a private party, and the DJ was testing his sound equipment right next to our table, which was a little annoying. We giggled and shrugged it off, but a few other customers were not as happy-go-lucky and were angrily looking for a manager and scowering the restaurant with scowls on their faces.  Otherwise, we had a wonderful time eating, drinking and soaking up Blue's elegant and relaxing atmosphere (we were even able to catch some of the live jazz that was in the bar during dinner).
Blue is a Charlotte institution with great food that's worthy of your next special occasion celebration (according to AJ, Blue had the best food of the "nice restaurants" we've been to in Charlotte. I know you don't know him, but that's a great recommendation if I've ever heard one). Or, don't even need to wait for a special occasion. The next time you're in the mood for a nice dinner with white table cloths, an intimate setting, informative waiters and good food, go to Blue. Just because.