Are you a beer lover who wants to know what foods to pair with your favorite brew? Are you a food lover who is interested in pairing the perfect beer with your latest culinary creation? Learn what beers and foods pair well together, along with food and cheese pairing recommendations for five different styles of beers.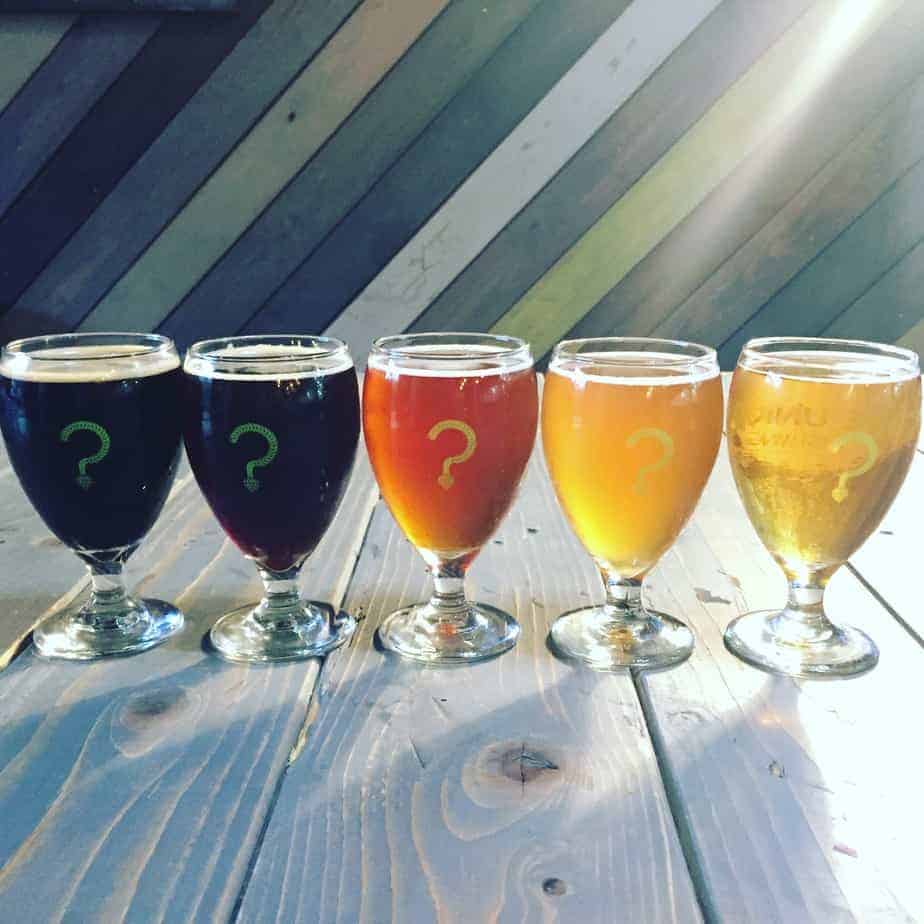 We just spent a weekend in Wisconsin so I can't think of a more appropriate time to talk about beer and cheese pairings. I mean, there was a kiosk just dedicated to cheese and sausage at the airport, for God's sake. (And did you know, cheese and sausage can travel without refrigeration for 16 hours? Thank you helpful sign!) Really, there's no better time to talk about beer and cheese than when you've been sustaining solely those things for the past three days.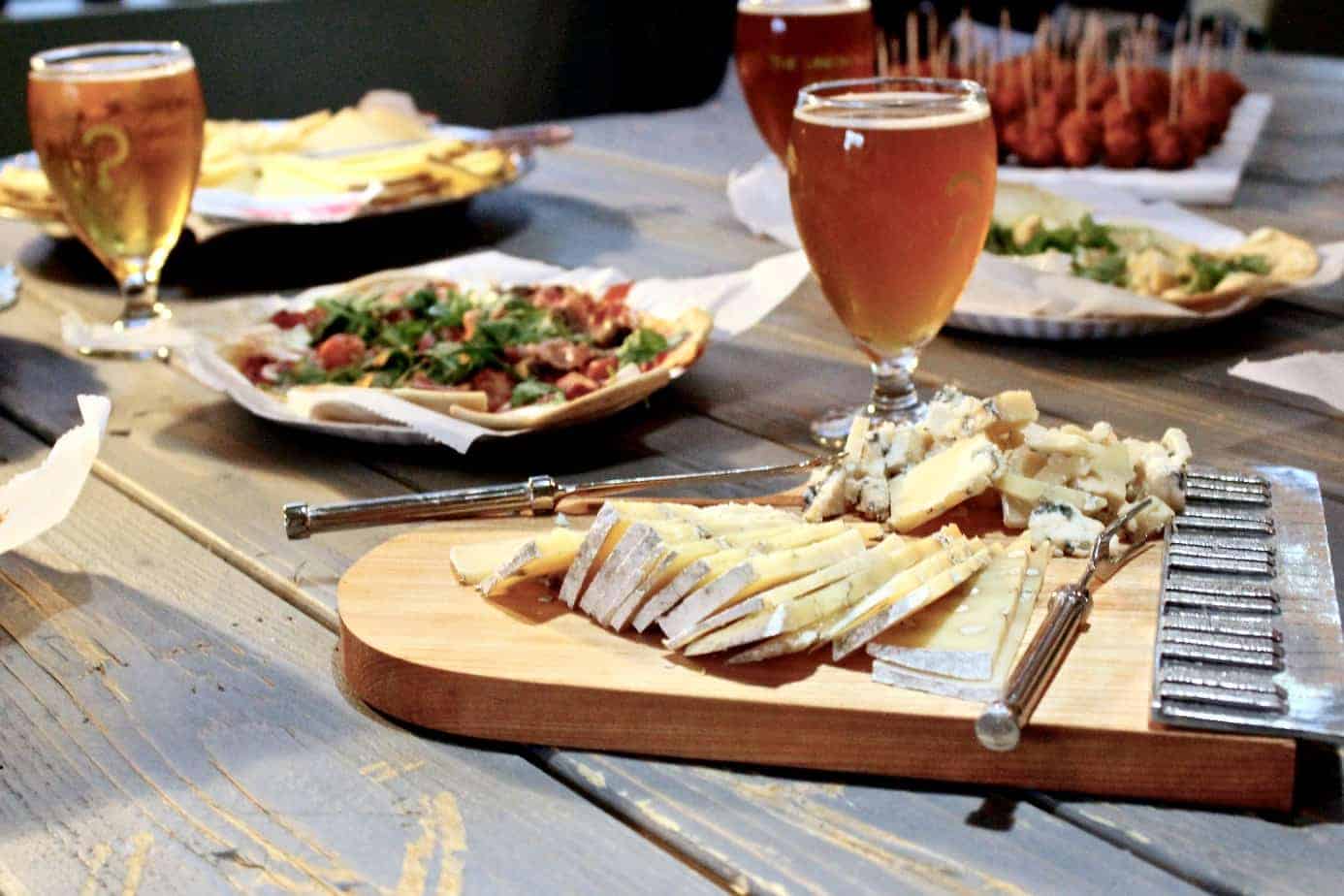 While it seems we're going the beer and cheese angle here, if you're into things other than cheese (which I'm not sure why you would be and can't say we can ever have a friendship) we're going to talk about other beer and food pairings too.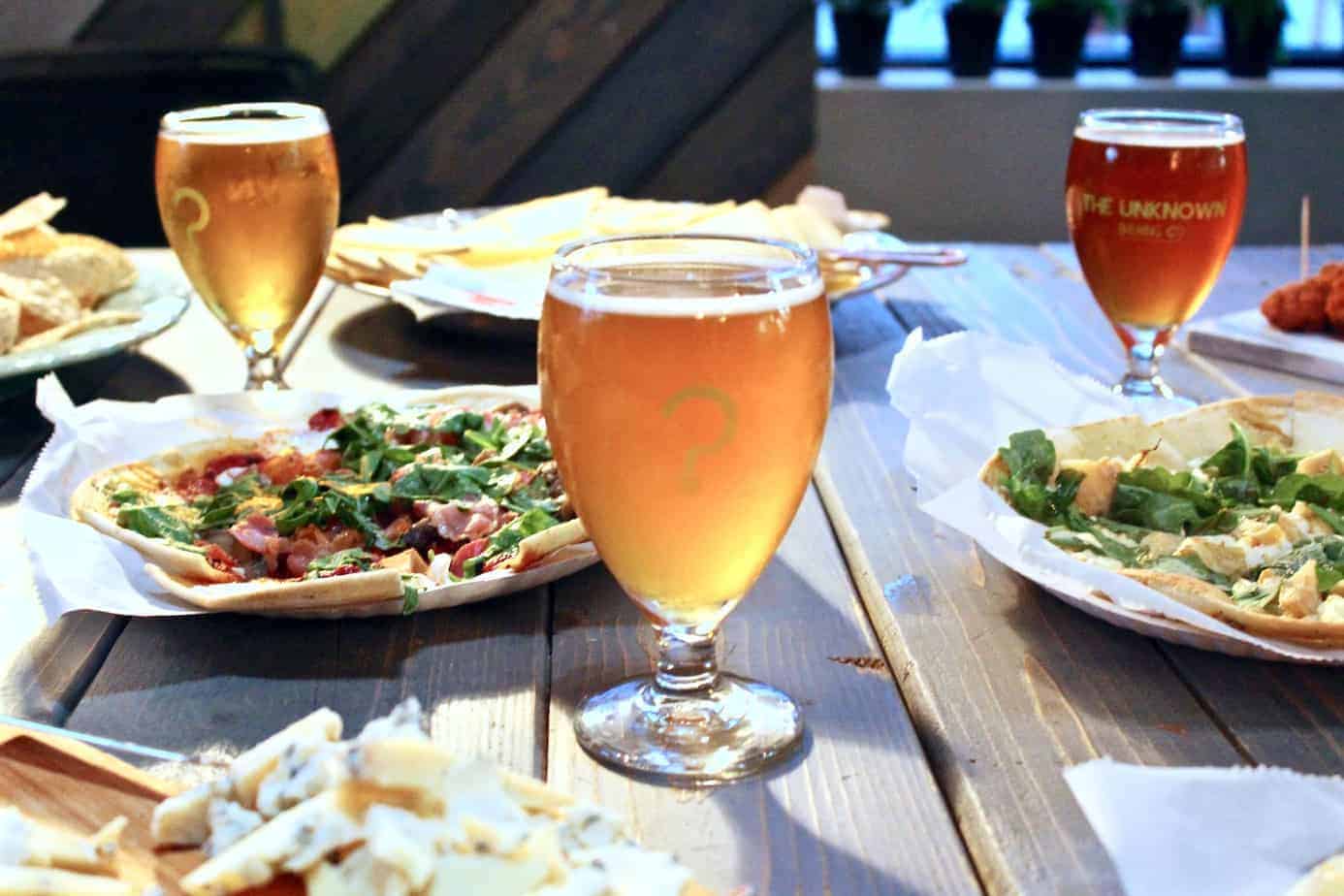 Why talk about beer and food pairings? Well, because really when we think of pairing alcoholic beverages and cheese and other food, wine always gets all the attention and I want to give beer and food pairings some love too. Beer is more than college chugging and fraternity basement flashbacks. It's got flavor profiles and tasting notes and complexities just like wine does, and just like wine, it can be paired with cheese and food to enhance the flavor of both the beverage and the meal. Plus, a few months ago, I had the treat of hosting and attending an event with Charlotte Food Bloggers at Unknown Brewing focused around beer and food pairings, and I wanted to share our beer and food pairings (and beer and cheese pairings!)  just in case you're planning on doing some beer and food pairings in the future, or if you want a reference to know what kind of beer to serve with the food you cook or what kind of food to eat with the beer you like, or if you just like reading about beer, cheese and food in general.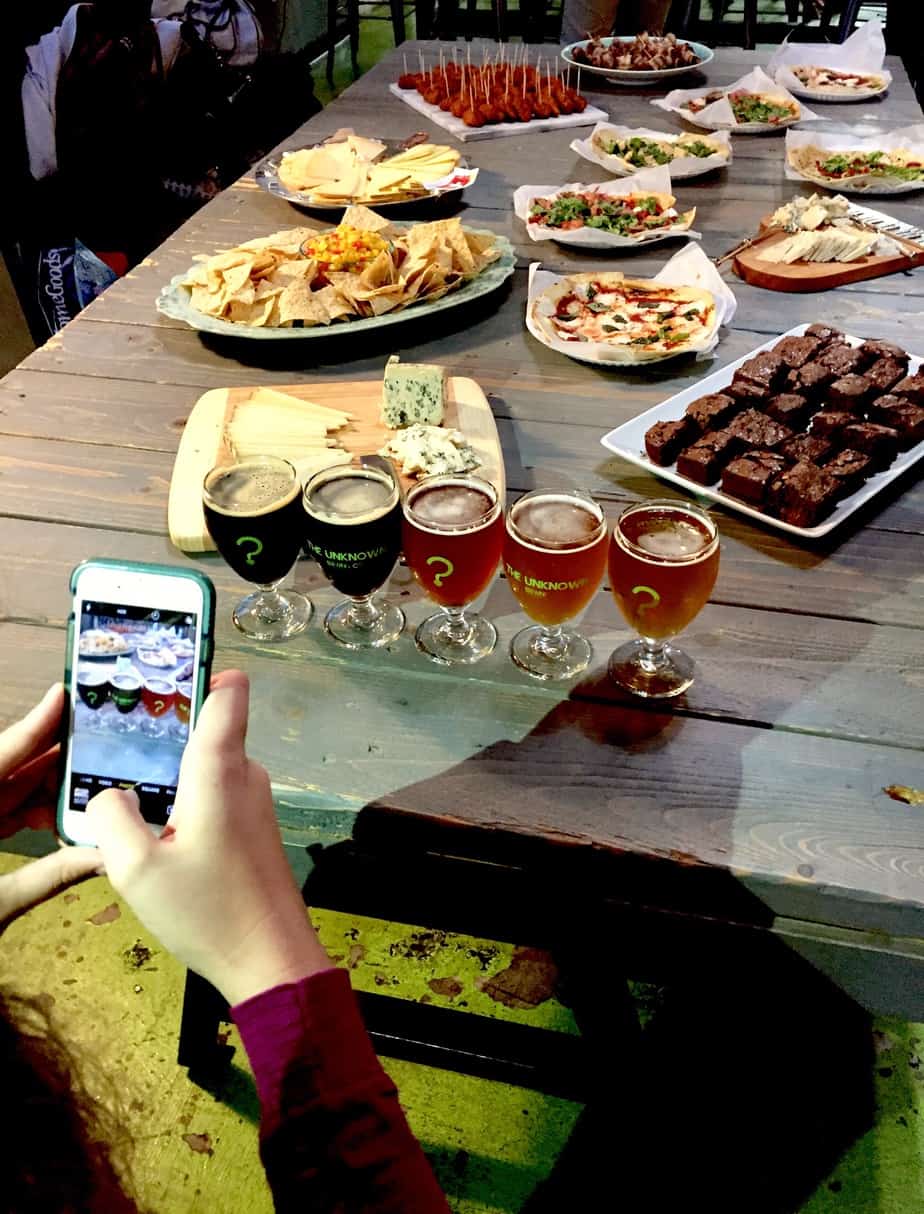 I feel like here is the point of the post where I make a disclaimer that I am not a beer and food pairing expert, in fact, I'm not an expert in beer and food each individually, much less combined, and that I don't have a lot of experience with beer and food pairings. So we developed these beer and food pairings with the more expert assistance of Unknown Brewing's owner Brad Shell and the fine, cheese loving, expertise of Orrman's Cheese Shop. We sampled five different varieties of beer over the course of the evening, paired with five different courses and five different cheeses, all put together with the help of Brad and Orrman's. Part of this disclaimer is that I did do the tasting (and some of the cooking) at this event, and can vouch that each of these beer and food pairings were delicious.
We started with Unknown's Ginger Wheat, an American style wheat that has that citrus feel you expect from a wheat (tasting notes of wheats usually include orange, citrus and coriander) with some fresh ginger added to give this light beer a little burst of flavor. We paired the wheat with Landaff, a semi-firm, raw cow's milk cheese with a mild flavor and buttery texture. Our food pairing was mango salsa, to bring out the citrus notes in the beer.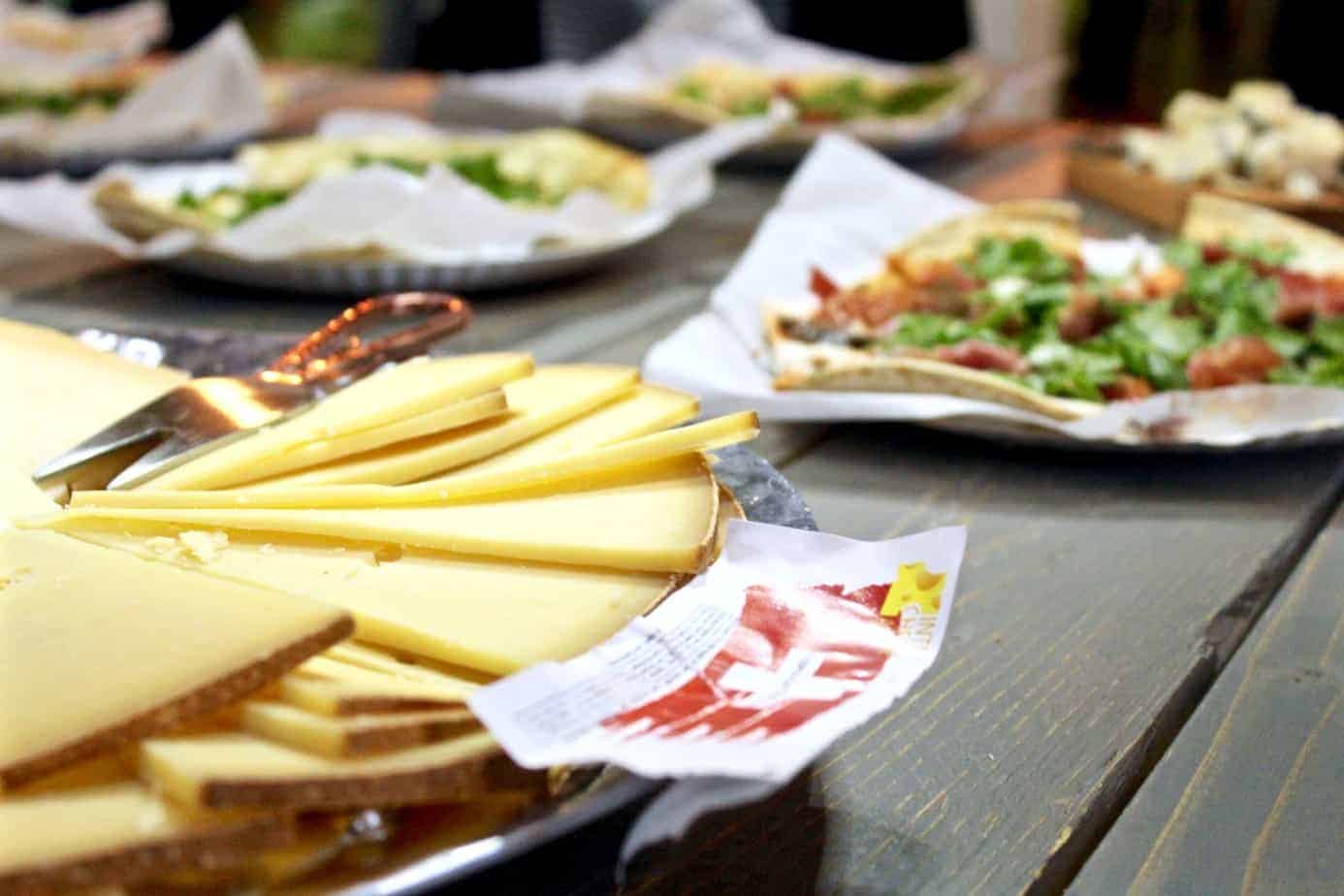 Next up was Unknown's Pre Game Session Ale, which has hoppy flavor but is light enough to drink all day long (hence the name!). I would compare it to a pale ale, where there is hop flavor but not a lot of bitterness, so it's lighter than an IPA. We paired the Session Ale with Flory's Truckle, an aged clothbound cheddar from Milton Creamery. Our food pairing was flatbread pizzas from Craft Tasting Room; the beer contrasted with and cut through but did not compete with the rich flavors of the pizza.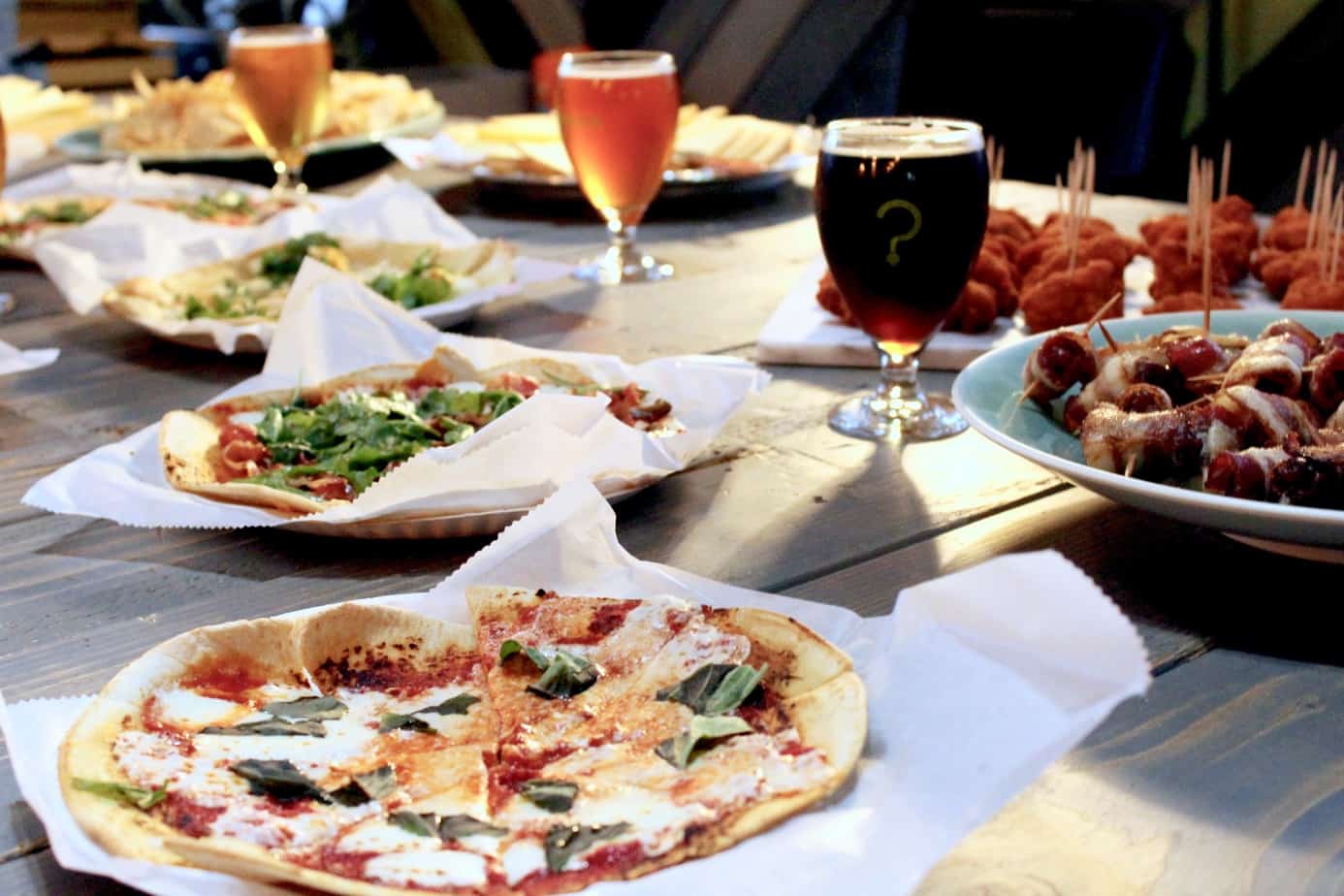 For our third beer, we sampled Unknown's IPA, Over the Edge. Over the Edge is an American IPA made with five grains and West Coast hops which gives it a bold, full bodied flavor (definitely what you expect from an IPA!). Brad told us IPAs compliemtn bold, flavorful foods (and ones with a lot of spice), so we took his advice and enjoyed Barren County Bleu, a flavorful but accessible bleu cheese from Kenny's Farmhouse Cheese (and I totally agree about the term accessible…I generally do not like bleu cheese and this one was delicious!) and buffalo chicken bites from Duckworth's. IPAs are also a great pallet cleanser for deep fried foods and good for marinating meats and grilling.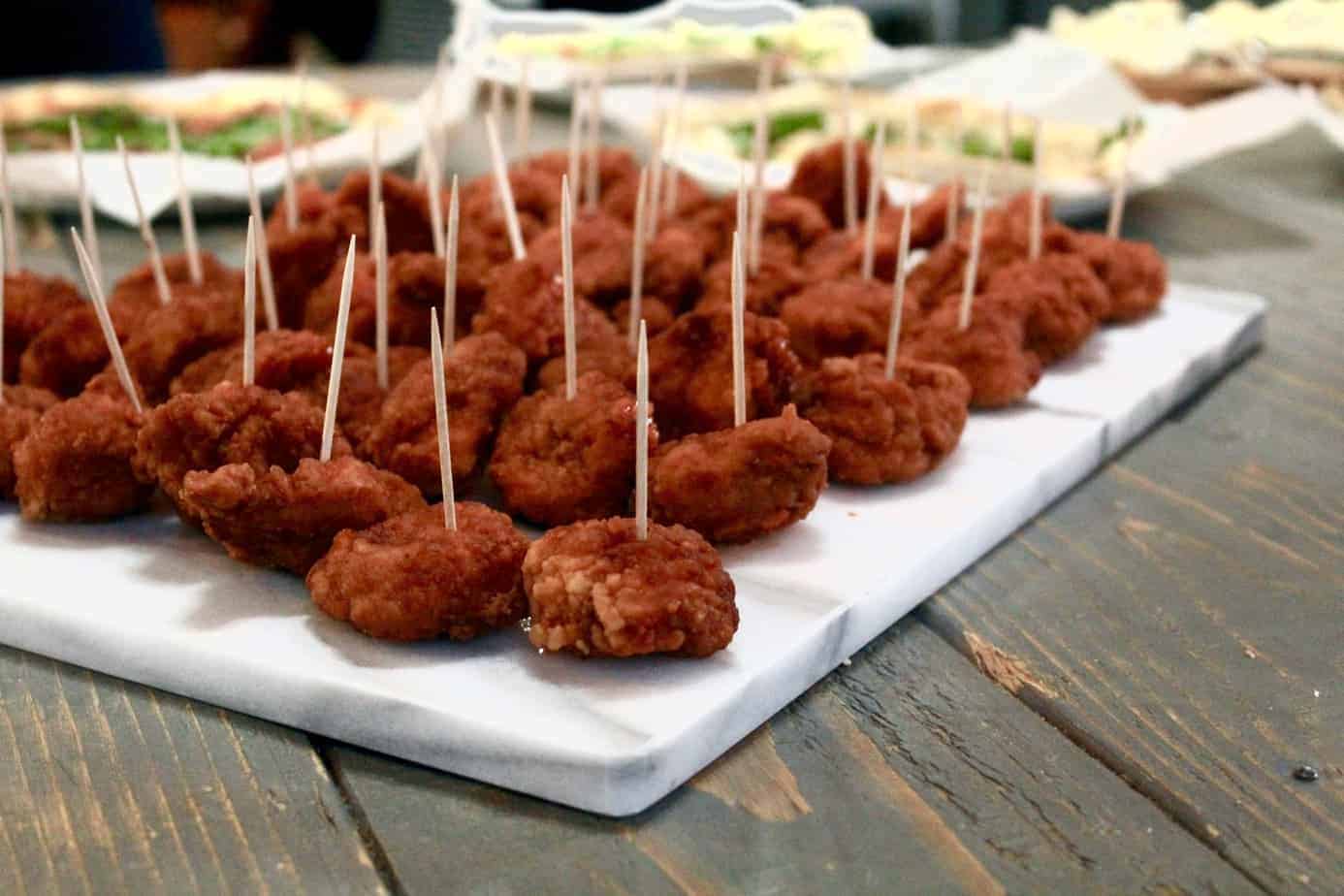 We went from IPAs to stouts, and we went all the way with Dirty Commie Heathen, Unknown's Russian Imperial Stout. Russian Imperial Stouts are dark, rich and smooth, and Unknown adds bourbon soaked cherries during the brewing process to enhance this bold, rich beer. And what food comes to mind when you're thinking bold, dark and rich? Chocolate of course! We indulged with chocolate brownies and Fourme d' Ambert, another bleu cheese that converted this bleu cheese hater into a bleu cheese lover, for our fourth pairing.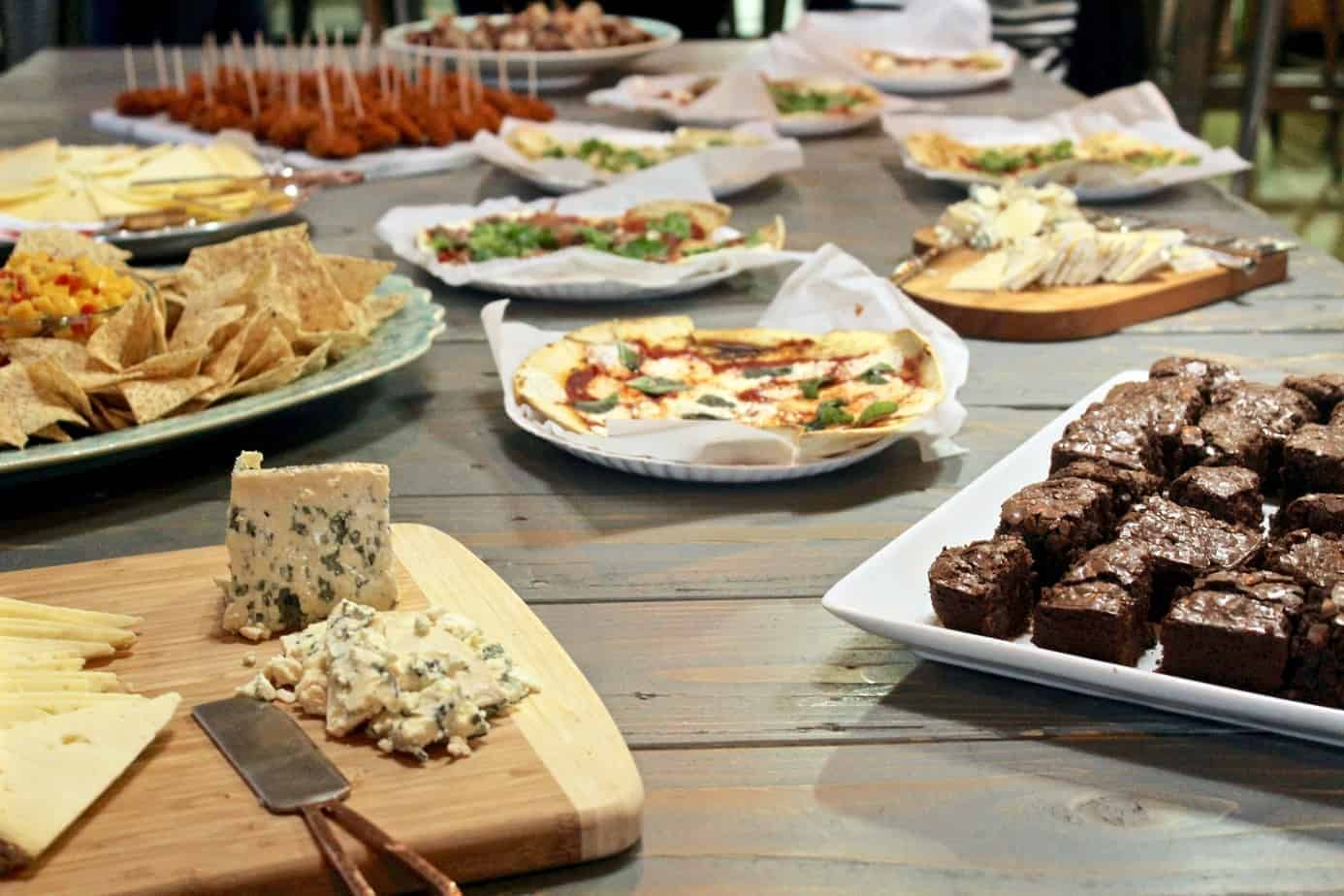 We rounded out our evening with Unknown's Belgian Quad, Raisin the Roof, which has hints of cinnamon raisin bread from the cognac simmered raisins and cinnamon adding during the brewing process. The warming, caramel qualities of this beer was perfect with bacon wrapped dates (a little salty, a little sweet) and Toggenburger, a cow's milk cheese aged for eight to ten months.
Thank you to Unknown Brewing for hosting us, Brad Shell for his beer and food pairing recommendations and Orrman's Cheese Shop for the beer and cheese pairing advice. Cheers!