Chinese food reminds me of my sister. I think it's because Chinese is one of Katie's favorite foods–it's been her go-to since she was little, so I always have a positive association when I eat Chinese.
We both grew up on Chinese; but not just greasy takeout. One of my earliest memories is the Chinese restaurant we used to eat at when we lived on Capitol Hill in Washington, DC. I remember being mesmerized by the fish tank, inhaling steam as it escaped from dumplings, and slurping up lo mein. When we moved to Virginia when I was 6, one of our family's first missions was to find a good Chinese restaurant. That lead us to China Paradise; and more nights of staring at fish, tasty steamed dumplings, the sizzling of cho cho beef as it hit the grill (and the chance of a few burned skewers), slurping up lo mein, and sipping on Shirley Temples from tiki glasses. Sadly, China Paradise is now a burger place, but finding a good Chinese restaurant is now a major to-do when I move to a new city.
In college, it was Hunan 1, just down the street from school; they were cheap and would deliver even one order to the dorms. In law school, I struggled to find the right place in Madison; that was until I followed the LLM students one day after class (most of them Chinese natives) to Fugu; which became my Chinese food home for the next two and a half years. I was slow in finding a spot when I moved to Charlotte too; I kept going back for sushi and Thai, and couldn't find a good Chinese place. Until my friends told me about Baoding in South Park, and now I crave it all the time.
map & more
score: 8.5
spending: $$
neighborhood: south park
cuisine: chinese
official website
[googlemaps https://maps.google.com/maps?client=safari&oe=UTF-8&ie=UTF8&q=Baoding&fb=1&gl=us&hq=baoding&cid=0,0,4121823812751321220&t=m&ll=35.147354,-80.833046&spn=0.003509,0.00427&z=16&iwloc=A&output=embed&w=200&h=200]
We went recently on a Friday night as a group after a work event. The restaurant was pretty empty, and we pushed some tables together along the back wall. We quickly ordered a bottle of wine (as my friend Michael affectionately called it, their "PDR," or public defender reserve–the cheapest red one we could find that came in at only $18, yay!) and browsed the menu. Chinese menus make me want to order everything–the spring rolls, egg rolls, dumplings, beef skewers, soup, spicy chicken dishes (so many to choose from!), noodles, or beef and broccoli. I can't ever decide and one day I'm going to let myself order everything and gain 300 pounds. It was a chilly fall evening, and so I wanted to warm up with some soup; I decided to branch out and not order the good old standby, egg drop, and heed my friend Danielle's advice ("the hot and sour is really good, my mom loves it!") and went with the hot and sour soup. It was delightful and hit the spot. There was just the right amount of kick; the kind that hits your tounge in the first spoonful and lingers, but does not overpower the true flavor underneath. The sour notes throughout were great. I agree with Danielle's mom, the hot and sour soup is really good!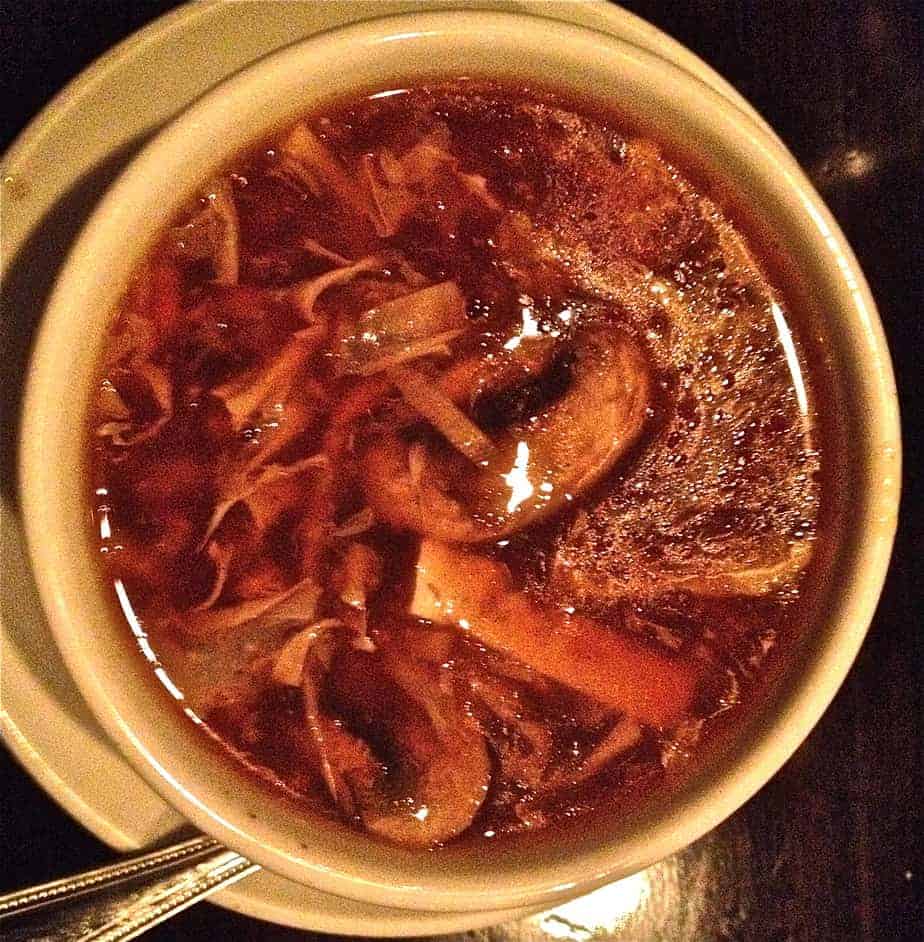 Kate settled on the veggie and tofu soup. It was gorgeous and I loved all the color. There was little spice in it, so she added some chili paste to kick it up a notch.
As I do consider myself a dumpling connoseuir (Katie and I always order steamed dumplings), Baoding's are on the money; fluffy pockets of steamed dough enveloping flavorful pork and veggies with a nice salty sauce to dip in. I didn't order dumplings on this particular evening (you know, trying to avoid the whole fatty thing) but they are good; you should get them. The spring rolls and basil rolls are both good choices for appetizers; they are good for sharing and a bit on the lighter side so you won't spoil your meal.
I was so indecisive so went with an old stand by for dinner–house lo mein–wheat noodles stirred with soy sauce and other seasonings. In the case of house lo mein, the noodles were mixed with all the proteins of the house–chicken, shrimp and pork (sometimes called combination at other places) as well as a variety of veggies, mushrooms, snow peas, bean sprouts and cabbage. Baoding's lo mein is classic and tasty; the soy sauce is not too salty and overpowering and the veggies are crisp and fresh, while the mushrooms sponge up the sauce and are tender. I love house lo mein because I love the variety of proteins, and I love getting a little surprise in every bite. I ate as much as I could until I was going to burst at the seams, and enjoyed the leftovers for lunch the next day.
Danielle went with the Signaporean rice noodles, which she can't get enough of (one of these days I need to buck up and order those rather than sticking with lo mein, they always look and smell amazing). The noodles are mixed with veggies, chicken and shrimp and bathed in a spicy curry sauce.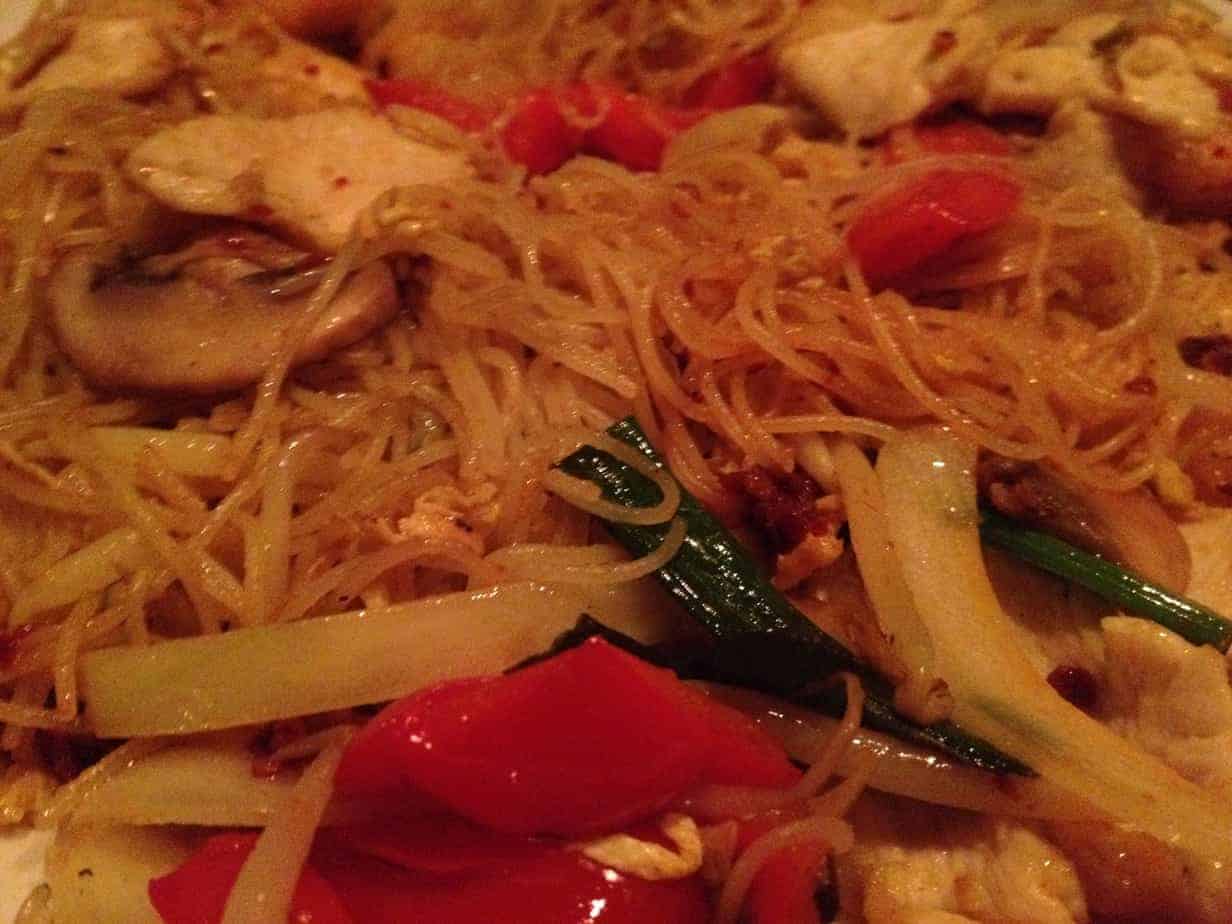 Aside from noodles, Baoding serves up a huge variety of traditional Chinese dishes. I've had their Mu Shu Pork–a dish that always reminds me of my mom, because it was a toss up between Mu Shu or Hunan Shrimp when we went out for Chinese. Mu Shu is a Chinese stir fry with the meat and veggies all tossed up together, served up in a mu shu pancake (tortilla like, but thinner) with plum sauce in a build your own fashion. Baoding's mu shu has an abundance of mushrooms, which I loved, because they melted in my mouth and gave the dish a great, earthy flavor.  I'd also like to try some of Baoding's chicken dishes (my friend Emily went with the Kung Pow chicken last time we were there). It looked great–it was a healthy, vibrant reddish orange (which means spice!) and had lots of plenty of peanuts.
Baoding is at the top of my Charlotte Chinese food list (essentially tied with SoHo Bistro in Uptown, which has great lunch specials!). I happily drive the 20 or so minutes to Baoding when I get a Chinese craving to get good, flavorful  Chinese food that reminds me of our nights at China Paradise; it's definitely worth it. Now I'm craving some dumplings!