Craving a burger in Charlotte? Bad Daddy's serves up some of the best burgers, fries, tater tots, salads (yes, salads!) and milkshakes in the Queen City. Thank you to Bad Daddy's for treating AJ and me to dinner. All opinions are my own.
 A few weeks ago I was texting AJ about a workout I did that morning and my phone kept autocorrecting "burpees" to "burgers." For the record, burpees are the worst thing and burgers are the best thing (in case you had any confusion at all. They also are not related). It took me a while to catch it, so when he read the texts, it looked like I had gone to Crossfit and done several rounds of a workout involving running, tire flips, box jumps and burgers. Context clues luckily helped him out, but I do wish I could go to a workout that involved eating burgers for time.
Of course, the burpee burger incident gave me an immediate craving for a burger, one that I could not ignore no matter how many times I tried. Why was I trying to ignore a burger craving? I don't know, I'm insane. Will I ever ignore a burger craving ever again? No.
When I'm craving burgers (and we don't make them at home), I usually head to one of two places in Charlotte. A wine bar (but really don't knock it til you try it, they have great burgers and then you can have donuts for dessert) and Bad Daddy's. I've been going to Bad Daddy's since I was a summer intern in 2011; I would (sometimes which turned into often) call ahead and place my to-go order on my way out of court and then swing by Bad Daddy's East Boulevard location on my way home (that summer it was Big Daddy's, but the name changed I think the next year to Bad Daddy's because of maybe a trademark situation?). I'd enjoy my burger and milkshake in my pjs in front of the TV. After all, it was my first summer living alone, so if I wanted to eat burgers and drink milkshakes while watching trashy reality TV without judgement, that's what I would do (but I also kind of bet that my law school roommate at the time, one of my best friends, would have sat right there next to me if she had also been in Charlotte).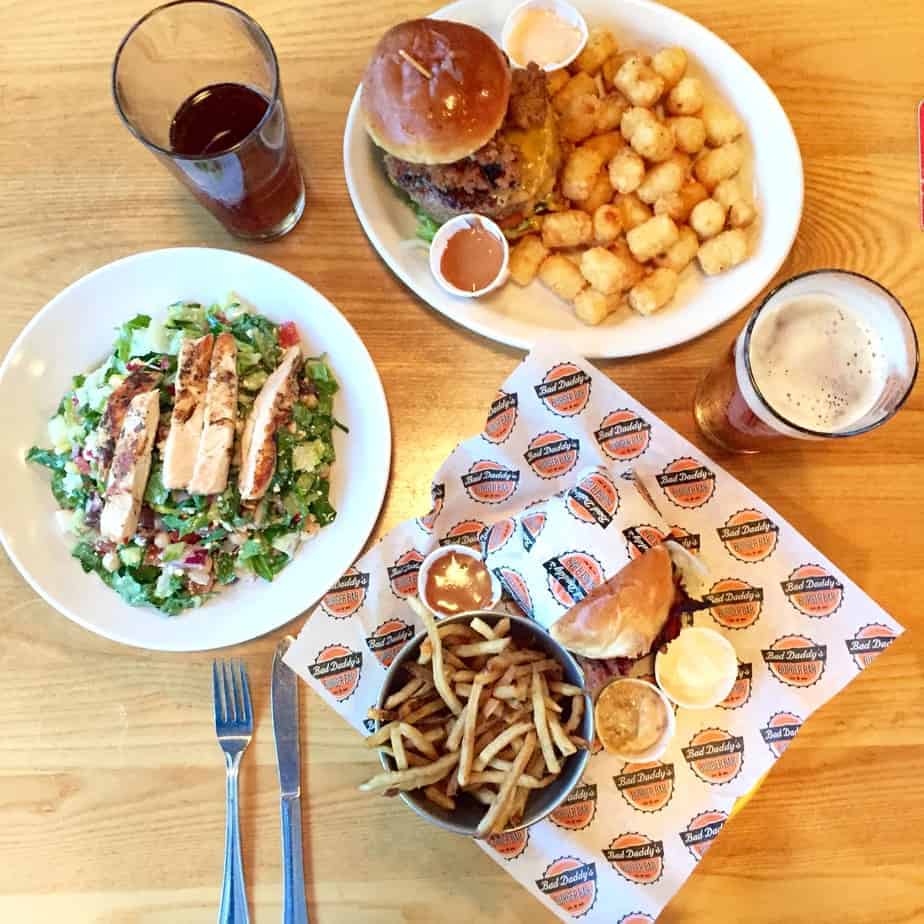 Gorging on a cheeseburger, washing it down with a milkshake, and watching trashy TV by myself could paint a sad or lonely picture; but that's totally not my intent. It was a great summer, the first time I truly lived on my own without friends or roommates, and I had delicious cheeseburgers to make me happy while I watched The Bachelorette. It's a totally happy picture in my book.
So anyways, Bad Daddy's and I have a history, and so it was a no brainer when my go-to burger joint asked AJ and me to join them for dinner a few weeks ago (and perfect timing because it was right around the burpee burger incident). We ended up at their Ballantyne location (there are four in the Charlotte area, plus the airport, Raleigh, Winston-Salem, Greenville, and locations in South Carolina, Colorado and Oklahoma) because it's a teeny bit closer to our home in Steele Creek. We both started with a beer (20 ounce craft beer night is our jam) and an order of fried pickles (I'm not sure if I've told y'all but AJ is obsessed with fried pickles). Then we menu strategized, which is a normal routine when we go out to eat (we talk about what we're ordering so we don't get the same thing and can try each others') and basically decided to go all out.
My normal order at Bad Daddy's is a BYOB (build your own burger) where they basically let you put anything you want on a burger in any combination, and only charge extra toppings that are sort of fancy and gourmet like buttermilk fried bacon, things with truffles, fried pickles, etc. I love a burger with pickles (it takes me back to my childhood nostalgia and the Fuddruckers' toppings bar after swim meets) so I usually get a cheeseburger (pepper jack or cheddar) with onions, pickles, sometimes mushrooms and bacon. If I want to be really high maintenance, I get a BYOS (build your own salad) as my side, but usually I don't expose my waiter to that much drama, so I go with fries or tater tots, because tater tots are delicious.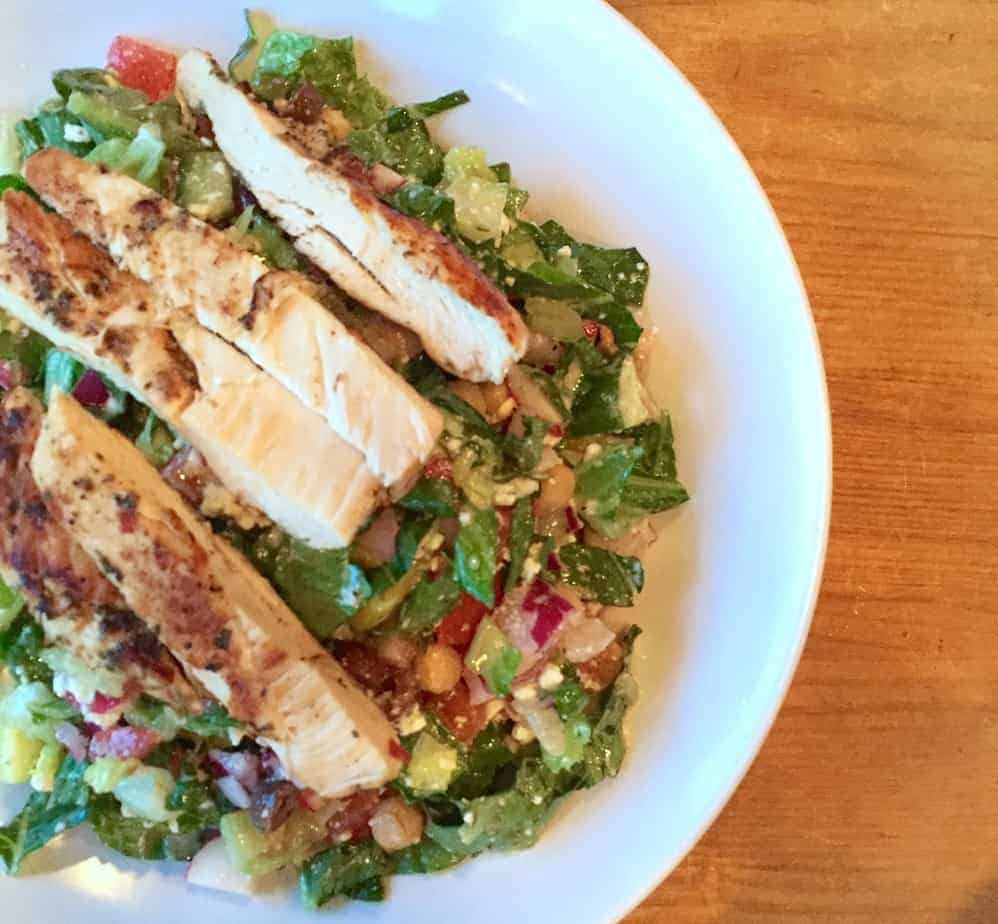 Speaking of salads, Bad Daddy's has really good salads (and not just good salads for a burger place but just good salads) so sometimes I just order a salad. This particular night, AJ and I shared the Stella's Greek Salad as a pre burger situation (going all out here, remember?).
And back to the burgers. I decided to go out of my norm, and in the spirit of going all out, ordered the Bacon Cheeseburger on Steroids, a name very apropros of going all out. Monterey Jack cheese, three pieces of jalapeño bacon, three pieces of applewood smoked bacon, housemade bacon mayo, shredded lettuce, tomato, red onion and pickles made this bad boy super hard to eat without it going everywhere, but I am not above taking a knife and fork to a burger so I did.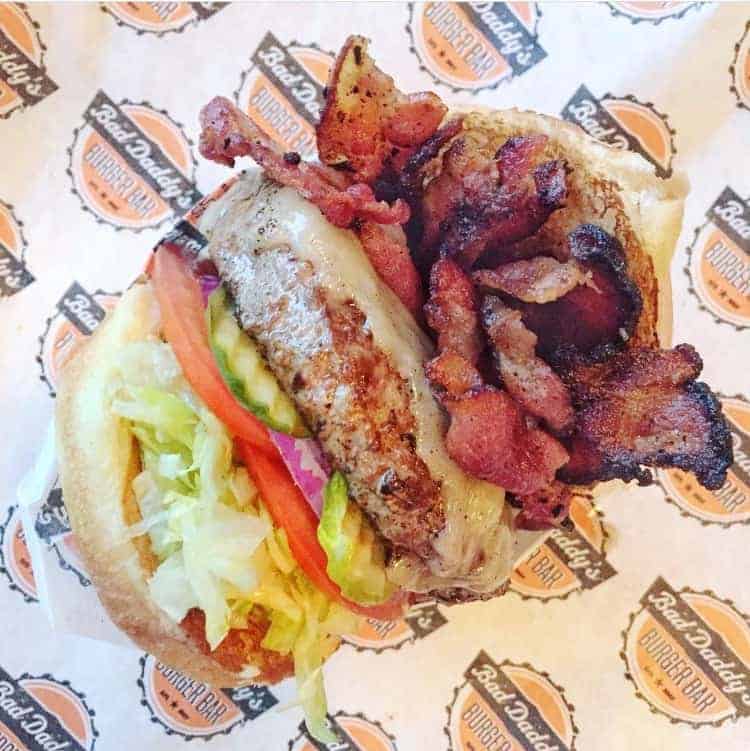 I was about to say AJ was more tame with his order, but turns out he wasn't (we had to double check the menu to see his burger, and the toppings were equally impressive). He enjoyed the Bad Ass Burger, a massive 10 oz. beef patty with housemade American cheese, buttermilk-fried bacon, horseradish mayo, lettuce, tomato & pickles. It was definitely bad ass but he did not look bad ass eating it (it ended up with a knife and fork situation too).
We had to skip on milkshakes; I mean fair enough, we had eaten more than enough for a family of four, but I recommend a Bad Daddy's burger milkshake combo fo sho. Especially if you've had a tough week at work and have some good reality TV cued up on your DVR.