Babushka's Pierogi is a locally owned, family operated restaurant in South Charlotte serving classic Russian and European cuisine. Thank you to Babushka's Pierogi for inviting AJ and me and treating us to dinner. All opinions, as always, are my own.
Honestly, I am not the woman to give you the most accurate review of our meal at Babushka's Pierogi. Everything we ate was delicious. The pierogis were plump and I loved the variety of fillings (I could potentially sustain on a diet of cheese and potato pierogis for my lifetime if it were socially acceptable) and don't get me started on that layered honey cake (let's just say I was pleased to have it at home for my afternoon snack the next day).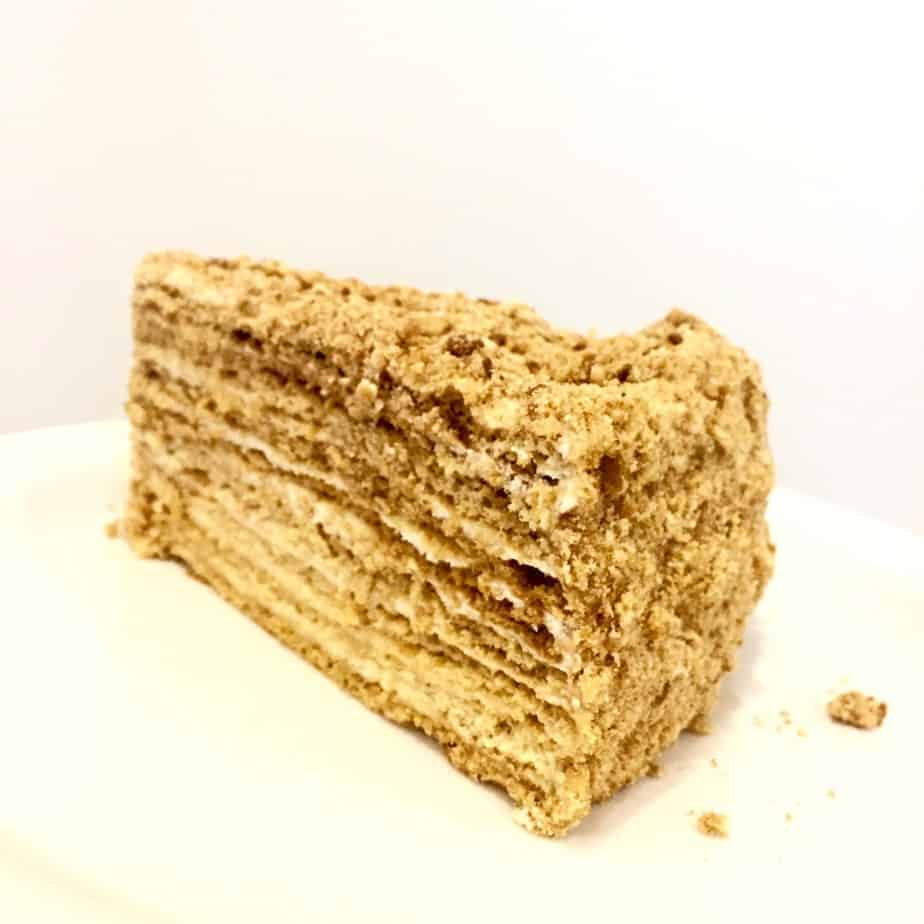 I like food. I really like delicious food.I like delicious food that tells a story. I like delicious food that is made from scratch. So what I can tell you about Babushka's Pierogi is that it definitely met my qualifications. Babushka's Pierogi has delicious food that tells a story: they are a three generation family owned restaurant making Russian and other European inspired food using recipes passed down from their great grandparents. Plus, the family oriented restaurant is also making classic dishes like Borsch, pierogis, meatballs and more from scratch (including the dough for the pierogis) with fresh, local (when possible) ingredients.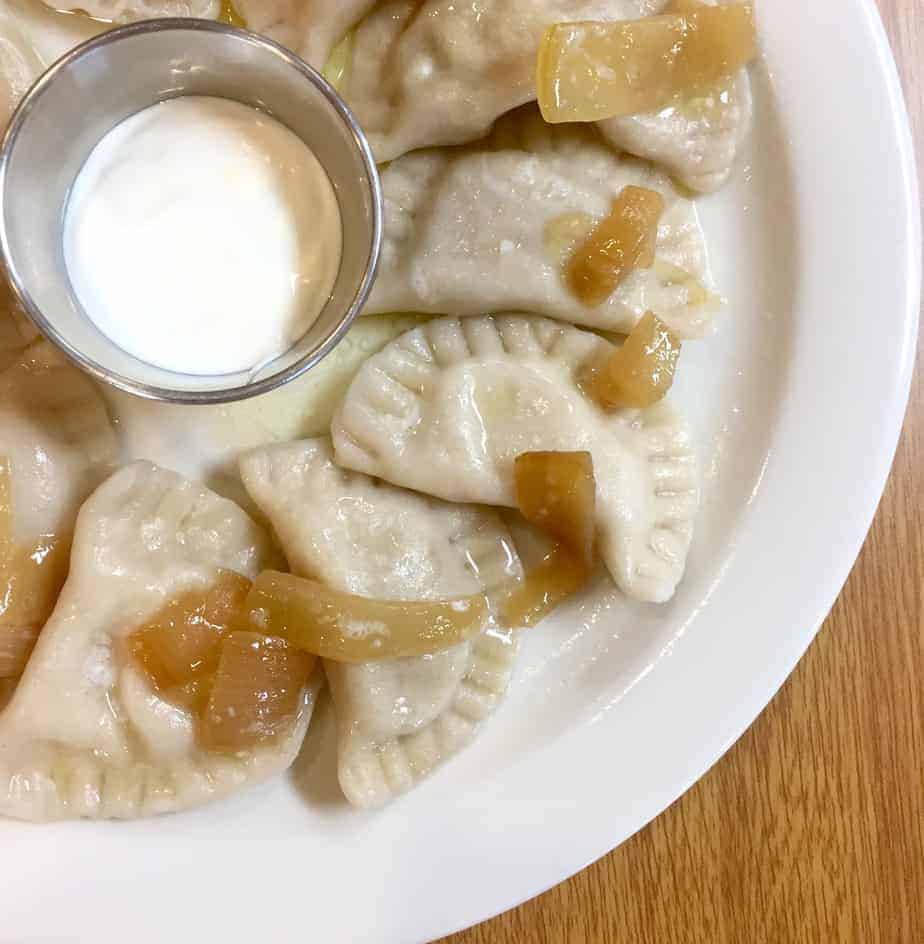 I also really like pierogis, and Babushka's Pierogi made some dang good ones (I would hope so because pierogi is in their name after all). But, the first time I ever had a pierogi was three years ago, so I'm definitely not a pierogi expert. Luckily, I have access to one.
If you really want to know if Babushka's Pierogi was good or not, you'll really want to hear from my husband, AJ. AJ's family hails from Poland and Ukraine, so he grew up eating a lot of the foods coming out of the kitchen at Babushka's Pierogi. His mom makes pierogis from scratch using her grandmother's recipe (the secret to grandma's pierogis, says my mother-in-law, is lots of butter), and they serve stuffed cabbage around Christmas. The man knows good Polish food when he tastes it; one of his favorite restaurants is Polish Village Cafe in Detroit (which actually was my first introduction to Polish food on my second trip to visit his family in Michigan). His eyes light up when he sees sauerkraut at the store (I'm very serious). Now you understand why AJ's stamp of approval means a whole lot more in this pierogi situation.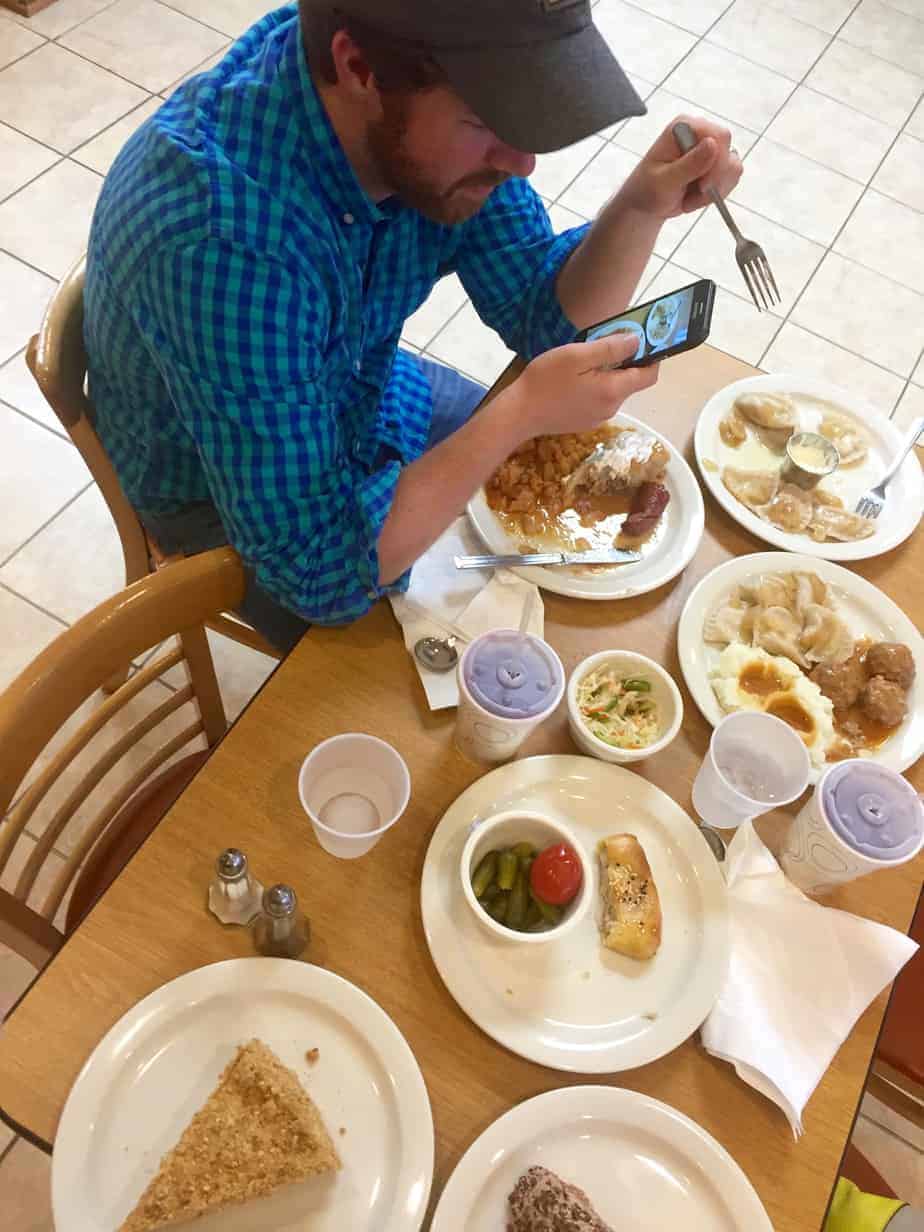 AJ is a man of few words, so I tried to get a little more feedback for you than, "it was good." (This response came when I asked him about the food at Babushka's Pierogi. In AJ's words, ok means fine, fine means good, and good means great, so we are actually off to a good start). It's ideally located in a parking lot with close proximity to a Jet's Pizza so we've got two Detroit-esque staples near each other and he's already feeling at home. He was excited (my words, not his, he said "I knew I was getting it" which is basically excitement in AJ's vocabulary) when he saw the Polish platter on the menu at Babushka's Pierogi because "It's my go-to. I like to get a little bit of everything and being in Charlotte I don't get to have that type of food too often." (Correction, really ever. We never eat Polish food here, unless his mom freezes some homemade pierogis for us and drives them down with her when she visits). Also for the record, Babushka's Pierogi Polish platter is in fact, a little bit of everything: pierogi, stuffed cabbage, kielbasa and braised cabbage. AJ says that the pierogi is "on par" with his mom's and Polish Village Cafe ( a great compliment) and maybe even the greatest compliment, AJ says he would bring his parents to Babushka's Pierogi, which means its the real deal (pierogi expert critics in the house).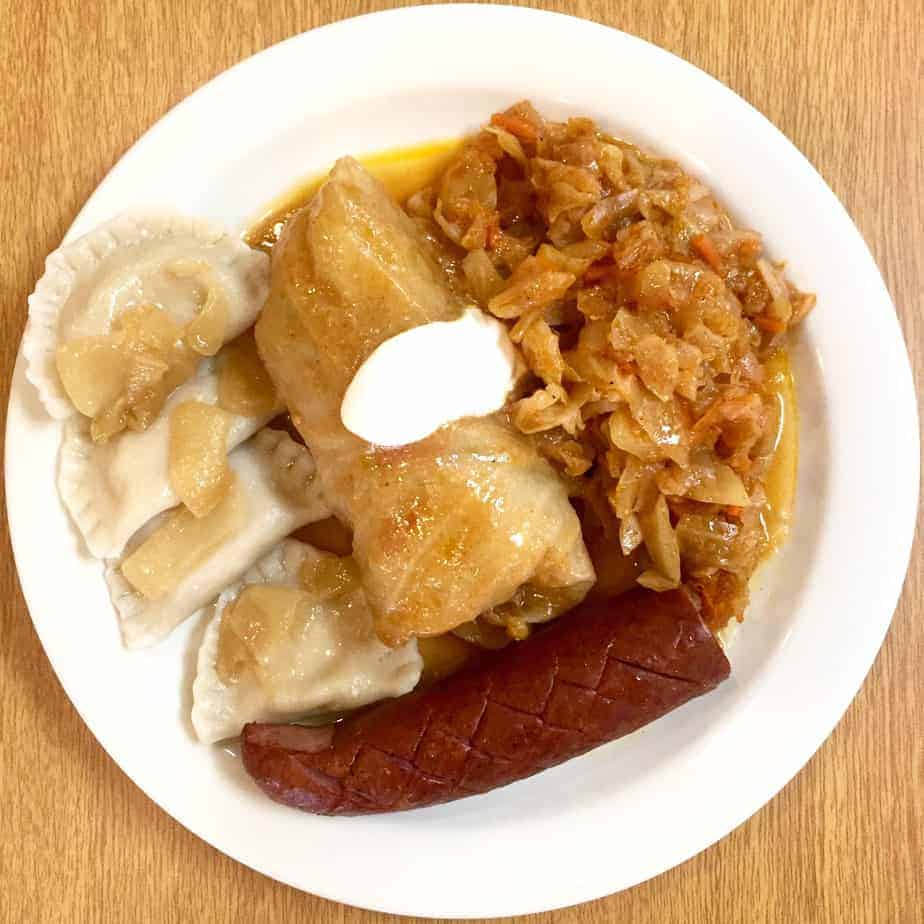 So take my word for it, or AJ's (interpreted) words for it and get yourself some delicious pierogis (and other Russian, Polish and European food) at Babushka's Pierogi. Also, you're gonna want some honey cake.