My sister came to Charlotte for New Year's Eve and after ringing in 2014 together at the Roxbury, she stuck around through the weekend to catch The Book of Mormon. We are both musical lovers, and so when the tickets went on sale in September, I knew we would be there in January. Did anyone else have a fun night out seeing The Book of Mormon? It's hilarious–and totally geared toward people with a darker sense of humor. If you missed it in Charlotte, I highly, highly recommend the soundtrack; a songs like "Man Up" and "Spooky Mormon Hell Dream" really have enhanced my cooking and housework.
map & more
score: 6.5
spending: $$-$$$
neighborhood: uptown
cuisine: italian
official website
[googlemaps https://maps.google.com/maps?f=q&source=s_q&hl=en&geocode=&q=Aria+Tuscan+Grill,+North+Tryon+Street,+Charlotte,+NC&aq=0&oq=aria+tus&sll=35.203154,-80.839829&sspn=0.659814,1.157684&ie=UTF8&hq=&hnear=&t=m&ll=35.226498,-80.842059&spn=0.003506,0.00427&z=16&output=embed&w=200&h=200]
We thought it would be fun to go for a nice pre-show dinner with our boyfriends. Katie selected Aria after perusing a few choices picked by yours truly (the list included a few nicer Uptown eateries). We love Italian and the convenience of Aria's location to Blumenthal Performing Arts Center couldn't be beat. While the price tag was a bit more, this was a splurge evening out, so we went for it. I knew Aria would be busy because of the ambiance and convenience, so I made us a reservation a few weeks in advance. We ate on the earlier side, 6pm, so we wouldn't feel rushed during our meal, and to account for any kitchen back up or delay (our reservation time ended up being perfect, we wrapped up around 730 and had a leisurely stroll over to the performing arts center before the 8pm show).
The ambience is nice–it's modern, chic and warm, with low lighting. It definitely has a romantic feel, but is spacious and also good for groups (I don't really like it when you go to a nice restaurant and feel like you need to be cuddling with a signifcant other in the corner. You're at the restaurant to eat, not cuddle! I will also take this first tangent to apologize for having no photos except for of my sister and me in this post. The lighting was so low that I didn't think anything would look appetizing, unless you're into eating shadows).
The wine list was our first priority. I love red wine, and it pains me that bottles are so marked up at restaurants (I know it's how they make their money, but it's still painful right?). I complain at how jacked up wine prices pain me, yet still turn to the wine list and order a bottle with dinner on special occasions, or sometimes just because. I usually order on the lower end of the wine list spectrum (read that as cheapest bottle of wine offered). Aria's wine list has a wide range of flavors and prices, and we decided to go with the Santa Ema Cabernet from Chile. It took a while for our waiter to bring the wine; which is understandable because the place was hopping, so I don't really blame him for the delay. However, there was something more with the service than just it being a busy evening (I've been in several restaurants when it's busy and I can imagine it is hard to be a server during peak times with needy diners). He seemed to be neglecting us; perhaps it was because we were a group of four in their mid twenties (though we were dressed up, people often ask me if I'm legal) perhaps he thought that we weren't the customers that were going to be giving him the big bucks (not to say we don't tip well…always 20%…we weren't planning on a four course experience or dropping dolla dolla bills on popping bottles), perhaps he was having an off night, who knows. What I do know is my first two perhapses were derived from the fact that he was super attentive to the two tables surrounding us (filled with older couples who were ordering several courses and several bottles of wine). He was continuously checking on them and fulfilling their requests, and it took him 20 minutes to get us a bottle of wine.
The wine was a delicious, deep red and definitely worth ordering, even if it was on the low end of the extensive (fancy and impressive!) wine list. Yet, we drank our tasty red wine out of something quite curious–the glasses reminded me of the juice glasses I have at home (that my mom bought for me at a zillion percent off when the World Market near our house was going out of business!). Like short pint glasses, water glasses, juice glasses, you know (I hope you get my drift, I did not take photos for several reasons–one, because the lighting was romantic and terrible for photography, two, because no one wants a picture on the Internet of wine they can't drink in a juice glass, and three, because we were having a classy evening and I wasn't going to whip my phone out to ruin that). They weren't stemless wine glasses (I have enough experience to know what those look like and actually own a whole set). But really, the wine was in a juice glass (or a water glass, whatever you to prefer to call that type of drinking vestibule). After some investigation, I'm not sure if wine in juice glasses in Aria's jam (I don't think it is because the groups next to us had actual wine glasses), or if Aria was running short on glassware that evening, or if our waiter was like "you're already not a classy bunch by ordering the cheapest wine so you don't deserve a real glass." Who really knows. Aria, if wine in juice glasses is your thing, that's totally cool, but you should have your waiters explain that to customers so they get it. Maybe that's the new thing and I'm just behind the times (could someone please tell me if it is?).
Our wine delivery was followed quickly with white bean dip with fresh ciabatta bread. mmm. White bean dip has to be one of the most underrated pre dinner snacks ever–many Italian restaurants bring the traditional bread basket with butter or olive oil, which I love (because I love carbs, carbs, carbs) but more Italian restaurants should be bringing the bread with white beans (listen up restaurants, we want more white beans and we want them now!!). The beans were well seasoned with herbs and spices, and drenched in a bit of flavorful olive oil which made them soft, supple and delicious. The ciabatta was crusty on the outside and soft and warm on the inside; it was the perfect vehicle for bean dip dunking and munching.
Katie and I both ordered pasta dishes and AJ got the crispy baked chicken parmigiana. My pasta was simple and delicious. After much debate, questions of the waiter, and more debating, I ordered the penne a la vodka because I love a good tomato cream sauce. The sauce, while simple, had a lot of flavor and coated the penne beautifully. And the portion was a decent size, so I enjoyed some for lunch the next day (the other dishes I was debating between were the black pepper fettucini carbonara, the orrichette with sausage, and the short rib paparadelle–which apparently is a customer favorite). Katie went even more straightforward with spaghetti, which must have been tasty because she ate up every bite.  While AJ enjoyed his chicken parm, he did say it was not the best he's ever had (AJ–where IS the best chicken parm you've ever had??). After dinner, we didn't have room (or time) for dessert. We finished up the wine, paid the check, and headed over to have a night full of laughs at The Book of Mormon.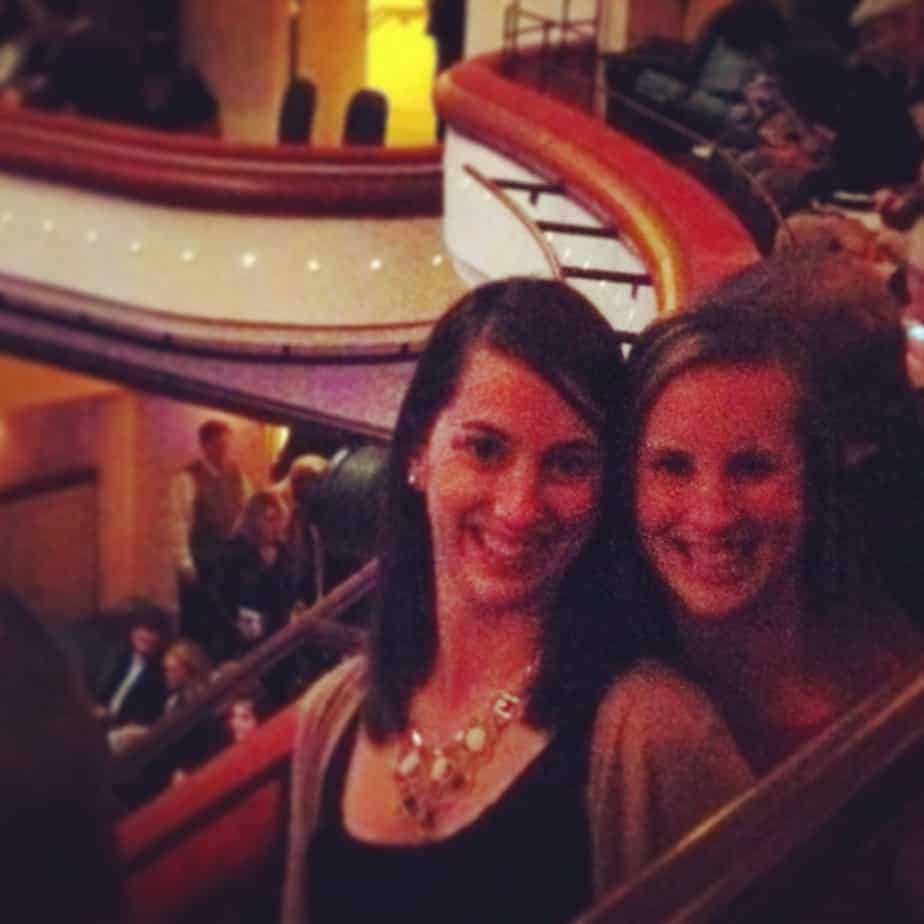 I had a nice time at Aria–the ambiance was cozy, the din not overwhelming, and the food was good. I loved the window from the dining room into the kitchen, which showed all the activity going into our food being prepared. Our meals were hearty, but as I've said before, for good, straightforward Italian, you don't need to pay an arm and a leg. I would like to give Aria a second chance; maybe when I save some shekels or for a special occasion.
(But please, really, can someone answer my question on the wine glasses trend?)