Anyone who reads my little corner of the internet regularly (looking at you Mom, but you've been busy recently so I'm hoping there's still a few loyal readers out there) know that most of the time, I dedicate an entire post to a restaurant. So this is a little out of the ordinary, but I don't care because I have a hankering to write about my time in Chapel Hill and Raleigh, and really, I do what I want (there will probably be two full blown, totally dedicated posts about my weekend jaunt up to the Triangle, but I thought I'd ease y'all in with the highlights).
I caught the running bug shortly after Christmas (this was my second go around with the running bug…I caught it briefly my second year of law school, did a half marathon, and then promptly decided I hated running). AJ convinced me to sign up for the Cooper River Bridge Run in Charleston, so I decided I needed to start running regularly for that. Sometime in late January, I was talking with Andrea, my friend who lives in Raleigh by way of Wisconsin, and she convinced me to sign up for the Tarheel 10 Miler at the end of April (I must have been either drunk or high during that conversation because 10 miles is a lot of miles and I am quite lazy). Well the end of April came around really fast and I was up in the Triangle bitching about how I had to run 10 miles.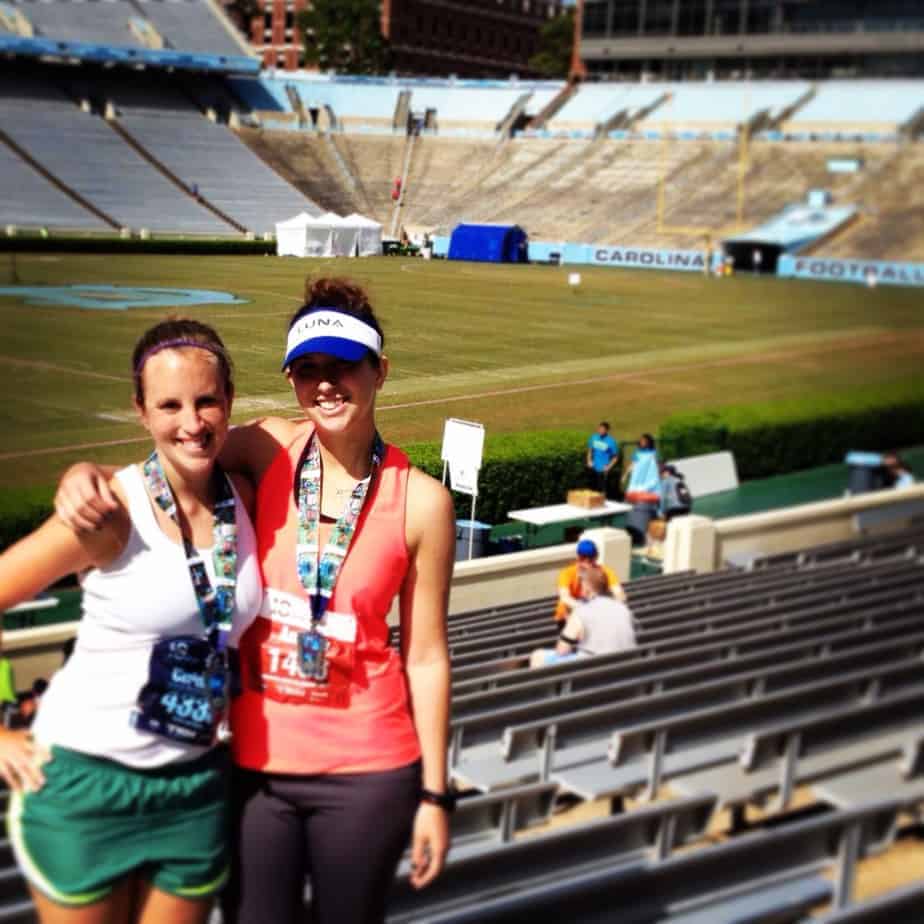 So we kicked off our Saturday with a 5am wakeup call and a 10 mile jog through Chapel Hill (which I must say is quite hilly, duh, but also beautiful). After not dying (I'm so proud!), we promptly headed through campus to get a beer because we clearly have priorities. The UNC campus is a gorgeous place (so I hear from all of my friends who graduated from UNC) so I was delighted to take a stroll through it and see for myself. And those azaleas. Beautiful.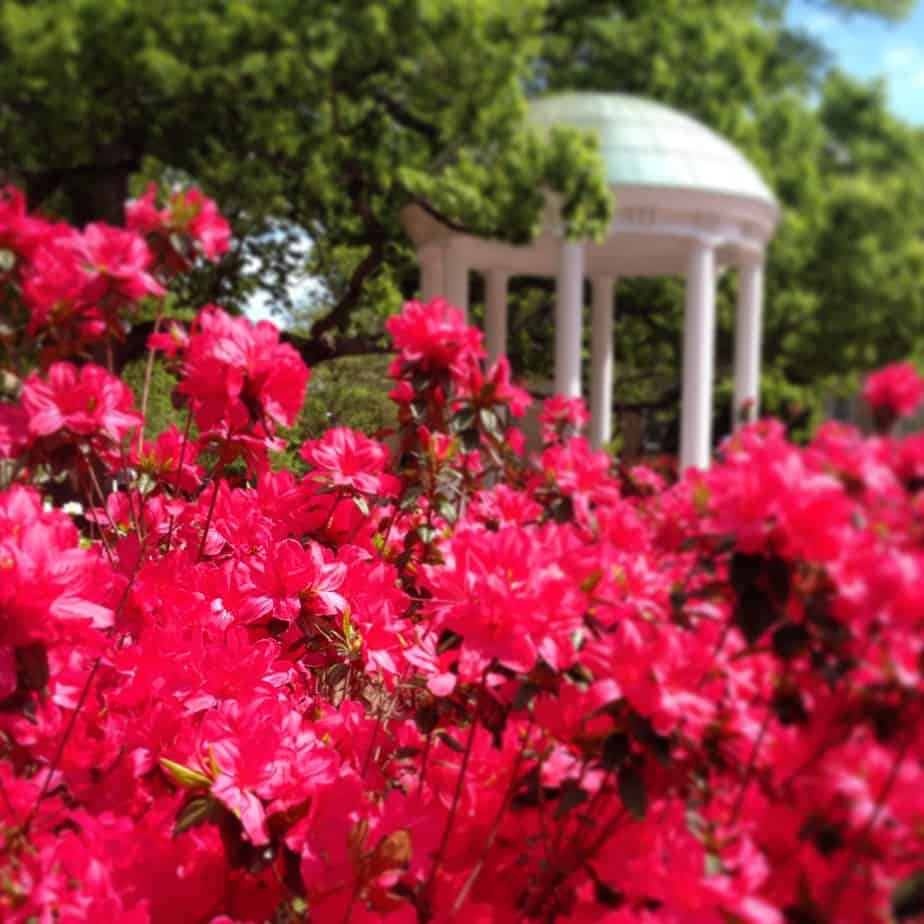 We headed to the Chapel Hill institution, Top of the Hill, on Franklin Street. Lucky for us, TOPO was giving runners their first beer free, so we snagged a free beer and some food. Top of the Hill is not only a restaurant, but also a brewery, and they have been brewing beers since 1996. They keep three of their beers on tap all year round–the Kenan Lager, Old Well White, and Ram's Head IPA, and rotate other beers through depending on the season.  I settled on the blueberry wheat; while I love dark beers (stouts and porters are my favorite) I wanted something lighter and refreshing for my post exercise pick me up. The blueberry wheat was just the ticket–it was a very drinkable, light beer, with sweet notes of blueberries (and even a few fresh blueberries were thrown in the glass for a little chaser at the end!). We were hoping to get a table outside, but the place was hopping and we had a large group, so we settled for a table inside near the windows (after you run 10 miles your preferences for al fresco dining go way down and your priorities for just sitting go way up). Andrea and I shared the nachos, and the rest of the table got a pretty wide selection of menu items. The nachos were the perfect post running treat; a hearty serving of chips piled high with chicken, beans, pico de gallo, cheese, sour cream and fresh avocado (the chicken and avocado were extra $$$ but we splurged because we were sharing). I wish that the nachos had a bit more of a kick to them (they were definitely lacking in some spice) but they stlll hit the spot. The cheeseburger and beer battered french fries also looked amazing, and I stole a couple sweet potato cheese fries (loaded with cheese and scallions) and those were crisp and flavorful. I was so happy and full after our nachos, but next time I'm at Top of the Hill around brunch o'clock, I'm going to order the banana French toast (I always have so much trouble deciding between breakfast and lunch). The banana French toast looked amazing, complete with several beautiful caramelized banana slices and I basically wanted to dive head first into that plate of French toast.
After TOPO, we spent the afternoon relaxing and recuperating by the pool. A few hours and showers later, we headed out for dinner and drinks in Raleigh's Glendwood South neighborhood. Glenwood South is an eclectic neighborhood with tons of different restaurant, bars, galleries and other nightlife spots (and chock full of young people and hipsters). It definitely seems trendy, and for you Charlotte folks I got some Plaza Midwood vibes from it (with a little NoDa and South End thrown in there). Before we got to the area, we had talked about eating dinner at Plates Neighborhood Kitchen–a well reviewed, Southern American dining option which had a menu that left me drooling. Unfortuately, by the time we got our act together and actually got to Plates, there were no outside tables available (the reservations were book solid and apparently they do not believe in a wait list, and to that I say to each their own) and after much debate and a beer order later, we decided we didnt want to eat indoors. There's always next time, so I am hoping to eat at Plates my next Raleigh go around.
We ended up waiting for an outdoor table at Sushi Blues Cafe next door, and while the wait was long, it was worth it. Sushi Blues is a cool spot; they have a huge patio all done up with lights and the inside of the restaurant is dark and loungey. I love that they stay true to their concept–music. The music theme runs deep throughout the restaurant, whether it be the decor, the jams playing in the background or the name of their speciality sushi rolls. Andrea has eaten at Sushi Blues before and said it was good, AND they won an award for best sushi in the Triangle, AND I love sushi, so I knew this was going to be a good dinner. We sipped on some beer and leaned on some planters while we waited for our table, and only a short hour or so later (the wait didn't feel that long, I guess time flies when you're having fun!) our table was ready. Our waitress was friendly, attentive and conversational, which was a bonus. We ordered more drinks (a refreshing mojito to be exact) and some steamed pork dumplings as an appetizer (ok, so we were actually starving and hadn't really eaten since those nachos at TOPO). We picked out six rolls to share–spicy tuna, Crazy Sammy (salmon skin and eel), lobster, Santana (tuna, salmon, yellowtail, cucumber, scallion, avocado and masago), spider (soft shell crab, asparagus, avocado and spicy mayo) and the Rat Pack (strips of eel and avocado on top of a shrimp tempura roll). All of the rolls were buy one get one, which was lovely!
The dumplings were good–they were slippery little suckers and difficult to eat with chopsticks (that didn't take away that they were tasty and we were hungry–some finger using may have been involved). All of the rolls were also delicious; the fish was really fresh and I loved the creativity in the names and ingredient combination. The Santana roll was my favorite!
After dinner, we sort of (but not really) got a second wind and headed down the street for a chill drink at C Grace. C Grace has a cool vibe; it channels a classic jazz club with low lights, live music and classic cocktails. After a little debate about what actually is in an Old Fashioned (my answer after seven years in Wisconsin is that it can be made with either brandy or whiskey) we ordered Old Fashioned's and cozied up in some plush, velvet arm chairs in the back room. I don't want to say the Old Fashioned was bad, it just wasn't to my liking, and was essentially whiskey on the rocks with some orange and cherry (don't get me wrong, it was a good cocktail and I still drank it). Thus, continues my search to find someone who can make a proper Old Fashioned south of the Mason Dixon line.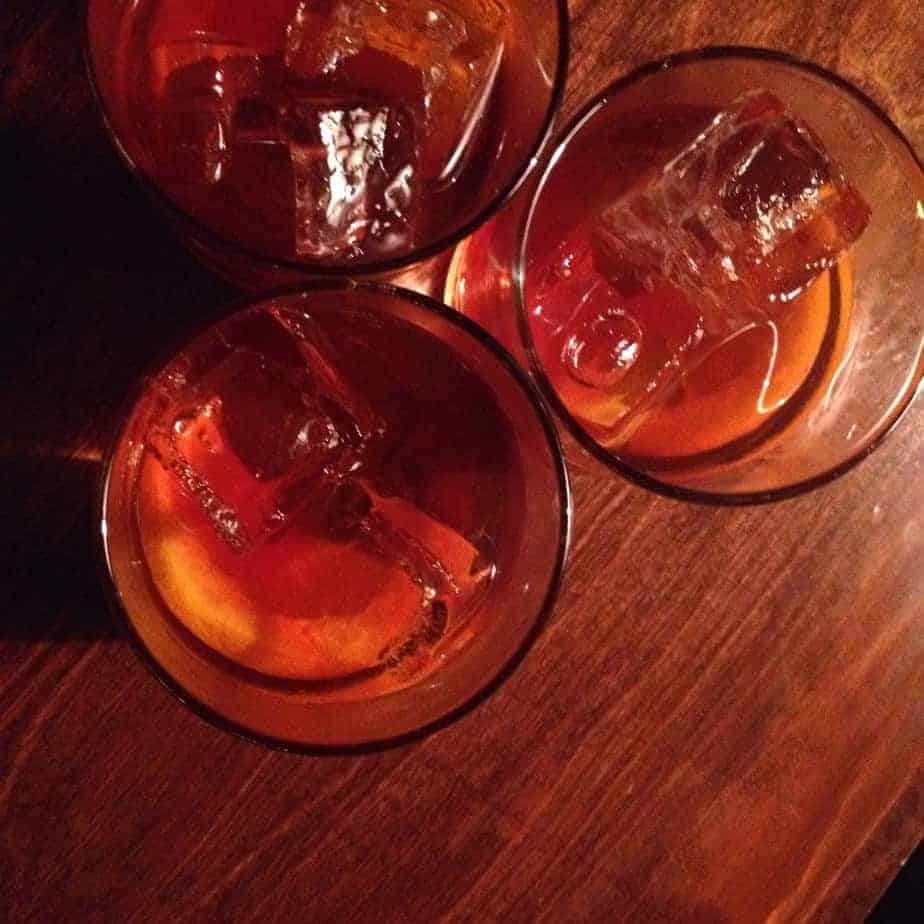 (as a side note, I hate when people call them Old Fashions. Please don't forget the "ed"!!)
Our second wind promptly died after one cocktail at C Grace and we headed home (getting up at 5am to run 10 miles will do that to you). On Sunday, I ended my time in the Triangle with a sunny brunch buffet and Bloody Mary bar and then I hit the road back for a solo sing-a-long, driving dance party back to Charlotte.